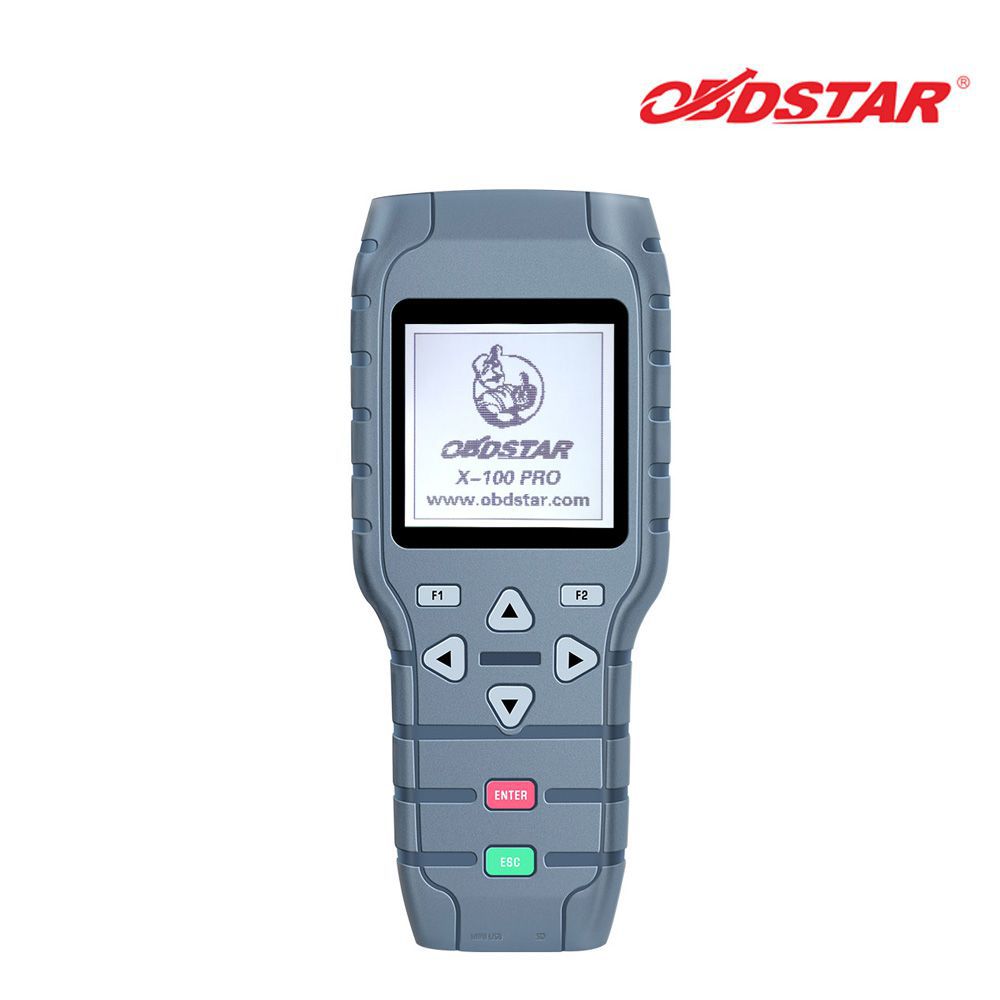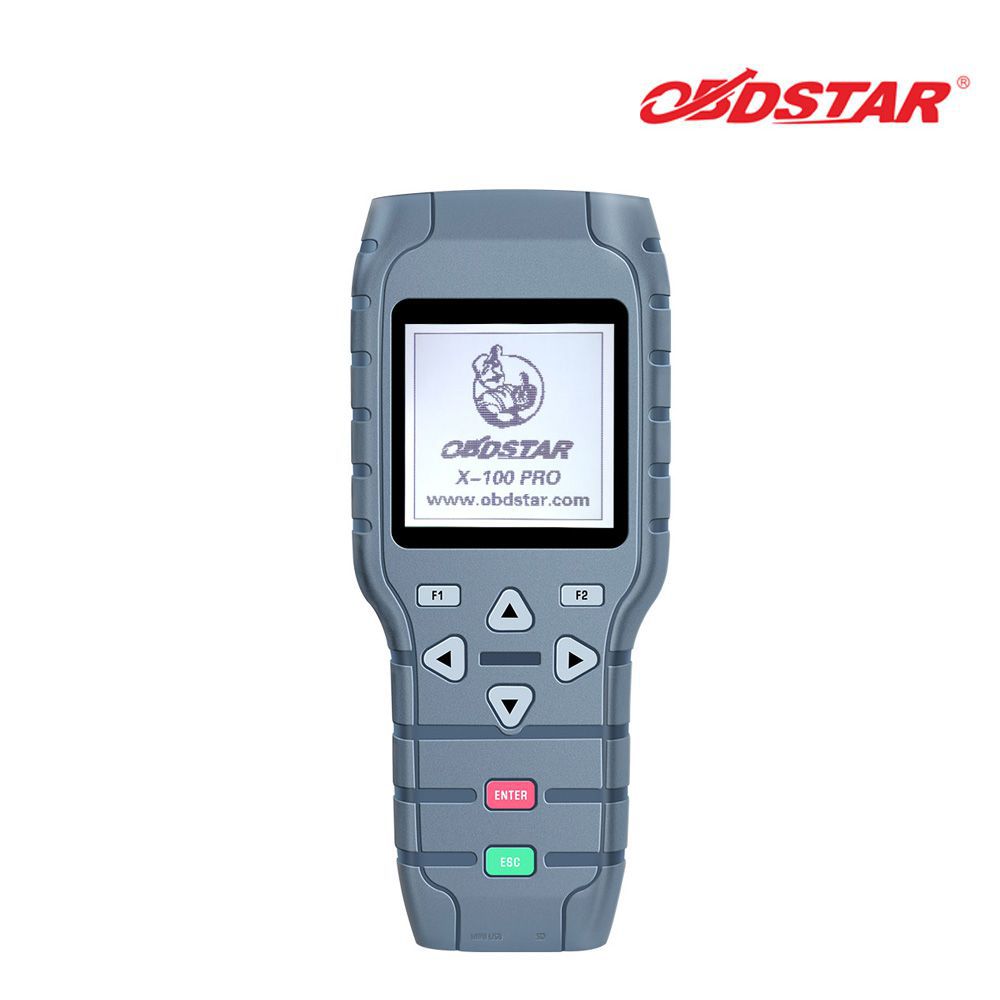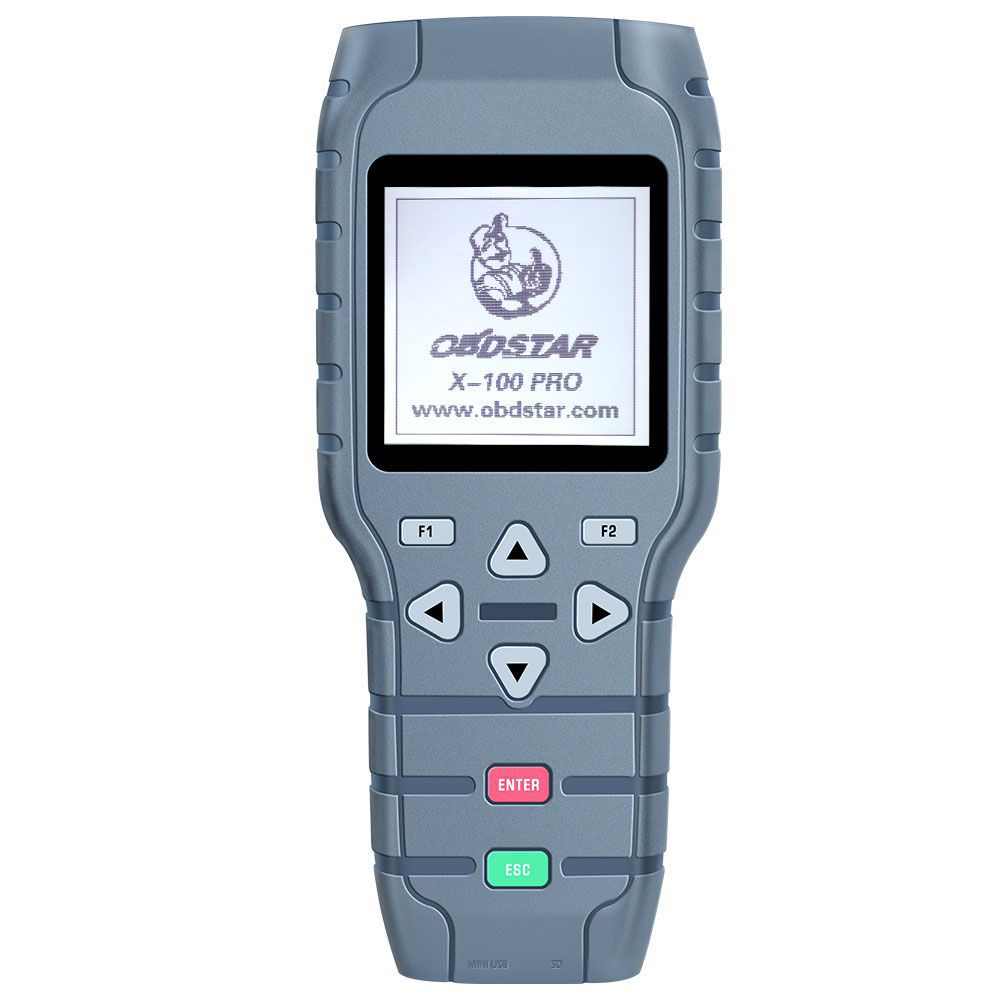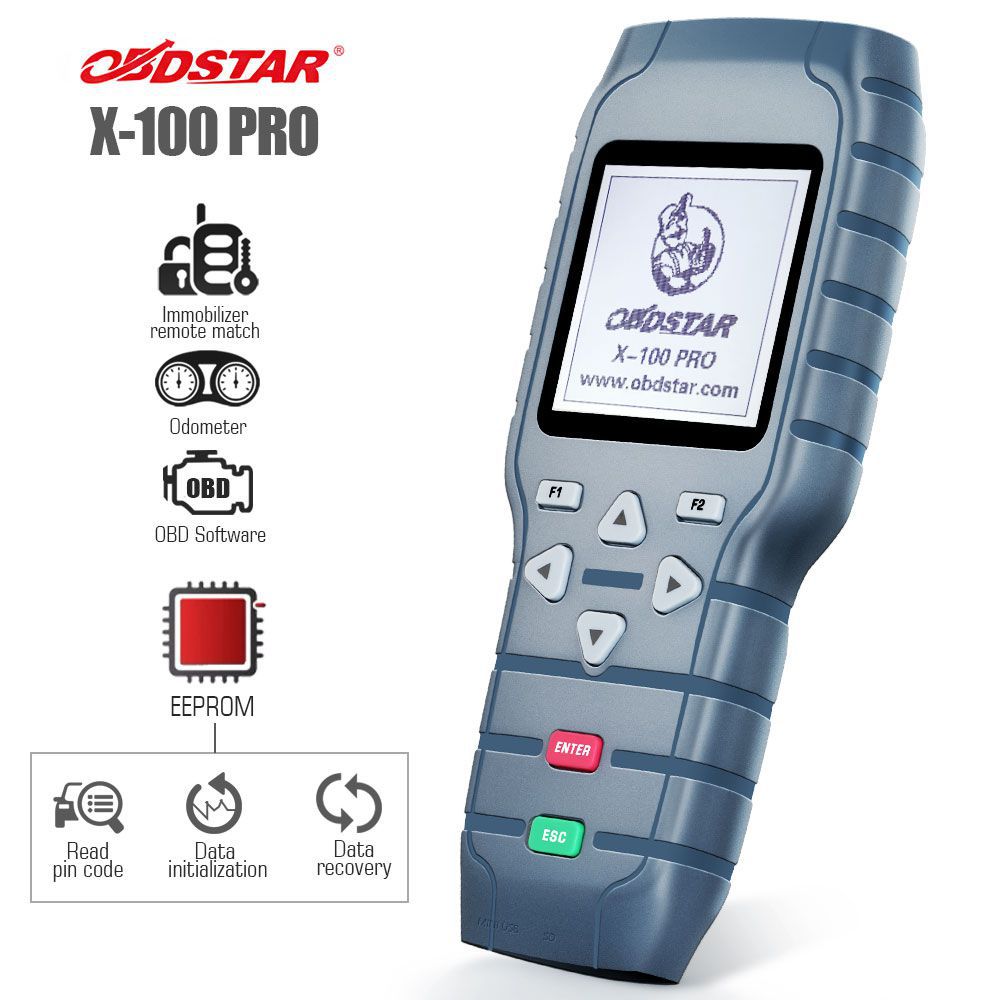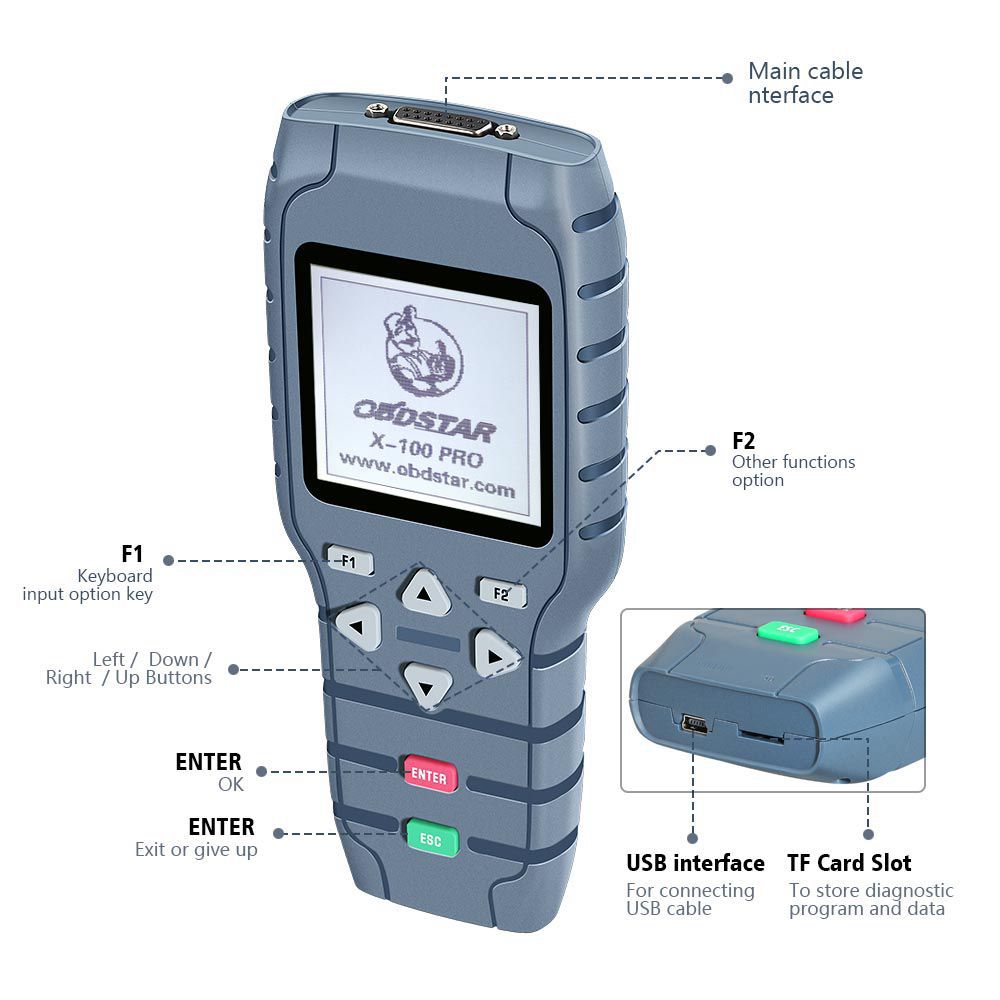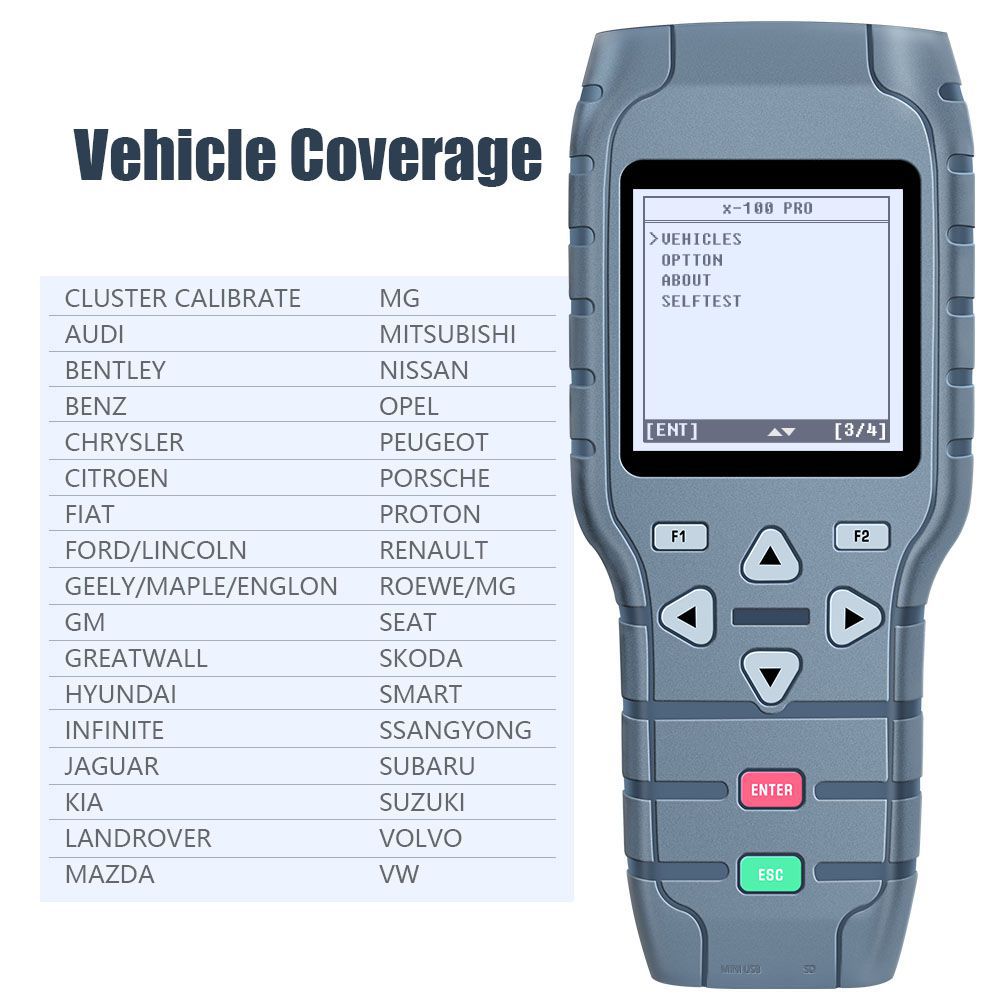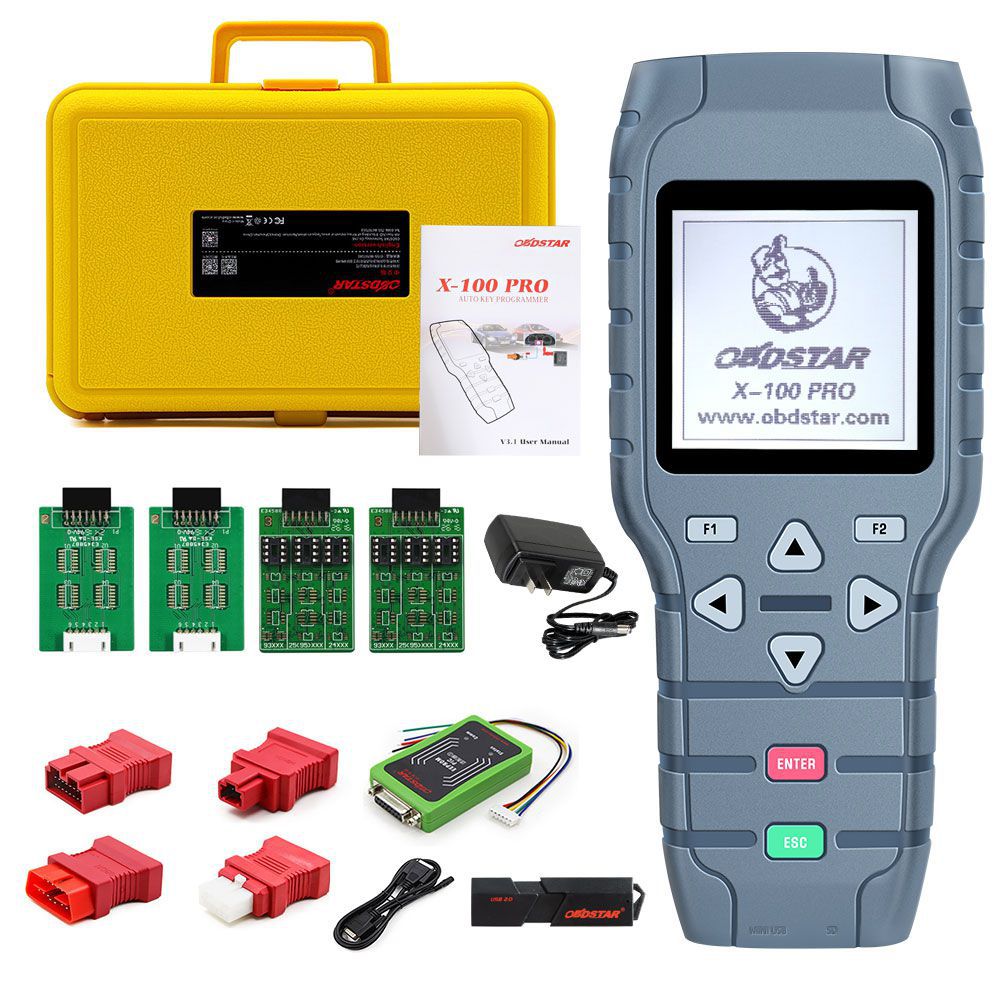 OBDSTAR X-100 X100 PRO Auto Key Programmer (C+D) Type for IMMO+Odometer+OBD Software Get a Free OBDSTAR EEPROM Adapter
OBDSTAR X-100 PRO Auto key programmer (C+D) Type,With X-100 PRO, Without worries about Matching! With Immobilizer remote match+ Odometer+ OBD Software and simple and robust design,X-100 PRO Auto Key Programmer will make your immobilizer service experience much easier!
Shipping:

Free Shipping

Standard Flat Rate Shipping Service


Estimated delivery time: 7-45 working days.

See details»

Returns:

Return for refund within 7 days,buyer pays return shipping.

Read details »

Support:
Product Details

Product's Reviews
Top 8 Reasons to Get X-100 PRO Auto Key Programmer:
1. Original from
OBDSTAR
, Supports EEPROM Function. With a
EEPROM Adapter
for free.
2. Free Update Online on
Official Website
for 1 Year,after 1 year,it will cost 85USD/year.
3. Inherited the overall look of the original X-100+, changed the new silicone button, more comfortable feel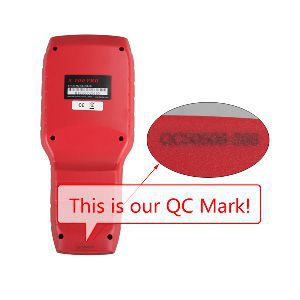 4. Adjusted the TF card slot position in mold, fit more tightly than previous generation, card plug will not go inside the machine

5. Software downloading speed is improved by more than 50%

6. New upgraded software operating system, added operating interactive prompt

7. High-capacity 4G TF card, more stable performance, no worry about white screen
8. New design of PCB hardware, greatly improved configuration
1. Language: English,Simplified/Traditional Chinese
2. Dealer Code:
860010A1 , 860755B1
3. Configuration(C+D):
IMMOBILISER+ OBD Software and
Odometer Adjustment
+ OBD Software
4.
OBDSTAR
X-100 PRO dones't support
TOYOTA
G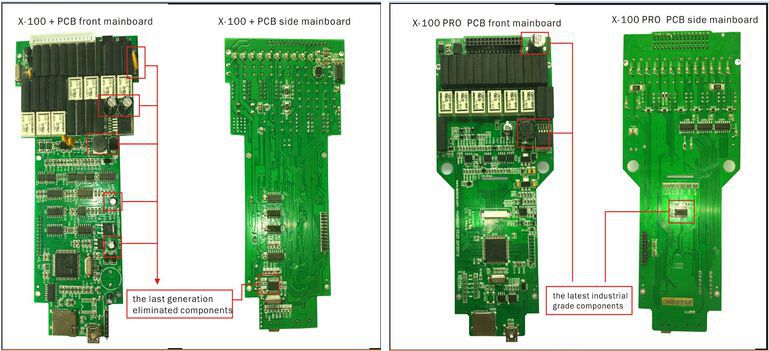 X100 PRO Features:
1. New keys programming
2. Reads keys from immobilizer's memory
3. New immobilizer programming
4. New ECU programming
5. New mechanical key number programming
6. Vehicle Identification Number programming
7. Reset ECU&reset immobilizer
8. Easy to operate by the guided menu programming
9. New remote controller programming
10. Immo PINCODE reader
12. With full and strong database for the most important vehicle makes
13. Upgradable via web-based download
14. EEPROM Chip read
X-100 PRO English Version Configuration:
Configuration(C): IMMOBILISER+ OBD software
Optional configuration(E): EEPROM adapter is included in the package as free gift now.
X-100 PRO

Vehicle Coverage:
EEPROM Adapter: EEPROM ADAPTER V30.40
Immobiliser:
ACURA, AUDI, BAIC, BESTURN, BRILLIANE, BYD, CHANGAN, CHANGHE, CHERY, CHRYSLER, CITROEN, DFLZ, DFPV, DS,
FORD
, GEELY,
GM
, GREATWALL, HAFEI, HAIMA, HAWTAI Motor, HONDA, HONGQI, HUAPU, HYUNDAI, INFINITI, JAC, JAGUAR, KIA, LANDROVER, LEXUS, LIFAN, LINCOLN, LUFENG, MAZDA, MG, MITSUBISHI, NISSAN,
OPEL
, PEUGEOT,
Porsche
, RENAULT, ROEWE, SAIC ENGLANG, SEAT, SKODA, SMART, SSANGYONG, SUBARU,
SUZUKI
,
TOYOTA
,
VW
, YOUNGLOTUS, ZZMAZDA, ZZNISSAN;
OBDII: OBDII V30.02 for diagnose
Can't support Proton.
More cars' software will be released.

Remark: including x-100+ all the matching function and add new software function in X-100 PRO.
What's the difference between this OBDSTAR X100 and

XTOOL X100

?
1. OBDSTAR X100 can support EEPROM function, while XTOOL X100 can't
2. OBDStar X100 can't support Proton, while XTOOL X100 can
OBDSTAR X-100 Pro June 30th,2016 Update Feature:
Adding IMMO programming for X-100 PRO:
If you are a supporter, please help us to forward to share!
1. Adding S
GM
W 560 IMMO programming system (no pincode);
2. Opening Isuzu MU-X smart key system;
3. Opening Isuzu D-MUX remote control IMMO system;
4. Adding the TRUMPCHI GA3 (GA3S) IMMO system;
5. Adding TRUMPCHI GA3 (GA3S) smart key system;
6. Adding TRUMPCHI GA5 IMMO system;
7. Adding TRUMPCHI GA5 smart key system;
8. Adding TRUMPCHI GA6 IMMO system;
9. Adding TRUMPCHI GA6 smart key system;
10. Adding TRUMPCHI GA8 IMMO system;
11. Adding TRUMPCHI GA8 smart key system;
12. Adding TRUMPCHI GS4 IMMO system;
13. Adding TRUMPCHI GS4 smart key system;
14. Adding in TRUMPCHI GS5 (subscription) IMMO system;
15. Adding in TRUMPCHI GS5 (subscription) smart key system;
16. Adding TRUMPCHI Zeng program electric vehicle IMMO system;
17. Adding Peugeot OBD pincode to read;
1007
206
207
208
2008
301
306
307
308
3008
406
407
408
4007
508
5008
607
806
807
Bipper
Expert
Partner
.......................
18. Adding Citroen OBD pincode to read;
C2
C3
C3 Picasso
C3 Pluriel
C4 Cactus
C4 Picasso
C4L
C5
C8
C-Elysee (New)
xsara Picasso
Berlingo 2
Berlingo 3
Jumper
Jumpy
Triumph
Sega
........................
19. Adding DS OBD pincode to read;
DS3
DS4
DS5
.......................
20. Adding BESTURN X80 smart key system;
21. Adding IMMO system and old BESTURN (CAN) no pincode to read;
22. Opening BESTURN B90 Smart Card no pincode to program;
23. Opening BESTURN B30 Key no pincode to program;
24. Adding Great Wall H5 commemorative Delphi gasoline (4G63T MT80) IMMO system;
25. Adding Great Wall H5 commemorative Bosch Diesel (Bosch 4D20) IMMO system;
26. Adding Chang'an 2016 CS35 remote program;
27. Adding Chang'an 2016 CS35 smark key program;
28. Adding Kia KX3 smart key program;
29. Adding
TOYOTA
type 3 remote program;
30. Adding Dongfeng Fengshen A60-A14T IMMO remote program system;
31. Adding Dongfeng Fengshen AX3 (DFM A15 MT22.1) vehicle control system;
32. Adding Dongfeng Fengshen AX3 (DFM A15 MT22.1) IMMO system;
33. Adding Dongfeng Fengshen AX3 (DFM A14T MT62.1) vehicle control system;
34. Adding Dongfeng Fengshen AX3 (DFM A14T MT62.1) IMMO system;
35. Adding Dongfeng Fengshen AX3 (DFM A14T MT62.1) smart key system;
36. Adding Dongfeng Fengshen A60EV vehicle control system;
37. Adding JAC S3 Delphi IMMO system;
38. Adding JAC S3 UMC ECU Delphi IMMO system;
39. Adding Brilliance V5 PEPS smart new key program;
40. Adding Chery M16PHEV remote control system;
41. Adding Chery Smart Key System type 2;
Adding mileage adjustment system for X-100 PRO
42. Adding
FORD
2015 sharp boundary small color screen mileage adjustment;
43. Adding
Porsche
918 2015 mileage adjustment;
44. Adding subaru mileage adjustment;
45. Adding
SUZUKI
Super Vitra Type 1 mileage adjustment;
46. Adding
SUZUKI
Super Vitra Type 2 mileage adjustment;
47. Adding Suzuki Zexi mileage adjustment;
48. Adding Suzuki XL7 2006-2010 mileage adjustment;
49. Adding Ford Crown Victoria 2005- mileage adjustment;
50. Adding Ford E250 2008-2009 mileage adjustment;
51. Adding Ford E350 2008-2009 mileage adjustment;
52. Adding Ford E450 2008-2009 mileage adjustment;
53. Adding Ford Escape (import) 2008-2012 mileage adjustment;
54. Adding Ford Explorer 2004 mileage adjustment;
55. Adding Ford F150 2006-2007 mileage adjustment;
56. Adding Ford F250 2006-2007 mileage adjustment;
57. Adding Ford F350 2006-2007 mileage adjustment;
58. Adding Ford F450 2006-2007 mileage adjustment;
59. Adding Ford F500 2006-2007 mileage adjustment;
60. Adding Ford F550 2006-2008 mileage adjustment;
61. Adding Ford Five Hundred (500) miles adjustment;
62. Adding Ford Flex 2008-2012 mileage adjustment;
63. Adding Ford Focus 2005-2008 data recovery;
64. Adding Ford Freestar 2006-2007 mileage adjustment;
65. Adding Ford Freestyle 2005- mileage adjustment;
66. Adding Ford Merc Mariner 2008- mileage adjustment;
67. Adding Ford Town car 2005- mileage adjustment;
68. Adding Ford Taurus 2008-2009 mileage adjustment;
69. Adding Ford Taurus 2004 mileage adjustment;
70. Adding Geely GX9 mileage adjustment and data recovery function;
71. Adding Geely Brilliant GC9 data recovery function;
72. Adding Geely Global Hawk GX7 data recovery function;
73. Adding GreatWall Hafer H9 data recovery function;
74. Adding Chrysler Voyager 2015- mileage adjustment function;
75. Adding Hyundai HB20 mileage adjustment;
76. Adding Kia Rio 2015 mileage adjustment;
Adding Oil/Service reset system for X100-PRO:
77. Adding BAIC Beijing Automotive D70 auto-zero;
78. Adding BAIC Beijing Automotive X65 auto-zero;
79. Adding FAW Hongqi H7 auto-zero;
80. Adding Changan new Benben auto-zero;
Adding EPB function for X-100 PRO:
82. Adding FAW Hongqi H7 EPB function;
83. Adding new BESTURN B70 EPB function;
Optimal correction for X100 PRO:
84. Optimized Peugeot, Suzuki, MAXUS, Ford, Mazda, Chery, Chang'an and other car IMMO remote programming;
85. Optimized Ford mileage adjustment;
86. Optimized of LANDROVER Oil/Service reset system;
X-100 PRO Packing List:
1pc x X-100 RPO main unit
1pc x OBDII-16 connector
1pc x HONDA-3 connector
1pc x HYUNDAI/KIA-10 connector
1pc x KIA-20 connector
1pc x Main Cable
1pc x TF Card
1pc x TF Card Reader
1pc x X-100 PRO user's manual
1pc x EEPROM Adapter