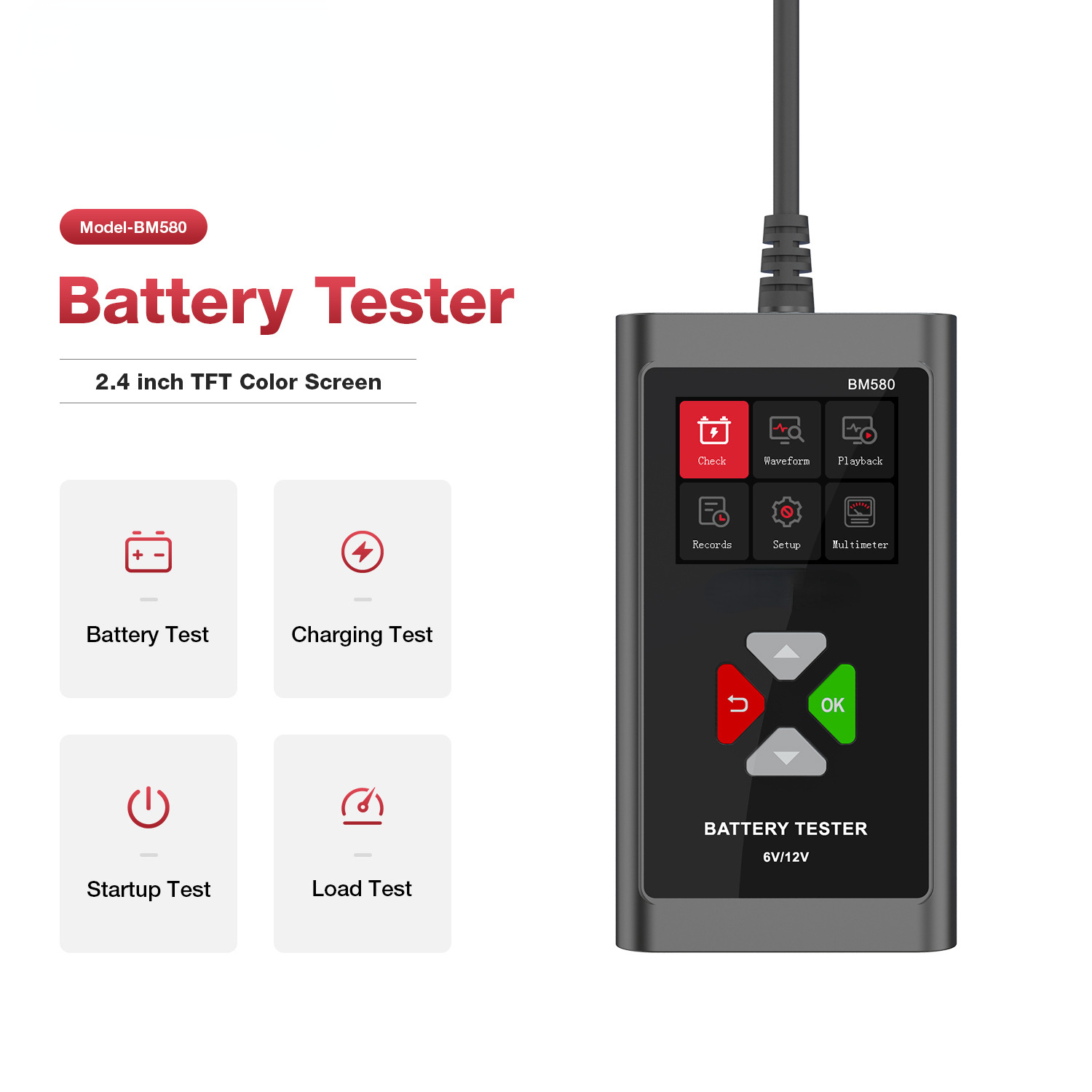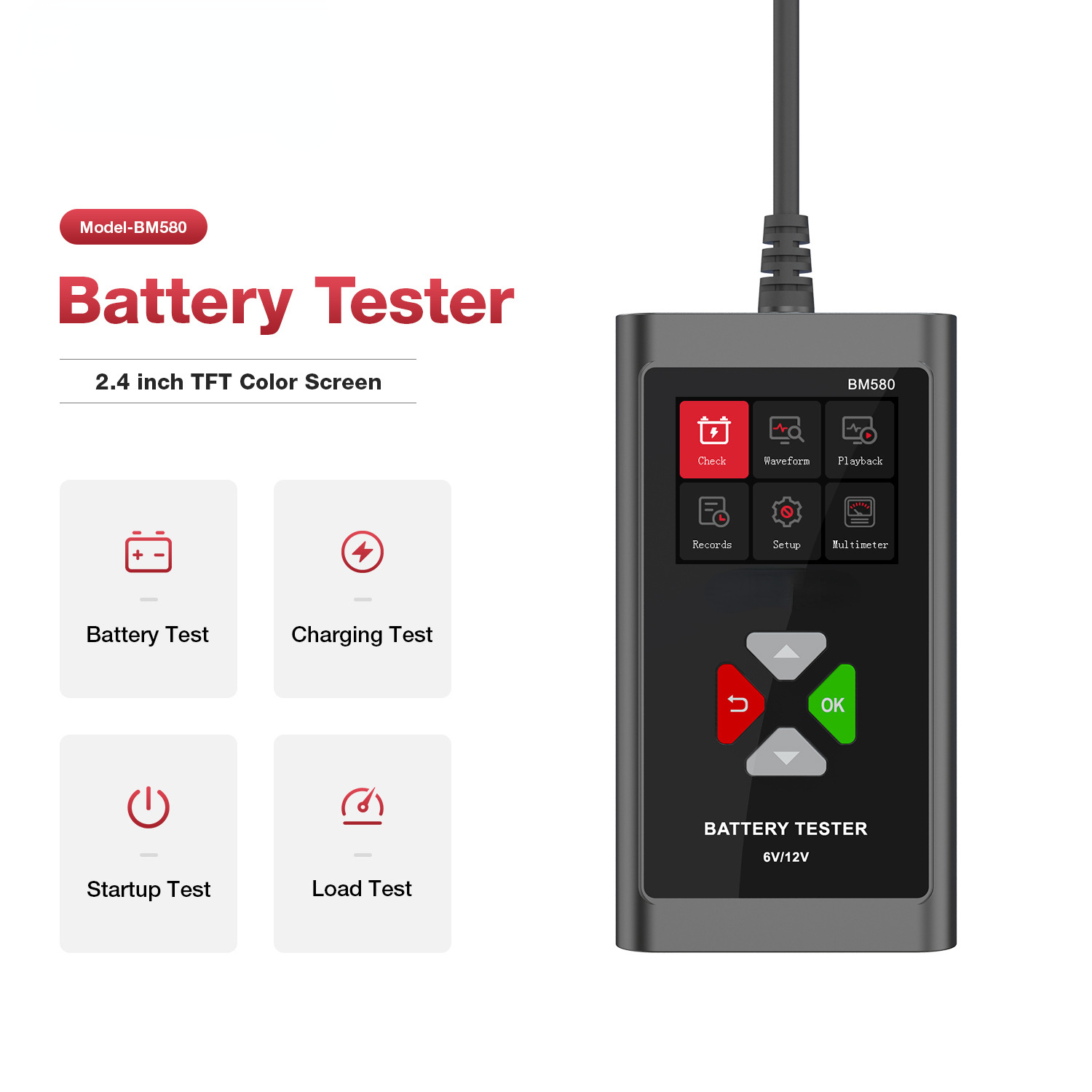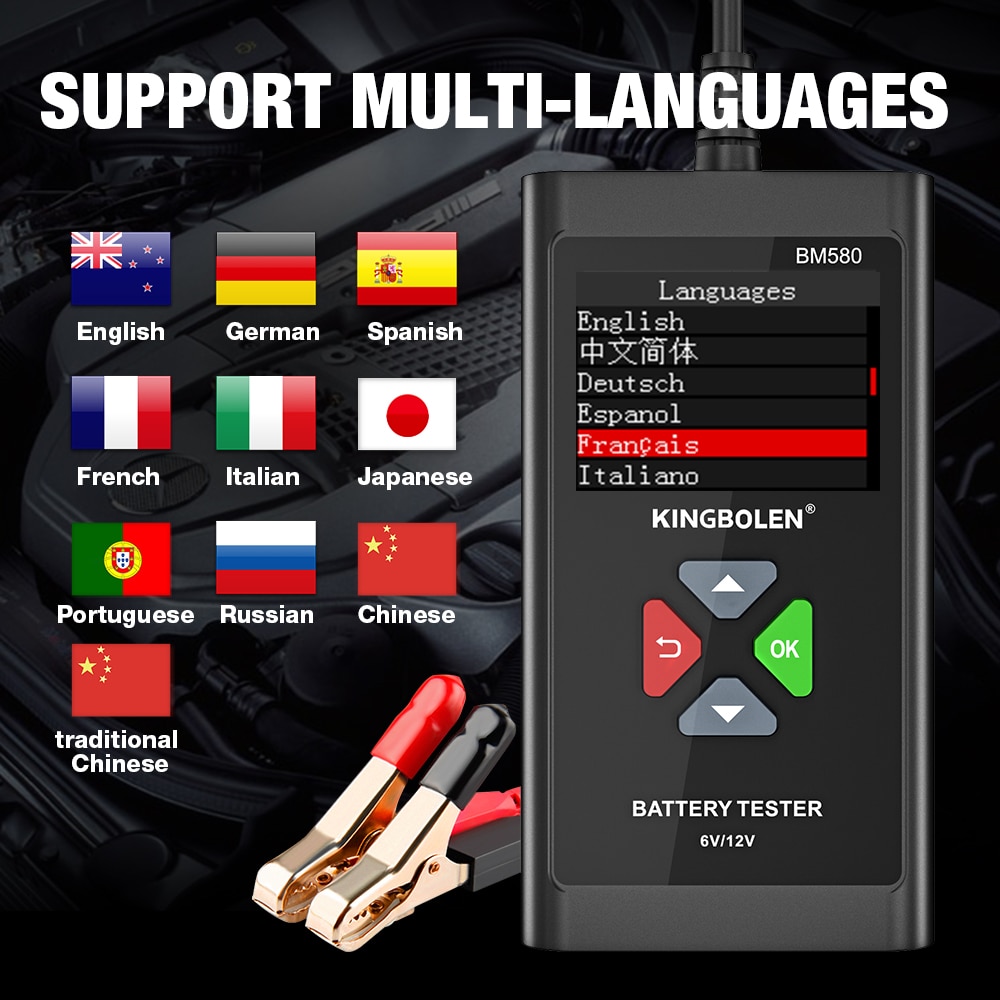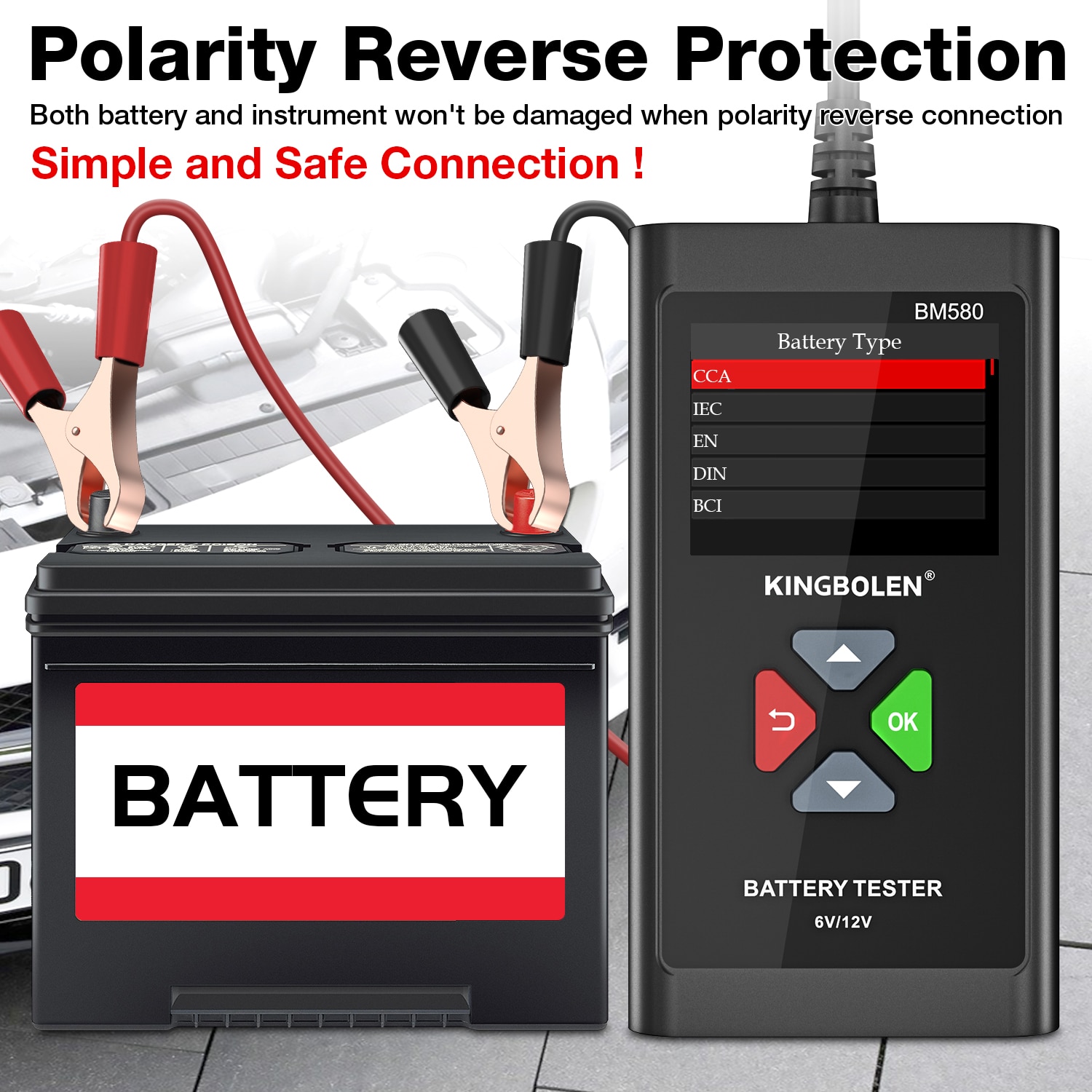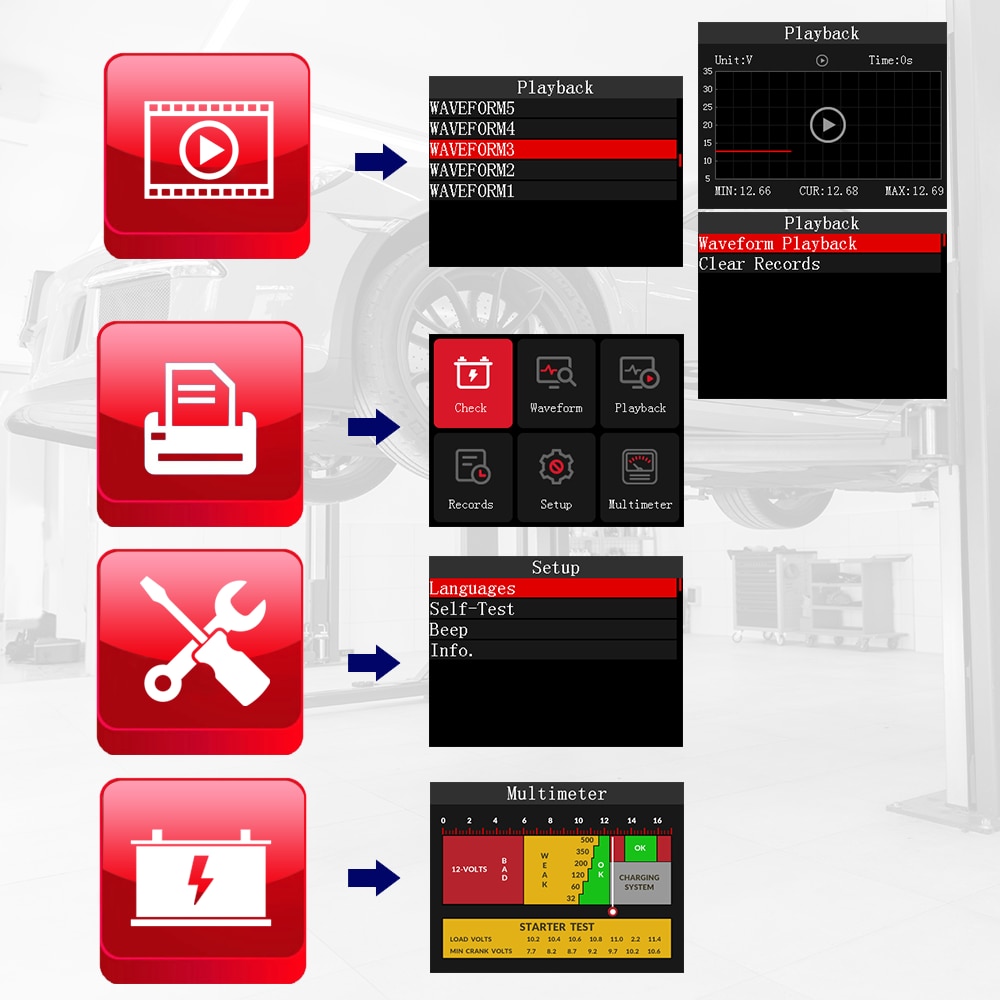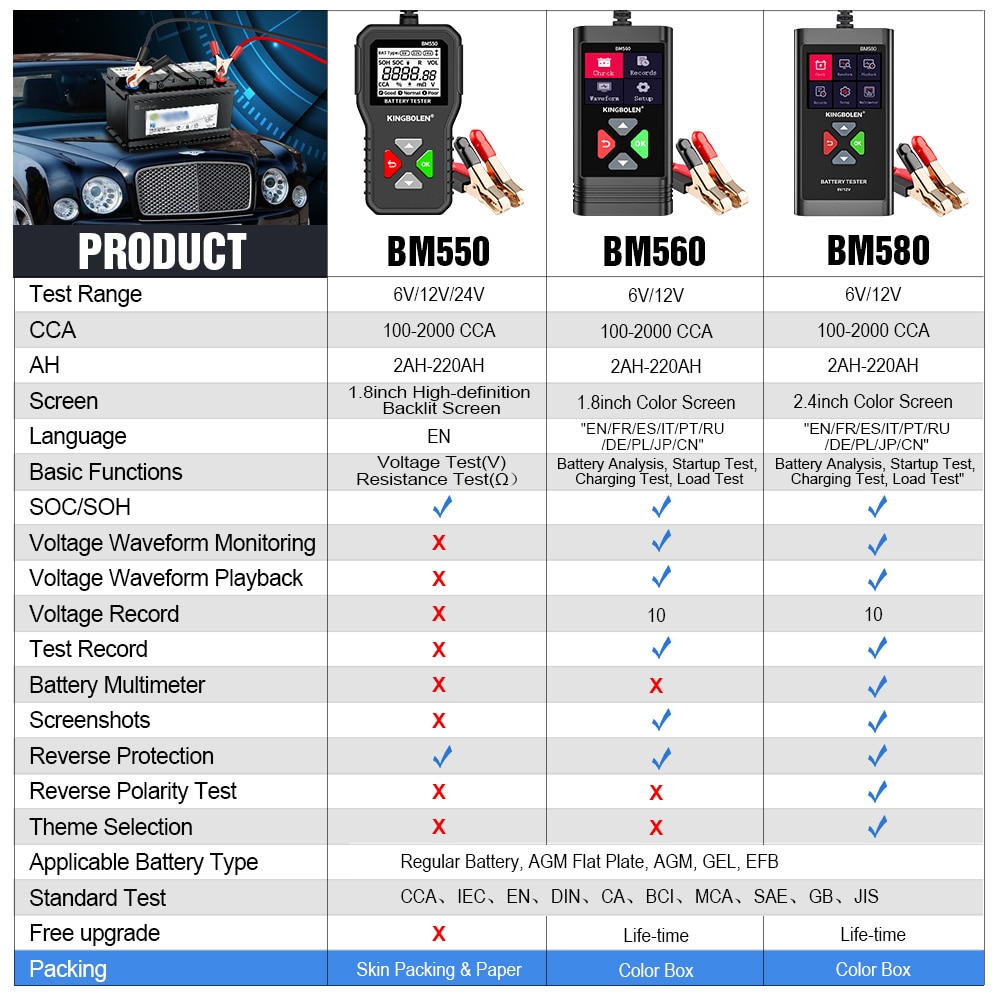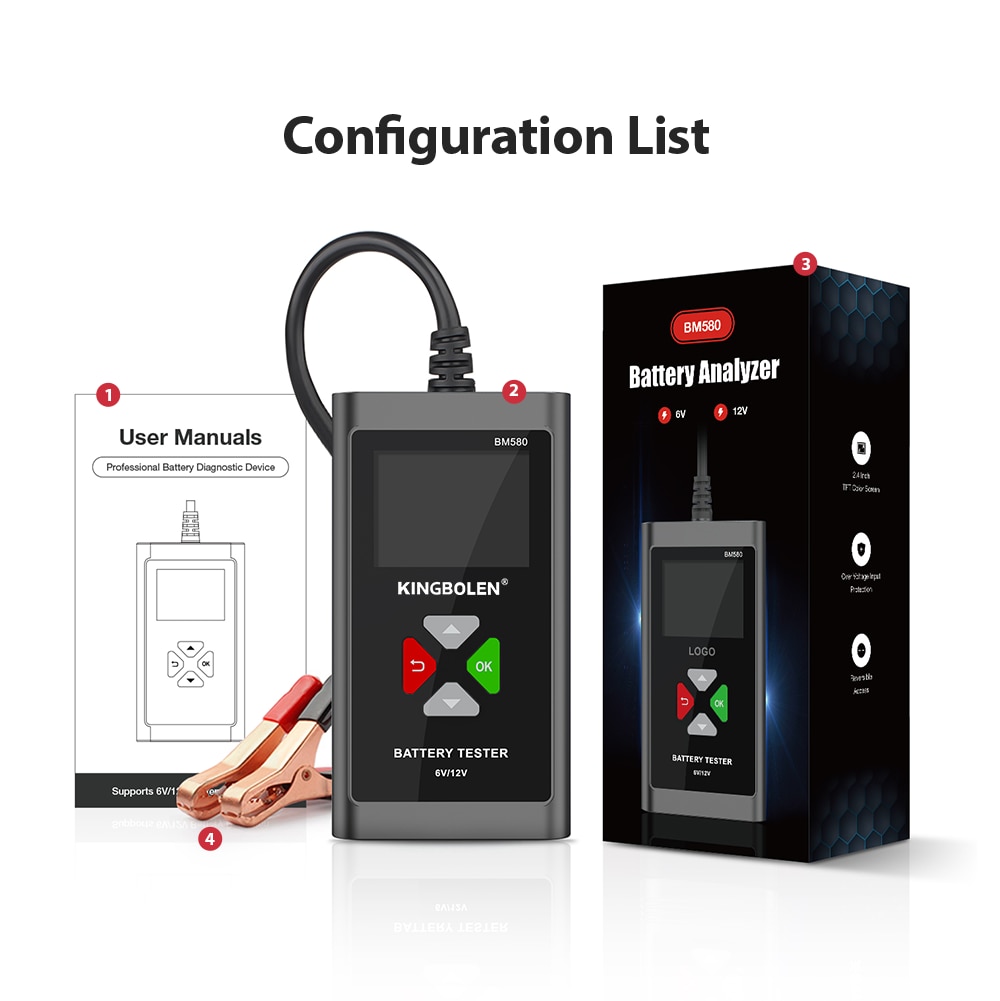 BM580 Car Battery Tester 6V 12V Automotive Test Tools Car Health Exam Reversible Access Clip Voltmeter PK BM550 BM560
BM580 with 2.4 inch TFT color screen, which is mainly targeted to analyze the battery healthy status to calculate the actual cold cranking, capability of the battery and the aging extent, which provide reliable analysis evidence for the test and maintenance of the battery.
Shipping:

Airmail Post


Estimated delivery time:

7-45

working days.

See details»

Returns:

Return for refund within 7 days,buyer pays return shipping.

Read details »

Support:
Related Accessories/Similar Items
Product Details

Product's Reviews
Does your battery need to be replaced?
There are more and more on-board electrical appliances, and the requirements for battery capacity and quality are getting higher and higher. Can your battery still support it?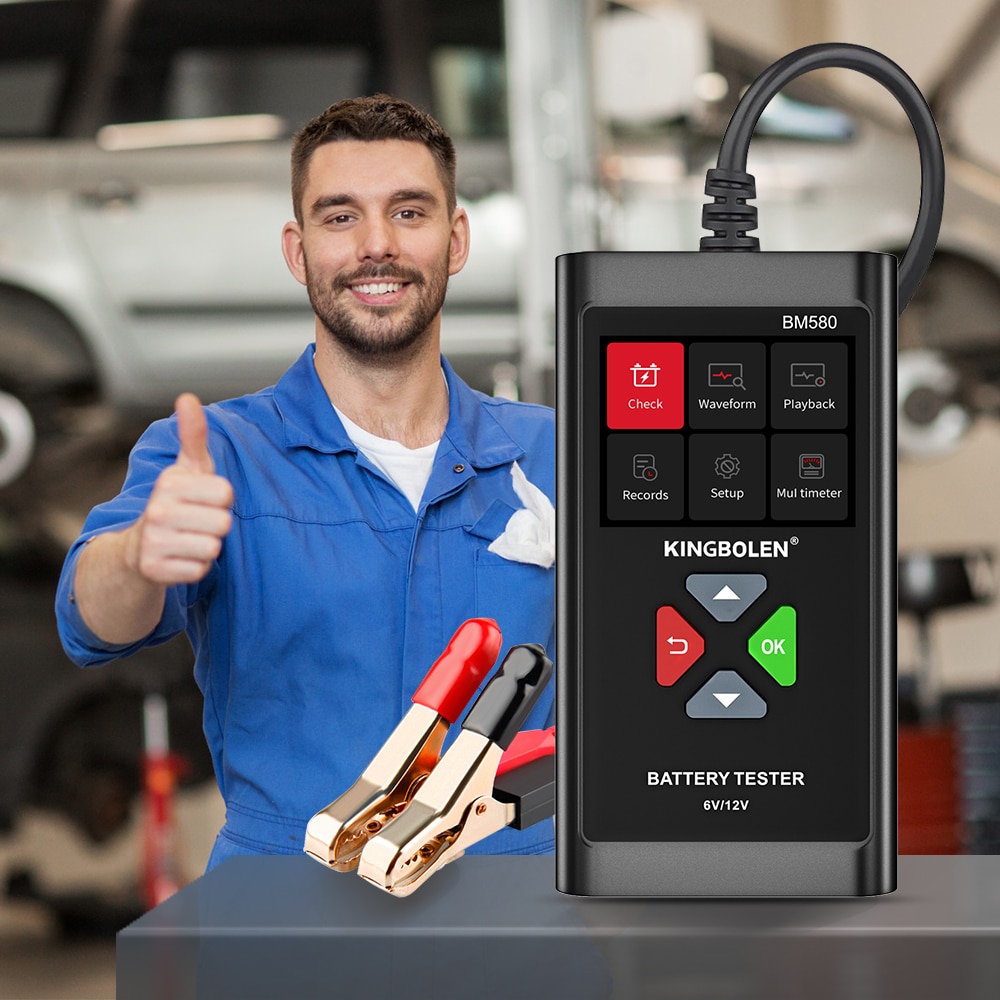 BM580 6V 12V Automotive Battery Tester Better than BM550 BM560
BM580 with 2.4 inch TFT color screen, which is mainly targeted to analyze the battery healthy status to calculate the actual cold cranking, capability of the battery and the aging extent, which provide reliable analysis evidence for the test and maintenance of the battery.
Top Reasons to choose BM580 Battery Tester
BM580 Battery Tester adopts the state-of-art conductance testing technology in the word to easily, quickly and accurately measure the actual cold cranking amps capability of the vehicle starting battery,healthy state of the battery itself, and common fault of the vehicle starting system and charging system, which can help maintence personnel to find the problem quickly and accurately.

BM580 notifies the users to replace battery in advance when the battery getting aged.

1. Support test wide range of 6V/12V batteries.
2. Simple and easy to operate.
3. Test batteries IN/ OUT of the vehicle.
4. Accurate results in milliseconds.
5. Battery life analysis, health percentage.
6. Analysis Result: Good, Recharge or Replace.
7. Lifetime free update and upgrade.
BM580 Multi-Language supported
English, French, Russian, German, Italian, Japanese, Spanish, Portuguese, Polish, Simplified Chinese, Traditional Chinese
BM580 Battery Tester Operation Interface Display
Wide Range of Applications of BM580 Car Battery Tester 6V 12V
It can test 6V/12V batteries, suitable for a variety of common models and equipment, one machine for multiple purposes.
Quadruple Protection of BM580 Battery Tester 6V 12V
【Overvolatge Input Protection】Below 20V, it can be tested at will without damage the bad internal circuit board has a short circuit.

【Reversible Access】The positive and negative poles are connected incorrectly, and the device can be normal start, the device and battery are not damaged.

【Poor Contact Prompt】When the test clip does not clamp the positive and negative electrodes of the batter, the display will prompt.

【Built-in Buzzer to Remind】During the test, when the battery is in poor condition, the device will give an audible reminder.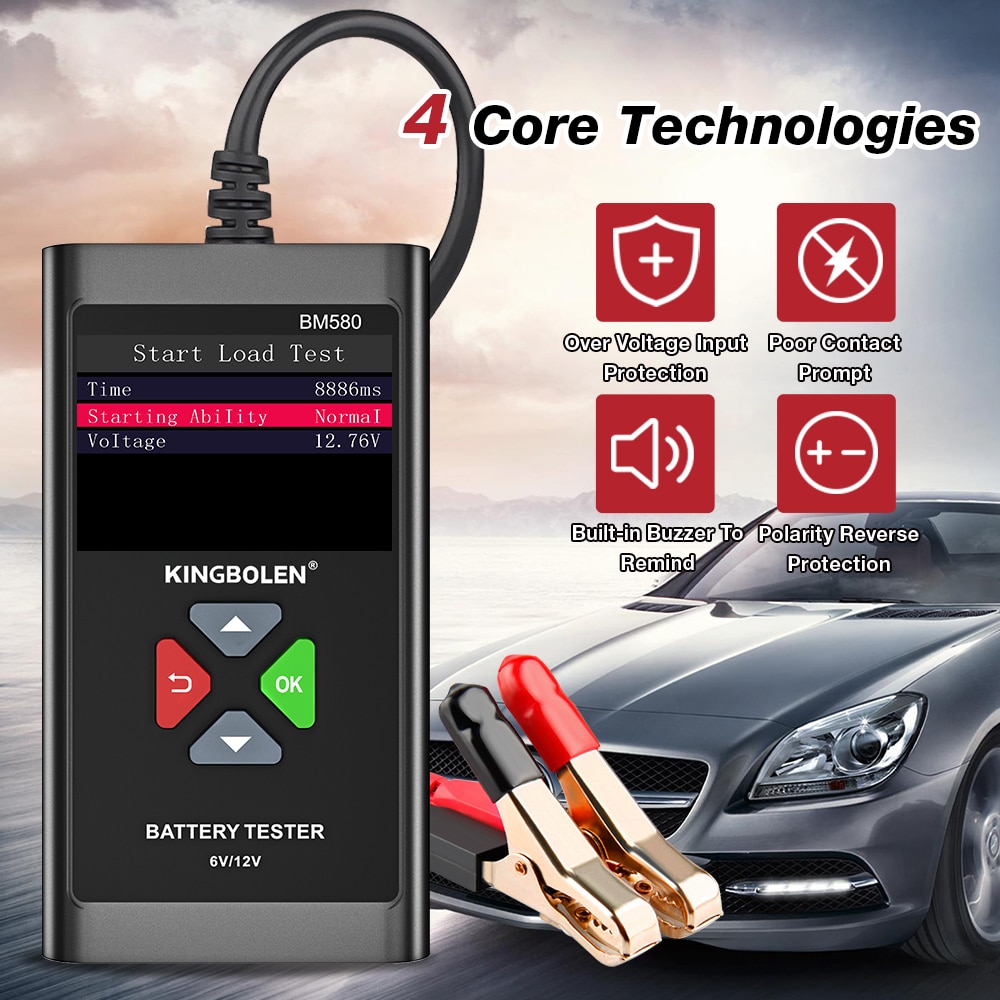 BM580 Accurate Battery Test Function
has your battery running for years but no idea about its status?

BM580 6V 12V battery tester provides you an overall analysis of battery health by checking its voltage charge, internal resistance then tells you whether the battery needs to be recharged or not.
BM580 Cranking System Function
Test and analyze the starting motor. Testing the actual required cranking current and cranking voltage of the starting motor is helpful to determine whether the starting motor works properly or not.
BM580 Charging System Test Function
Check and analyze the vehicle battery charging system, including generator, rectifier, rectifier diode, etc., thus to find out whether the output voltage of the generator is normal, the rectifier diode works properly and the abnormals.
BM580 Load Test Function
Engine performance
BM580 Reverse Polarity Test Function
BM580 Battery Tester has a protection function, even if the positive and negative polarity is wrong, the device can start normally.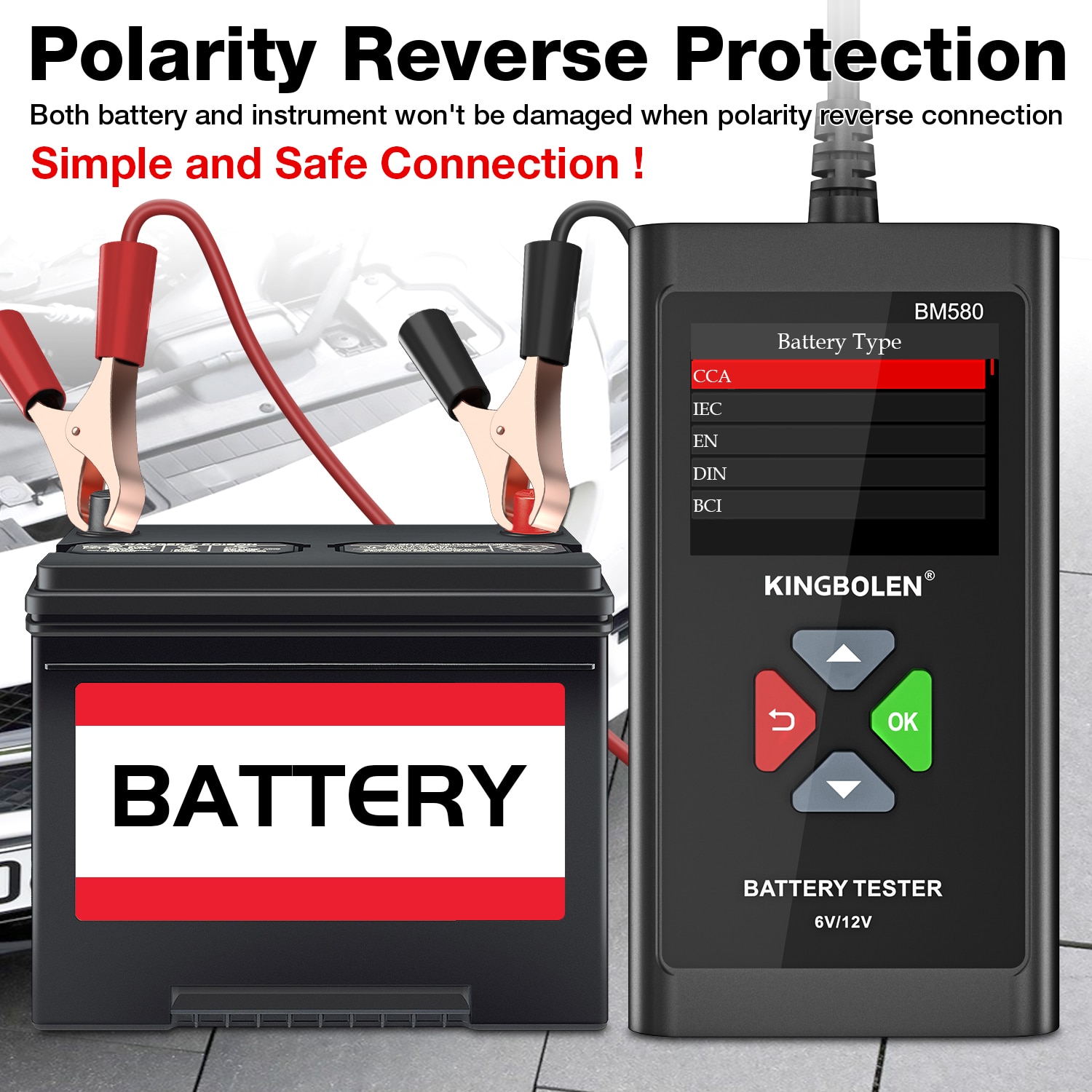 BM580 battery tester support Voltage Waveform Monitoring
Monitor the battery status in real time, understand the current floating size of the battery voltage, and have automatic storage and playback functions.
Ripple Test of BM580 Battery Tester 6V 12V
Test the charging system of the engine, the smaller the waveform fluctuation, the more stable the voltage, indicating that the battery is in good condition.

Note: If the test result is normal, the battery is charged normally. If the voltage reading is greater than 15.0V , please check the voltage regulator; if the voltage reading is less than 13.3V, Please check the connection points, wires and engine.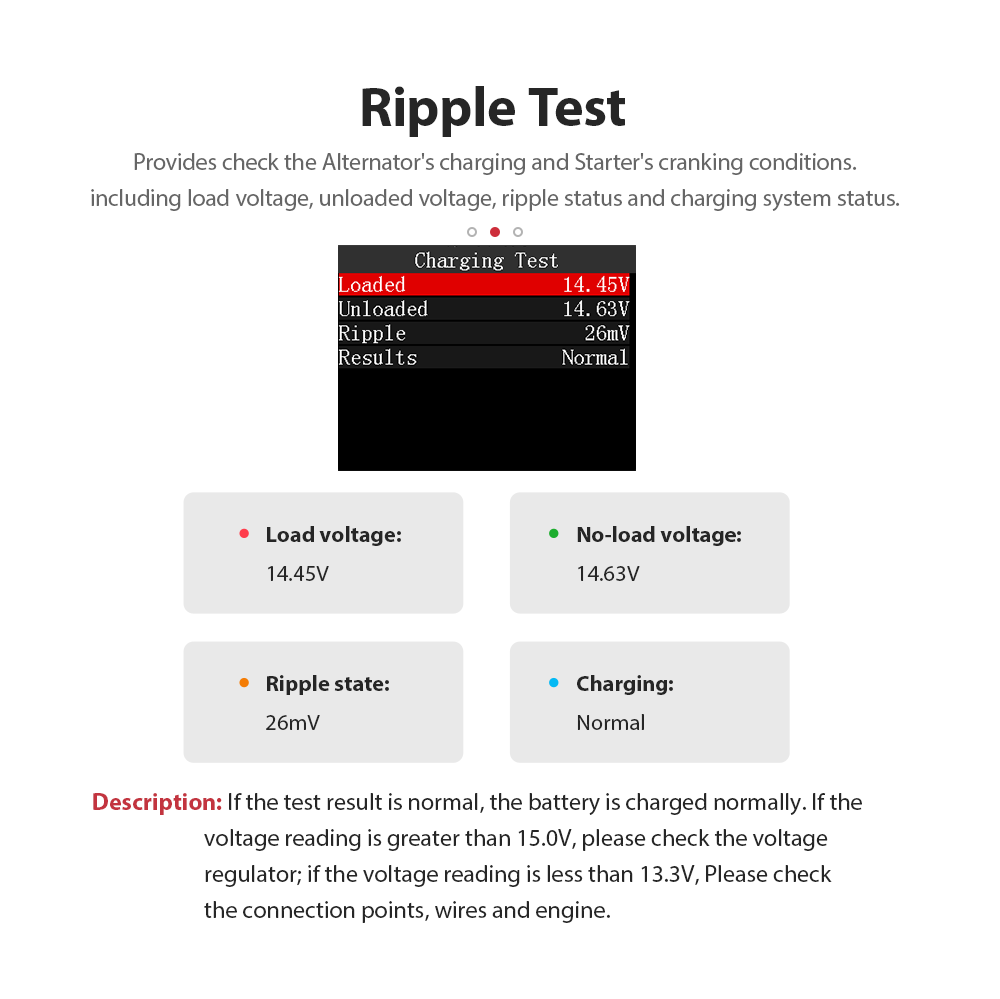 BM580 with one-click screenshot Function
It has a one-click screen capture function with long press "Up" and " Down" button., which is used to capture and save important data, fast and convenient.

( Note: The device can store up to 10 pictures )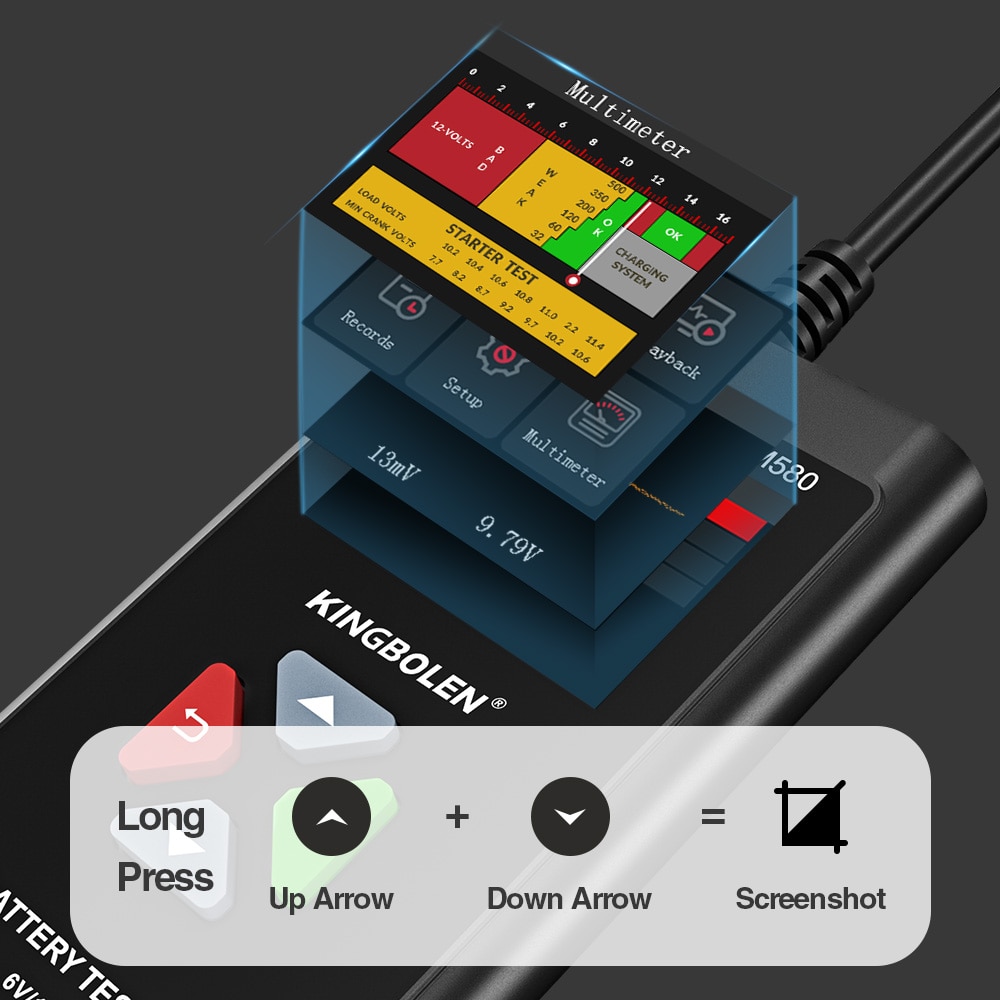 BM580 support In / Out Of Vehicle Tests
Prevent battery failure check battery status anytime and anywhere. The perfect backup device in your repair box.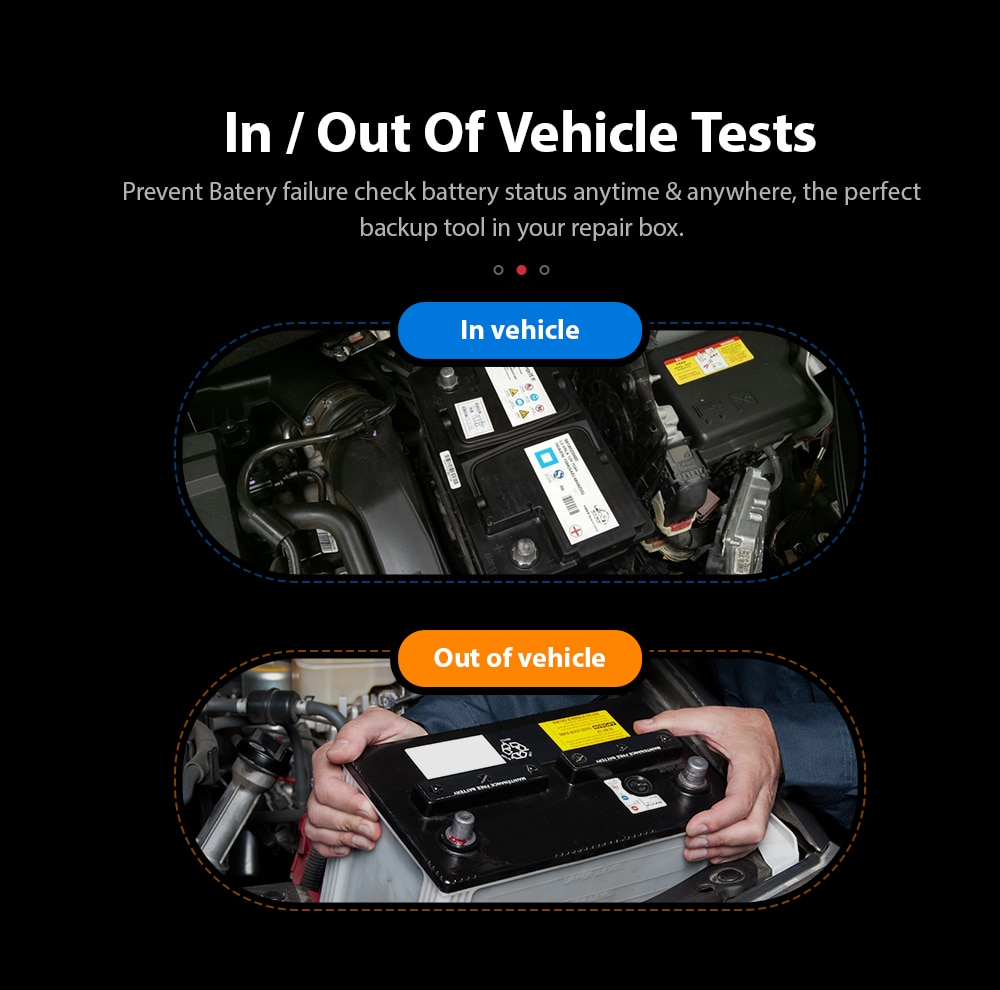 BM580 support Low Frequency Constant Current Test
Give the battery a fixed frequency and current test signal, sample, rectify, and filter its voltage, and then calculate the internal resistance of the battery.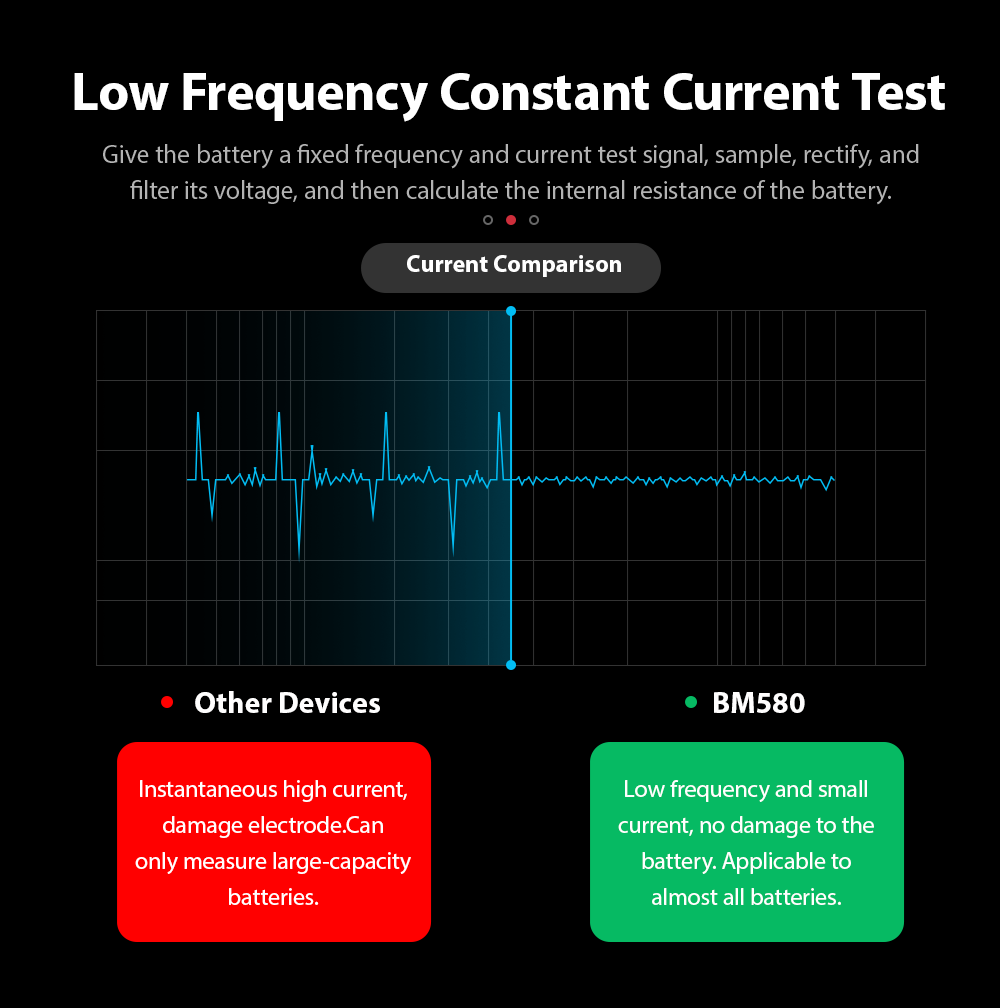 BM580 support Multiple Battery Types
It supports a variety of battery standards around the world, can test almost all car start-up lead-acid batteries, and has a wide range of applications.

●EPS lead-acid battery;
●Car start battery;
●AGM / EFB start-stop battery ;
●Electric vehicle battery ;
●UPS lead-acid battery ;
●Gel battery
Note: UPS battery/electric vehicle battery/motorcycle battery can only measure internal resistance/power/voltage, not battery life.
Ten Major Test Standards:GB (2AH - 220AH )
Geometry supports all current common battery standards, and a wide range of tests can meet your various needs.

●CCA: Cold Cranking Amps (100 - 2000 )
●BCI: Battery Council International (100 - 2000 )
●CA: Cranking Amps (100 - 2000 )
●MCA: Marine Cranking Amps (100 - 2000 )
●JIS: Japan Industrial Standard (26A17 - 245H52 )
●DIN: Germany Auto Industry Committee (100 - 1400 )
●IEC: Internal Electrical Technical Commission (100 - 1400 )
●EN: European Automoblie Industry Association (100 - 2000 )
●SAE: Society of Automotive Engineers (100 - 2000 )
●GB:China Naional Standard (2AH - 220AH ) Important breakthrough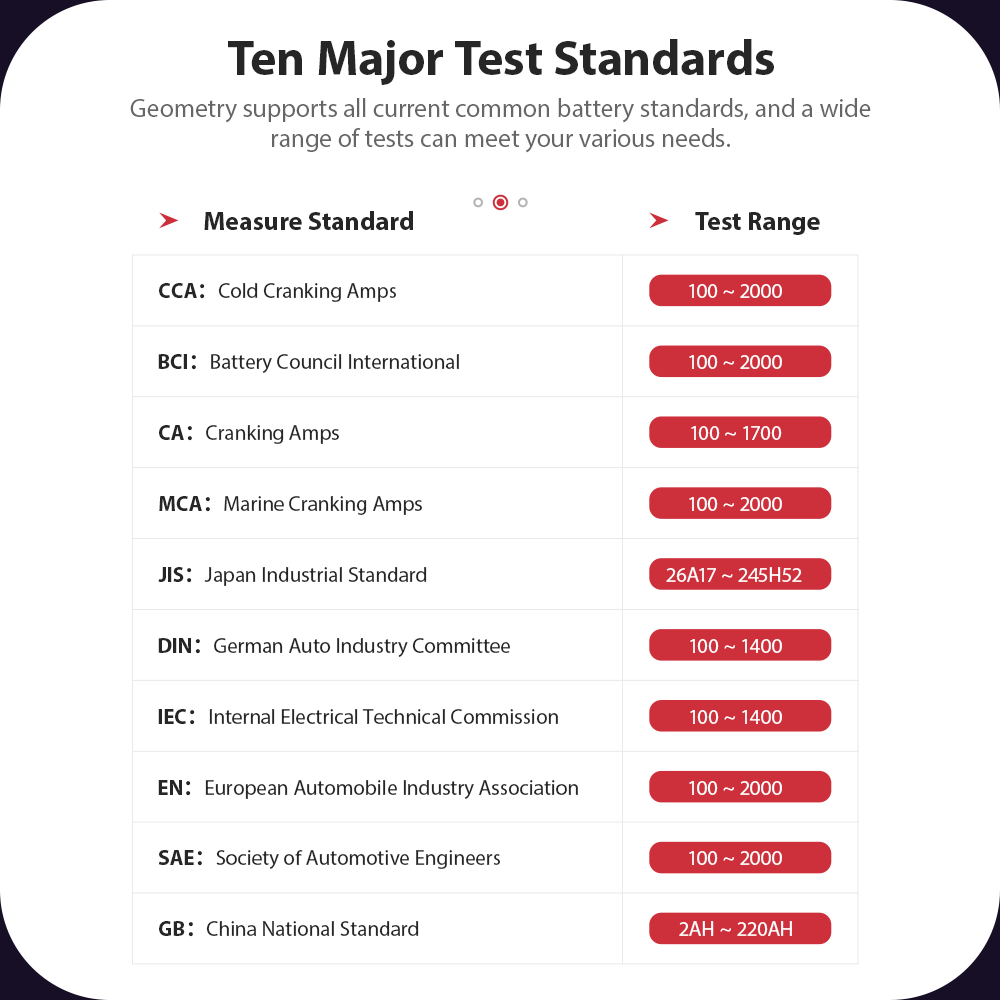 BM580 with 2.4 inch TFT HD Color Screen
High-definition TFT LCD screen display, will not appear ordinary LCD lack of characters and broken strokes, etc., with backlight function.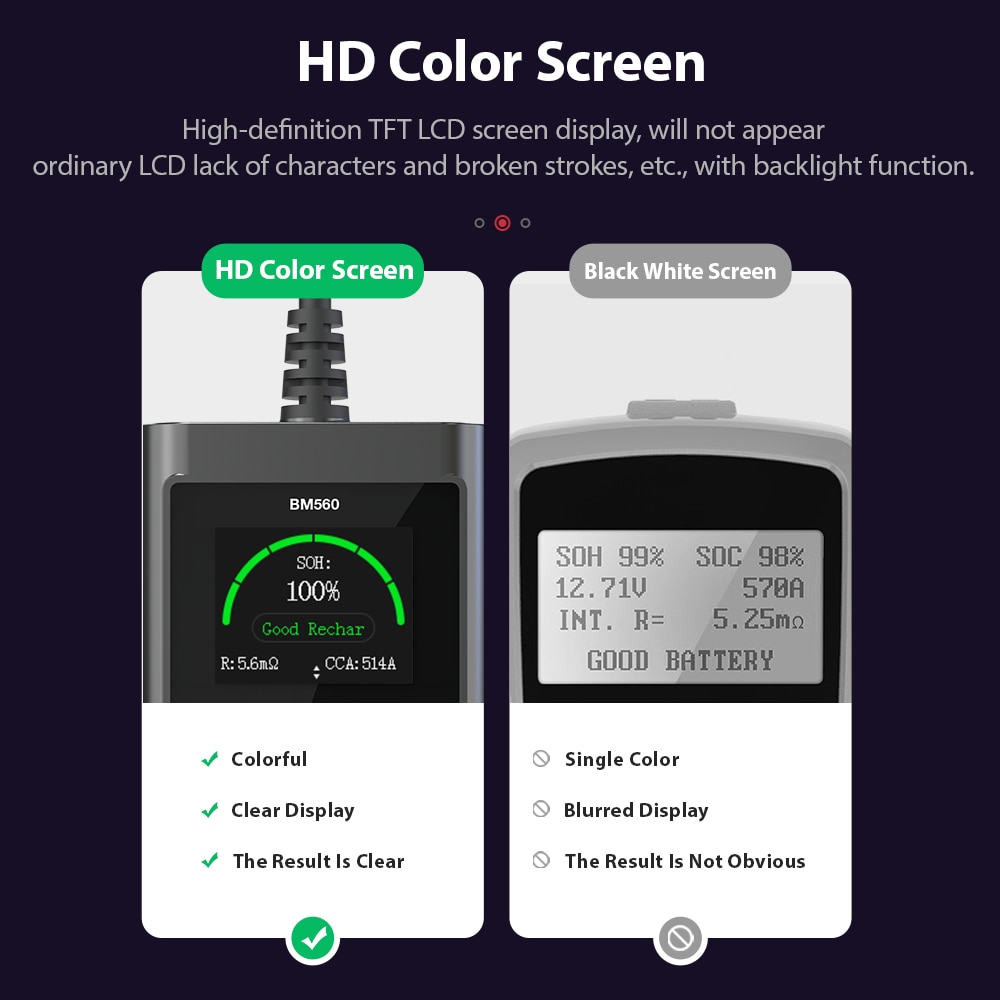 Mini USB Interface- Free Update Lifetime
It is used for software upgrade, no need to install driver, the process is simple and easy to operate.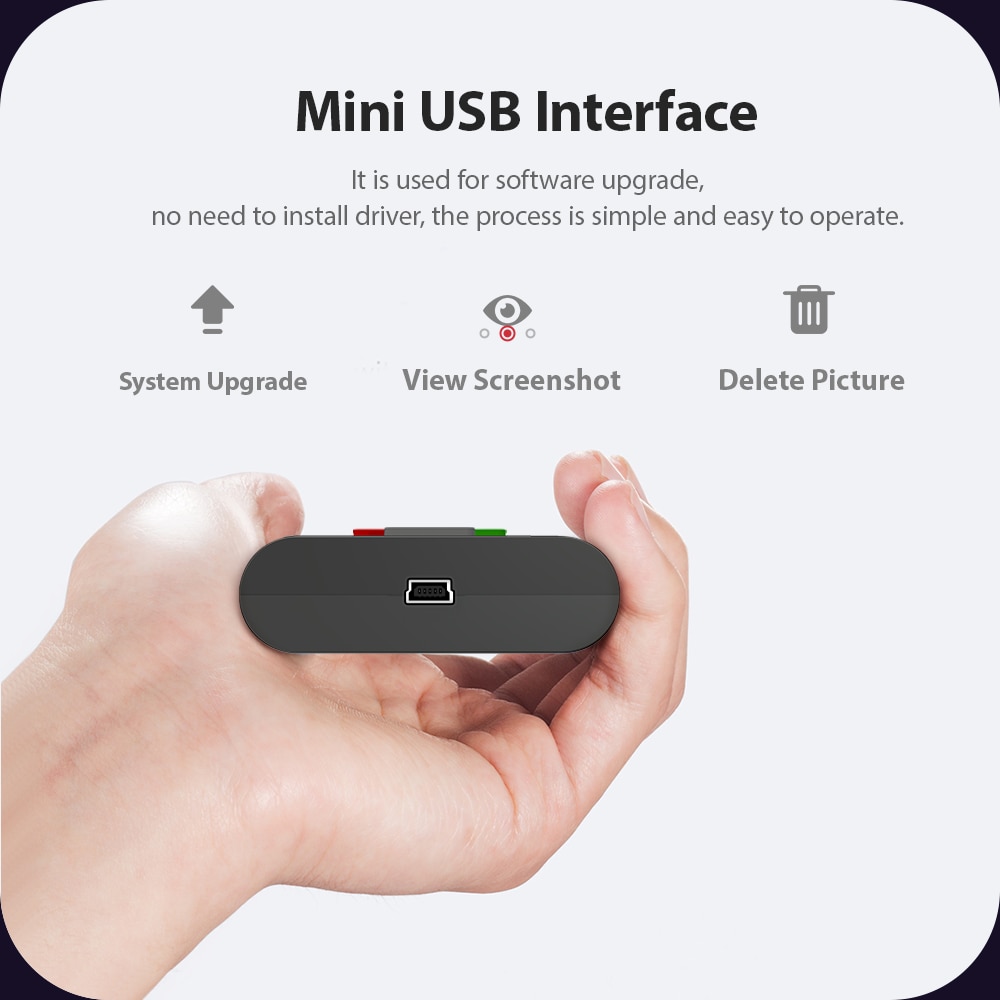 Use High Quality Wire
Selected high-quality environmentally friendly materials, good elasticity, not easy to break, tough and durable.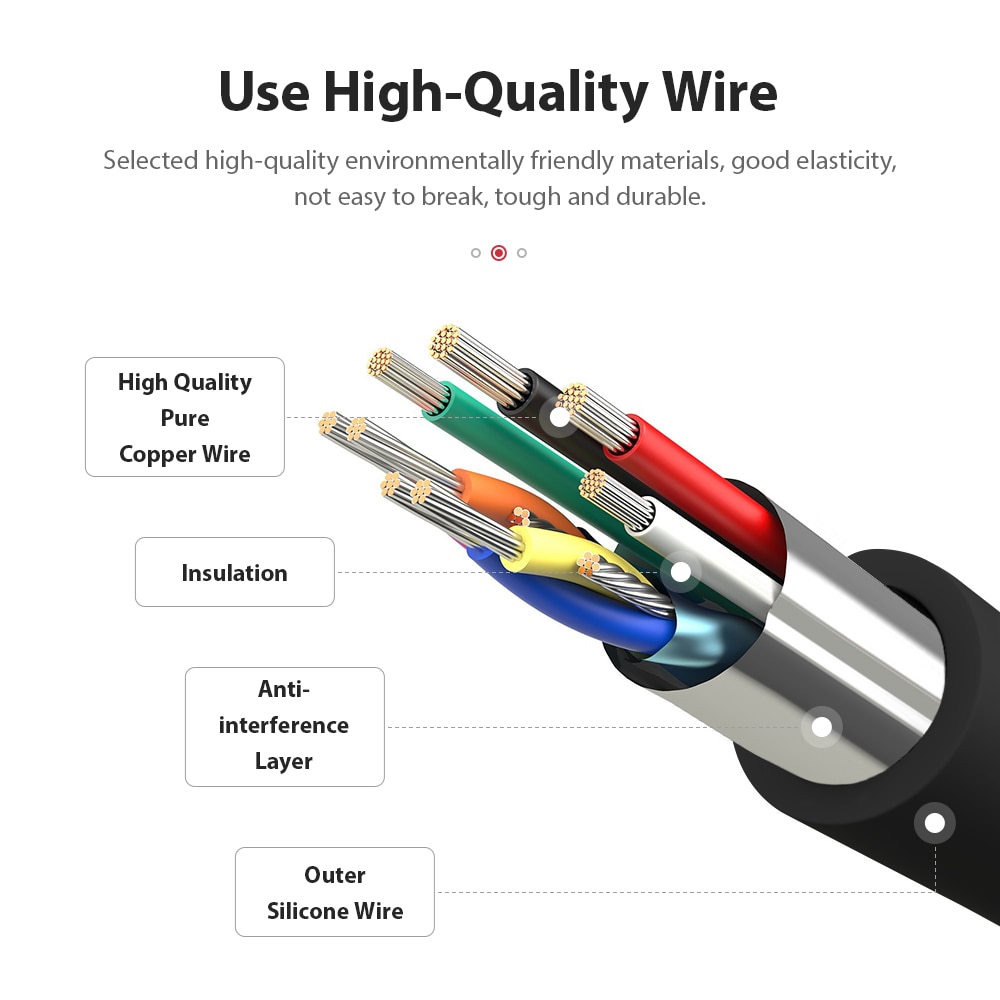 Pure Copper Alligator Clip
Large opening range, strong bite force, more precise in the measurement process
BM580 Parameter Information:
* Product Size: 5.67*3.08*0.79 inch
* Connection Method: Big Bite force clip
* Screen Size: 2.4 inch TFT Color Screen
* Test Range: 6V/12V
* Operating VOltage: 5~20V
* Operating Temperature: -20°C~65°C
* Product Material: PVC Industrial Material

Note: There are reasonable errors in all dimensions, please refer to the actual product.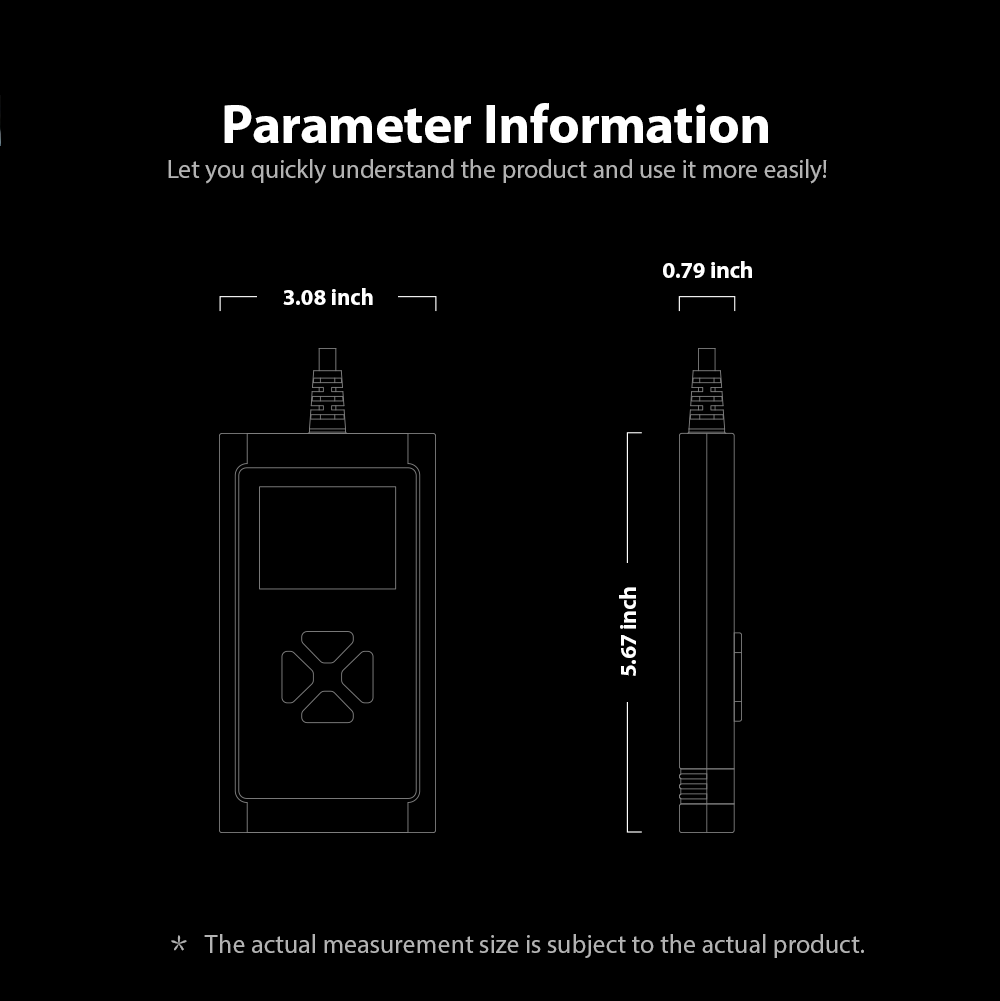 BM580 Car Battery Analyzer Packing List:
1pc * Packaging Box
1pc * BM580 Battery Tester With Alligator Clip
1pc * English User Manual