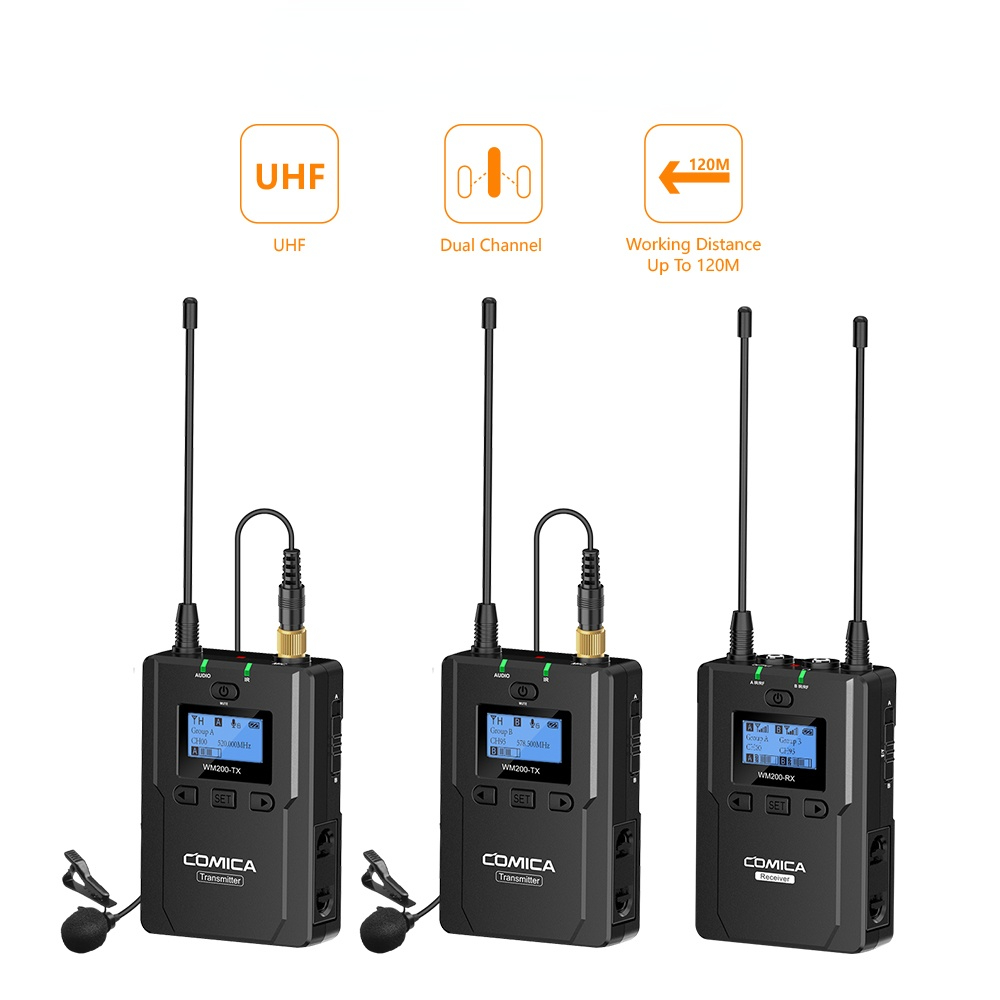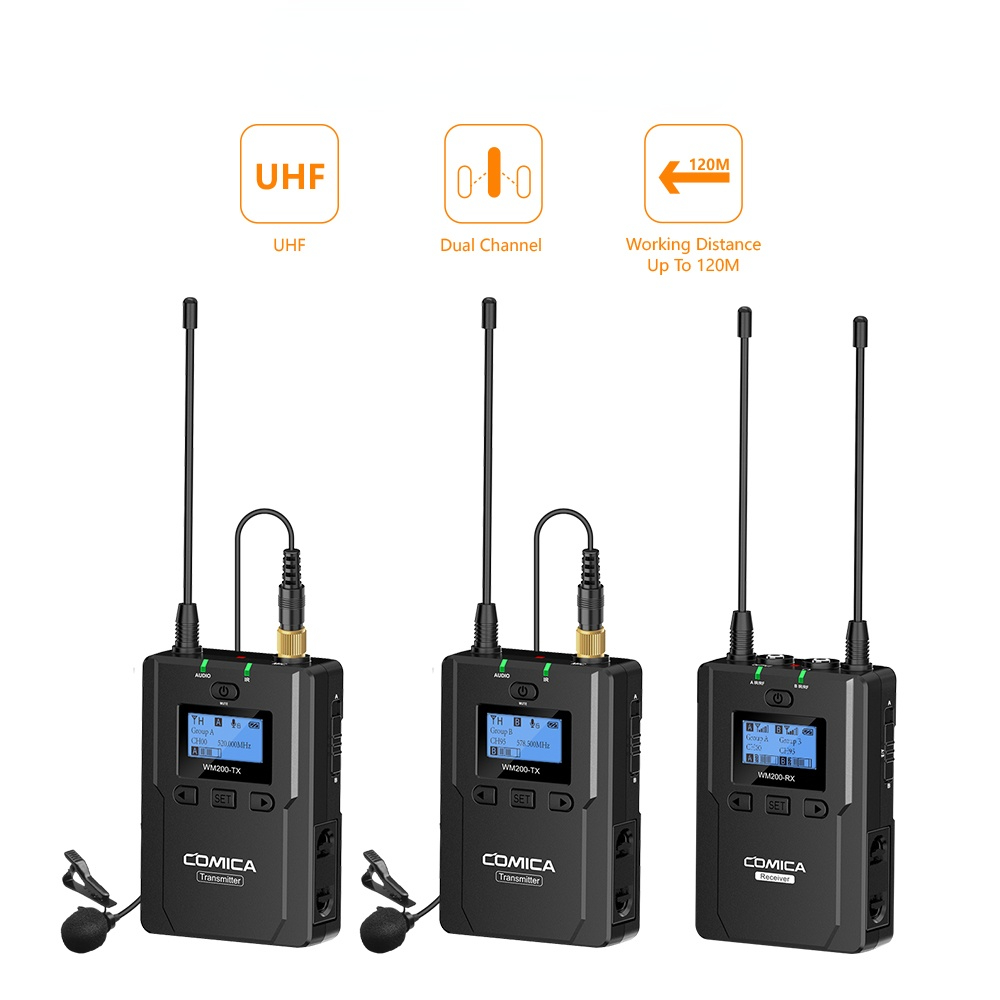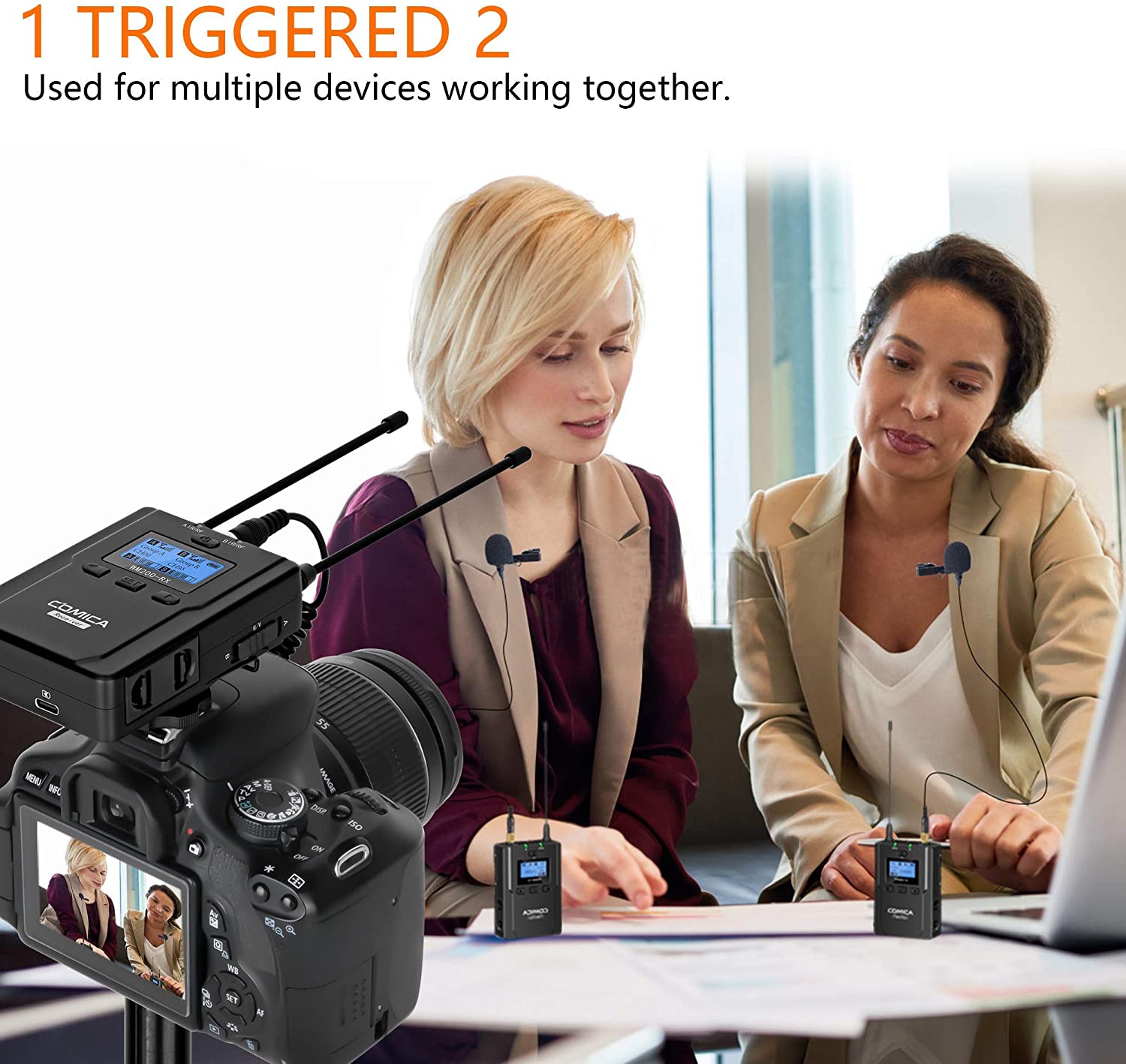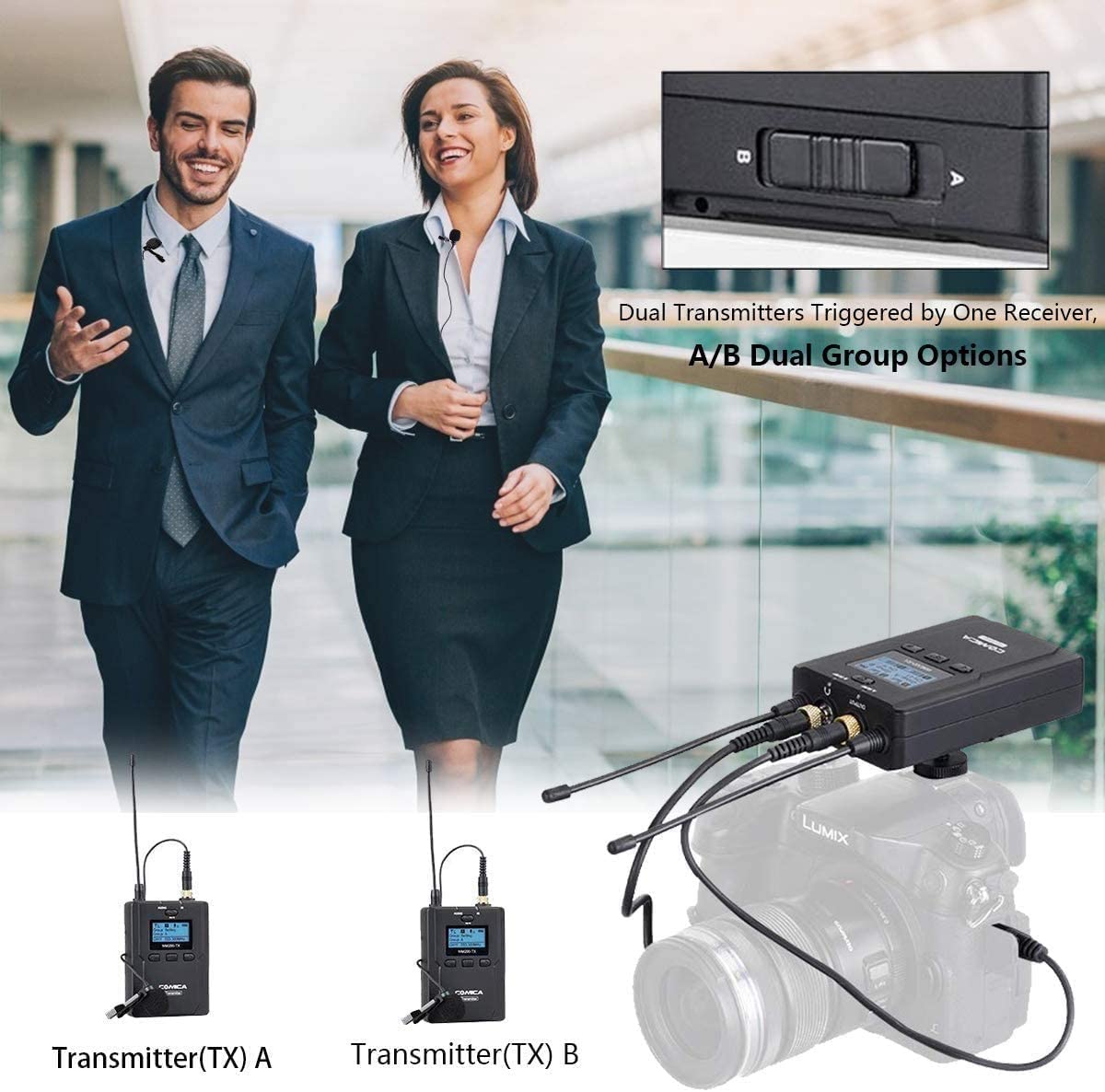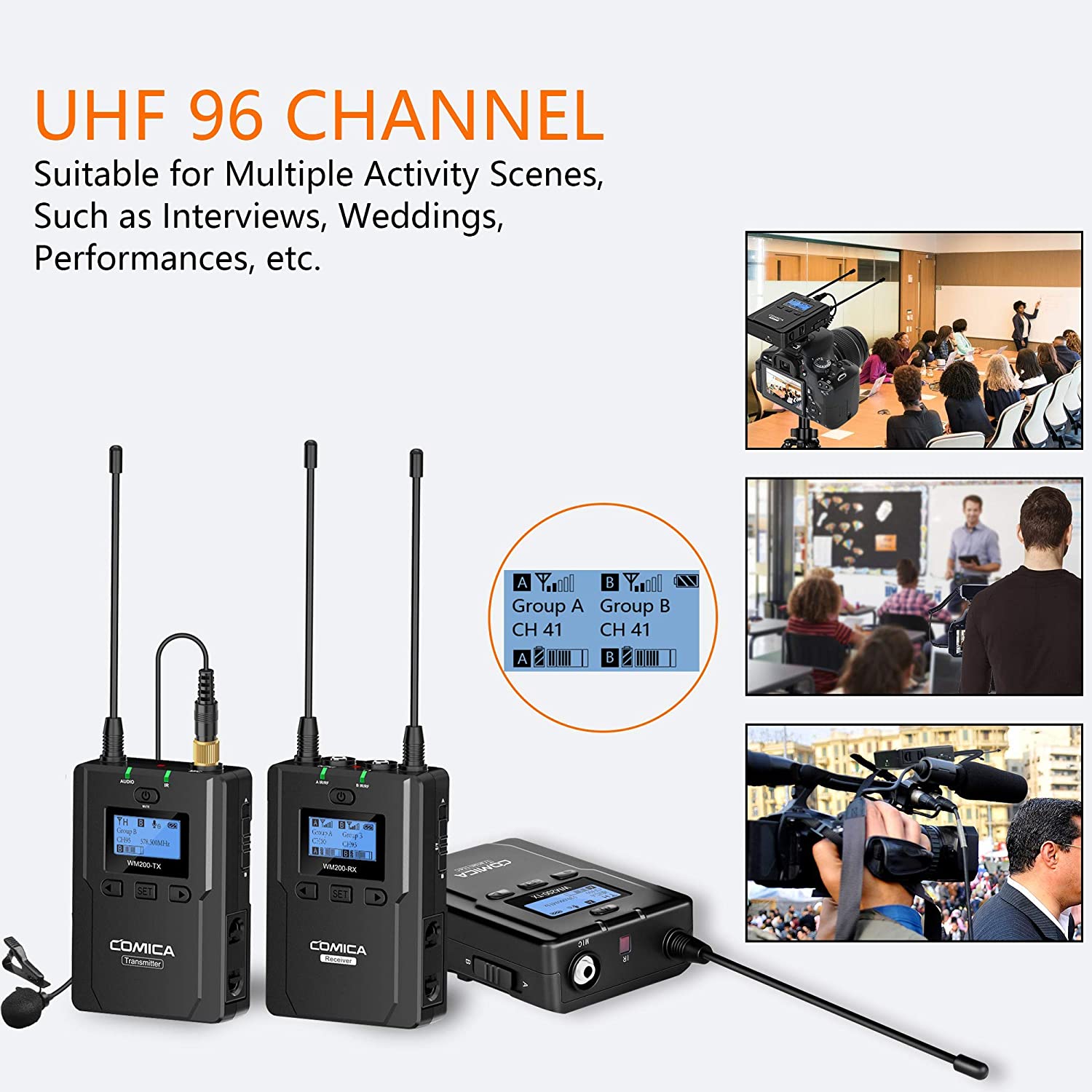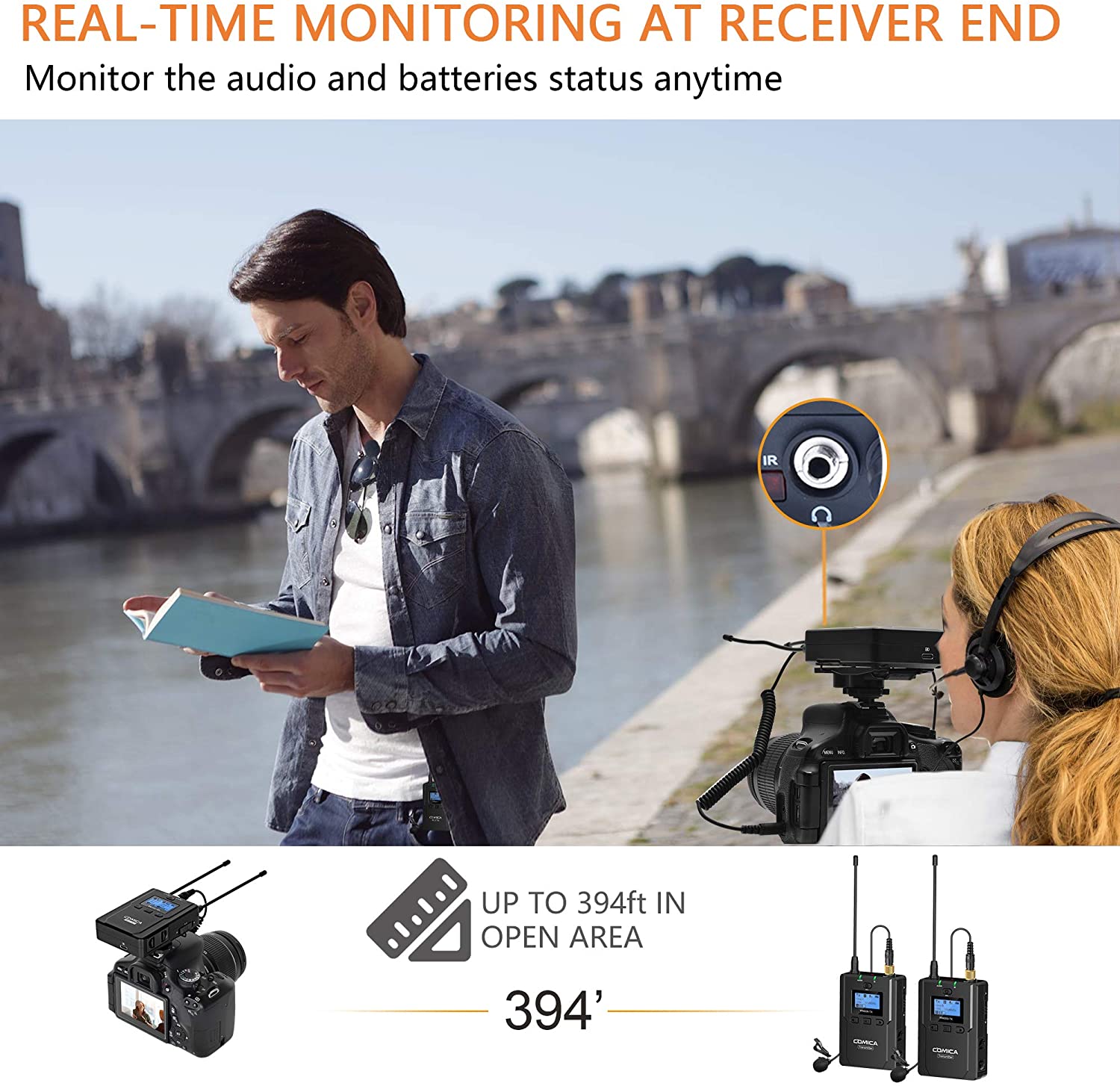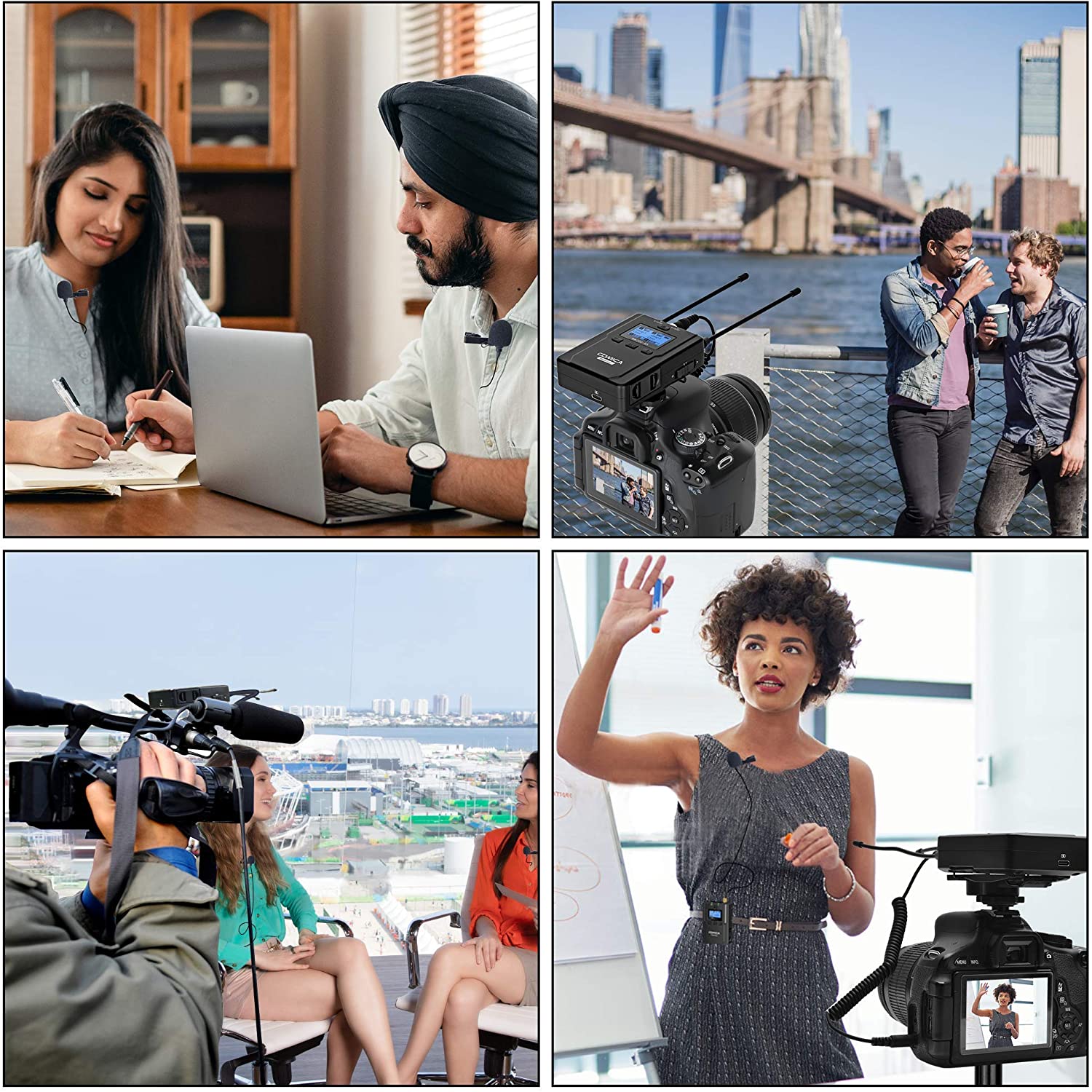 CVM-WM200 Dual Channel Wireless Lavalier Microphone Lapel Mic for Interview Performance Video Recording DSLR Camera Phone
CVM-WM200 Dual Channel Wireless Lavalier Microphone Lapel Mic for Interview Performance Video Recording DSLR Camera Phone
Shipping:

Express Shipping Service


Estimated delivery time:

3-15

working days.

See details »

Returns:

Return for refund within 7 days,buyer pays return shipping.

Read details »

Support:
Related Accessories/Similar Items
Product Details

Product's Reviews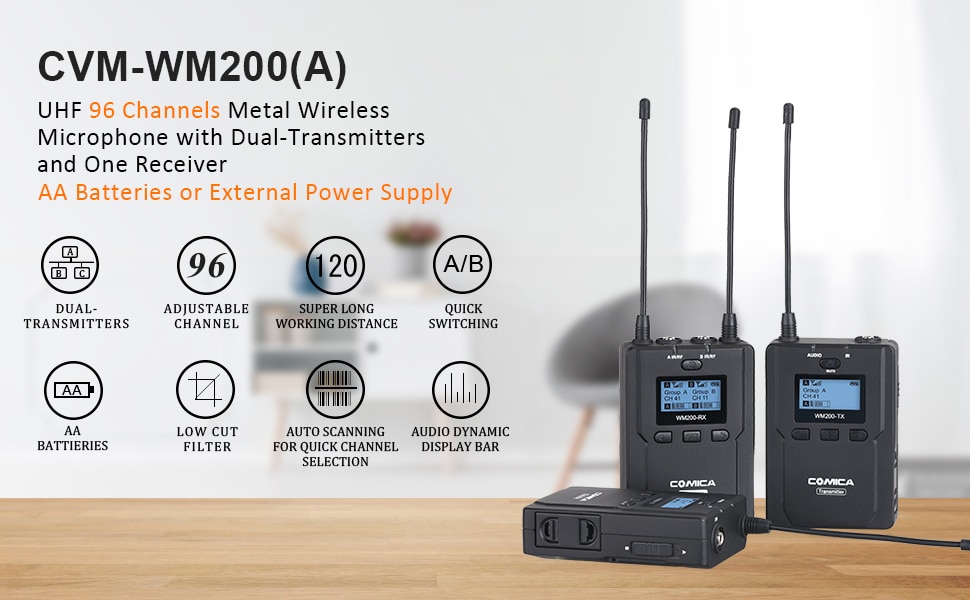 Description:
WM200A is an all-metal wireless microphone with dual transmitter triggered by one receiver, with two AA batteries, it utilizing UHF wireless FM technology and LED high-resolution lattice screen: 96 channels in total, 16-level adjustable volume, and integrated into LCF, Auto-scanning, Auto IR Channel-match, stereo / mono switchable audio mode, RF signal strength adjustment, MIC/LINE IN input dual selection, power monitoring at receiver end, sound pickup dynamic display, backlight adjustment and other functions, at the same time with strong shielding anti-noise performance, it's a high-quality microphone to broadcasting level.
Main Features:
1.Dual Transmitters Triggered by One Receiver, A/B Double Group Options
2.96 Channels, Used for Multiple Devices Working Together
3.Working Distance is Up to 120m (in open area, up to 80m in Barrier Area)
4.LCF Low Cut Filtering Mode
5.Auto-scanning for Quick Channel Selection
6.Manual or Auto IR Sync
7.Adjustable RF Signal Strength
8.Audio Dynamic Display Bar
9.16 Levels Volume Adjustment
10.Transmitter Power Monitor
11.Mono/Stereo Switchable Output Modes
12.Low-consumption, Super-long Standby Time
13.Lattice LCD Display, High Resolution
14.Full Metal Manufacturing, Excellent Shielding

Multiple Selections:
WM200(A) = 2TX + RX
WM200(C) = TX + RX
Accessories:
1.3.5mm Mic Audio Input Cable
2.3.5mm-3.5mm Audio Output Cable
3.3.5mm-XLR Audio Output Cable
4.Micro USB Charging Cable
5.Belt Clip
6.Camera Cold-shoe Mount
7.Wind Muff
8.Portable Box
9.User Manual
10.Warranty Card
The accessories of each combination include:
WM200(A)=1x2 + 2 + 3 + 4x2 + 5x3 + 6x3 + 7x2 + 8 + 9 + 10
WM200(C)=1 + 2 + 3 + 4 + 5x2 + 6x2 + 7 + 8 + 9 + 10
Notice:
1.When using auto IR sync, please stay within one meter, otherwise the signal may be too weak and the sync will not be successful.
2.In the case of stereo/mono mode switch, please preset the mode before using to avoid the transient interference caused by switching during usage.
3.The antenna will affect the working distance. Please protect the antenna and avoid any man-made damage.
4.The working distance will be affected by the surrounding environment. Please try to keep the environment open without interference during usage, and close the WIFI of the device itself.
5.When using this product in a short distance, it is recommended to set RF strength at 'LOW' to reduce the power consumption.
For smart phone shooting, customers must separately purchase a TRS-TRRS audio converting cable. (It does not support the original recording system of some android systems, the third-party APP is recommended to be used in this case)
7.Please keep this product in dry environment.
8.Do not expose the device in rain or humid environment, otherwise there will be a danger of short circuit.
Specification:
Transmitter TX
| | |
| --- | --- |
| Channels | 96 |
| Group A Wireless Frequency | 520.000MHz ~ 548.500MHz |
| Group B Wireless Frequency | 550.000MHz ~ 578.500MHz |
| Signal / Noise | >65dB |
| Antenna | 1/4 Wavelength Wire Antenna |
| Transmitting Power | 10dbm/15dbm |
| Stray Radiation | <-60dBc |
| Sound Delay | <20ms |
| Audio Distortion | <0.5% |
| Battery | Two AA Batteries |
| Dimension | 84 x 63.5 x 23mm |
| Operating Temperature | 0℃ ~ 50℃ |
| Storage Temperature | -20℃ ~ 60℃ |
Transmitter HTX
| | |
| --- | --- |
| Channels | 96 |
| Group A Wireless Frequency | 520.000MHz ~ 548.500MHz |
| Group B Wireless Frequency | 550.000MHz ~ 578.500MHz |
| Signal / Noise | >65dB |
| Antenna | PCB Antenna |
| Transmitting Power | 10dbm/15dbm |
| Stray Radiation | <-60dBc |
| Sound Delay | <20ms |
| Audio Distortion | <0.5% |
| Battery | Two AA Batteries |
| Dimension | Φ53.5(MAX) x 253mm |
| Operating Temperature | 0℃ ~ 50℃ |
| Storage Temperature | -20℃ ~ 60℃ |
Receiver RX
| | |
| --- | --- |
| Channels | 96 |
| Group A Wireless Frequency | 520.000MHz ~ 548.500MHz |
| Group B Wireless Frequency | 550.000MHz ~ 578.500MHz |
| Signal / Noise | >65dB |
| Antenna | 1/4 Wavelength Wire Antenna |
| Receiving Power | -95dBm |
| Stray Radiation | <-60dBc |
| Sound Delay | <20ms |
| Audio Distortion | <0.5% |
| Battery | Two AA Batteries |
| Dimension | 84 x 63.5 x 23mm |
| Operating Temperature | 0℃ ~ 50℃ |
| Storage Temperature | -20℃ ~ 60℃ |