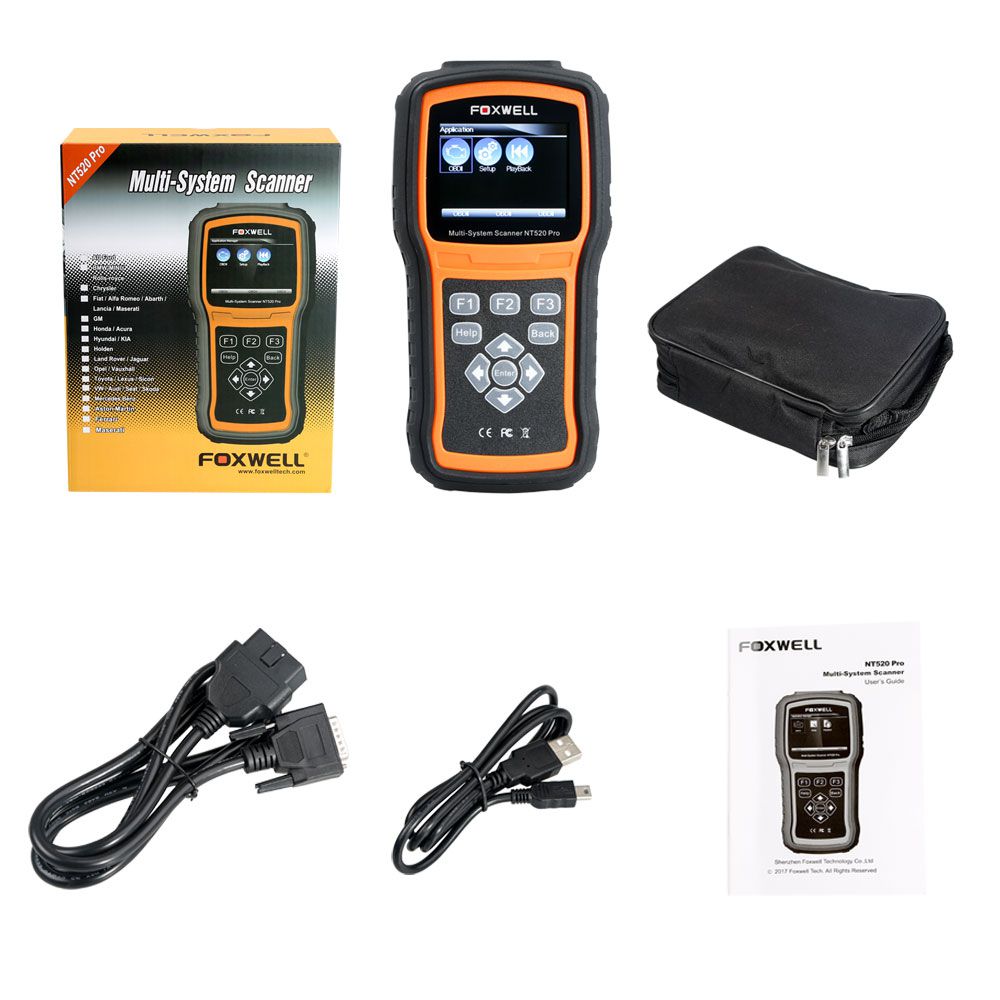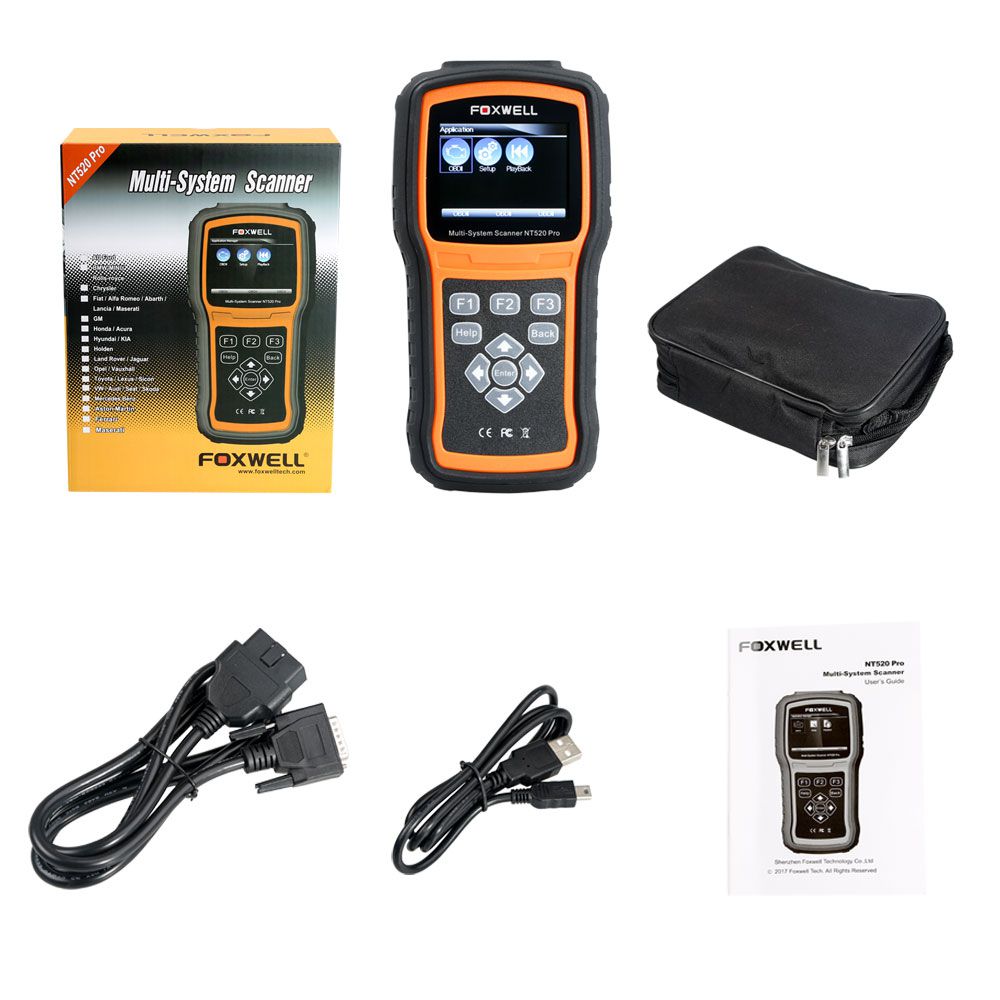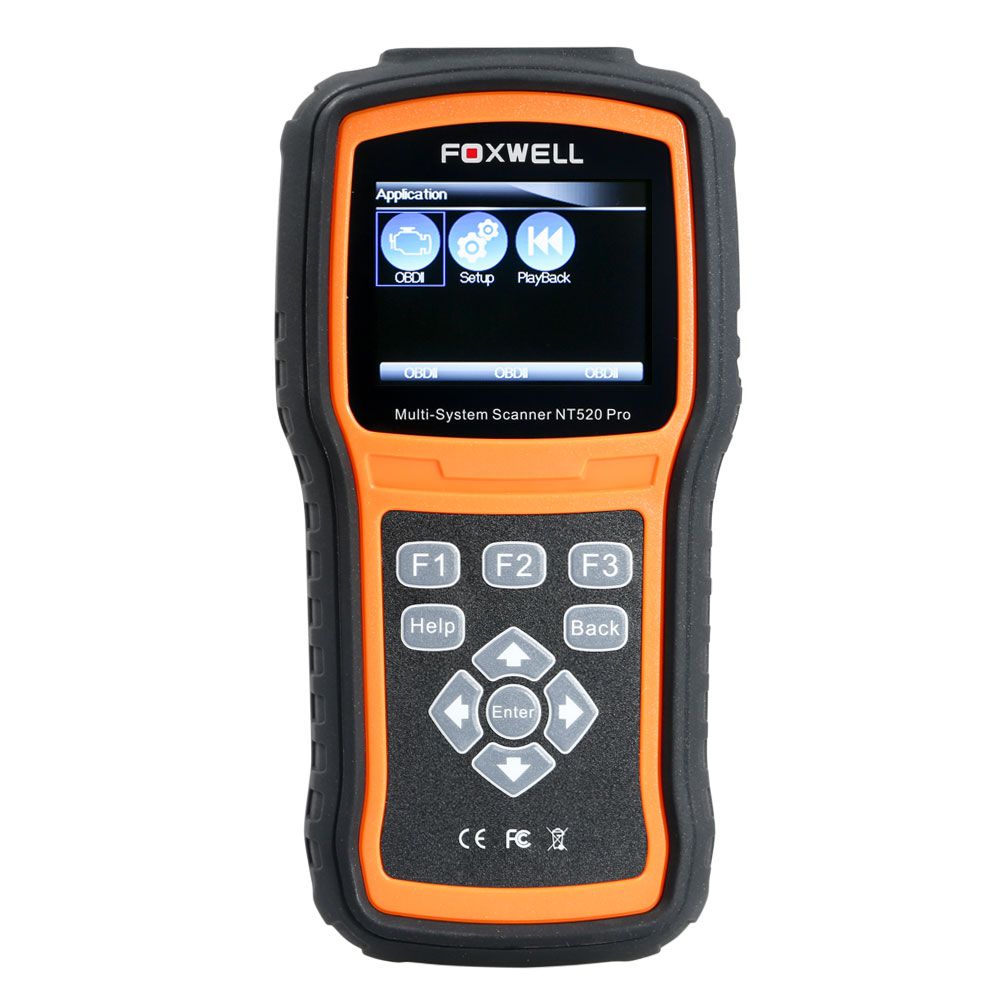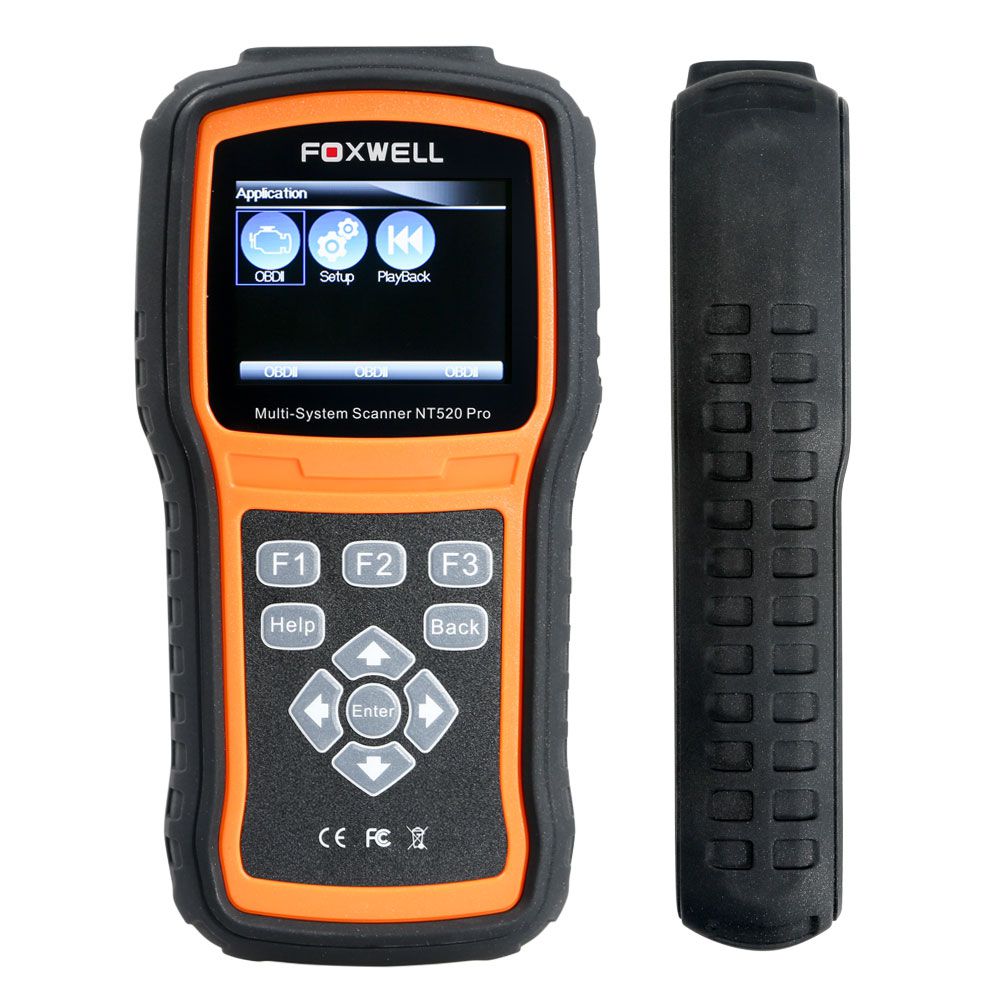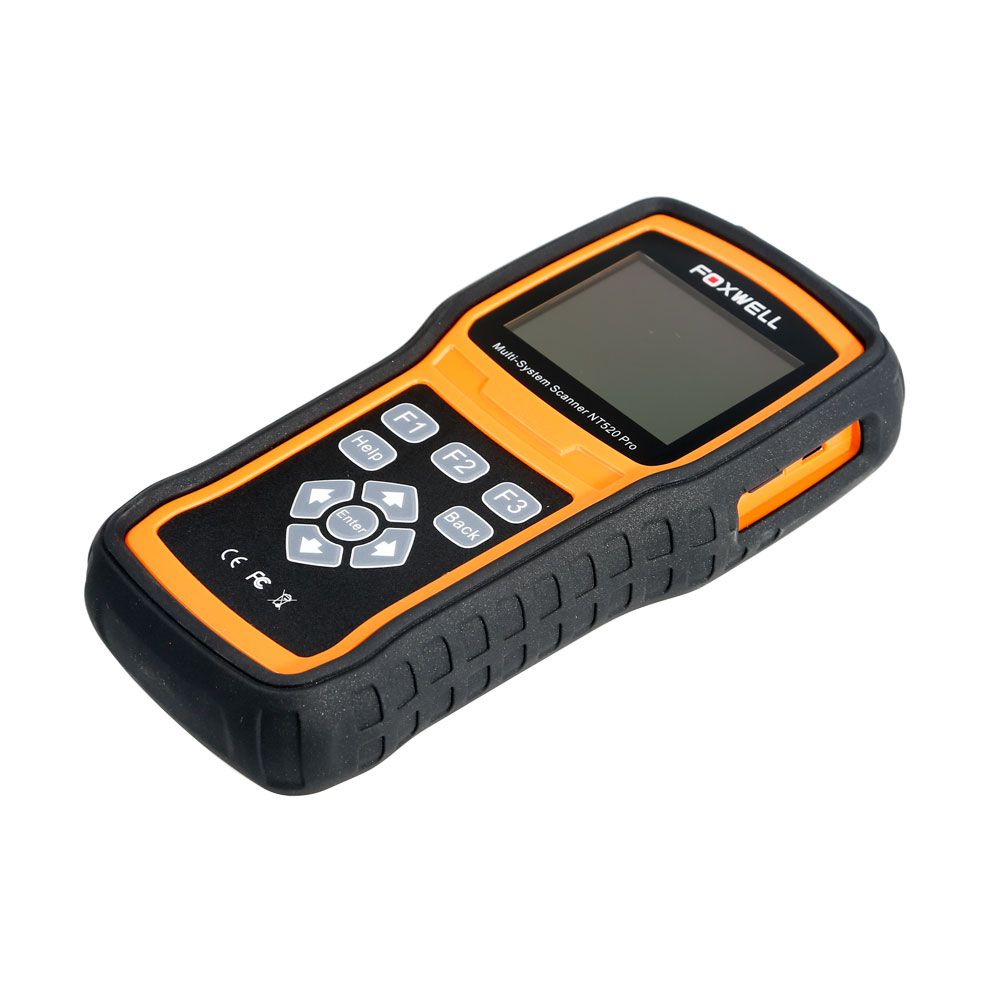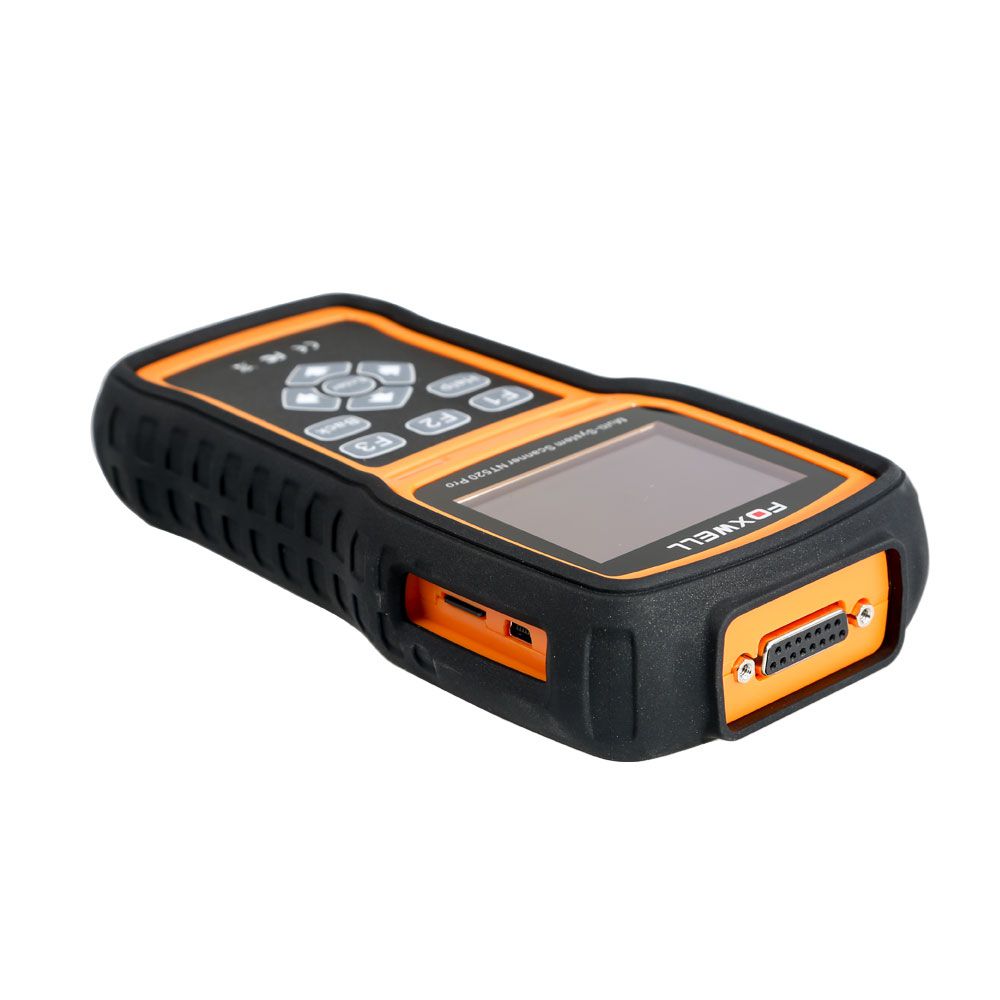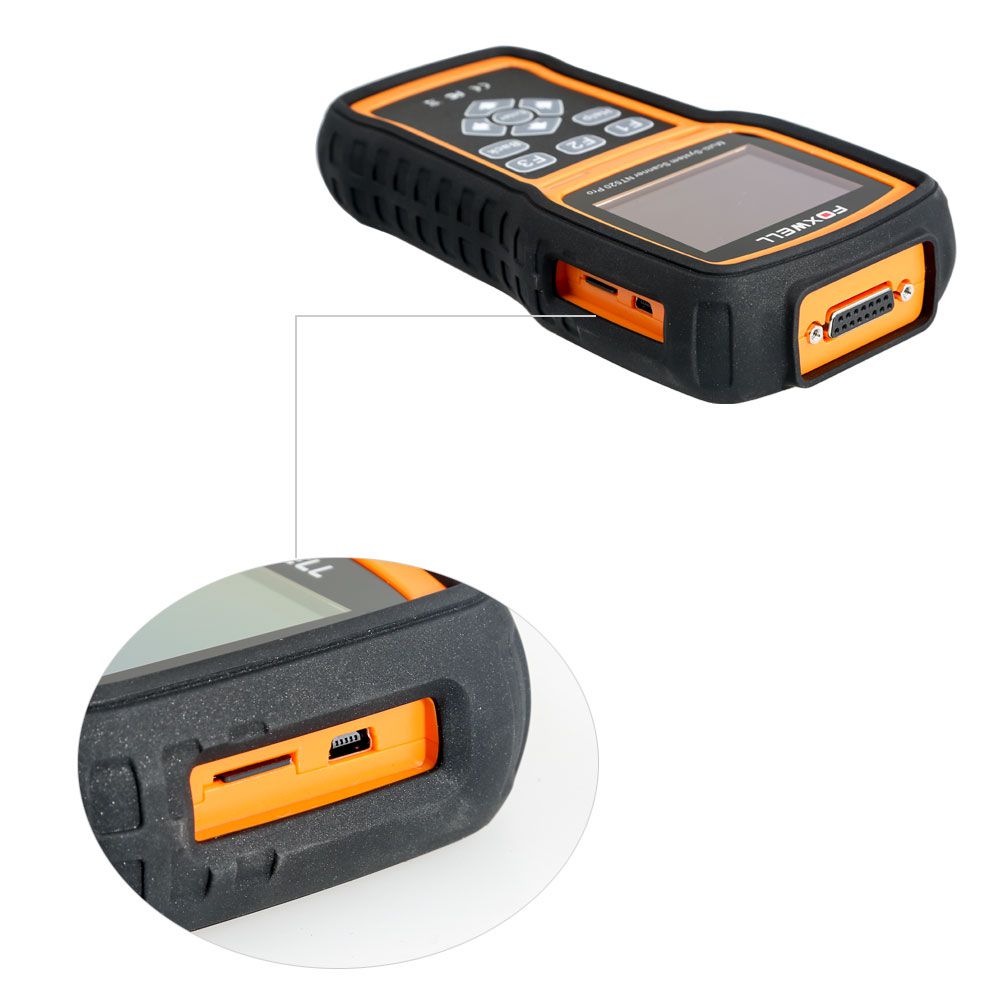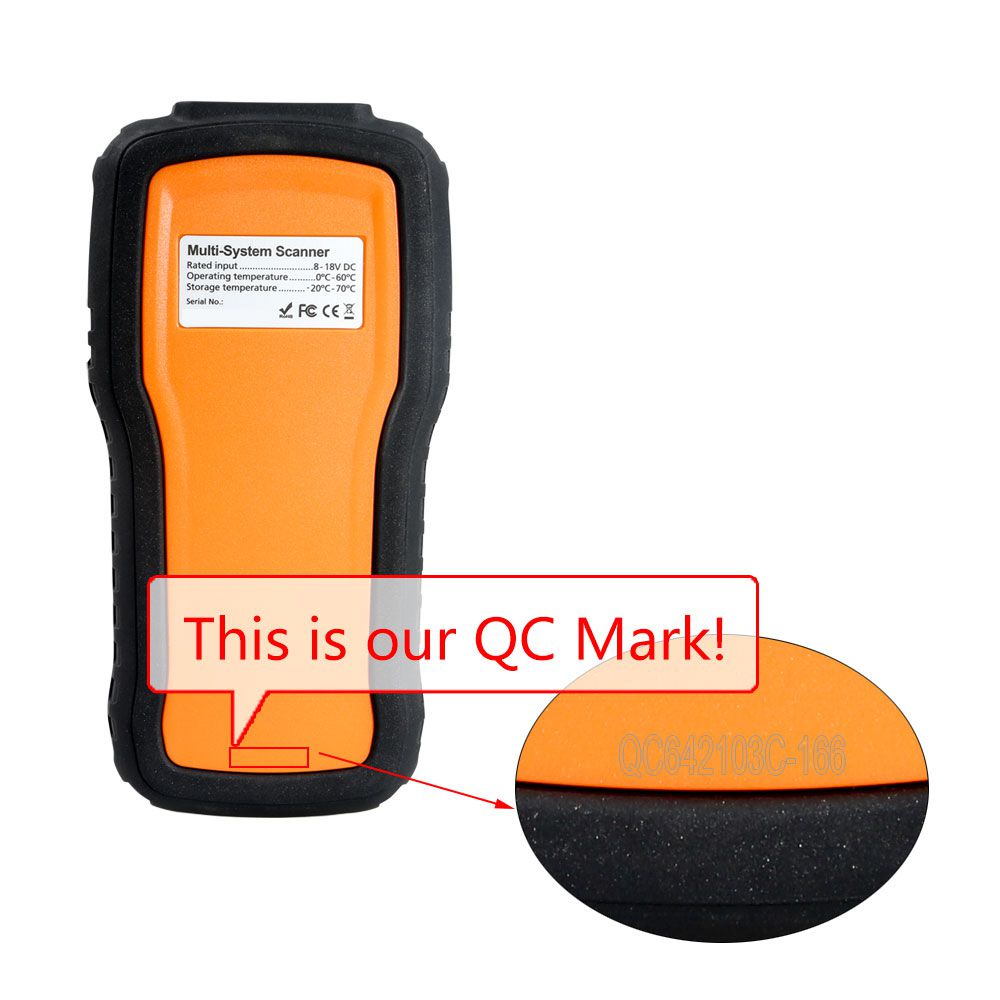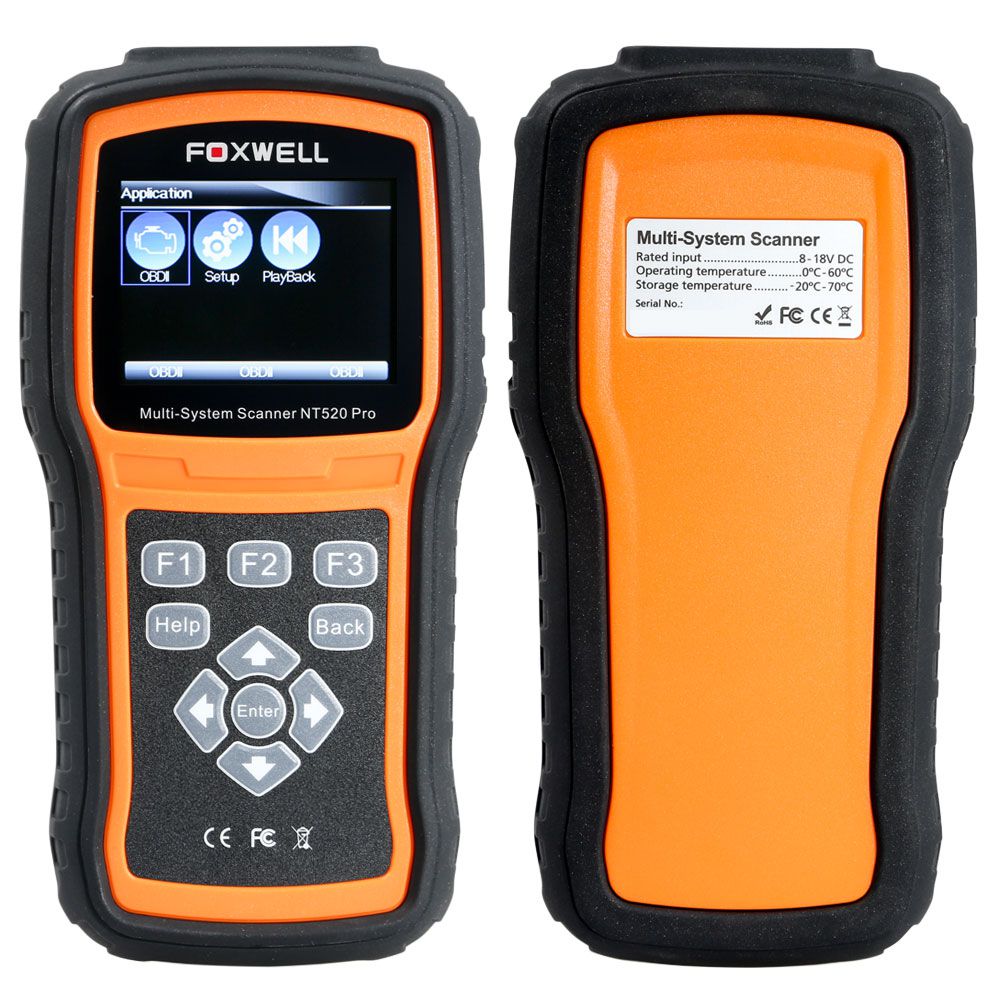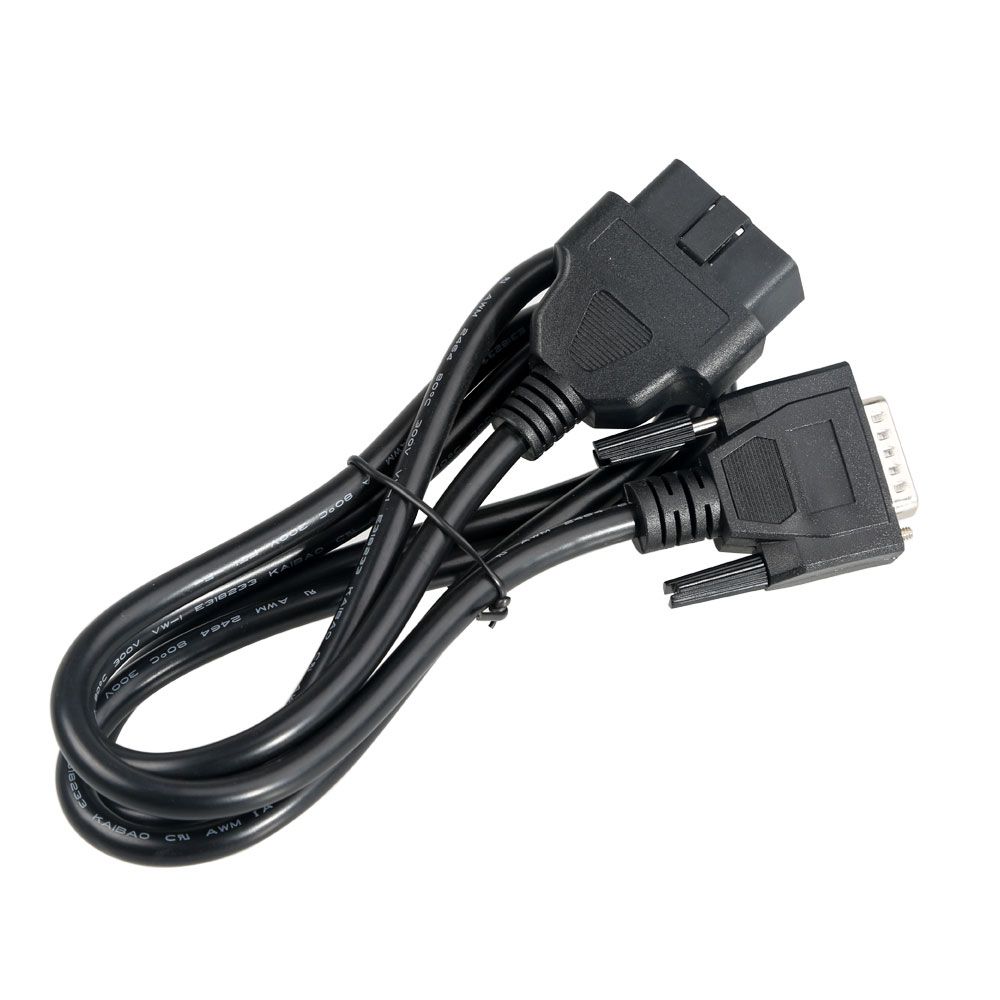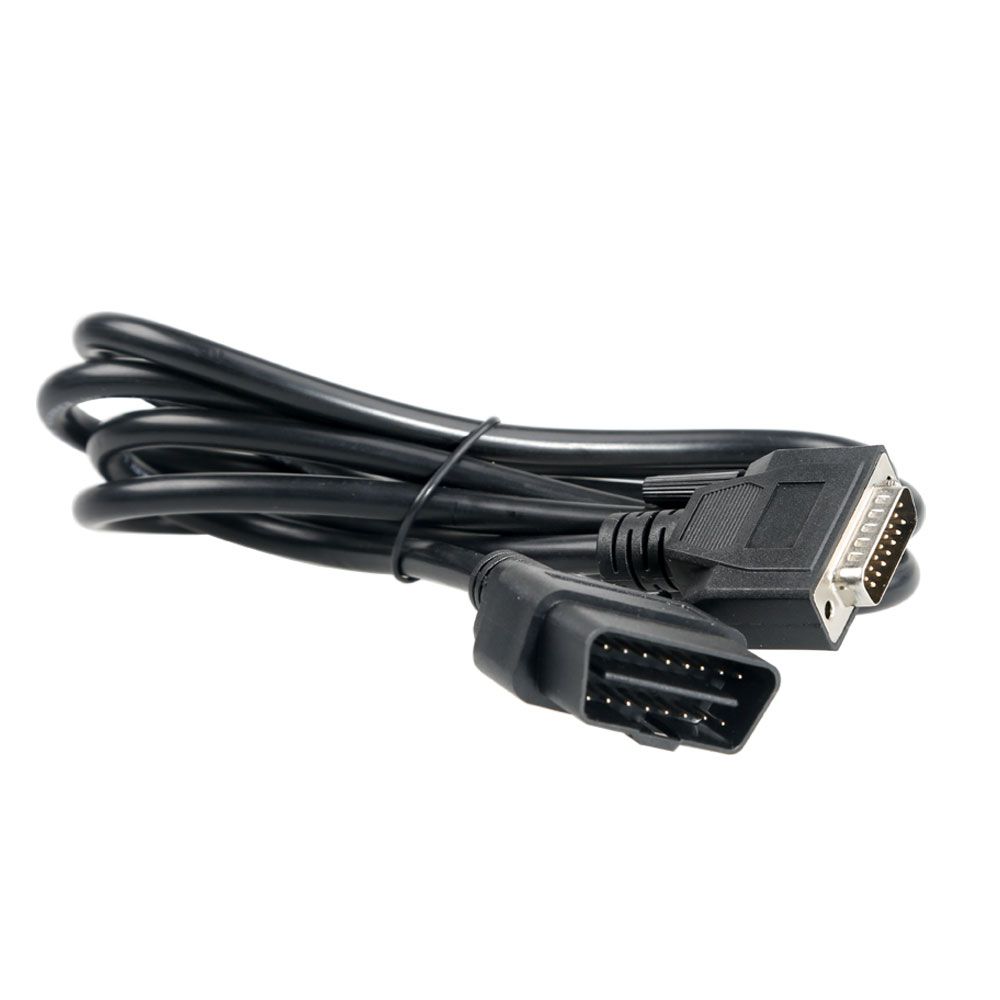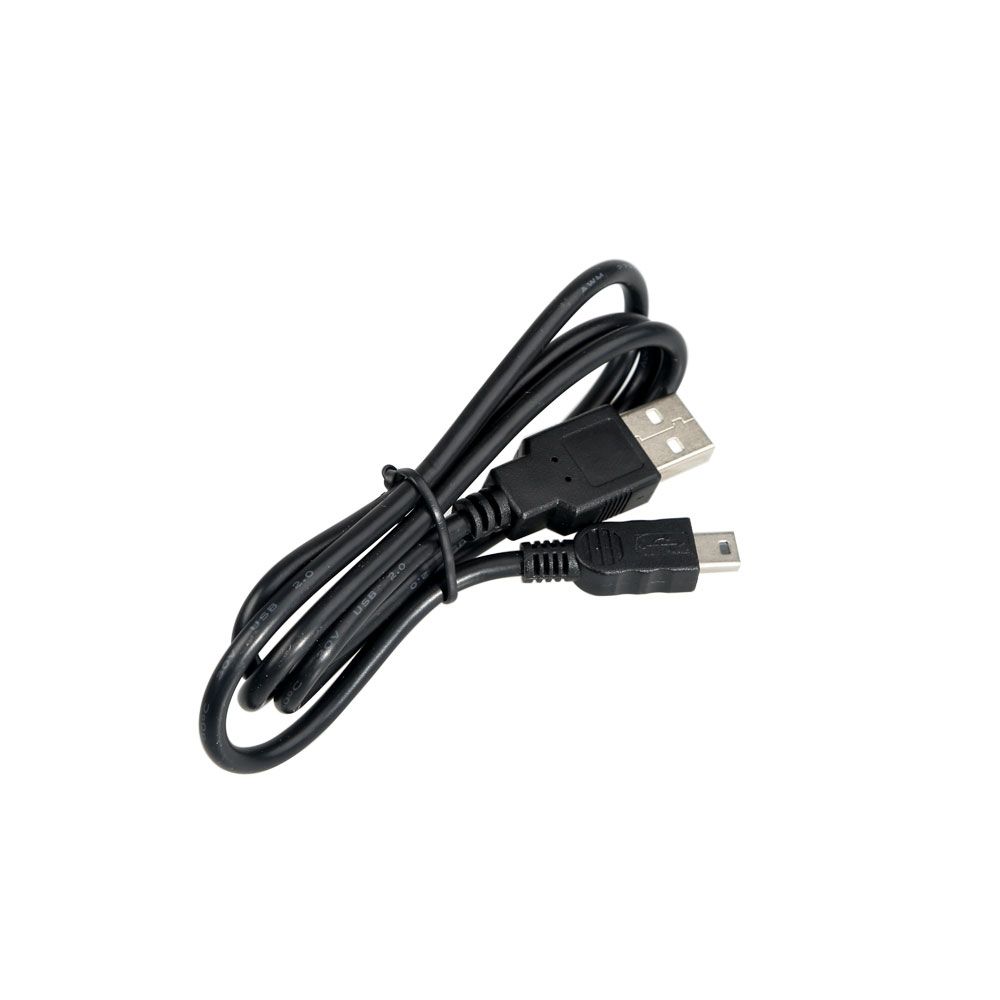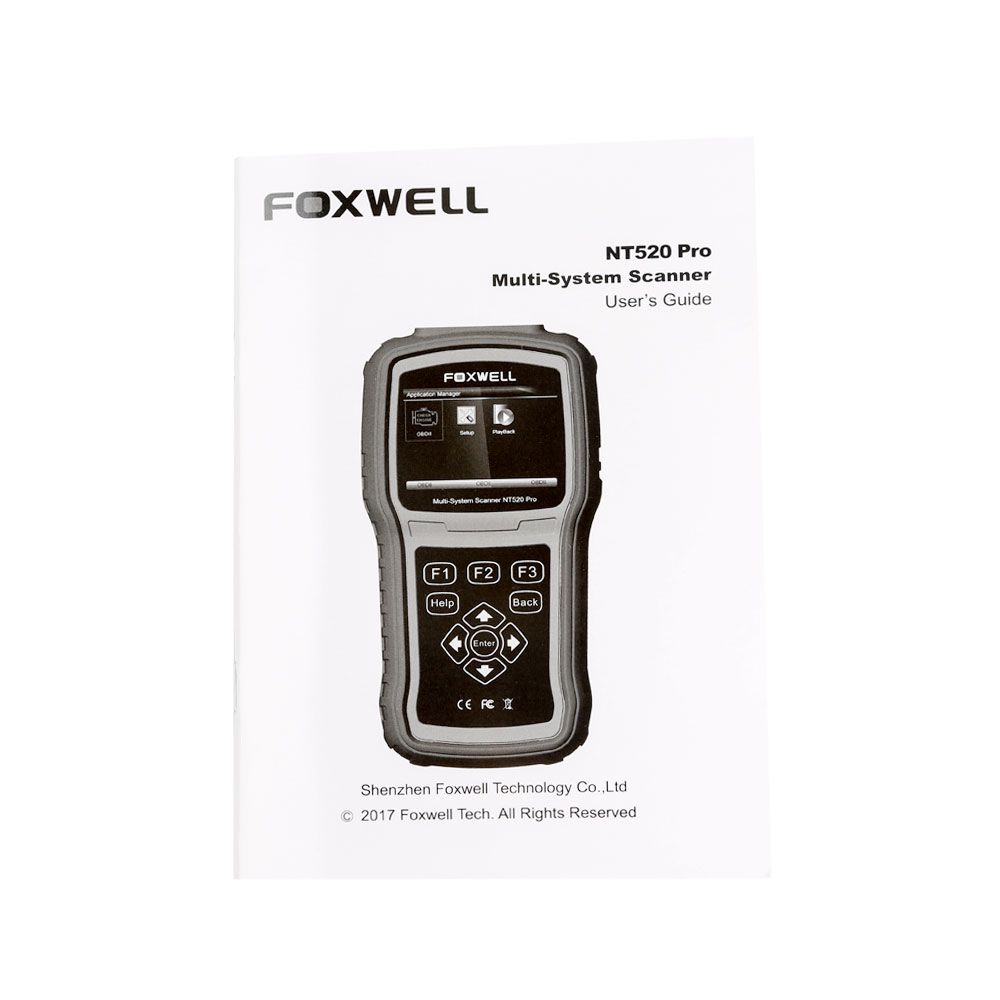 Foxwell NT520 Pro Multi-System Scanner with 1 Free Car Brand Software+OBD NT510 Firmware Updated Version Free Update Lifetime
The NT520 PRO Foxwell - a device for the small workshop or demanding hobbyists. With this tool, everything is what you need ... there are almost all available control units covers, you can fault memory read / delete, real-time data query, actuator test, service and oil carry out reset, make settings, and much more.
Shipping:

Express Shipping Service


Estimated delivery time:

3-15

working days.

See details »

Returns:

Return for refund within 7 days,buyer pays return shipping.

Read details »

Support:
Product Details

Product's Reviews
Foxwell NT520 Scanner with 1 Free Car Brand Software+OBD with NT510 Firmware Updated Version

Delicatedly developed by the most distinguished experts in this industry, NT520 pro multi-system scanner is the most effective professional scan tool in the industry.
It is a unique tool that delivers OE-level diagnosis for different car brands and supports the most commonly reuqired service features.

Multi-Language:

English, Chinese (Simplified), Chinese (Traditional),French, Dutch, Spanish, Japanese,
Russian, Polish, Dutch, Portuguese, Korean, Swedish, Italian, Russian, Thai, Hungarian.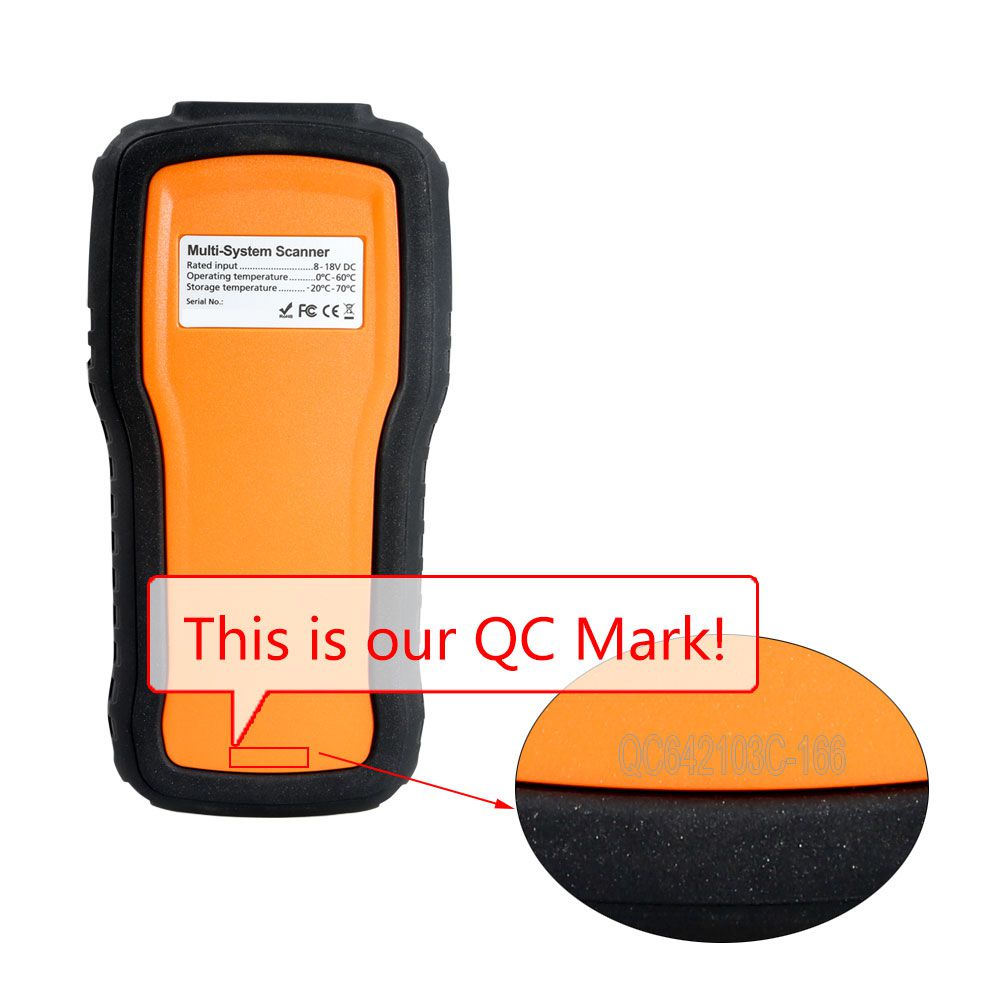 Update: Update online for free lifetime

Foxwell NT520 Pro is one car brand for free and supports adding up to 5 car brands
(paying extra 70USD/car brand)
The benefits of this NT520 diagnostic tool are obvious:

Compatible with both OBDI and OBDII vehicles
Work on the latest 2016/2017 models
Get access to powertrain, chassis and body systems
Quick test function to test most vehicle systems
Read and clear diagnostic trouble codes and reset MIL of all systems
Request and record live sensor data
Merge and view 2 parameter graphs simultaneously
Display freeze frame data
Retrieve ECU information
Support Oil service reset functions on selected make
Support Electronic Park Brake (EPB) features on selected make
Calibration of Steering Angle sender G85
Adapt Battery after replacing
Throttle Body Alignment (TBA)
Key coding for several vehicles
Run component/system bi-directional tests
Support advanced functions such as adaptations and control module coding
Support the most commonly required service features like brake deactivation, service reset etc
Upgrable to cover other car makes
Multi-language menus and code definition for and international makertplace
TF memonry card for data backup and softare update
As easy as 1-2-3 witrh large TFT color screen and men-driven opeartions
Ergonomic design and ruggedly built for both shop and road testes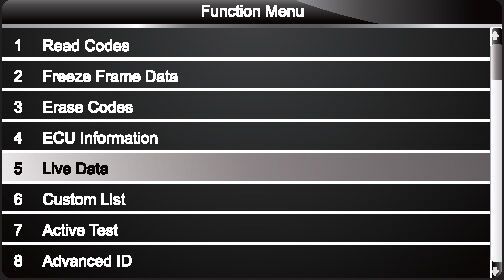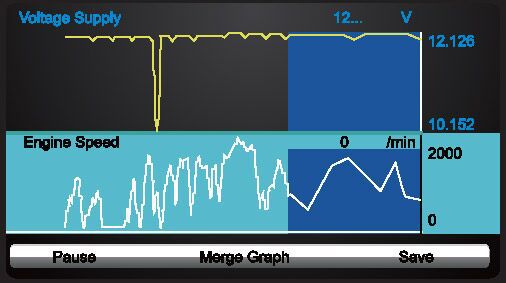 NT520 Pro cannot only read your codes, but it can also actuate components, run system tests, program control modules.Reading the trouble codes from your vehicle is easy But without live data, bi-directional controls and other special functions, you may not have enough information to get the problem fixed right It allows you to use the scan tool temporarly activate or control a system or component With.NT520 Pro, the check of electronic components such as switches, sensors, relays & actuators is made a simple task. saving your time and labor costs. It gives you the ability to flash a control unit with new program data. Provided that a module can be re-coded. NT520 Pro allows for the coding and programming of a replacement control module or changing previously stored incorrect coding as expensive factory tools do.

In additon it has access to the most commonly requirede service features like brake deactivation ,adaptation and service resets.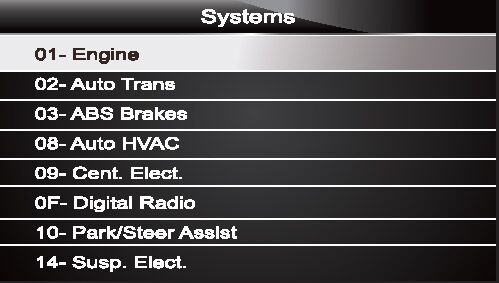 With Internet access, you will always have the latest bug fixes, new vehicles, newly added parameters and functionality at your fingertips. And they are free for life long time after your registration. Simply connect the scanner with your computer,log into the PC application and click update. The application does all the work, syncing the latest software to your tool.



The easy yet elegant design of this scanner was developed by technicians for technicians. Clearly arranged keypad,menu-driven operation, shortcuts and impressive 2.8 color display together make the scanner extremely easy to use

NT520 Pro is built to last. It is constructed to resist impact and damage in the tough workshop environment. A rubberized sleeve protects your investment. The secure fit. extra corner padding and screen protector ensure your scan tool will be around for a long time.

Technical specifications:

Display: Backlit,2.8"TFT color screen
Operating Temperature: 0 to 60°C (32 to 140°F)
Storage Temperature: -20 to 70°C (-4 to 158°F)
External Power: 8 to 18 V provided via vehicle
Dimensions: 200*100*38MM(L*W*H)
Storage Temperature:-20 to 70°C (-4 to 158°F)
Dimensions : 145*94*32MM
Color Box: 220*85*165MM
Weight: 0.9KG
PCS/CTN: 30PCS
Weight/CTN: 27KGS
CTN MEAS: 456*442*515MM

Free Download Foxwell NT520 Pro Installer V8.54

Further information:

After buying the diagnostic scanner is registered online. A software brand is included in the purchase. You can choose between:
Mercedes Benz (Mercedes, Sprinter, SMART, Maybach)
Acura
Alfa Romeo
Abarth
American / European Ford (Not incl. Au Ford)
BMW, Mini (BMW , MINI , Rolls-Royce)
Chrysler (Chrysler, Dodge , Jeep)
Fiat
GM (Buick, Cadillac, Chevrolet, GMC, Saturn, Pontiac, Daewoo)
Honda
Hyundai, Kia
Lancia
Toyota, Lexus, Scion
Maserati
Opel, Vauxhall
Rolls-Royce
VW, Audi, Skoda, Seat
Mazda
Ferrari
Aston Martin and more.
Ford (Ford, Lincoln, Mercury vehicles)
* Does't support Australian Holden and Ford.

The diagnostic scanner can be extended with costs by another car.

If your vehicle is equipped with the older, round 38 PIN connector, you need the Foxwell diagnostic adapter with 38-PIN integrated multiplexer. This one is available in our shop. The Foxwell NT520 PRO scanner is only compatible with this adapter. The standard adapter without the multiplexer does not work.

Foxwell NT520 Pro Software List: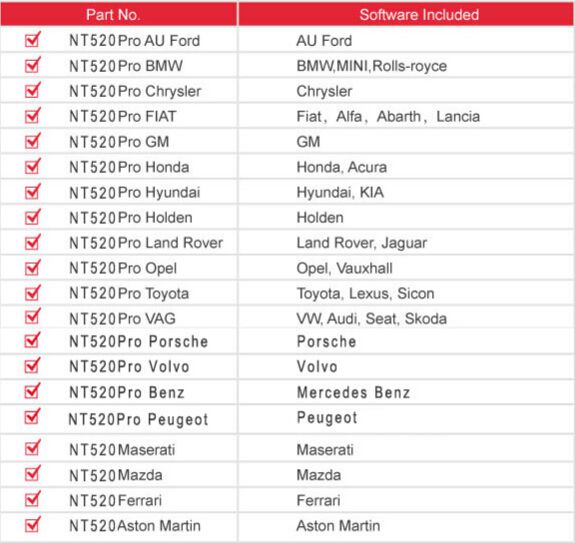 Foxwell NT520 Pro multi-language display:

How to Change Language: Default Language is English, if you want another language, please provide us your SN number to change the language.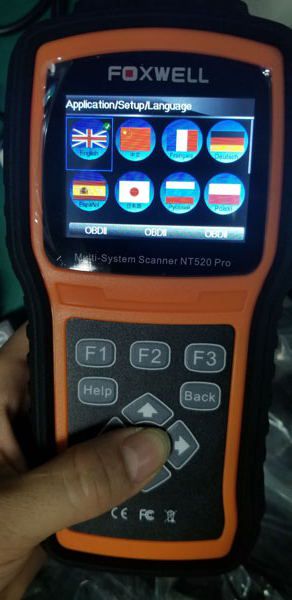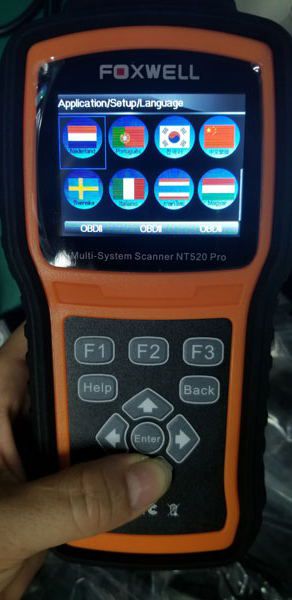 Package Included:

NT520 Pro Multi-system scan tool
User Manual
Memory Card
USB cable
Nylon carry pouch

Foxwell NT520 vs. NT510 Multi-System Scan tool:

Compared with Foxwell NT510, Foxwell NT520 scanner has a improved hardware, adds Mercedes Benz and Lancia car models and shares the same functions
with NT510. NT520 sales at the same price as NT510.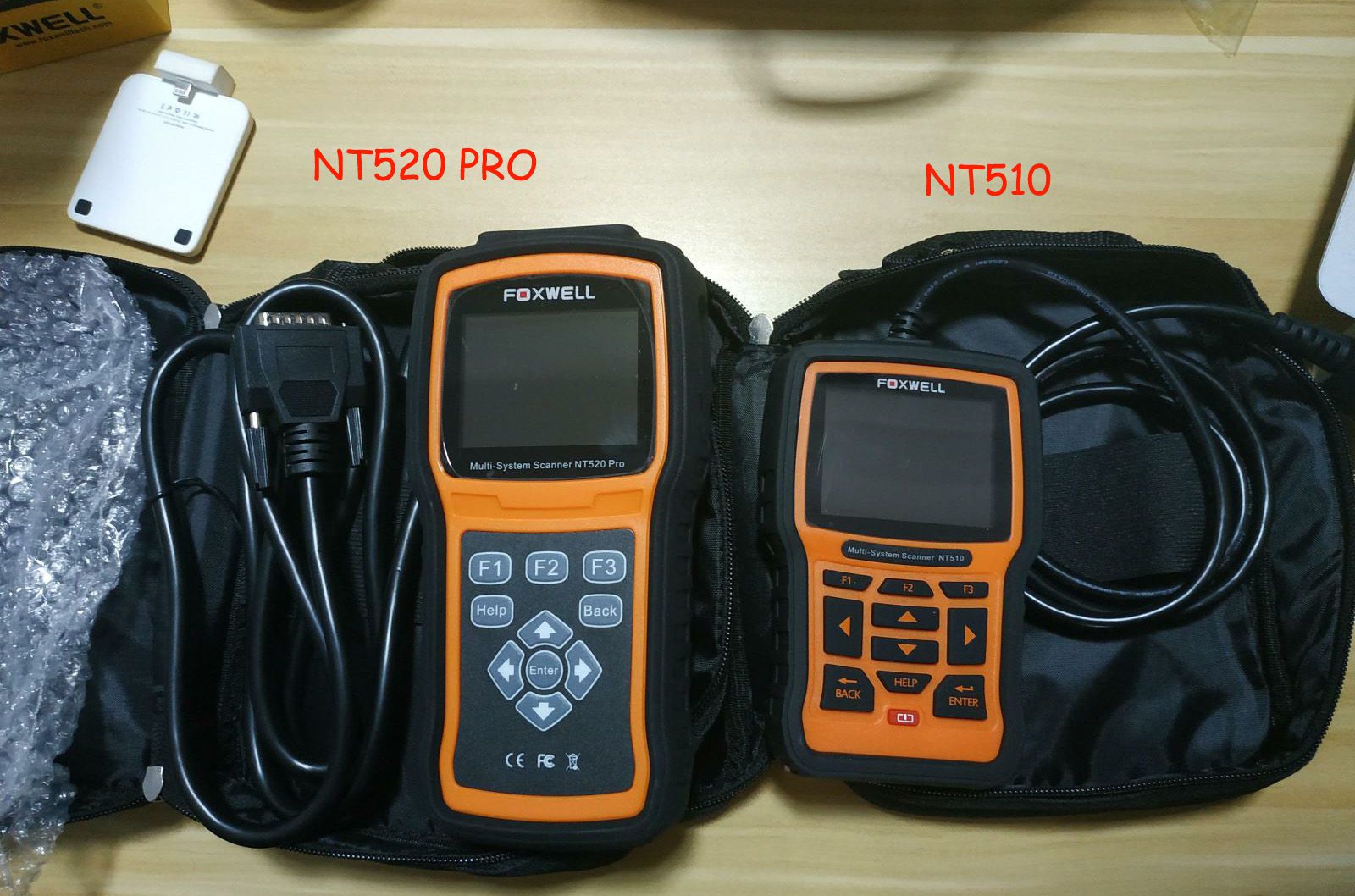 Foxwell NT520 Pro Support Lifetime Free Upgrade

1.Please search on official website www.foxwelltech.com to download NT520 client update software

2.Install update clients software and create an Foxwell account ID

3.Please plug the USB to you pc and connected the NT520. meanwhile press "Update" button Enter upgrade mode

4.Use NT520 S/N number and password register and choose brands software update

5.Wait for the update process finished, the scanner NT520 will be ready to go! we will update to latest version.
Notice: Please turn off anti-virus software when installing, otherwise it will not be able to start software properly

NT520 Pro vs NT630 Elite:
Model
NT520 pro
NT630 Elite
Vehicle coverage
Acura, Alfa Romeo, Abarth, Audi, Benz, BMW, Chrysler, Fiat, GM, Honda, Hyundai, Jaguar, KIA, Lancia, Lexus, Land Rover, Maserati, MINI, Toyota, Opel, Rolls-Royce, Scion, Seat, Skoda, Vauxhall, VW Porche, Mazda, Ferrari, Aston Martin
American Coverage: Chrysler; Ford, GM, Brazilian GM
Asian Coverage: Acura, AUFord, Daewoo, Honda, Holden, Hyundai, Infiniti, Isuzu, Kia, Lexus, Mazda, Mitsubishi, Nissan, Perodua, Proton, Scion, Subaru, Suzuki, Toyota
European Coverage: Abarth, Alfa-Romeo, Audi, Bentley, BMW, Bugatti, Citroen, Dacia, EUFord, Fiat, Jaguar, Lancia, Land Rover, Maybach, Maserati, Mercedes Benz, Mini, Opel, Peugeot, Porsche, Renault, Rolls-Royce, Saab, Seat Skoda, Smart Sprintei; Vauxhall, Volvo, VW
SAS Coverage: Acura, Abarth, Alfa Romeo, Audi, Bently, Mercedes Benz, BMW, Bugatti, Chrysler; Citroen, Dacia, Fiat, GM, Honda, Infiniti, Jaguar, Lancia, Land Rover, Lexus, Maserati, Maybach, Mini, Mitsubishi, Nissan, Opel, Peugeot, Renault Scion, Seat, Skoda, Subaru, Suzuki, Toyota, Vauxhall, Volkswagen
Works on almost all electronic systems
√
ABS and Airbag only
OBDI and OBDII compatibility
√
√
Reads and clear codes
√
√
Reads/records/graphs live sensor data
√
√
Freeze frame data
√
√
ECU information
√
√
Multilingual menu and codes
√
√
Code troubleshooters
√
√
Hot keys for quick access of data
√
√
Color screen
2.8' FTF color screen
2.8' FTF color screen
Bi-directional control tests
Any Selected Vehicle Make
√
EPB Service
Any Selected Vehicle Make
Oil Service Reset
Any Selected Vehicle Make
DPF Reset
Any Selected Vehicle Make
SAS
Any Selected Vehicle Make
√
TPS/TBA
√
Battery Configuration
√
TPMS/CVT/Injector/Odometer/Gear Learn
√
Other Service Maintenance Function
√
Life-long free updates
√
√

Foxwell NT520 Reviews:

1. I like my NT520. Last weekend, I changed the fuel filter, the auto transmission filter/pan, and differential oil. With the NT520, I was able to activate the lift fuel pump to purge the air and reset the transmission adaptation. Everything went smoothly. I also have Carly BMW but I will say the NT520 is way superior to Carly.

2. The ONLY low-cost tool I've ever seen that support multiple OEMs is the Foxwell 520, which is 129.99 GBP and allows multiple OEM-specific software packages to be purchased and loaded into the device for ~46.5 GBP each. The BMW-software for the NT520 is EXCELLENT, and provides access to not only the engine computer but virtually ALL computers on the car - Engine, transmission, brakes, ABS, Traction Control, Air Bags, Audio, Navigation, Climate Control, Locks, Alarm, etc. etc. In my book, the ONLY scanner to buy at the present time is the Foxwell. The initial 129.99 GBP purchase includes ONE OEM-specific software package, so if you ONLY need a BMW scanner, GBP 129.99 is your total price. It is an EXCELLENT scanner, and mine has already paid for itself many times over in the ~9 months I've owned it.

3. I can vouche for the Foxwell, used it on both the E90 as well as a mini. Does everything it says it will

4. Have just purchased the Foxwell NT520 PRO and downloaded the Porsche specific ap, and can confirm that I successfully disabled the active rear spoiler on my 997.2 (having previously installed the Flying Ducktail). Decided the lifted flying ducktail looked a bit extreme, although I didn't notice any adverse handling in the lifted position.

Haven't tried any other coding yet but this device saved a trip to the dealer to disable the rear spoiler lifting with PIWIS and on that basis alone paid for itself..so highly recommended

5. After the autel Maxicheck also bought the Foxwell 520 pro for both a very reasonable price.
At the Foxwell I have chosen the Fiat/Alfa/Lancia software to learn the injectors in my car.
At first, it was not possible for my somewhat older model punto 1.3 multijet.
The Foxwell engineers in China solved this for me in two weeks and via an update to the Foxwell, I could still teach my punto the injectors.

Foxwell NT520 FAQ:

Q: Would you say Foxwell nt510 / NT520 is still worth buying?
A: Yes. It lets you control the brakes and various activators. It lets you reset the ECU's "learned" fuel mapping.
It shows you most live data (not oil pressure!) and lets you erase ODB2 codes.
Maybe the used key that I bought simply doesn't transmit properly or some such. I simply can't confirm that the Foxwell can program key FOBs.
It did reprogram my EKA to something that I could remember, though.