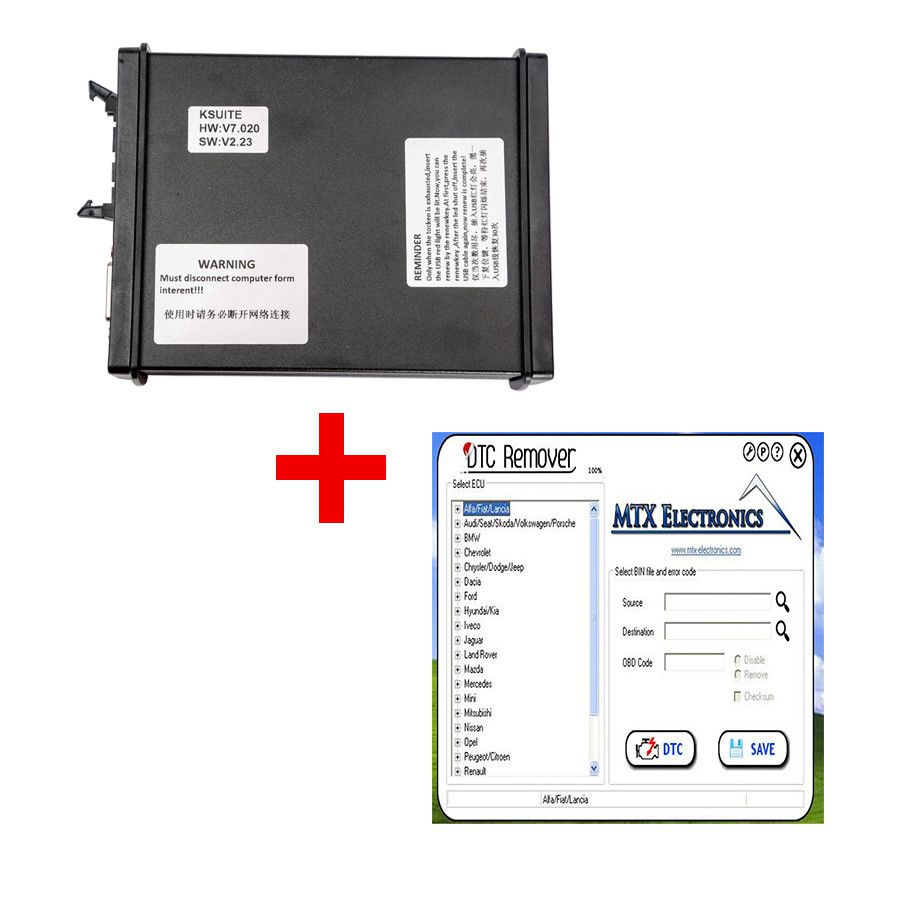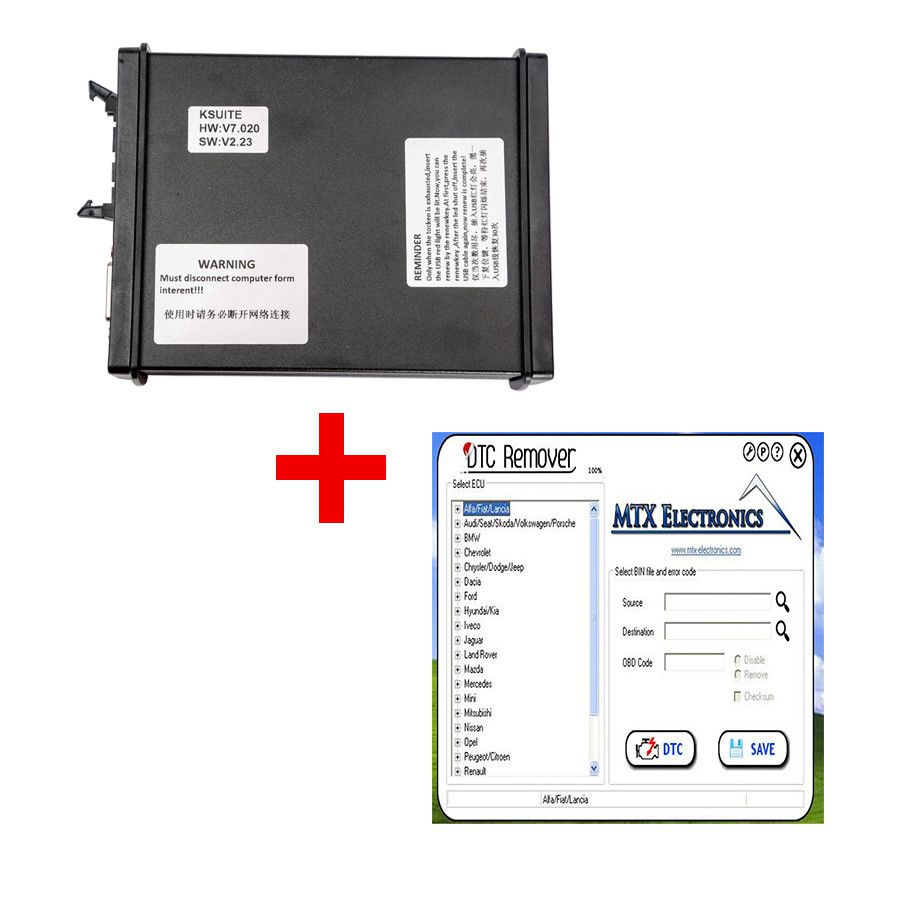 Best Quality V7.020 KTAG ECU Programming Tool Master Version Unlimited Token Get DTC Remover Ver: 1.8.5 Software Free
Best Quality V7.020 KTAG ECU Programming Tool Master Version Unlimited Token Get DTC Remover Ver: 1.8.5 Software Free
Shipping:

Standard Flat Rate Shipping Service


Estimated delivery time: 7-45 working days.

See details»

Returns:

Return for refund within 7 days,buyer pays return shipping.

Read details »

Support:
Product Details

Product's Reviews
Best Quality V7.020 KTAG ECU Programming Tool Master Version Unlimited Token Get DTC Remover Ver: 1.8.5 Software Free
Top 8 reasons to get KTAG V7.020:
1.With latest Firmware version: V7.020, Software version: V2.23
2.Supported
Multi-Languages
: :English French Portuguese Spanish Italian Deutsch
3.Support
BDM Function
Well, no checksum error, available Protocols BDM MOTOROLA MPC5xx
4.Support both Car, Motorcyle and
Truck
ECU Programming
6.Add
New File type
(FENDT/JCB/VALTRA TRACTOR BOSCH EDC17CV41 SISU ENGINE CAN
7. Add ECU Type:
Toyota 76FXXX, PSA 17.4.4, Ford E83, VW 17.5.5 (1766), Mercedes-Benz 276ECU,Toyota 76F
, and so on, at least 100 more ECU Types added.
8. No tokens limitation
Notice:
If you have bought KTM100 KTAG V7.003, you want to update to
KTAG
V7.020, You need to send back complete whole package for KTM100 to us,
the update fees is 140USD
,
Not including the shpping cost.
The software ECM TITANIUM V1.61 software (SS77-B) is free send online, if need CD, could order directly on our website.
What's new with KTAG Master fw V7.020 sw V2.23?
-Many encrypted new car models works I.E Toyota 76FXXX, PSA 17.4.4, Ford E83,
VW
17.5.5 (1766), Mercedes-Benz 276ECU, Toyota 76F, etc.
-100+ ECU types added
-Software version: V2.23
-Hardware version: V7.020
Update:
By CD or Download link only. (I can give you a link to download newest version of
KTAG
software)
Using tips:
1. Please Only Use Our Software
2. Operating System: Better to Use Win XP
3.
Tip (Very important):
During operation, disable the internet connection; otherwise the software may get damaged.
DTC Remover
Software for Deactivating DTC Errors.
Note:
Software shipped by mail after ordering please send us your mail address and send software links to download
And then please send us code to activate the license, price included one time activation.
ECU Supported:
Alfa/Fiat/Lancia - Bosch EDC15C2
Alfa/Fiat/Lancia - Bosch EDC15C7
Alfa/Fiat/Lancia - Bosch EDC16C8
Alfa/Fiat/Lancia - Bosch EDC16C9
Alfa/Fiat/Lancia - Bosch EDC16C39
Alfa/Fiat/Lancia - Bosch ME7.9.10
Alfa/Fiat/Lancia - Bosch EDC17C49
Alfa/Fiat/Lancia - Marelli 6JF
Alfa/Fiat/Lancia - Marelli 6F3
Alfa/Fiat/Lancia - Marelli 8F2
Alfa/Fiat/Lancia - Marelli 8F3
Alfa/Fiat/Lancia - Siemens SID803A
Audi/Seat/Skoda/Volkswagen - Bosch EDC15VM+
Audi/Seat/Skoda/Volkswagen - Bosch EDC15P
Audi/Seat/Skoda/Volkswagen - Bosch EDC16U1
Audi/Seat/Skoda/Volkswagen - Bosch EDC16U31
Audi/Seat/Skoda/Volkswagen - Bosch EDC16U34
Audi/Seat/Skoda/Volkswagen - Bosch EDC16CP34
Audi/Seat/Skoda/Volkswagen - Bosch EDC17U01
Audi/Seat/Skoda/Volkswagen - Bosch EDC17CP04
Audi/Seat/Skoda/Volkswagen/
Porsche
- Bosch EDC17CP14
Audi/Seat/Skoda/Volkswagen - Bosch EDC17CP20
Audi/Seat/Skoda/Volkswagen - Bosch EDC17C46
Audi/Seat/Skoda/Volkswagen - Bosch MED17.1
Audi/Seat/Skoda/Volkswagen - Bosch MED17.1.1
Audi/Seat/Skoda/Volkswagen - Bosch MED17.5
Audi/Seat/Skoda/Volkswagen - Bosch MED17.5.2
Audi/Seat/Skoda/Volkswagen - Siemens PPD1.x
Audi/Seat/Skoda/Volkswagen - Siemens Simos PCR2.1
BMW
- Bosch EDC15C4
BMW
- Bosch EDC16C31
BMW
- Bosch EDC16C35
BMW - Bosch EDC17C06
BMW - Bosch EDC17CP02
BMW - Bosch EDC17C41
BMW - Bosch EDC17CP45
Chevrolet - Bosch EDC16C39
Chrysler/Dodge/Jeep - Bosch EDC15C7
Chrysler/Dodge/Jeep - Bosch EDC16C31
Chrysler/Dodge/Jeep - Bosch EDC16U31
Dacia - Continental SID306
Ford - Bosch EDC16C3
Ford - Bosch EDC16C34
Ford - Siemens SID202
Ford - Siemens SID206
Ford - Siemens SID803A
Ford - Siemens SID804
Hyundai/Kia - Bosch EDC16C39
Iveco - Bosch EDC16C39
Jaguar
- Bosch EDC17CP11
Jaguar
- Siemens SID204
Land Rover
- Bosch EDC16CP39
Land Rover
- Bosch EDC17CP11
Land Rover
- Siemens SID201
Mazda - Bosch EDC16C3
Mazda - Bosch EDC16C34
Mazda - Siemens SID804
Mercedes - Bosch EDC15C6
Mercedes - Bosch EDC16C31
Mercedes - Bosch EDC16C32
Mercedes - Bosch EDC16CP31
Mini - Bosch EDC16C35
Mitsubishi - Bosch EDC16U31
Opel - Bosch PSG16
Opel - Bosch EDC16C9
Opel - Bosch EDC16C36 (2.5L)
Opel - Bosch EDC16C39
Opel - Bosch EDC17C18
Opel - Bosch EDC17C19
Opel - Bosch EDC17C59
Opel - Marelli 6JF
Opel - Marelli 6O2
Opel - Marelli 6O3
Peugeot/Citroen - Bosch EDC15C2
Peugeot/Citroen - Bosch EDC16C0
Peugeot/Citroen - Bosch EDC16C34
Peugeot/Citroen - Bosch EDC17CP11
Peugeot/Citroen - Siemens SID201
Peugeot/Citroen - Siemens SID201A
Peugeot/Citroen - Siemens SID803
Peugeot/Citroen - Siemens SID803A
Peugeot/Citroen - Siemens SID804
Renault
- Bosch EDC16C3
Renault
- Bosch EDC16C36
Renault
- Siemens SID301
Renault - Continental SID305
Suzuki - Bosch EDC16C3
Suzuki - Bosch EDC16C39
Suzuki - Marelli 6JF
Suzuki - Marelli 6F3
Suzuki - Marelli 8DS
Nissan - Continental SID305
Volvo
- Siemens SID803
Volvo
- Siemens SID803A
Available if you have enabled show testing:
- Fiat IAW4AF HW204
- Fiat IAW5SF HW205
- Audi/Seat/Skoda/Volkswagen IAW4MV
-
Jaguar
Delphi 2.2L (7X43, 9X43)
Package List:
1 x
KTAG
7.020 Main Unit
1 x 144300T 104
1 x 144300T 103
1 x 144300T 101
1 x 144300T 106
1 x 144300T 102
1 x 144300T 105
1 x 144300T 100
3 x Chips Inside
1 x Multi-Color Cable
1 x USB Cable
1 x Power Adapter
1 x CD