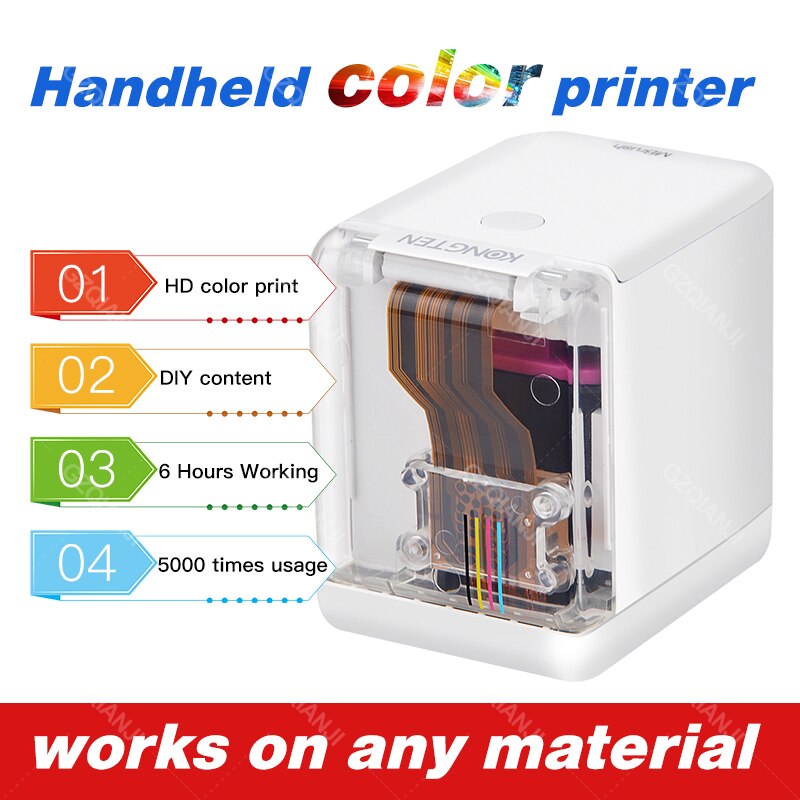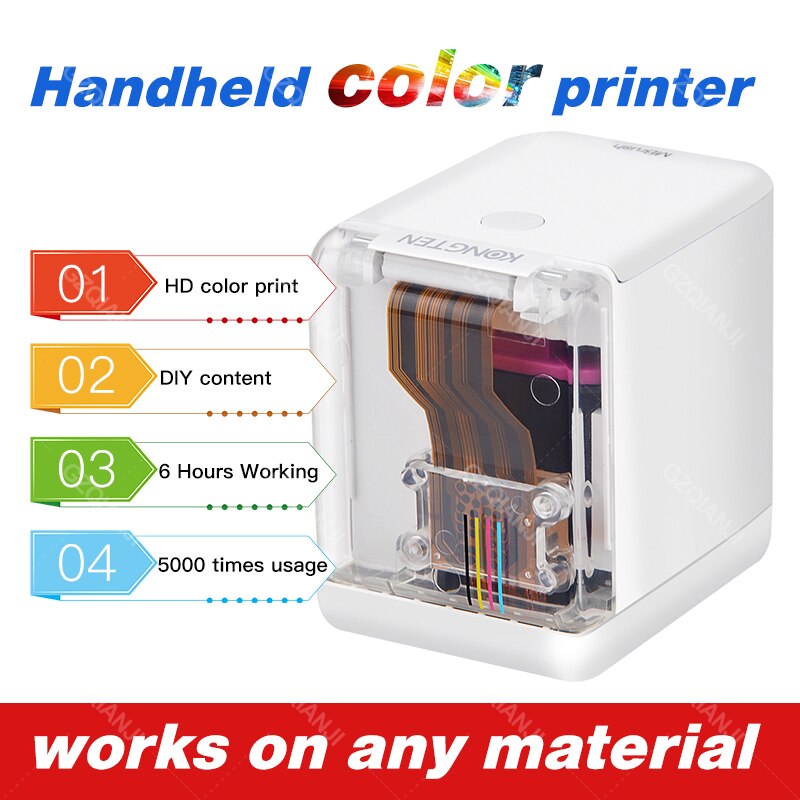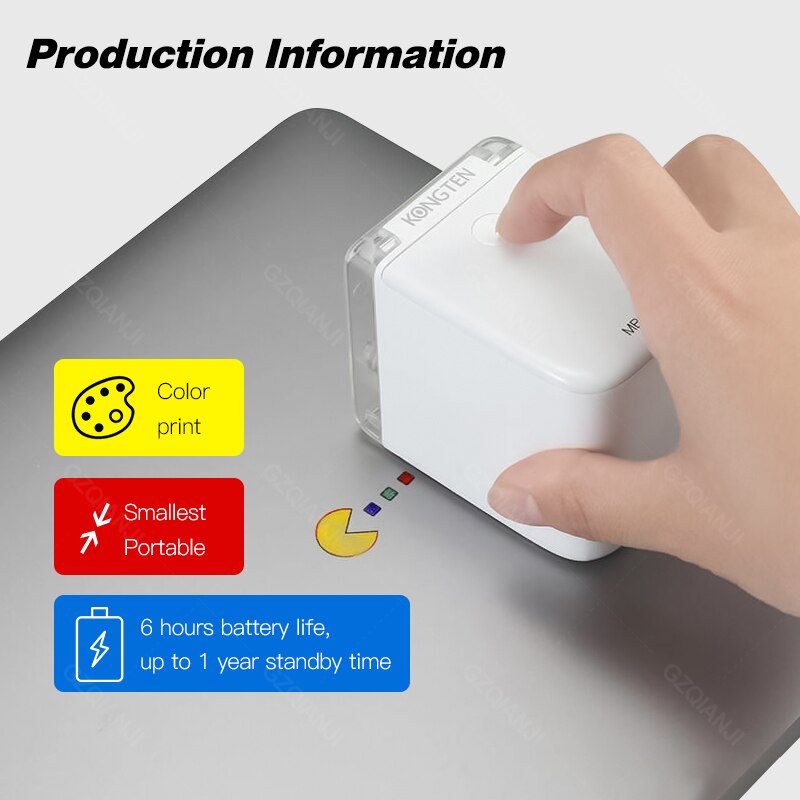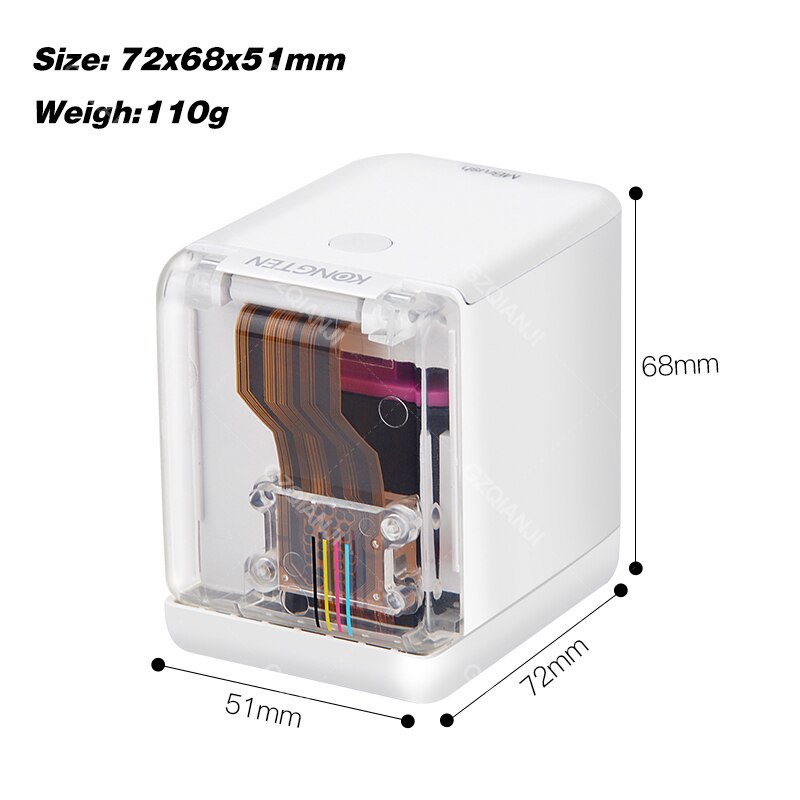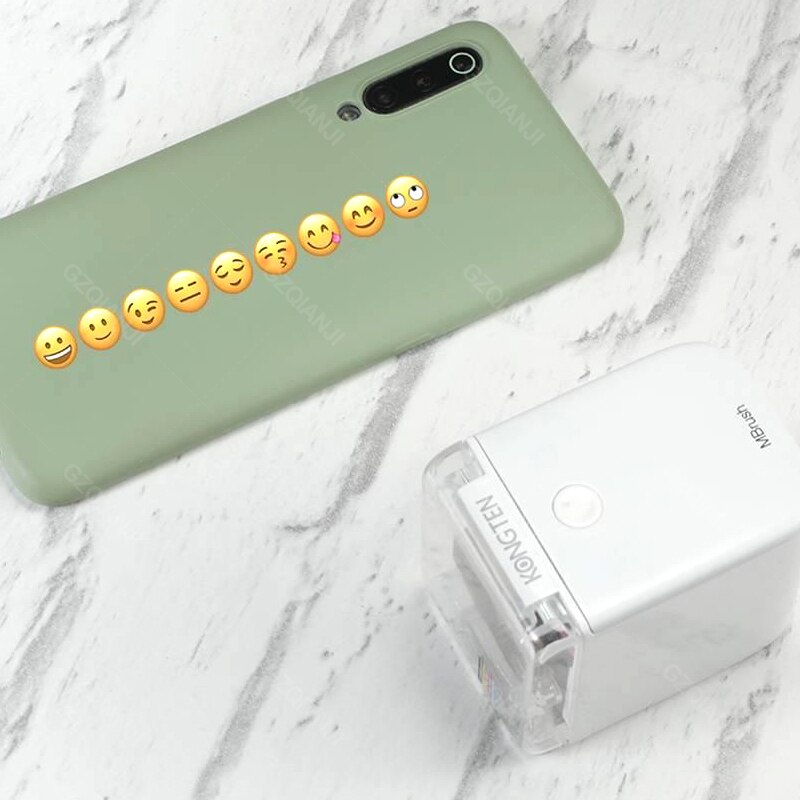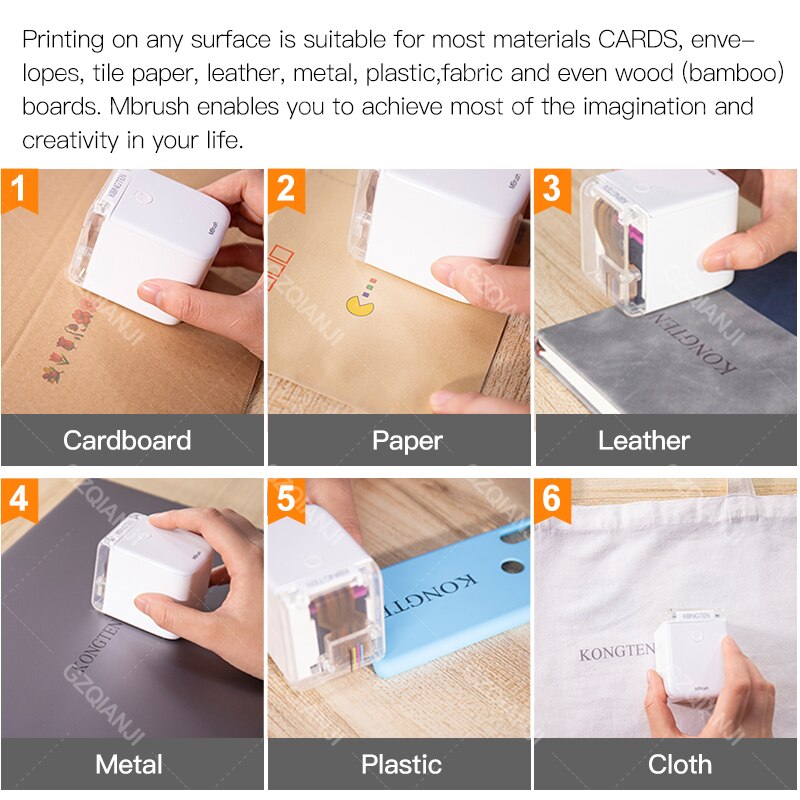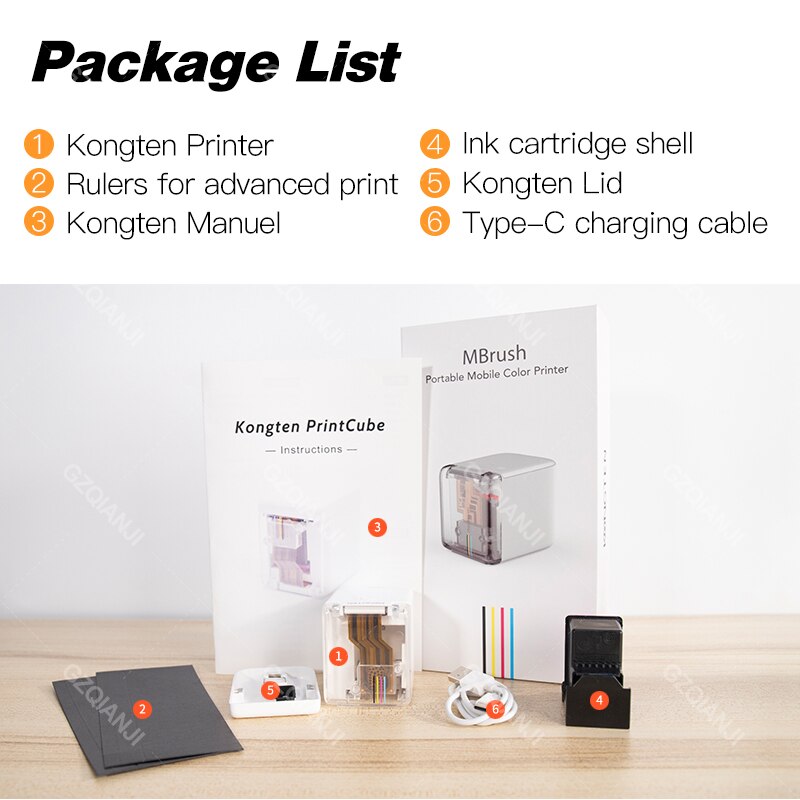 Mobile Color Printer Machine Handheld Portable Mini Printer with Cartridge WIFI USB Connection Printer Home Office Printer
Mobile Color Printer Machine Handheld Portable Mini Printer with Cartridge WIFI USB Connection Printer Home Office Printer, Wholesale Mobile Color Printer
Shipping:

Airmail Post


Estimated delivery time:

7-45

working days.

See details»

Returns:

Return for refund within 7 days,buyer pays return shipping.

Read details »

Support:
Related Accessories/Similar Items
Product Details

Product's Reviews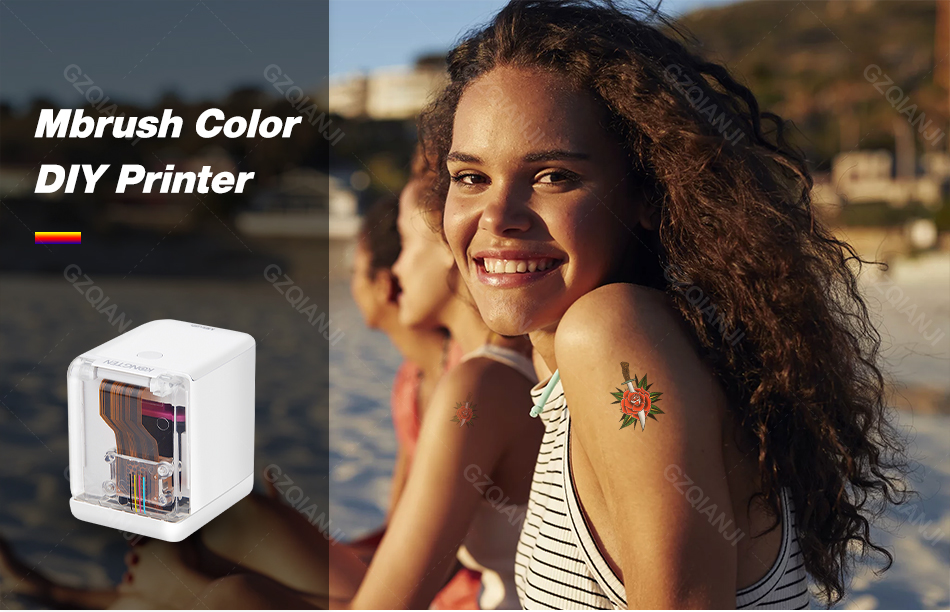 Mobile Handheld Printer Paperless Multi-surface tattoo photo logo pattern bar code mbrush Portable MINI Color Printer.
Attention please before purchasing
1) The printing content can be kept all the time if printed on materials which absorb water,such as paper, carton etc
2) The printing content can be erased if printed on materials which do not absorb water, such as plastic, metal, ceramic, glass etc.
So, if want to keep contents all the time on plastic, metal, ceramic, glass etc, need to buy permanent glue, please watch the video.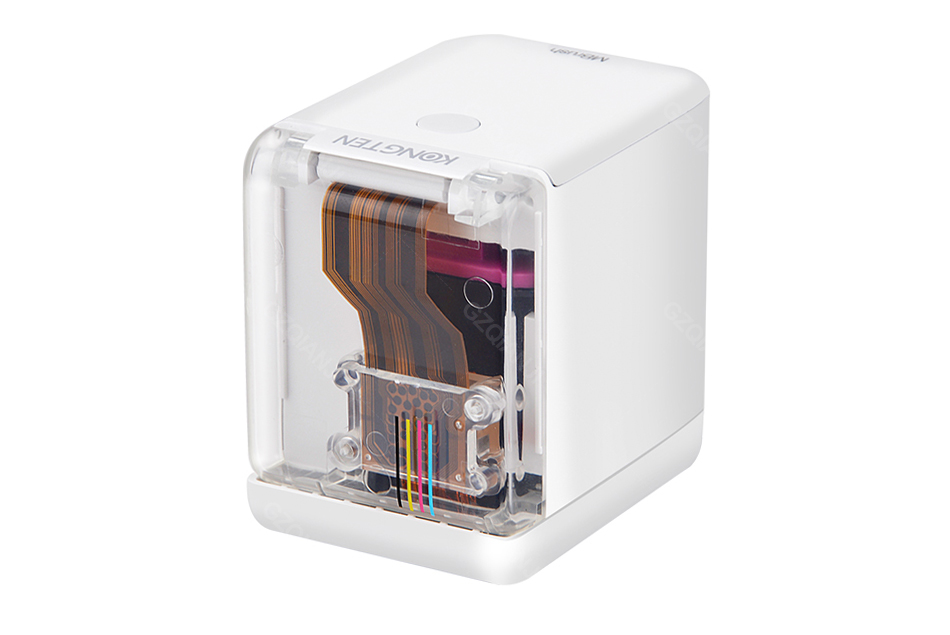 Frequently Asked Questions
Q: How long can this cartridge be used?
A: This printer built-in one ink, this cartridae can use maximum 3000 times, about 1 years.
Q: What type of ink cartridge does this printer work with?
A: Universal HP62
Q: How is this printer connected?
A: It support wifi usb connection, very easy.
Q: What material can he print?
A: It can works on any material, include t-shirts, glass, board, leather, paper and so on.
Q: Can it be washed?
A: Unless paper, other material can be washed.
Q: What can it print?
A: It can print anything, it is a DIY printer, you can print logo, letter, expression, pattern, anything as you want. Just need set the program in advance.
Q: What is his operating language?
A: It support multi-language, it will synchronize your phone language.
Q: What phone system can be connect?
A: Support IOS and android
Q: About warranty and anohter problem.
A: Support 1 year warranty service, support dropshipping and wholesale, our email is salesgzqj@hotmail.com, talk about cooperate.
Production Information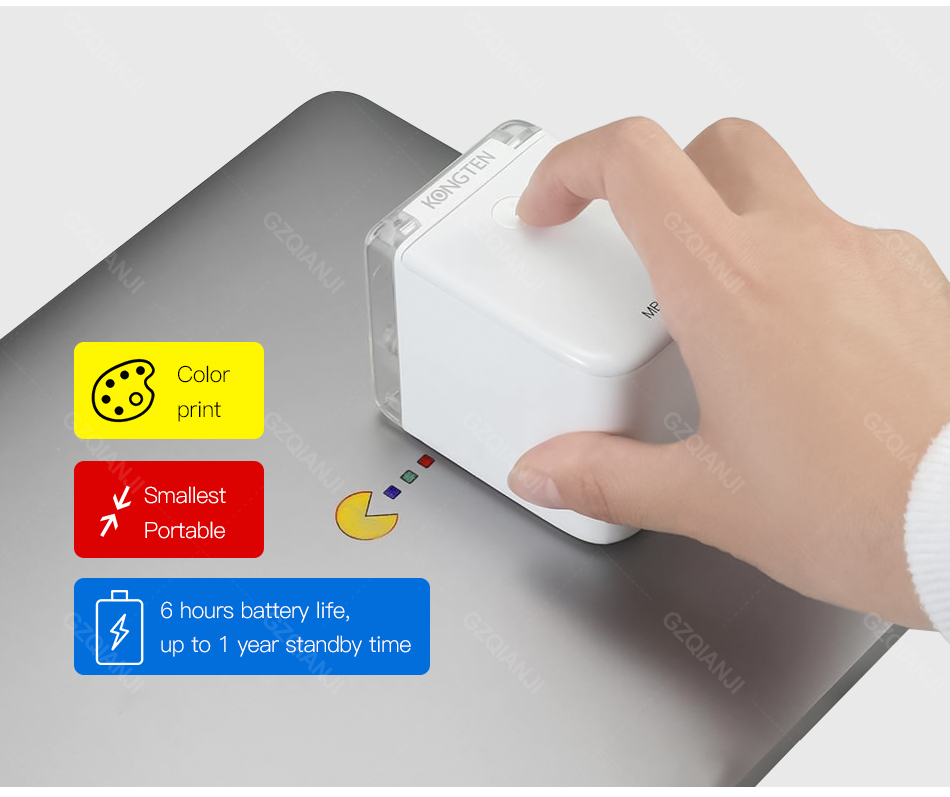 Printing on any surface is suitable for most materials CARDS, envelopes, tile paper, leather, metal, plastic,fabric and even wood (bamboo) boards. Mbrush enables you to achieve most of the imagination and creativity in your life.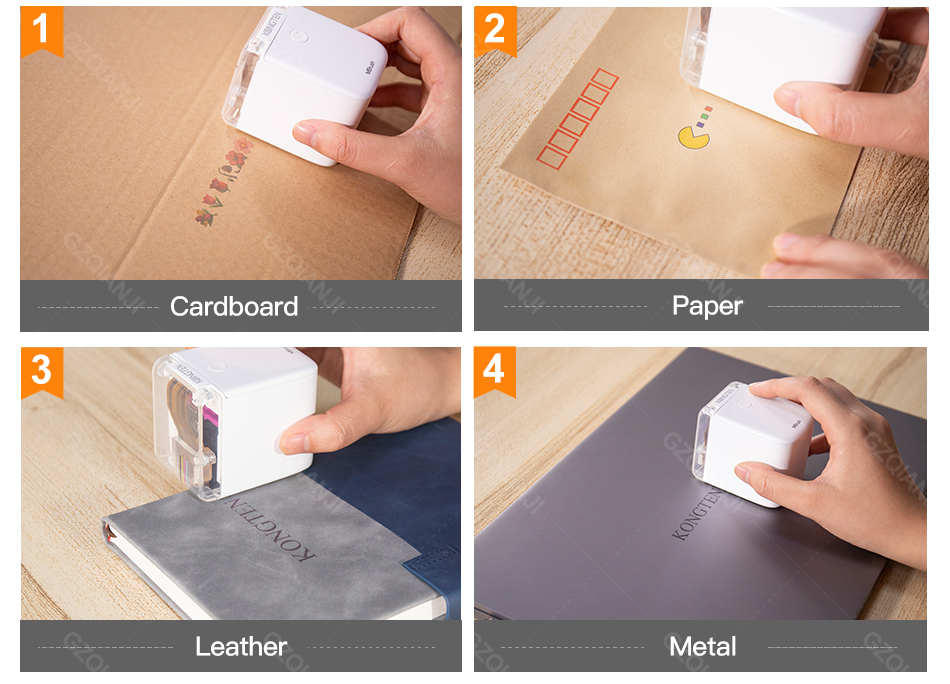 Print on the rough, curved and uneven surface
It works on any texture or shape even on the skin, and can print over uneven surfaces with ease.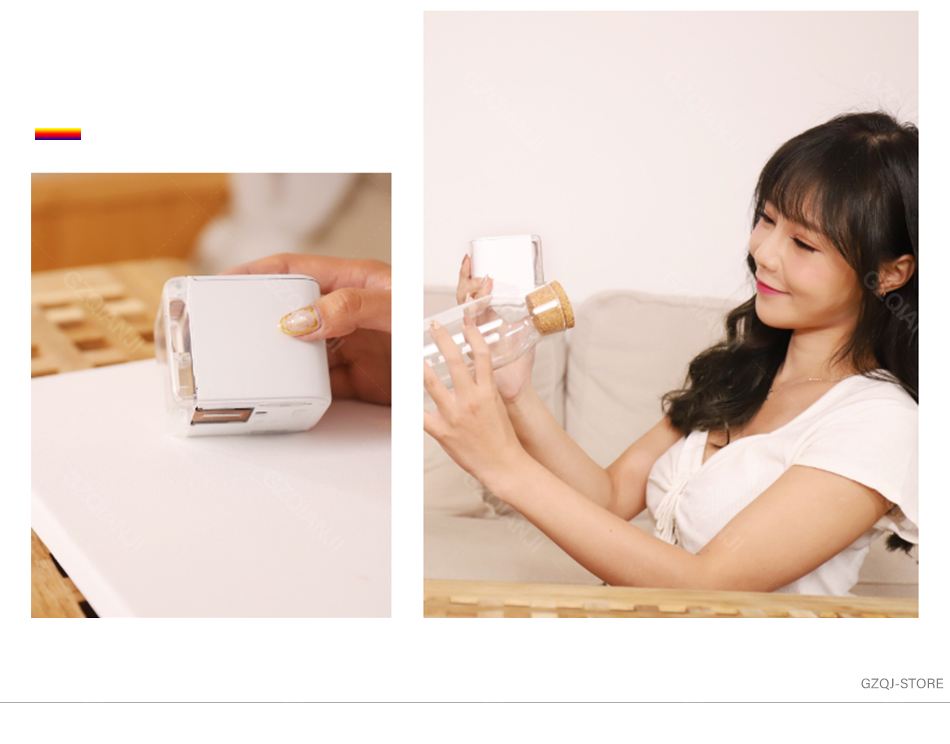 Personal Tattoo Printer
In addition to other surfaces, Mbrush is perfect for making safe temporary tattoos on the skin. Get creative with any design to add art or messages to the skin in a safe way.
Install ink Cartridge
1.Take out cartridge from the protective shell then remove the protective film.
2.Remove the printer base.
3.Turn on the swtich to open the transparent door.
4.Put the ink cartridge in.
5.Pinch the door close the door switch.



Notice
1. When opening and closing the door switch, hold the door tightly to the fuselage.
2. If the cartridge is not used for a long time, it is recommended to put it back into the cartridge protective shell for preservation.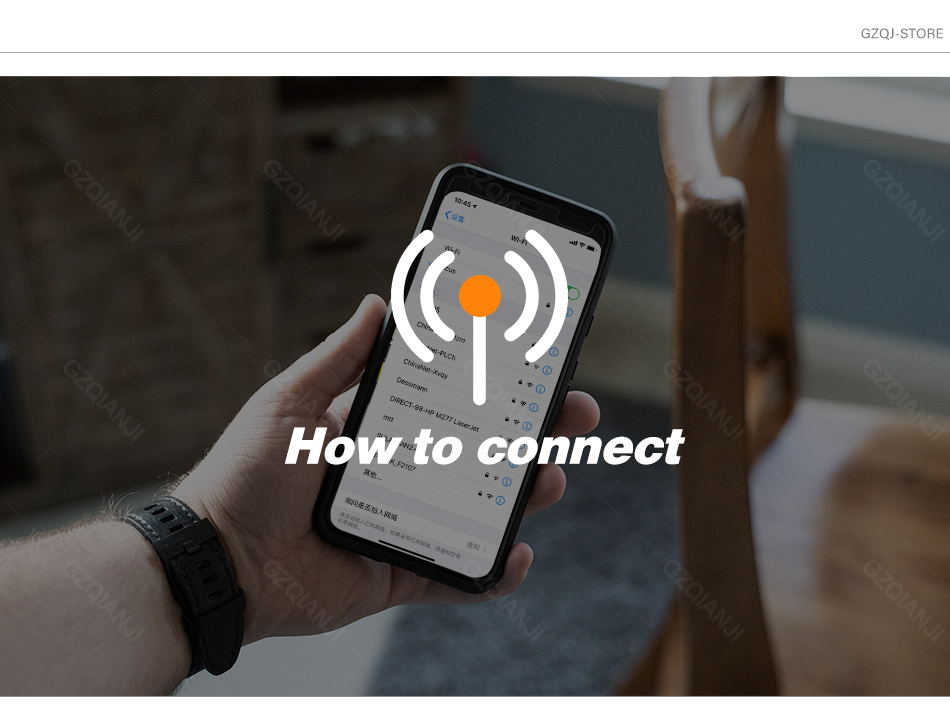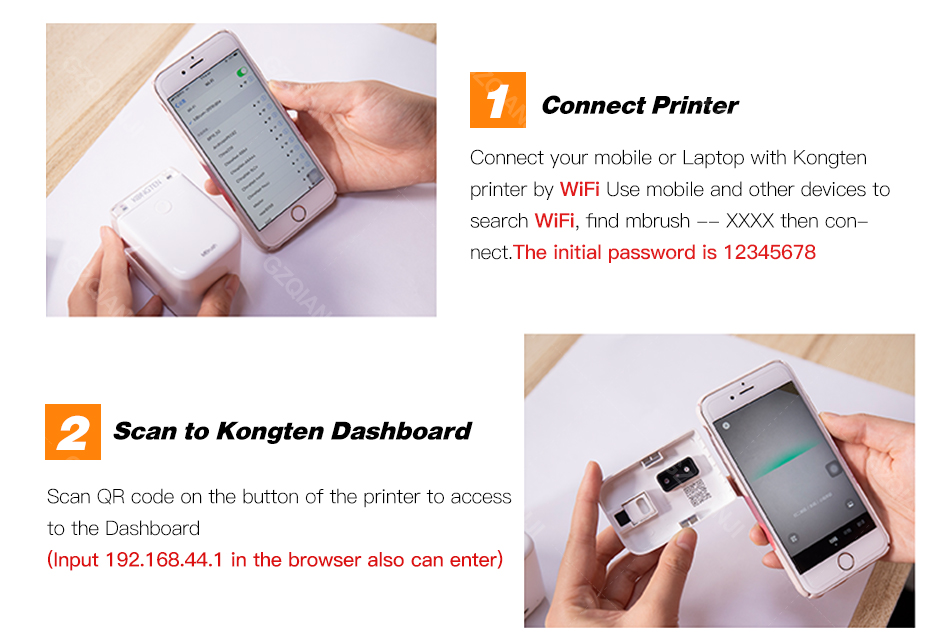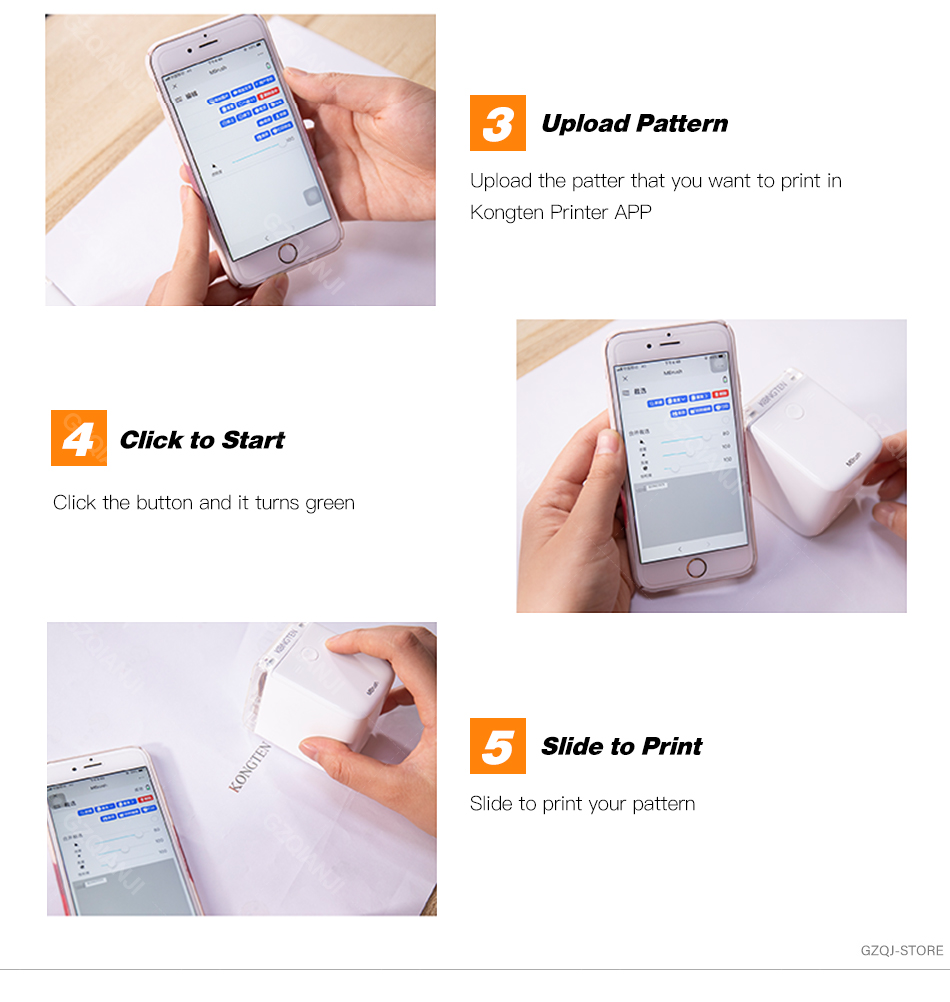 Kongten is the portable full-color printer. It utilizes thelatest 3-Color Thermal Ink-jet Technology that provides vivid color printing.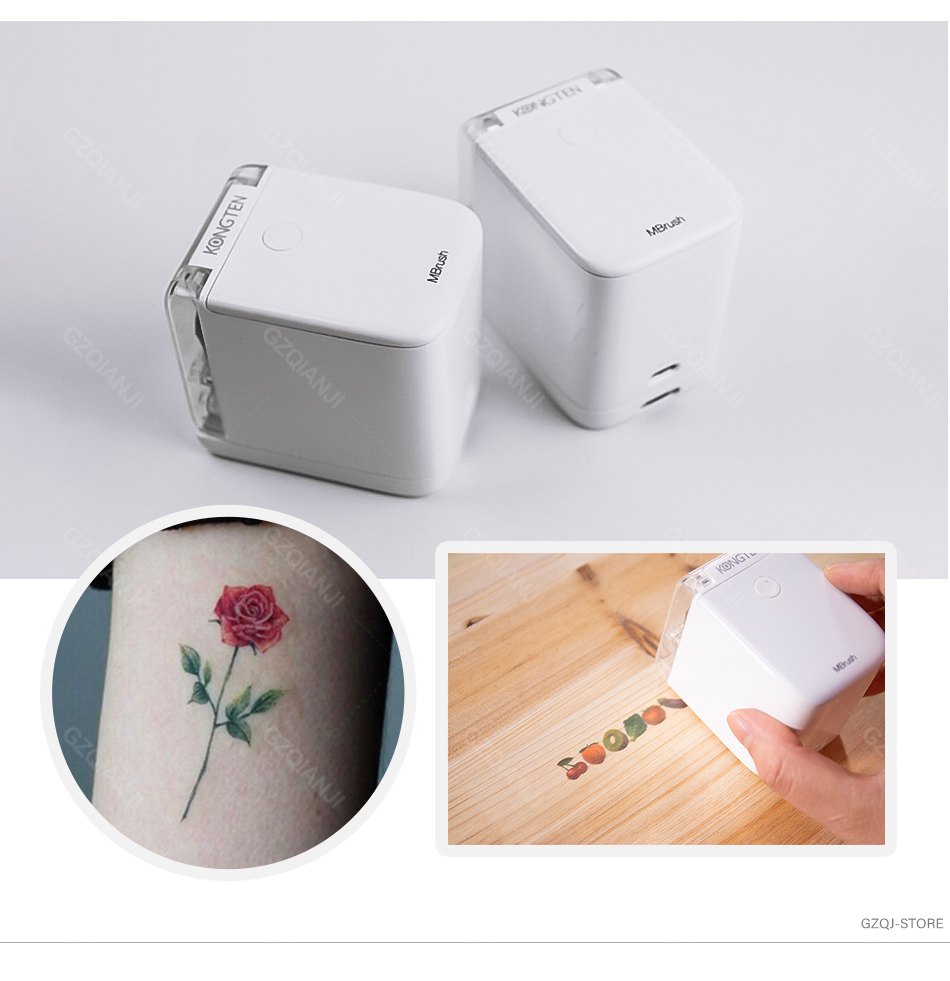 Product Display
Print on the rough,curved and uneven surface.It works on any texture or shape even on the skin, and can print over u neven surfaces with ease.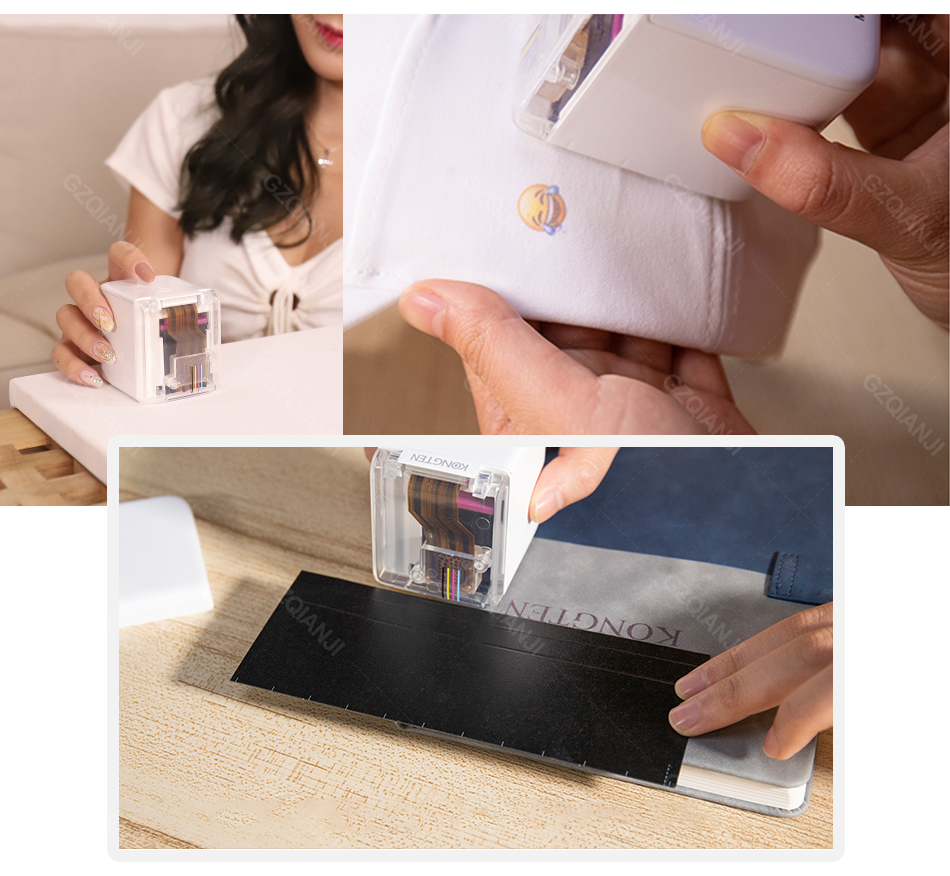 Kongten one-time charge can use 6 hours continuous printing and 1 year standby time.Follow your idea as your demand!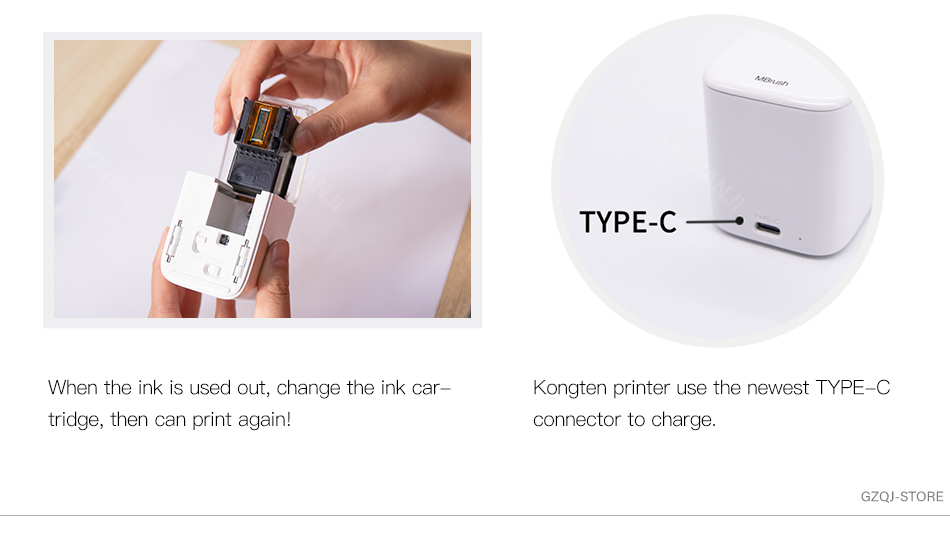 Package List
1.Kongten Printer
2.Rulers for advanced print
3.Kongten Manuel
4.Ink cartridge shell
5.Kongten Lid
6.Type-C charging cable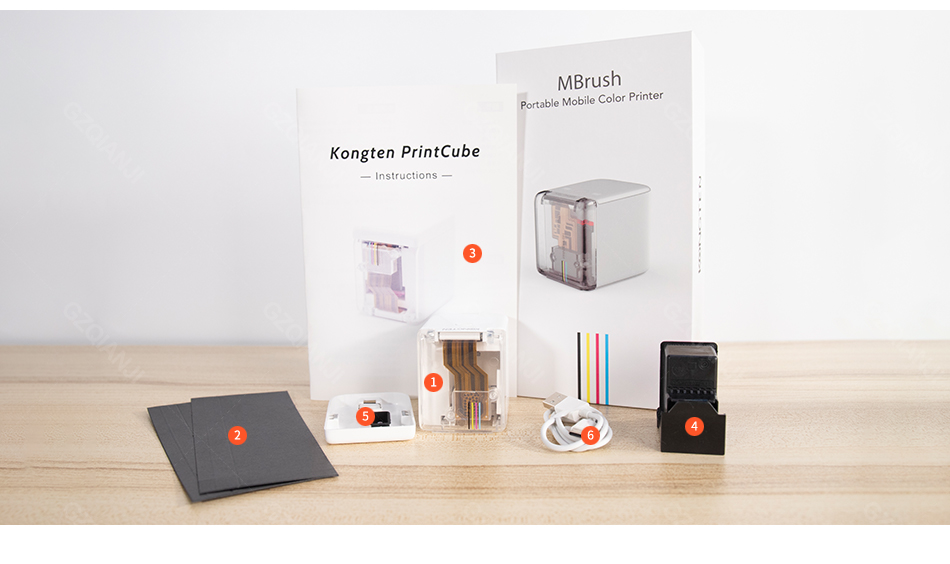 Frequently Asked Questions
1. What are the maximum printing dimensions with a single pass?
The maximum printing hight is 14.29 mm/0.5625 inch. For a single pass, it can print 1.3m/4.26 feet long. On multi-line printing mode, it can print up to 3m/9.8 feet. If you want to print the pattern with larger dimensions, you can use the multi-line feature with the help of rulers to put them together.
2. Normally, how often do I need to refill or change the cartridge?
A single cartridge can print up to 415 full pages of paper (A4), enough for a year of daily use. If you need to replace the cartridges, you can purchase the corresponding cartridges on our official website.
3. How's the working time/battery life?
mbrush integrates a 900 mAh battery. For a single charge, it can continuously print for 4 hours with 1 year of standby time.
4. How does it take to fully charged?
2 hours normally. For a single charge, it can continuously print for 6 hours with 1 year of standby time.
5. What is the exact benefit of using mbrush Ink Cartridge?
For the ink cartridge, the specs of mbrush ink cartridge is quite similar to the 62XL. If you check the price of this ink cartridge on its website, the price of it is actually over $70. By using the mbrush ink cartridge, you will also have less ink out the error and it has better viscosity for printing on.
6. Can I use the hp ink cartridge instead yours?
We' re using the mbrush self-developed Ink Cartridge and that's the one perfectly fit the mbrush.And yes, it also compatible with the HP62 and HP804 Color ink cartridge(Both Standard&XL supported, as well as the HP64, but the color arrangement is not that good like HP62&HP804).
7. Can this printer print on black surface? or white?
mbrush can print on Black Surface but it can not show the color perfectly if the ground color is too dark. Printing white color is not supported.
8. How can this print black if it just uses the tri color cartridge?
The Black color you see in the video or campaign page is printed by the mbrush. The cartridge prints black by combining percentages of cyan, magenta and yellow. and that's how the tri-color works.
9. Printers clean themselves periodically to avoid getting clogged, does yours?
We suggest you clean the mbrush ink outlet at least once a month. When you're not using it, it's better to put the lid on. Btw, mbrush has the clean function, which supports you long-press the button and it will print 3 color line so you know the printing status in advance.
10. What is the shelf-life of the ink?
The shelf-life of the ink cartridge is 18 months. If it is the used ink cartridge, you stored properly in the correct environment, you may still be able to use it for 18 months (15° – 30°)