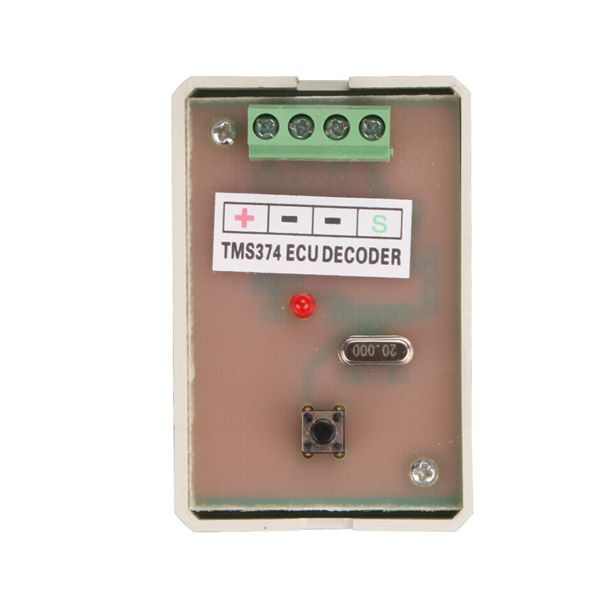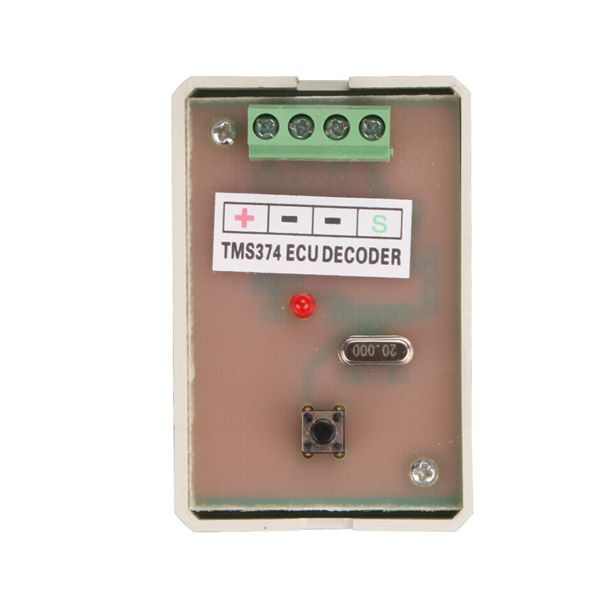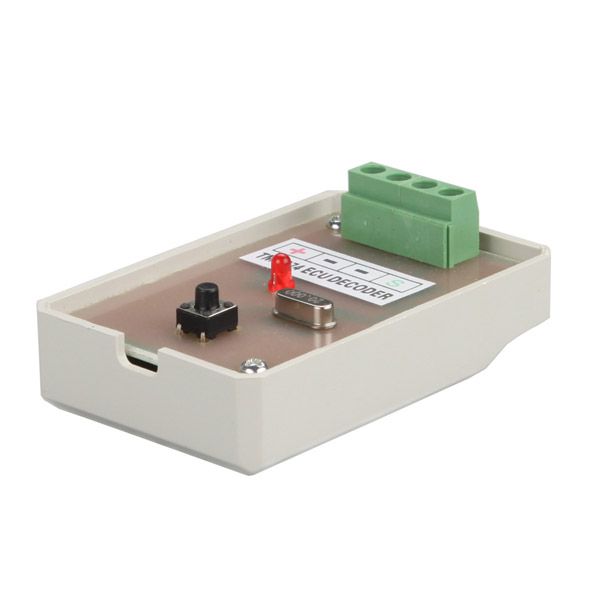 TMS374 ECU Decoder Fee Shipping
This Tool is a frequency sweeper with 5V square wave output (Duty cycle 50%, effective frequency range from over 10kHz (max 50kHz) to 50Hz) .This tool can be also considered as a MCU version of the software TMS-374 Decoder ECU. The only difference between the two tools is that the MCU version works without a PC.
Shipping:

Airmail Post


Estimated delivery time:

7-45

working days.

See details»

Returns:

Return for refund within 7 days,buyer pays return shipping.

Read details »

Support:
Product Details

Product's Reviews
TMS374 ECU Decoder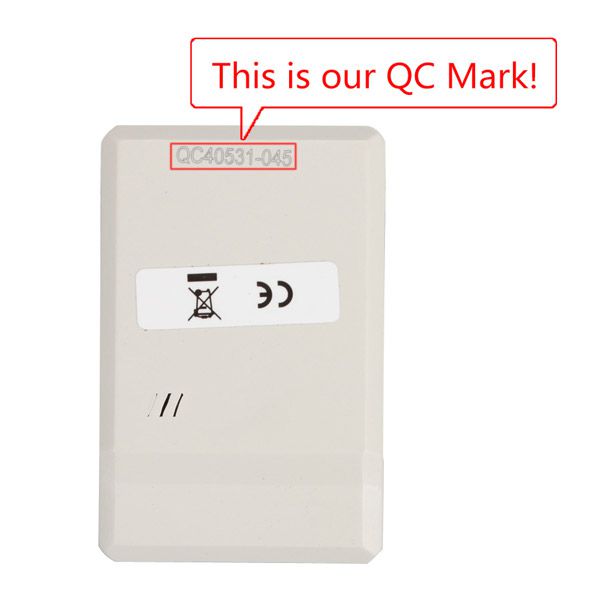 A small tiny2313 MCU is used to generate the pulses instead of the PC RS232 Tx line. The TMS 374 software is in fact a simple frequency sweeper with an effective range from about 2000Hz to about 100Hz. The Tiny sweeper does exactly the same but much more better (bigger range).
After powering the device on - the LED should blink twice. Pressing the button will start the sweep procedure. LED ON - means there are pulses on the output. After reaching the lowest frequency the LED goes off and the mcu stops the generation.
Power the sweeper and ECU
Connect the GND line to any suitable GND on the ECU
Connect the Data line to the Reset pin on the 27C512 or 28F512
TMS-374 Decoder ECU info
The sweeper should work with the following ECUs:
Renault
SIEMENS Fenix 3 and 5
Renault
Megane 1400cc 8v
Renault
Megane 1600cc 8v
Renault Megane 2000cc 8v
Renault Megane 2000cc 16V
Renault Megane Scenic 1400cc 8v
Renault Megane Scenic 1600cc 8v
Renault Megane Scenic 2000cc 8v
Renault Sefrane 2000cc 16V
Renault Laguna 2000cc 8v
Renault Laguna 2000cc 16v
Renault Espace 2000cc 8v
Renault SAGEM SAFIR 1 and 2
------------------------------
Renault Clio 1200cc 8V
Renault Clio 1400cc 8V
Renault Clio 1600cc 8V
Renault Clio 2000cc 16V Williams
Renault Laguna 1800cc 8V
Renault Laguna 2000cc 8V
Renault Laguna 1800cc 16V
Renault Laguna 2000cc 16V
Renault Twingo 1200cc 8V
Sagem SL96 Psa
--------------------
Peugeot 306 1400cc 8V
Peugeot 306 1600cc 16V
Peugeot 306 1800 16V
Peugeot Ranch 1400 8V
Citroen Berlingo 1400cc 8V
Citroen Xrara 1400cc 8V
Citroen Xrara 1800cc 16V
DAEWOO SIEMENS
-------------------
Daewoo Matiz 800cc
HYUNDAI SIEMENS
-------------------
Hyundai Coupe 1600cc 16V
Hyundai Coupe 2000cc 16V
KIA SIEMENS
--------------
Kia Rio 1300 16V
Kia Rio 1500 16V
MAGNETI MARELLI
------------------
1AP20, 1AP40, 1AP41, 1AP43
1AP80, 1AP81, 1AP83 1AP90
Citroen Berlingo 1800cc 8V
Citroen Saxo 1400cc 8V
Citroen Saxo 1600cc 16V
Citroen Xara 1400cc 8V
Citroen Xara 1800cc 8V
Citroen Xara 2000cc 16V
Citroen ZX 1400cc 8V
Peugeot 106 1400cc 8V
Peugeot 106 1600cc 8V
Peugeot 106 1600cc 16V
Peugeot 206 1100cc 8V
Peugeot 206 1400cc 8V
Peugeot 306 1400cc 8V
Peugeot 306 1600cc 8V
Peugeot 306 1800cc 8V
Peugeot 405 1800cc 8V
Peugeot 406 1800cc 8V
Peugeot Partner 1800 8V
A handy tool to have that will decode an all the above ecu's to a new state without the need of a laptop!
Package list:
1pc x TMS374 ECU Decoder