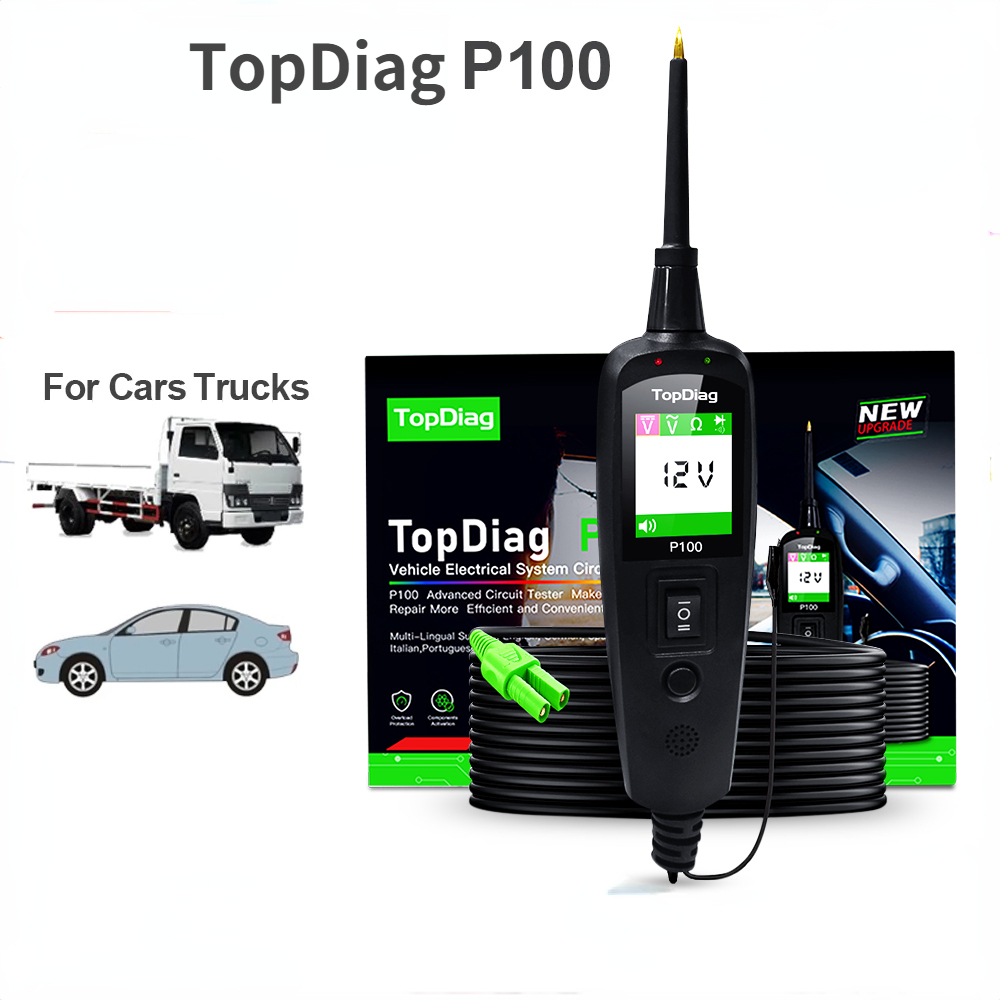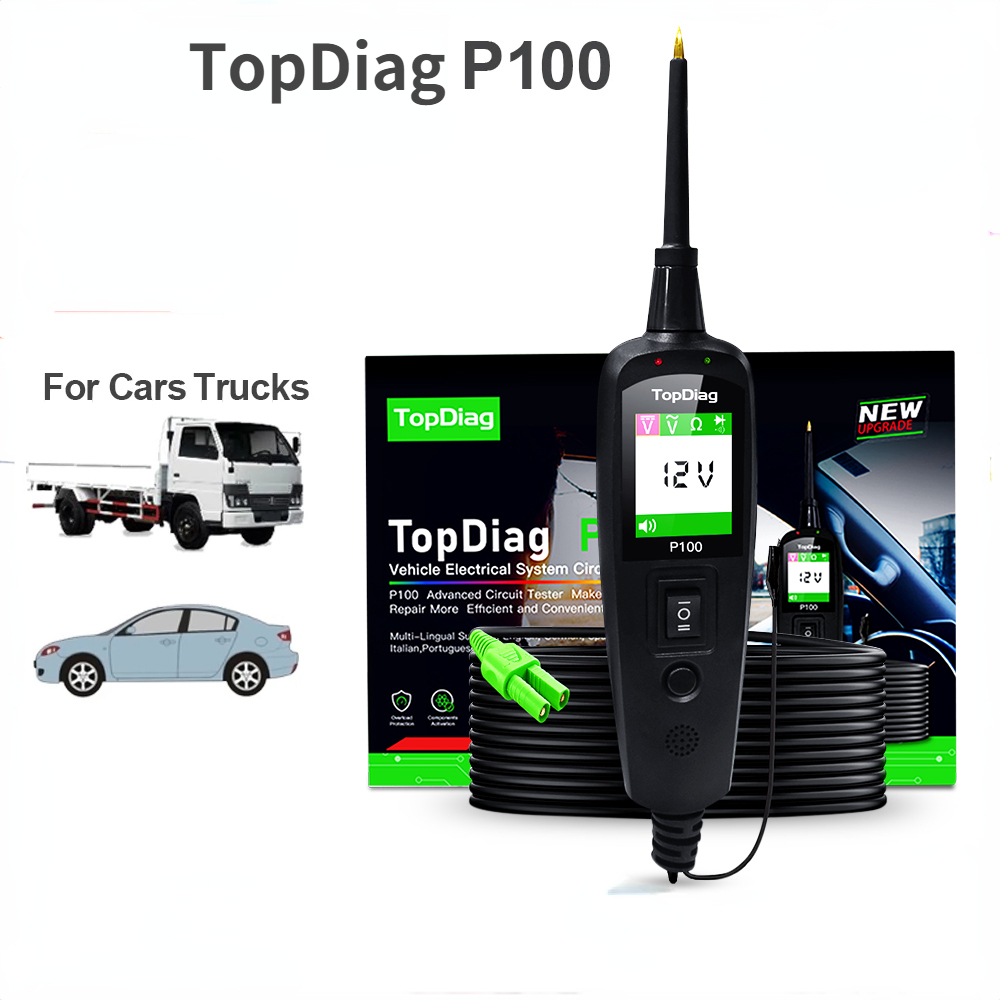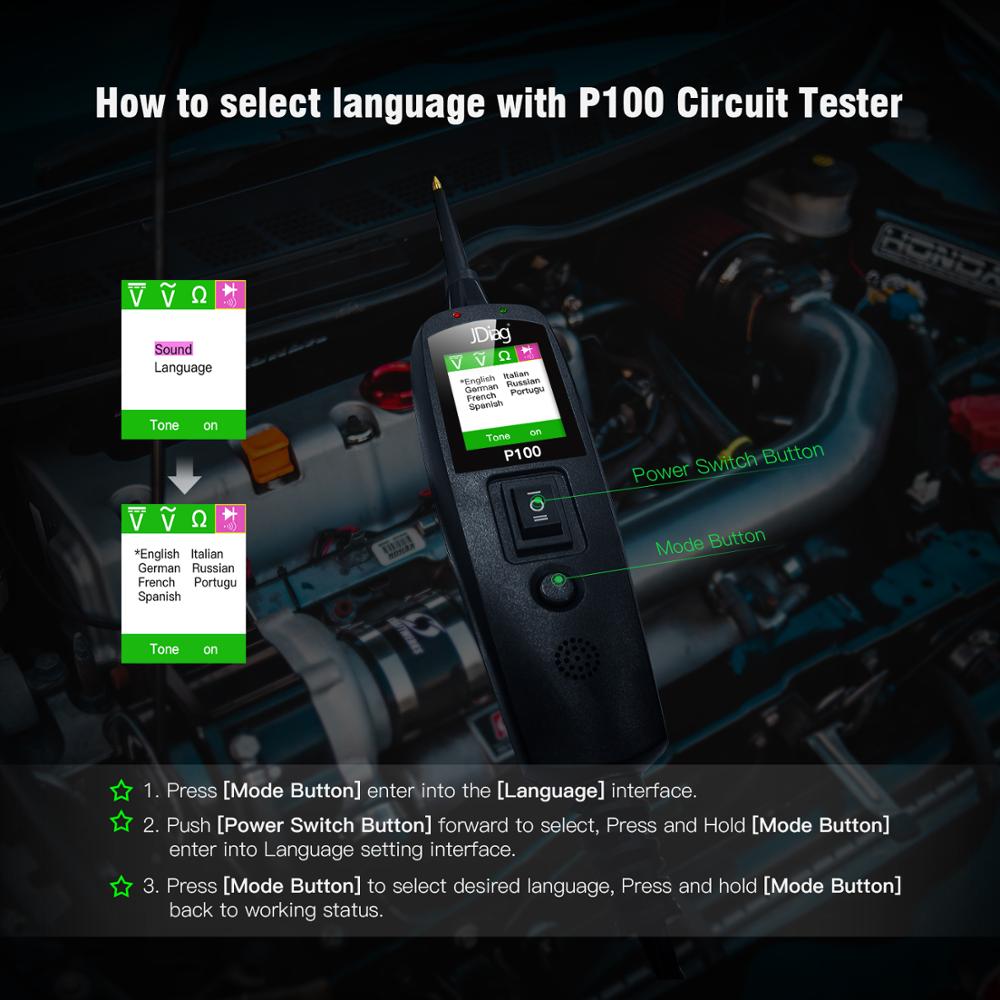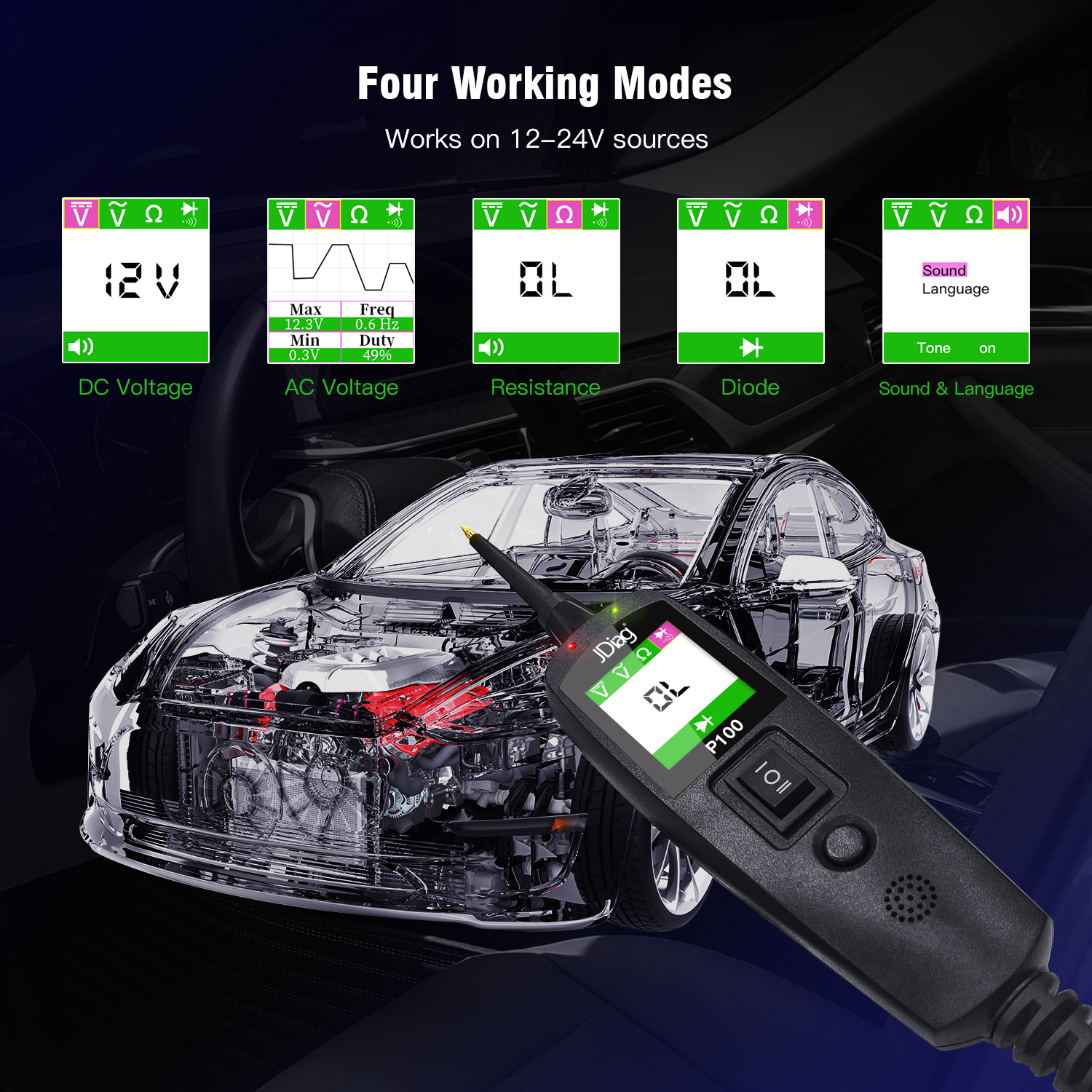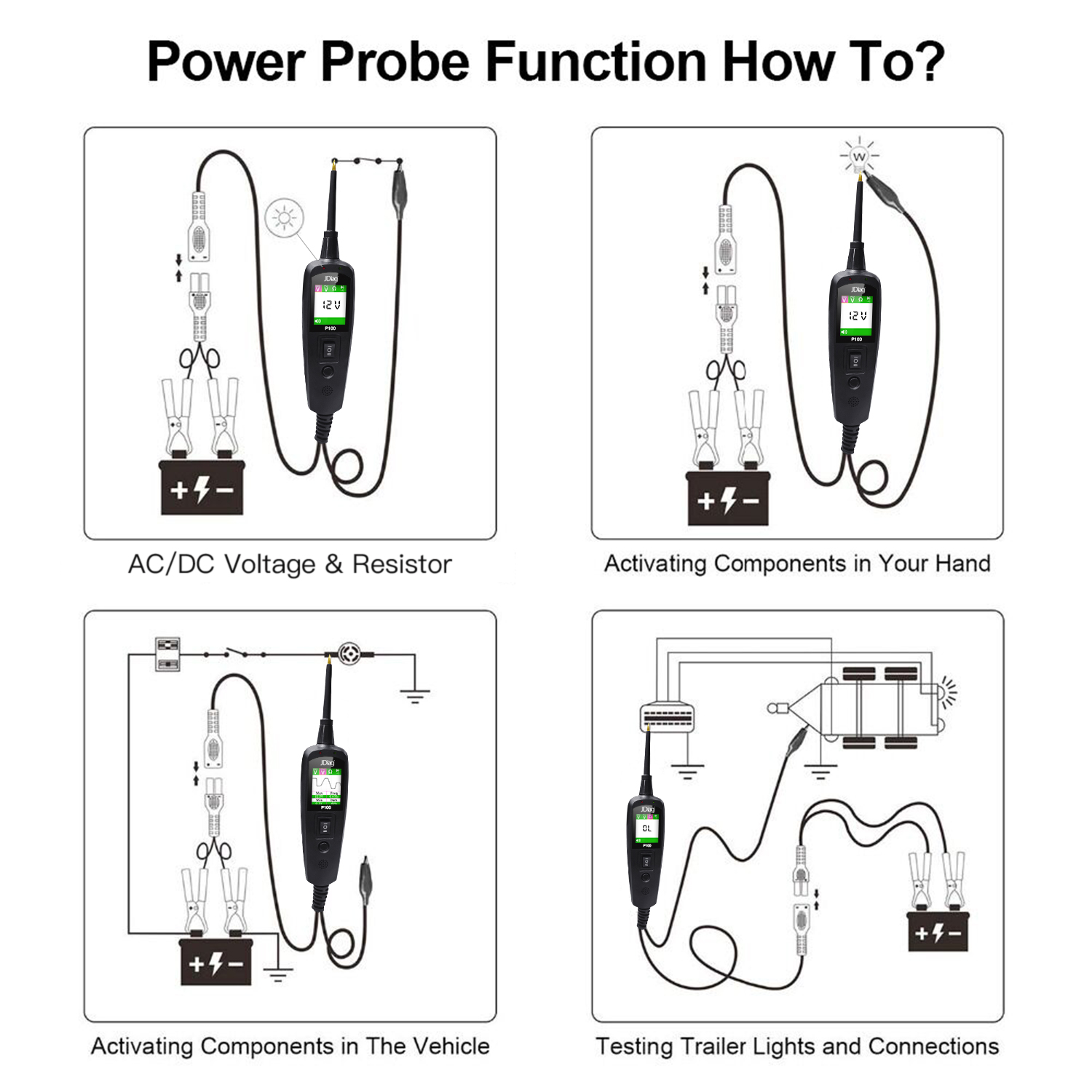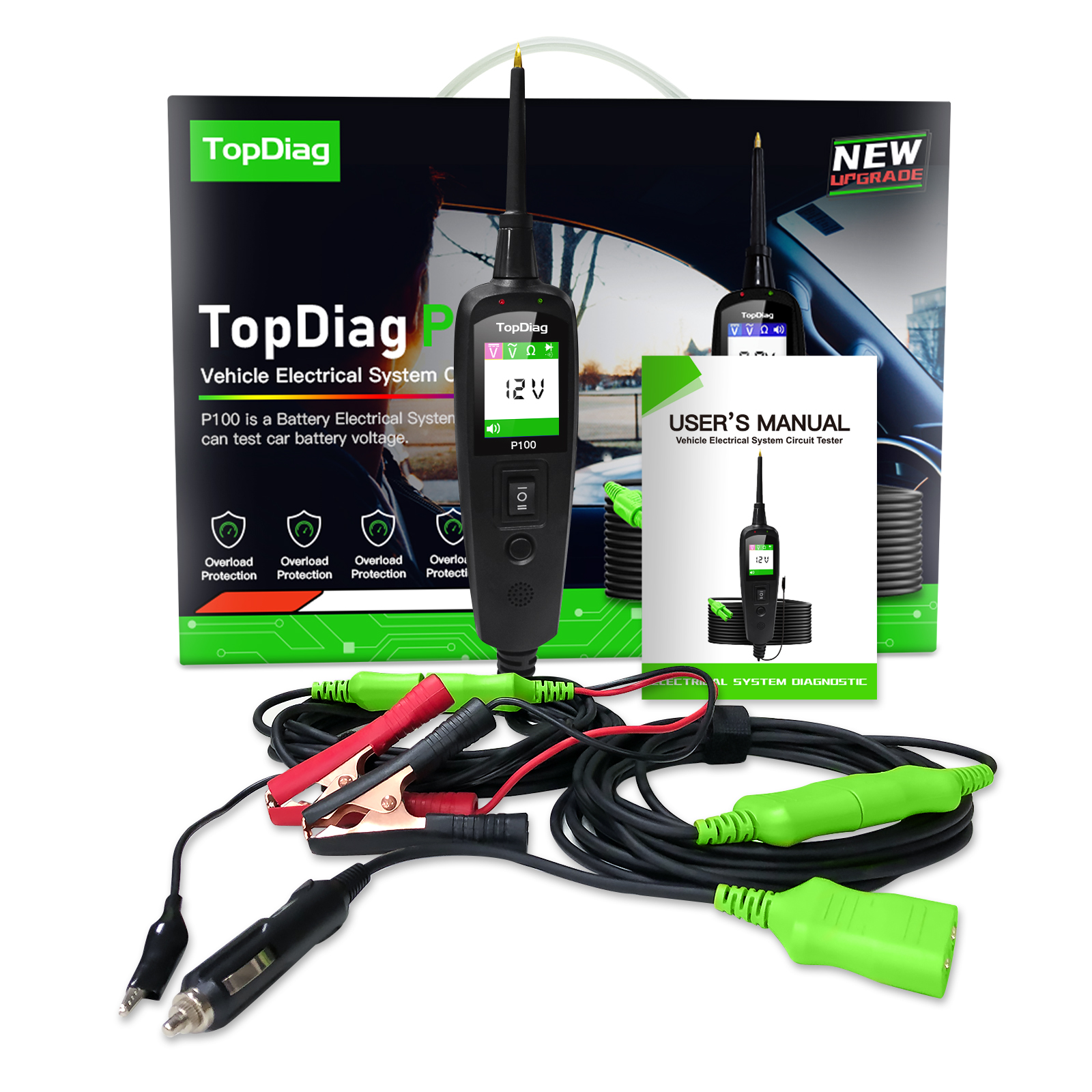 TopDiag P100 PowerPro JDiag P100 Electrical Circuit Tester for Cars Trucks and Motorbikes Multi-Lingual Automotive Circuit Tester
TopDiag P100 PowerPro P100 Electrical Circuit Tester for Cars Trucks and Motorbikes Multi-Lingual Automotive Circuit Tester, General description tool is the best electrical tester, reducing diagnostic time in all 6-30V at vehicle electrical systems after a simple hook-up of the tool to the vehicles's battery
Shipping:

Express Shipping Service


Estimated delivery time:

3-15

working days.

See details »

Returns:

Return for refund within 7 days,buyer pays return shipping.

Read details »

Support:
Related Accessories/Similar Items
Product Details

Product's Reviews
JDiag P100 New Generation Automotive Electrical Circuit System Tester for Cars and
Truck
s 0V - 70V
General description tool is the best electrical tester, reducing diagnostic time in all 6-30V at vehicle electrical systems after a simple hook-up of the tool to the vehicles's battery, you can:
1. Determine at a glance if a circuit is positive, negative or open without having to reconnect clips from one battery pole to another.
2. Test for continuity with its built -in auxiliary ground lead.
3. By depressing the own switch of tester electric, conduct a positive or negative battery current to the probe tip for testing the function of an electrical component without the use of jumper wires.
4. Test for poor ground contacts of this circuit tracer instantly without performing voltage drop tests, the tool is also short-circuit protected its internal circuit break will trip if it becomes over loaded.
About P100 Automotive Circuit Tester:
Red/Green Polarity Indicator (Positive/negative and tests in different modes will show red/green indicator lights).
LCD HD Color Display (Adopt LCD color screen, the screen is clearer and the data is more intuitive).
Multi Languages Support :
English, German, French, Spanish, Italian, Russian, Portuguese.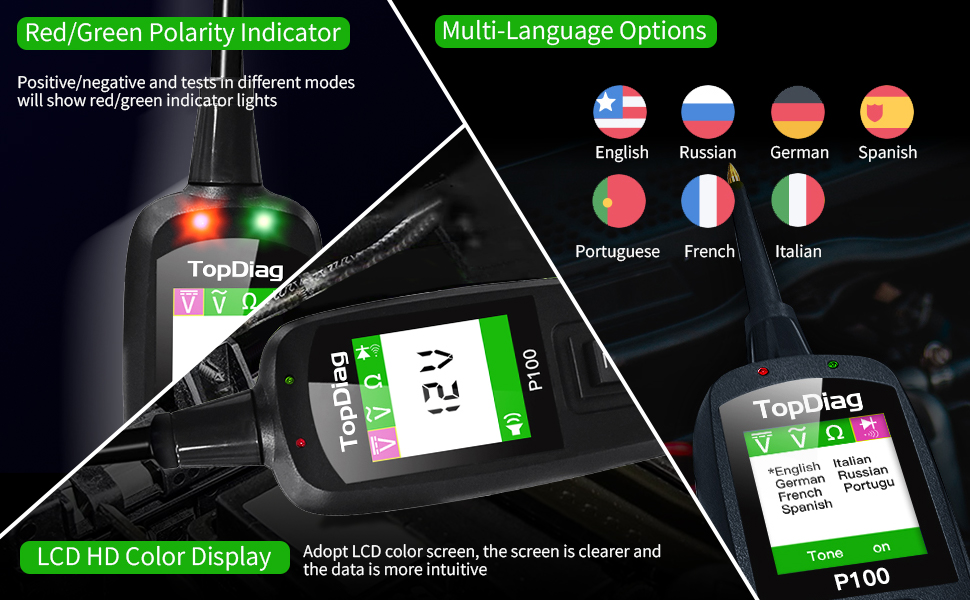 1. Voltage & Polarity Testing-Determine DC/AC Voltage and Postive/Negative quickly.

2. Resistance Continuity Testing- LCD Screen display the value of resistance.

3. AC Circuit Singal Testing- Fast to trubleshoot the sensors circuit problem.

4. Components Activation in your hand, in the vehicle or W/Ground.

5. Testing Trailer Lights and Connections-10M extension cable allow your to test Cars or Trucks.

6. Checking for Bad Ground Contacts and Locating Short Circuits.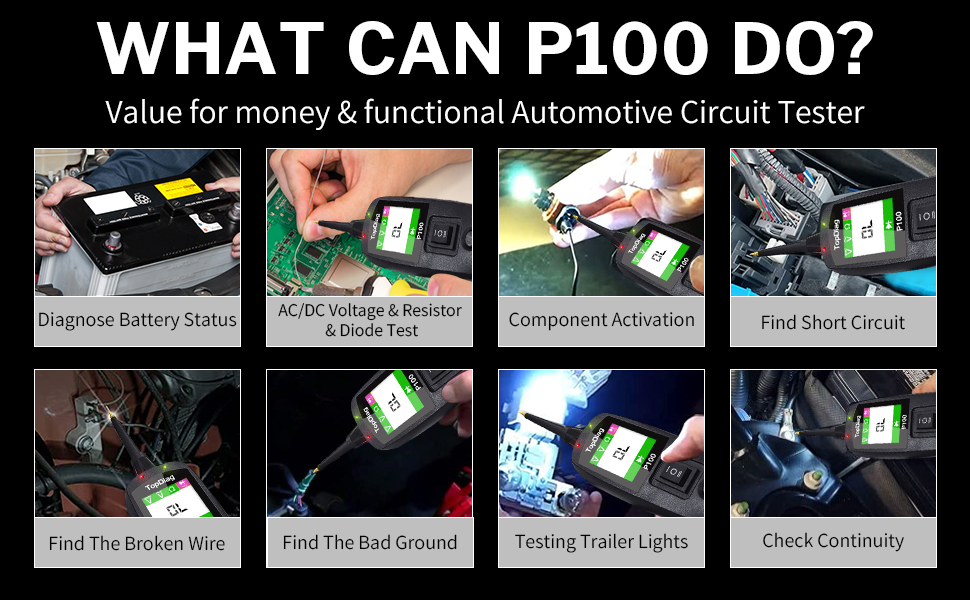 What are the advantages of the product?
Purpose of the P100 Power Circuit Probe Kit :
* Diagnose battery Status
* AC/DC voltage, resistance, diode test
* Componet activation
* Find short circuit
* Find the broke wire
* Find the bad ground
* Testing trailer lights
* Check continuity
* 20Ft extension cable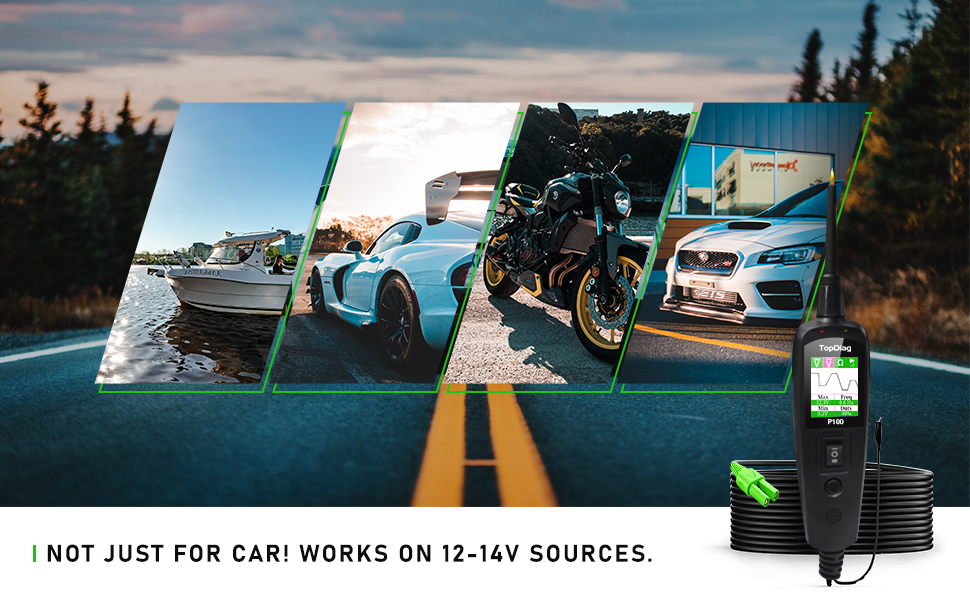 Specifications:
1. Display: TFT color display (160 x 128 dpi)
2. Operating Temperature: 0 to 60°C (32 to 140 F°)
3. Storage Temperature: -40 to 70°C (-40 to 185 F°)
4. External Power: 12.0 or 24.0V power provided via vehicle battery
5. Dimensions: Length 165 mm * Width 40 mm * Height 27 mm
Test Tool Specifications:
DC voltage range : 0-65V +1 digit
Resistance range : 0-200 K ohm
Frequency response of tone pass through
0Hz to 10K hz.
Circuit Breaker
Rating current: 1-10 Amp
Testing Standard:
100% current : no trip
150% current : trip in one hour
200% current : trip in 3-30 seconds.
300% current : trip in 0.5-4.0 seconds.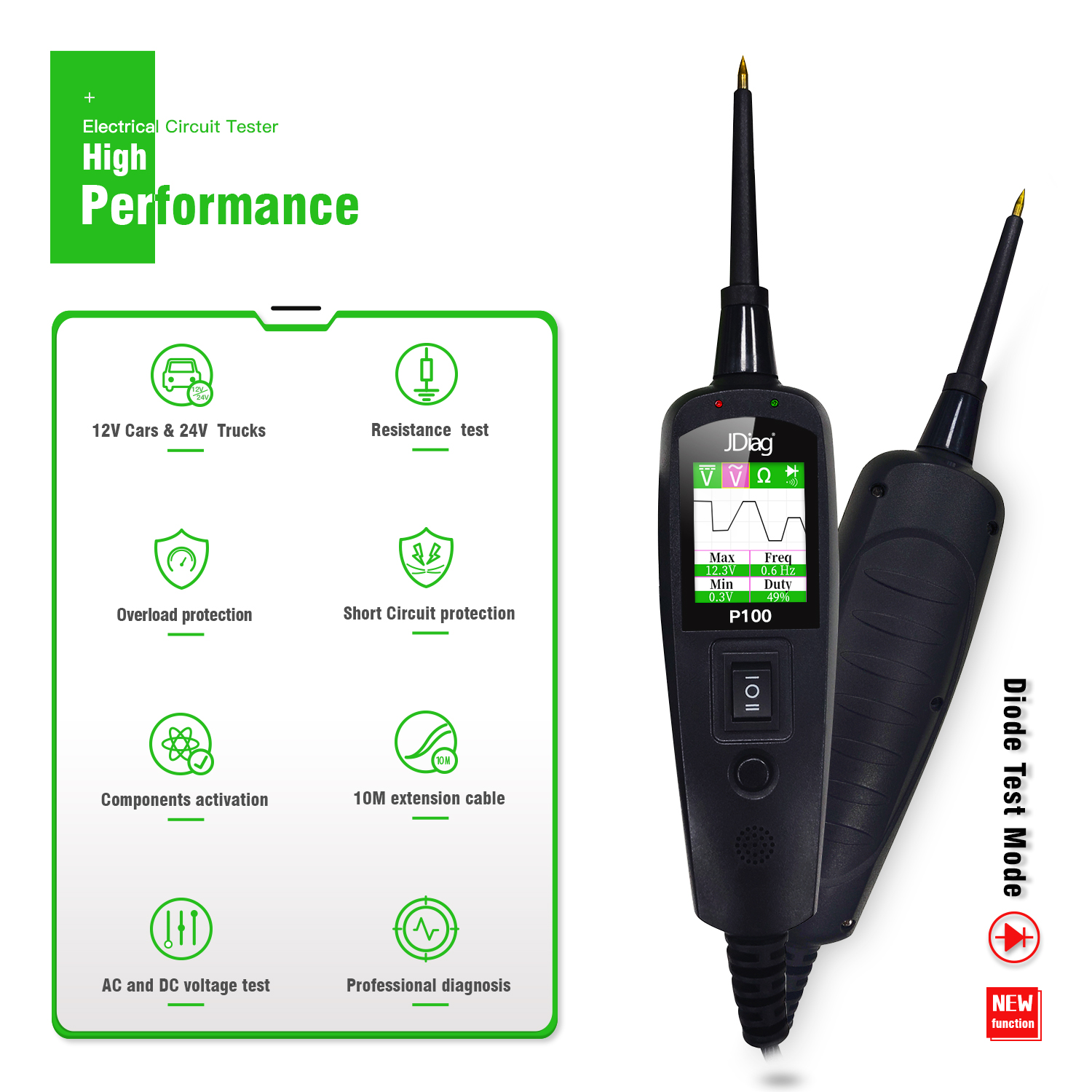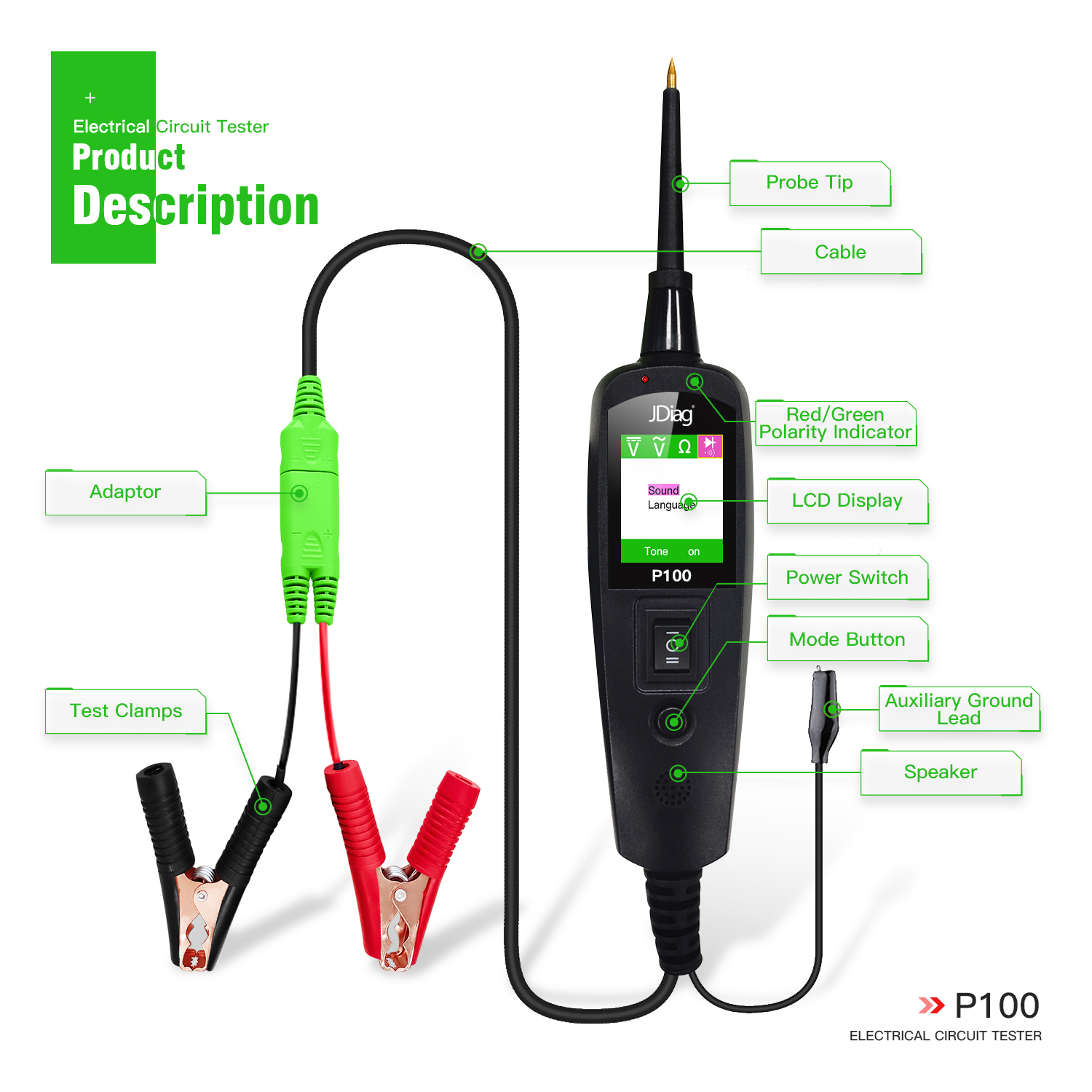 1. Probe tip of electric tester- contents the circuits or component to be tested
2. Head lights- illuminate dark work areas or work areas at night
3. Red/green polarity indicator- identifies positive, negative or open circuits the red indicator lights when the probe tip is contacting a positive circuit the green indicator lights when the probe tip is contacting a negative circuit
4. LED display- indicates test results
5. Power switch- allows you to conduct a positive or negative battery current to the tip for activating and testing the function of electrical components
6. Mode button- selects the work mode: AC voltage, DC voltage, resistance, Diode
7. Speaker- when the audio tone is turn on a beep will be heard
8. Auxiliary ground lead- assist test as a ground lead
9. Adapter- connects to the battery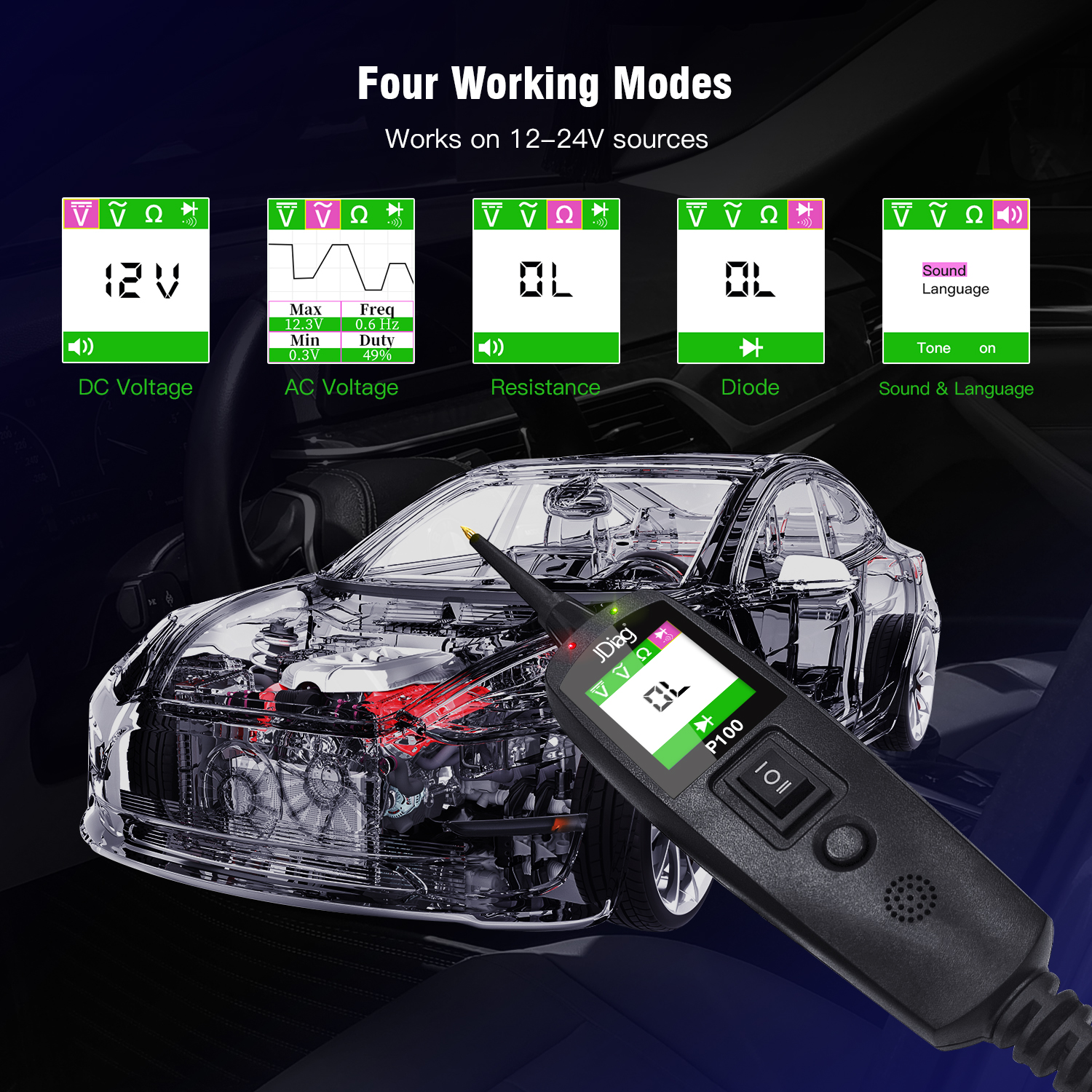 There are four modes to diagnose the circuit tester, which can be accessed by depressing the mode button and cycling through each one.
DC voltage: Contact the probe tip to a circuit then the LCD display will read the dc voltage with a resolution of 0.1 volt
AC voltage: Contact the probe tip to a circuit then the LCD display will read the max. voltage, the min voltage, frequency and duty cycle
Resistance: Contact the probe tip to a circuit then the LCD display will read the resistance between the tip and auxiliary ground lead
Tone on/off: Just do a quick press of the mode button to toggle the tone on or off while quickly press(a quick press and release)the mode button, if a short high been is heard this means the audio tone is turned on, if a short low beep is heard, the audio toned off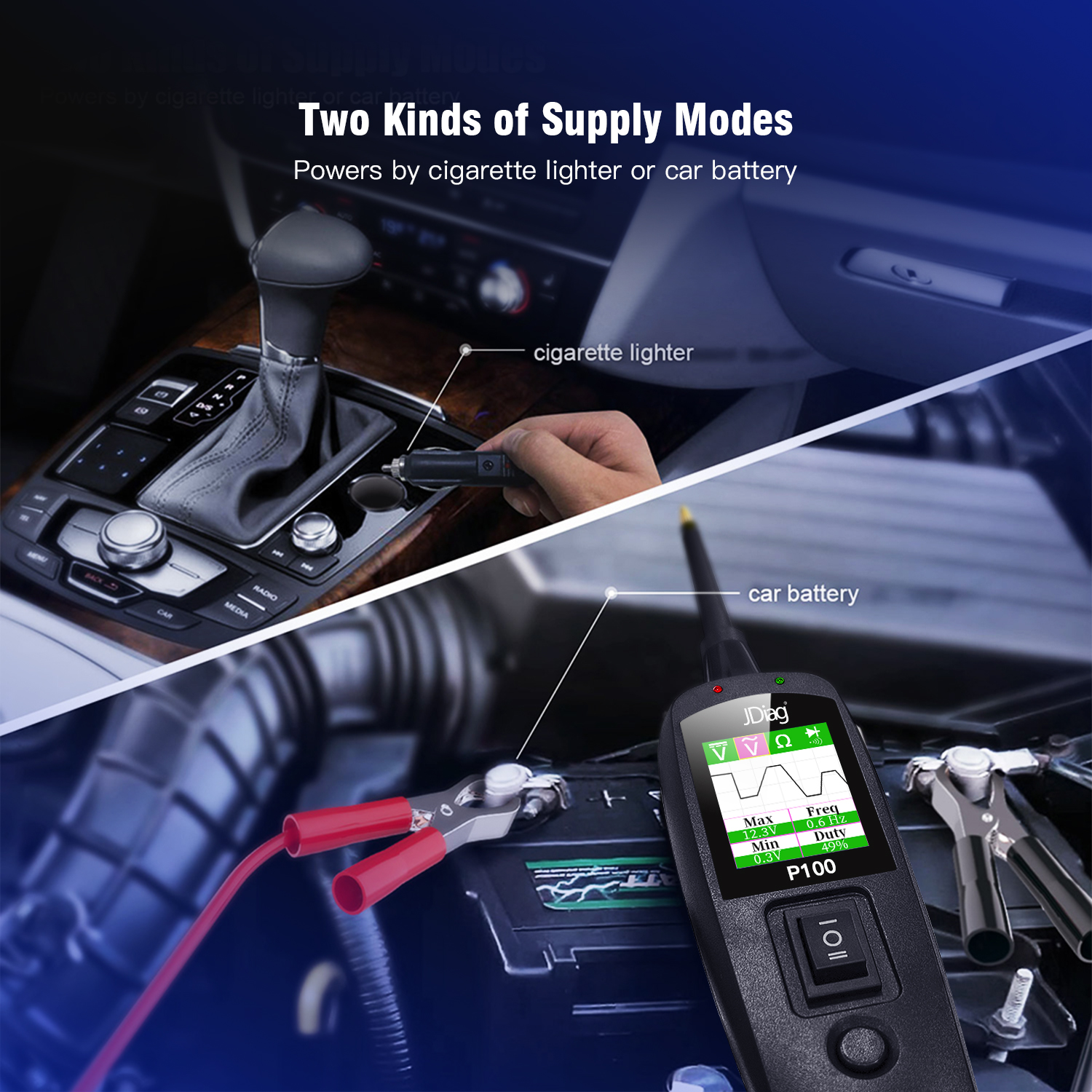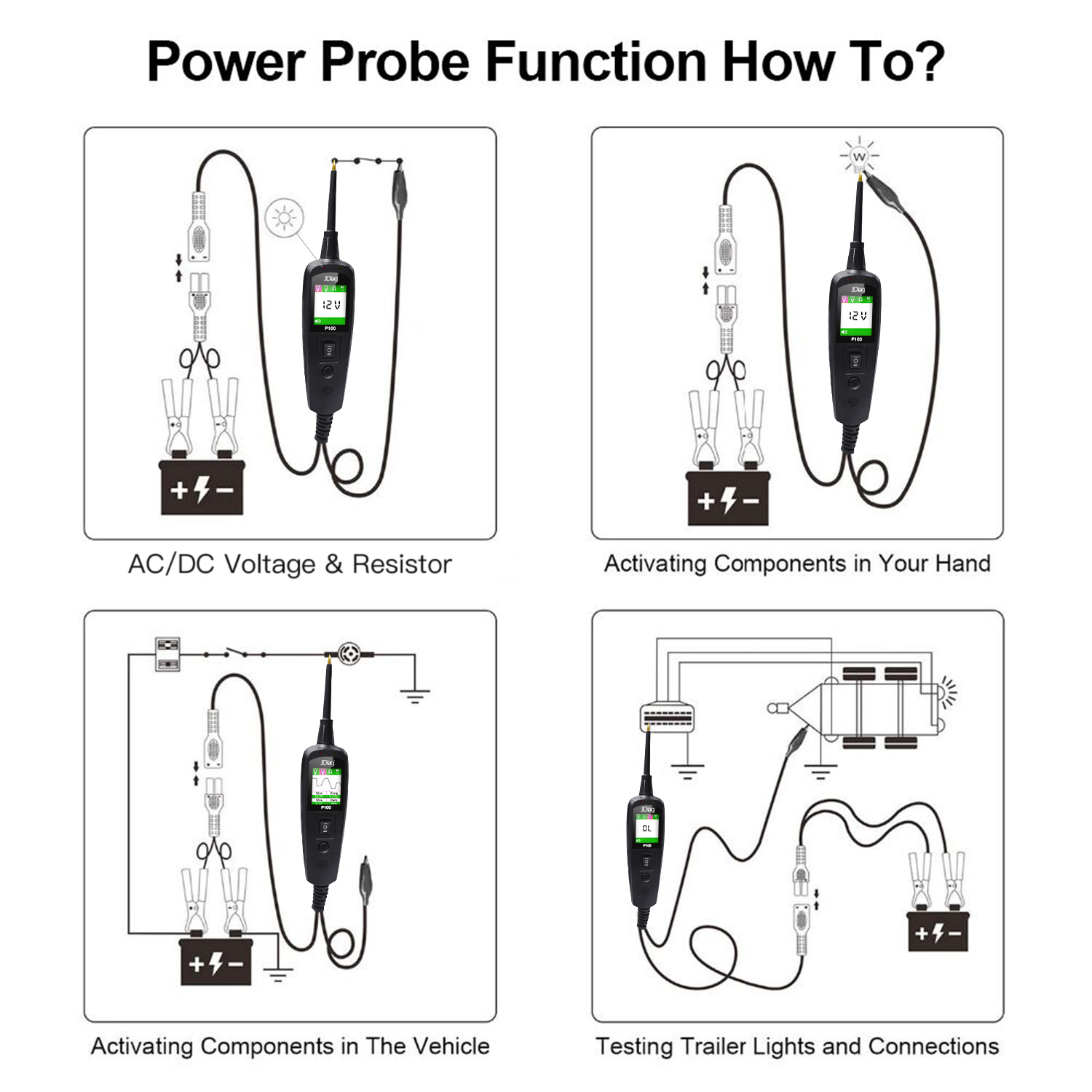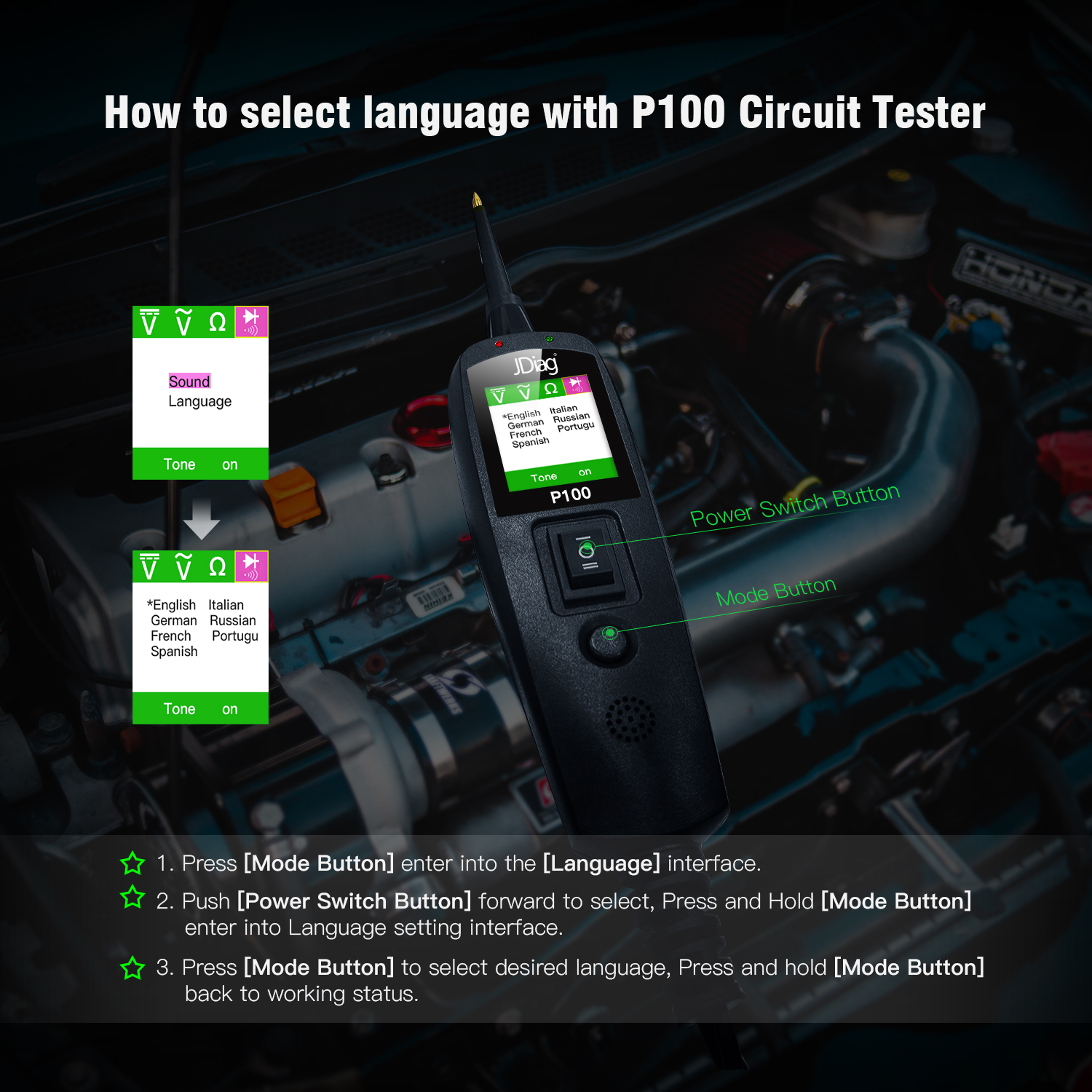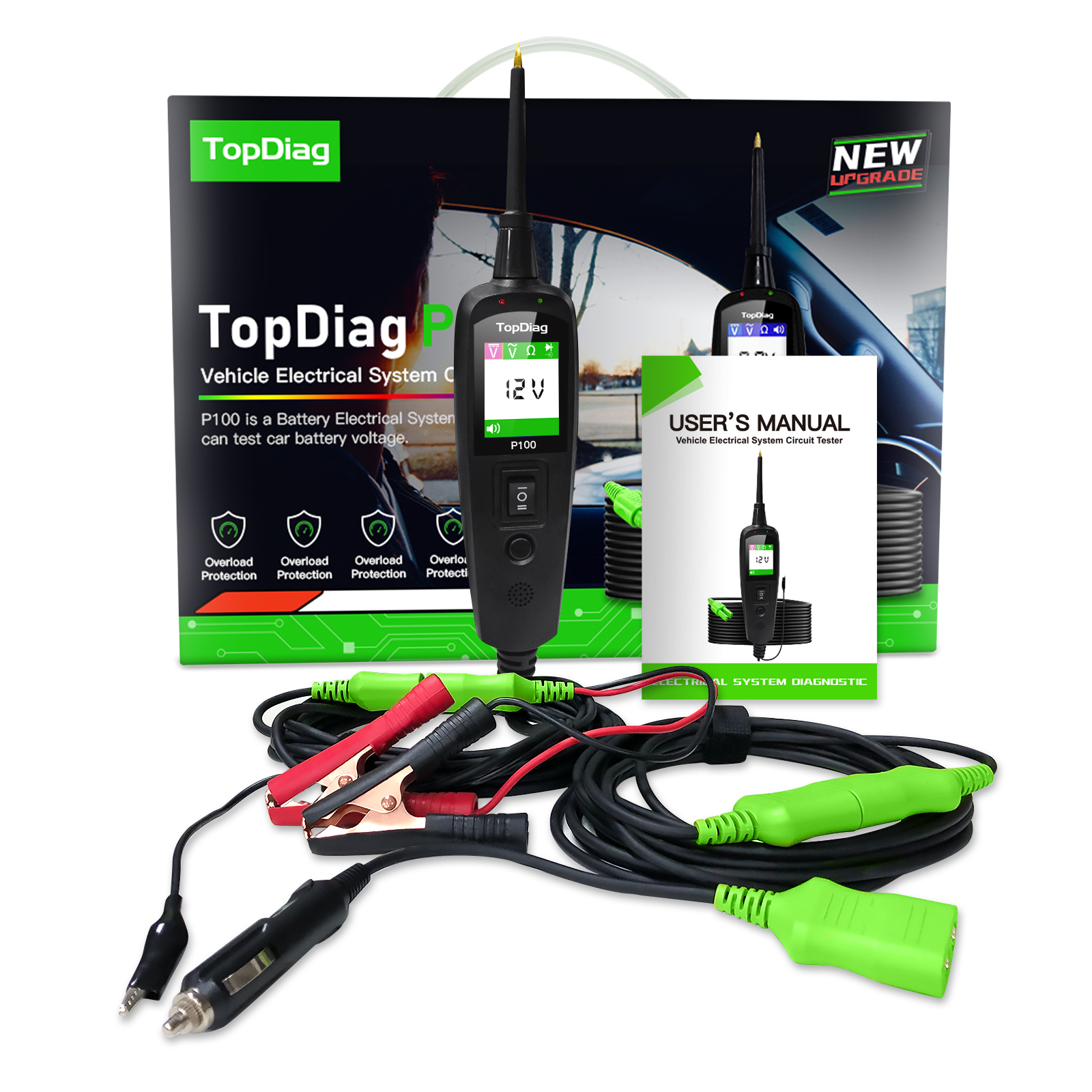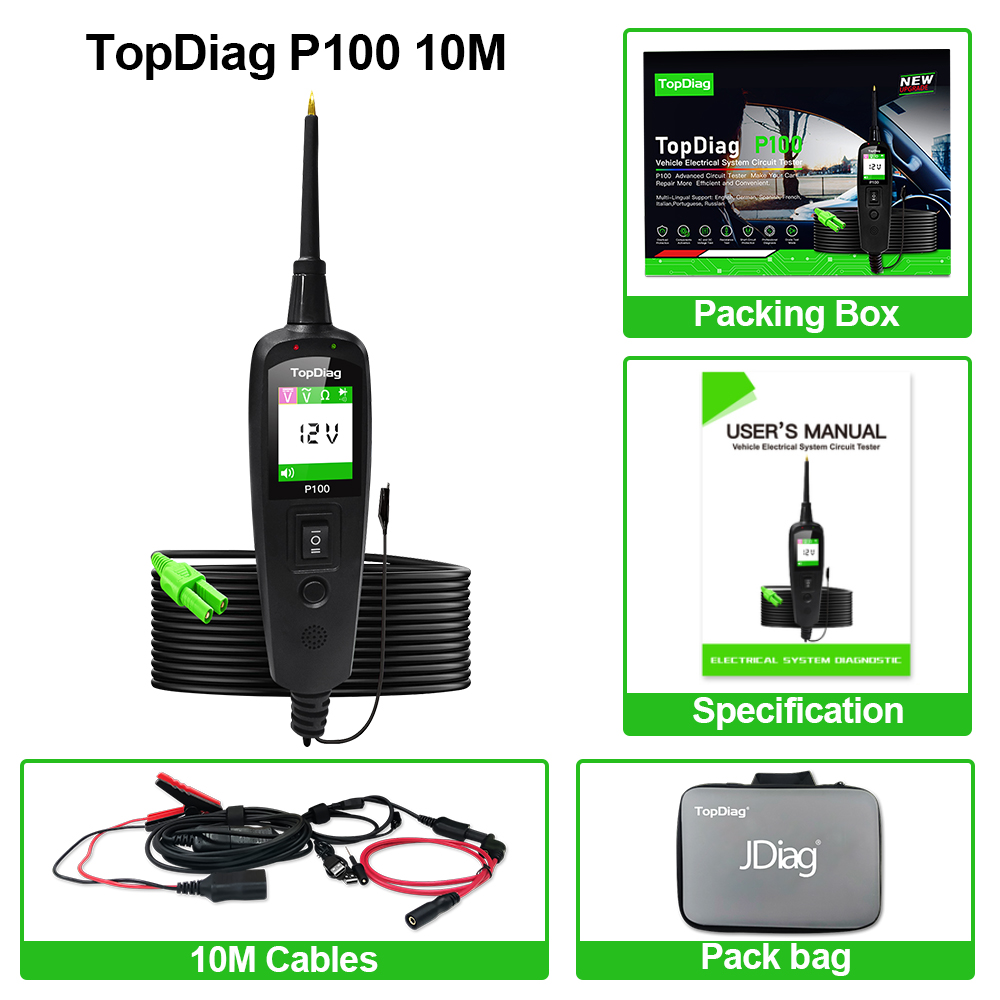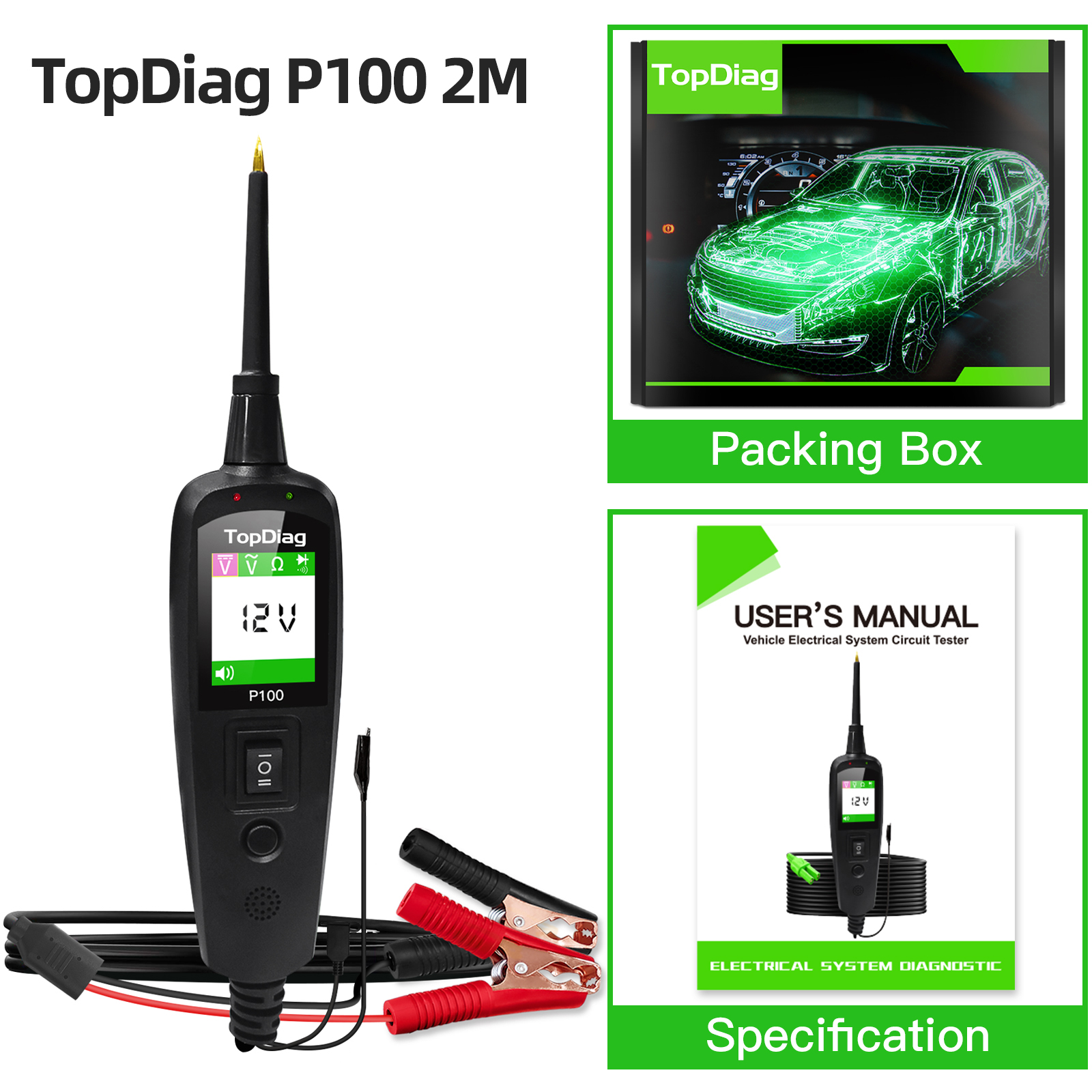 Safety precautions and warnings prevention personal injury or damage to vehicles and /or the scan tool,read this manual first care fully and observe the the following safety precautions at a minimum whenever working on a vehicle.
1. Always perform automotive testing in a safe environment.
2. Do not attempt to operate or observe the tool while driving a vehicle operating or observing tool will cause driver distraction and could cause a fatal accident.
3. Keep clothing, hair, hands, tools test equipment etc away from all moving or hot engine parts.
4. Operate the vehicle in a well-ventilated work area, exhaust gases are poisonous.
5. Put blocks in front of the drive wheels and never leave the vehicle unattended while running tests.
6. Use extreme caution when working around the incognito coil distributor, cap ignition wires and spark plugs these components create hazardous voltages when the engine is running.
7. Put the transmission in p(for A/T)or N(M/T)and make sure the parking brake is engaged.
8. Don't connect or disconnect any test equipment while the ignition is ON or the engine is running.
9. Keep the tool dry, clean free from oil/water or grease.use a mild detergent on a clean cloth to clean the outside of the scan tool when necessary.