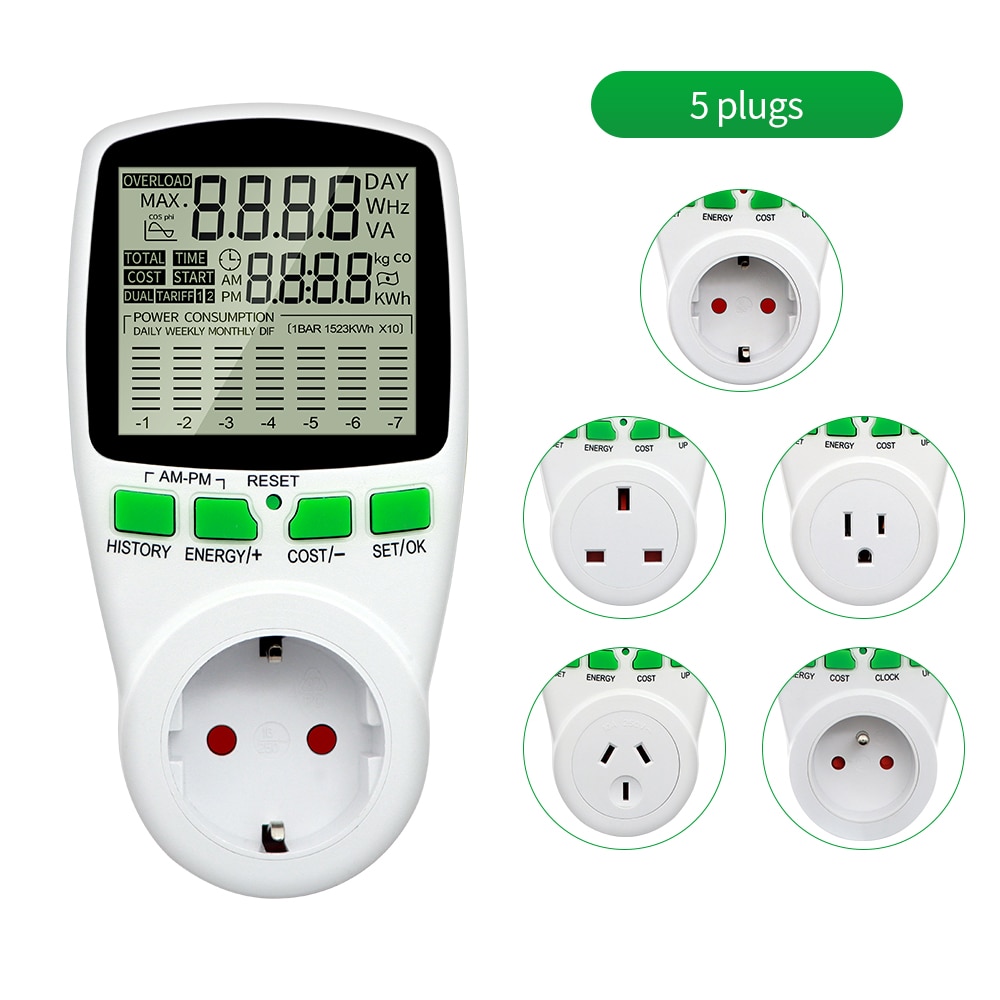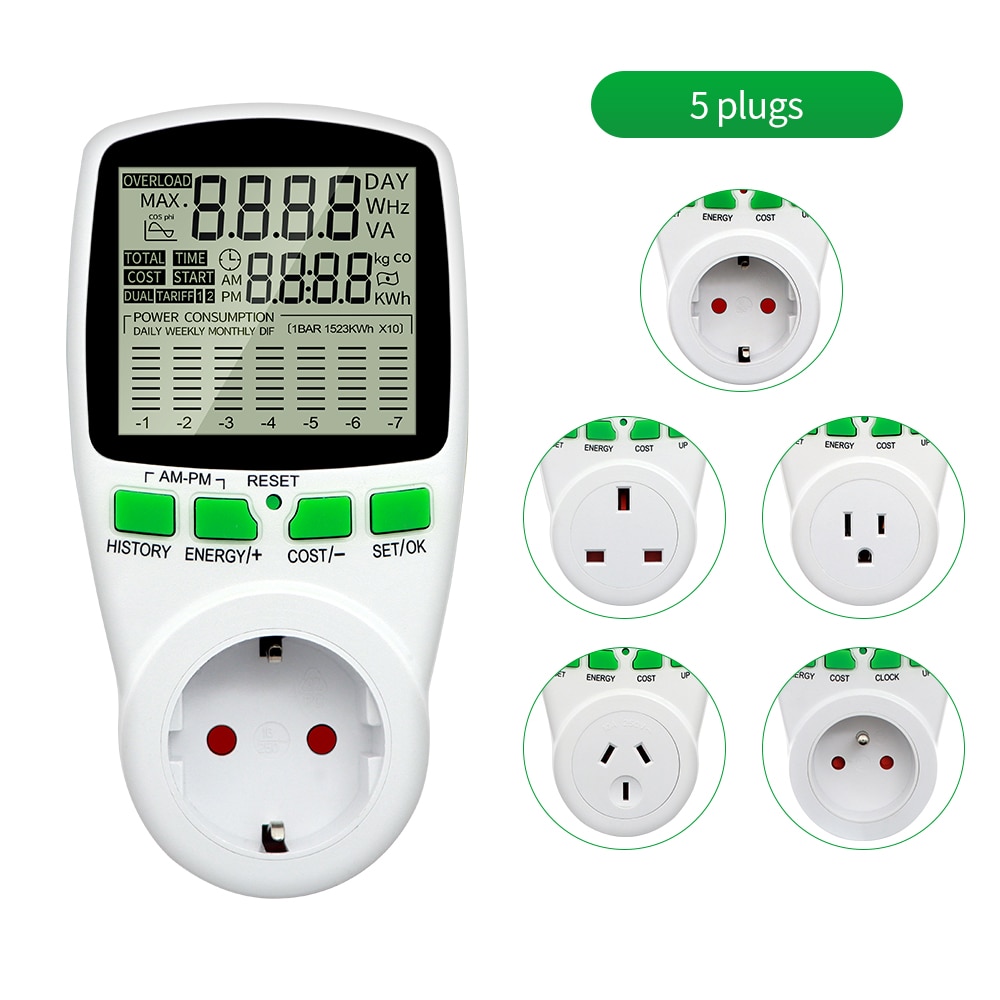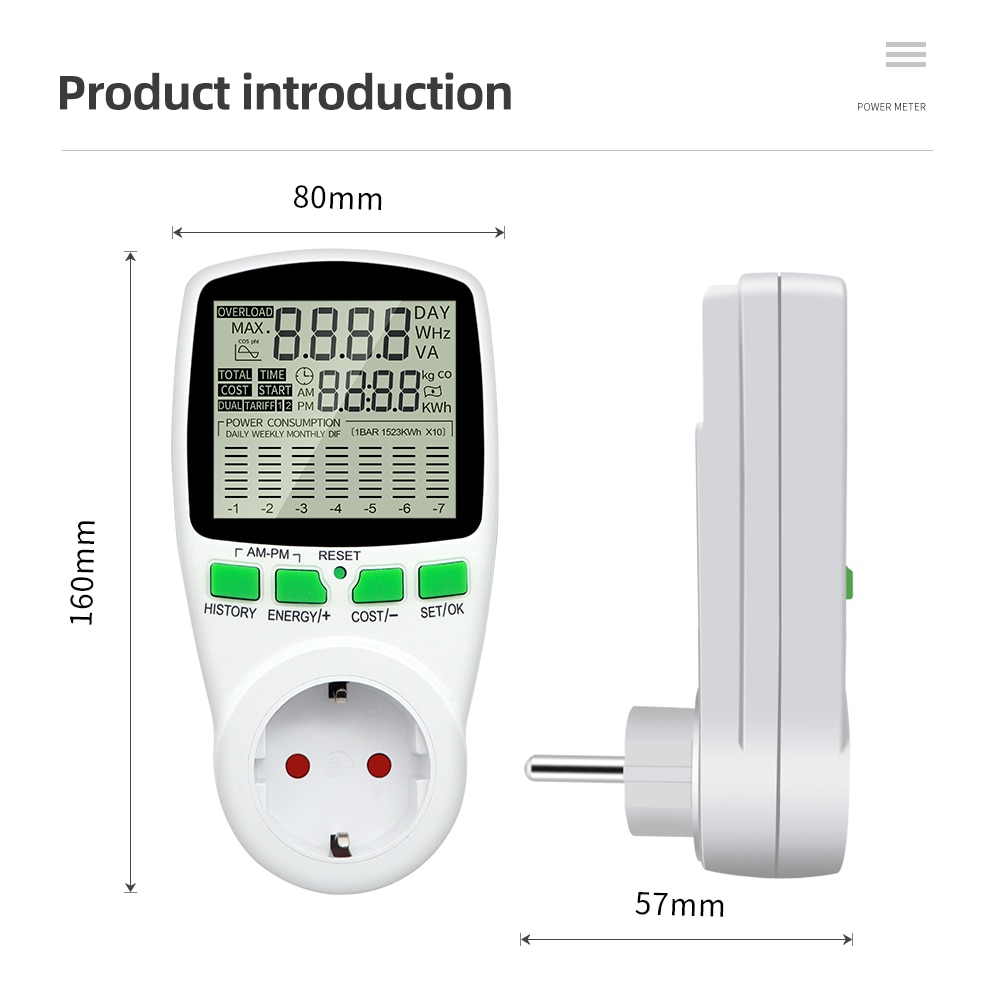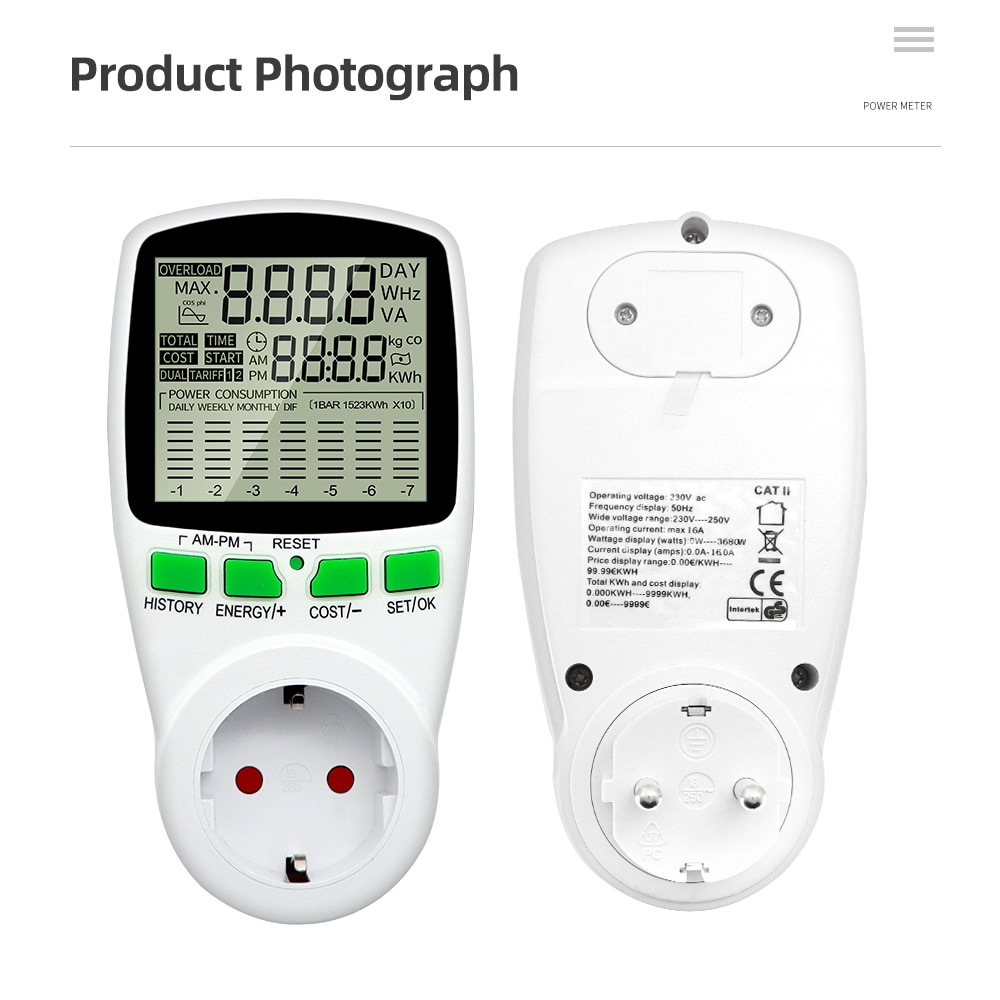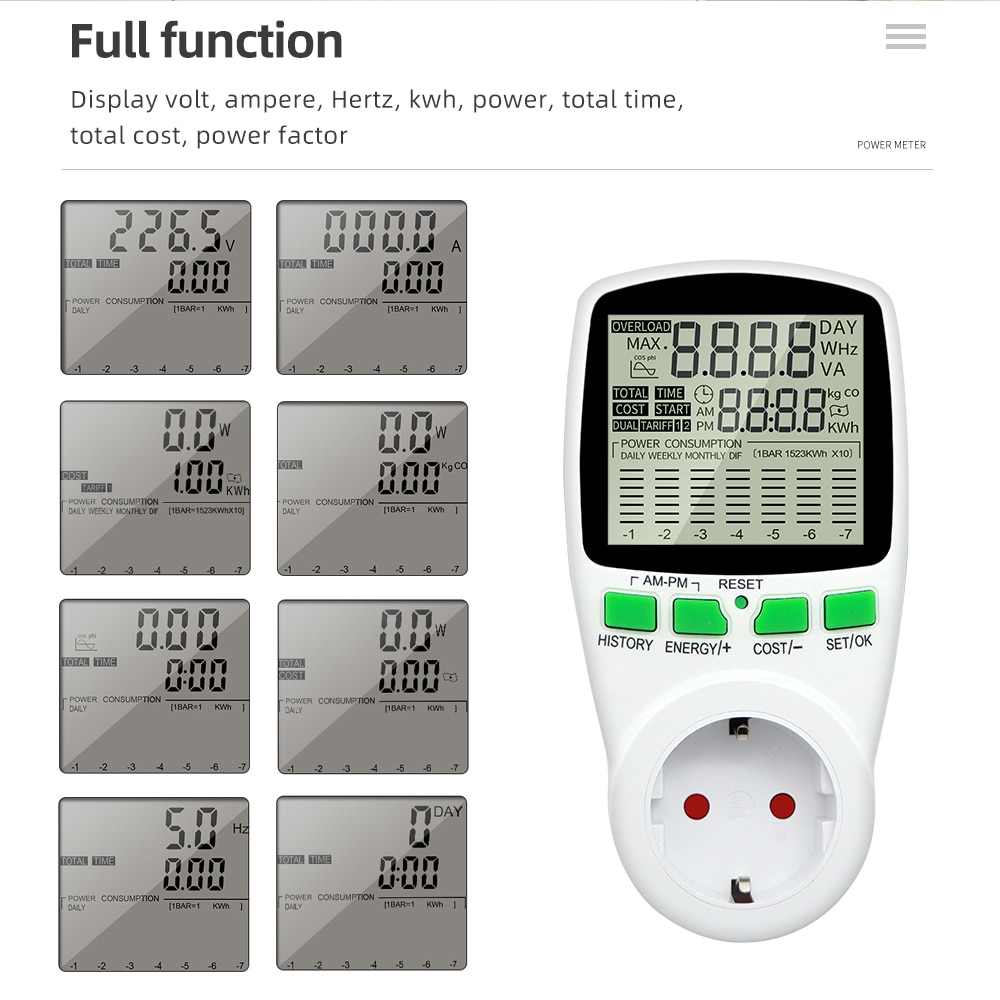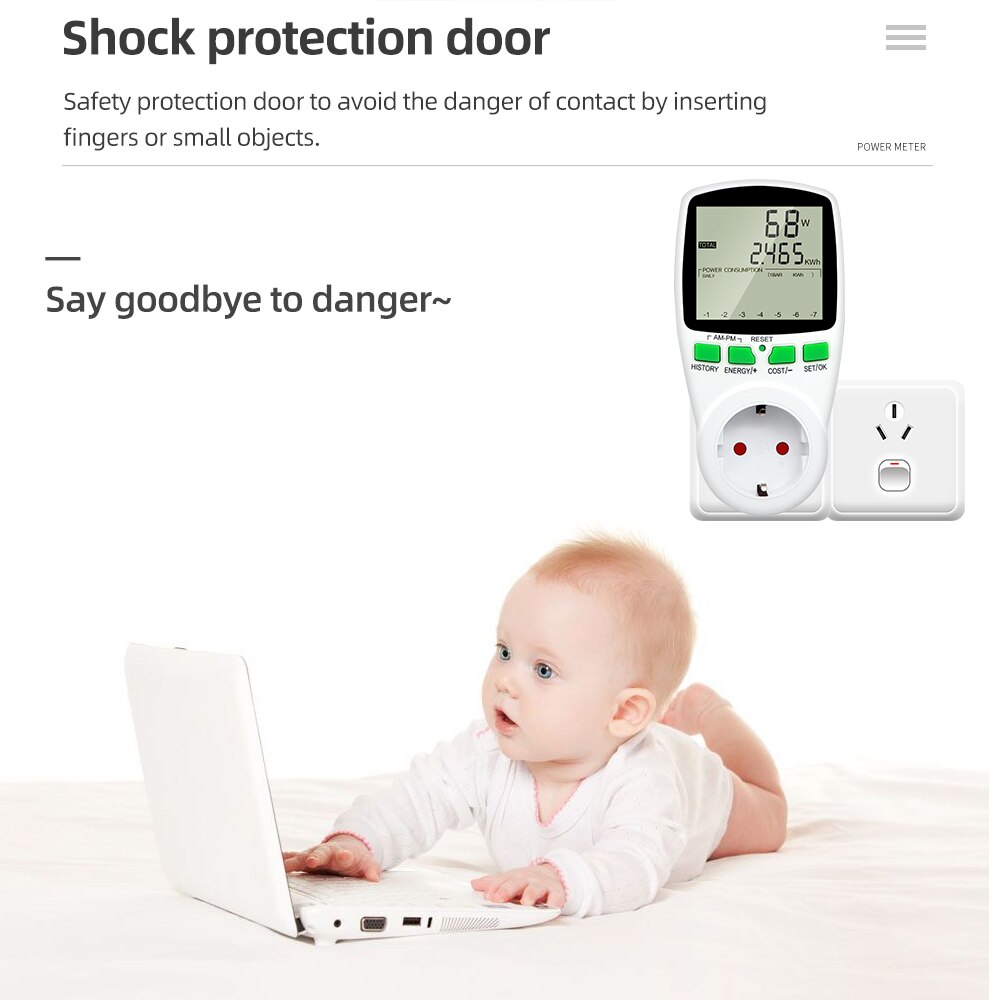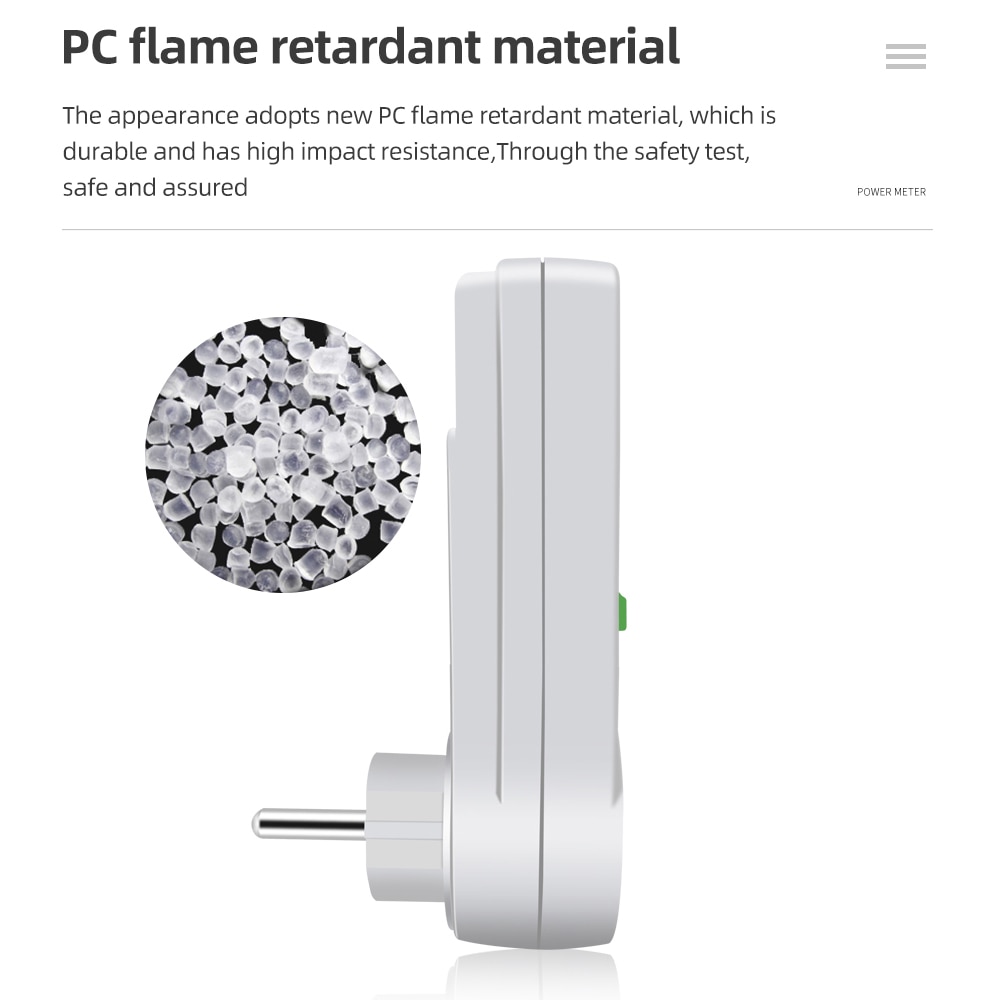 Digital Energy Meter Wattmeter Wattage Electricity Kwh Power Meter LCD Power Meter Outlet Power Analyzer EU US UK AU FR 40% off
Digital Energy Meter Wattmeter Wattage Electricity Kwh Power Meter LCD Power Meter Outlet Power Analyzer EU US UK AU FR 40% off
Shipping:

Airmail Post


Estimated delivery time:

7-45

working days.

See details»

Returns:

Return for refund within 7 days,buyer pays return shipping.

Read details »

Support:
Related Accessories/Similar Items
Product Details

Product's Reviews
Digital Energy Meter Wattmeter Wattage Electricity Kwh Power Meter LCD Power Meter Outlet Power Analyzer EU US UK AU FR 40% off

Description:
Plug the power meter into home socket,it will start working.Plug your electric appliance or equipment to the power monitor.Power meter measure power in watts and electric energy consimption in KW-hr.It shows cost and contriling appliance and help users to track their electric consumption and reduce the power bil and carbon emissions.
Power meter energy monitor is a monitoring and testing instrument which determines the power consumption of a connected appliance and the cost of the electricity consumed. With the help of this power meter, you can make certain how much your standby appliance cost, what the power factor is, whether the appliances are really charged and how long have your appliances been charged.
EU/Italy/French/Swiss plug:
1. Power consumption of power meter monitor: 0.5W
Working voltage: 230VAC
2. Frequency display: 50HZ
Working current: 16A max
Wide voltage range: 200V-250V
Set the wattage display (watts) to 0W~9999W; but the actual wattage display (watts) is 0~3680W (the Swiss power meter label shows 2500W, the actual is 3680W)
3. Timing display range: 0 seconds to 9999 days
Voltage display range: 0V~9999V
Current display (Amps): 0,000A~16,000A
4. Frequency display: 0Hz~9999Hz
5. Price display range: 0.00COST /KWH¡ «99.99COST / KWH
6. Total kWh and cost display: 0.000KWh-9999KWh,
0.00 cost ---- 9999 cost
7.2-pin German plug
Battery replacement : Remove the battery cover at the rear and insert 2*1.5V(LR44/AG13)(don't include the battery),for recording data(memory feature)
US plug:
1.Working voltage: 120VAC
2. Frequency display: 60HZ
Working current: 15A max
Wide voltage range: 110V-130V
Set the wattage display (watts) to 0W~1800W;
3. Timing display range: 0 seconds to 9999 days
Voltage display range: 0V~9999V
Current display (Amp): 0.000A~15.000A
4. Frequency display: 0Hz~9999Hz
5. Price display range: 0.00COST /KWH¡ «99.99COST / KWH
6. Total kWh and cost display: 0.000KWh-9999KWh,
0.00 cost ---- 9999 cost
7. 3-pin plug
UK plug:
1.Working voltage: 230VAC
2. Frequency display: 60HZ
Working current: 15A max
Wide voltage range: 200V-250V
Set the wattage display (watts) to 0W~2900W;
3. Timing display range: 0 seconds to 9999 days
Voltage display range: 0V~9999V
Current display (Amp): 0.000A~13.000A
4. Frequency display: 0Hz~9999Hz
5. Price display range: 0.00COST /KWH¡ «99.99COST / KWH
6. Total kWh and cost display: 0.000KWh-9999KWh,
0.00 cost ---- 9999 cost
AU plug:
1.Working voltage: 230VAC
2. Frequency display: 60HZ
Working current: 10A max
Wide voltage range: 200V-250V
Set the wattage display (watts) to 0W~2500W;
3. Timing display range: 0 seconds to 9999 days
Voltage display range: 0V~9999V
Current display (Amp): 0.000A~13.000A
4. Frequency display: 0Hz~9999Hz
5. Price display range: 0.00COST /KWH¡ «99.99COST / KWH
6. Total kWh and cost display: 0.000KWh-9999KWh,
0.00 cost ---- 9999 cost
Technical specificationechnical:
EU plug:230v-50Hz,Max. 16A 3680W

UK plug:230v-50Hz,Max. 13A 2900W

US plug:120v-60Hz,Max. 15A 1800W

AU plug:240v-50Hz,Max. 10A 2400W

FR plug:230v-50Hz,Max. 16A 3680W
Package List:
1 * Counter Output Power Meter (US ,UK French/EU/AU Plug Optional)