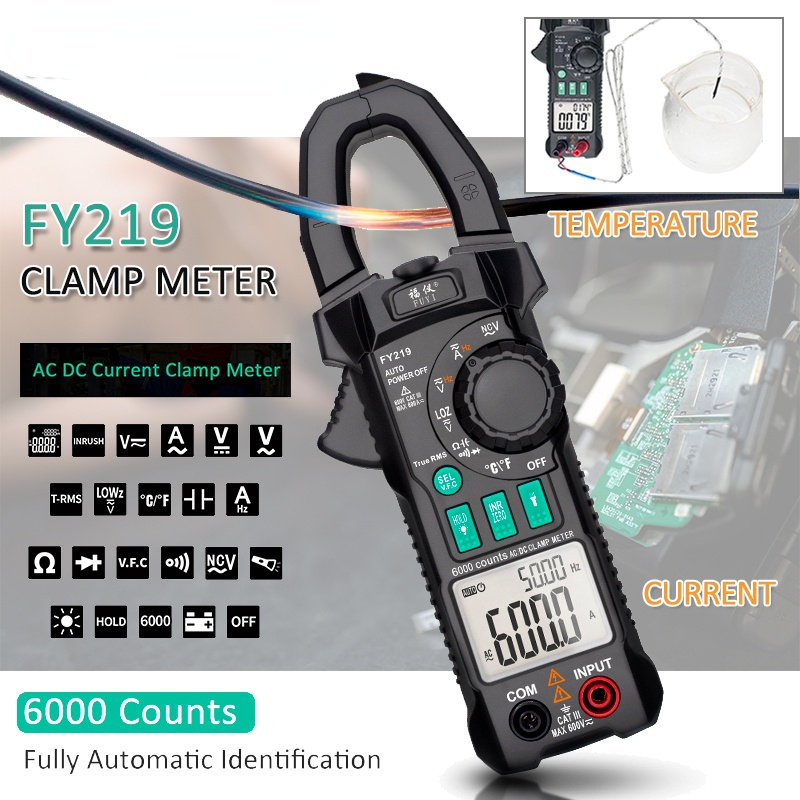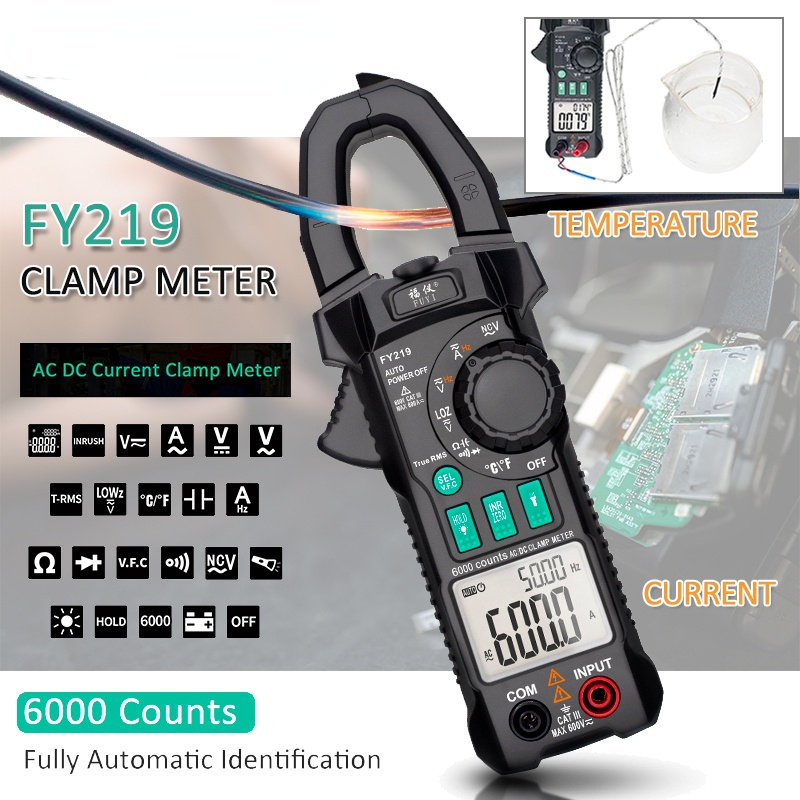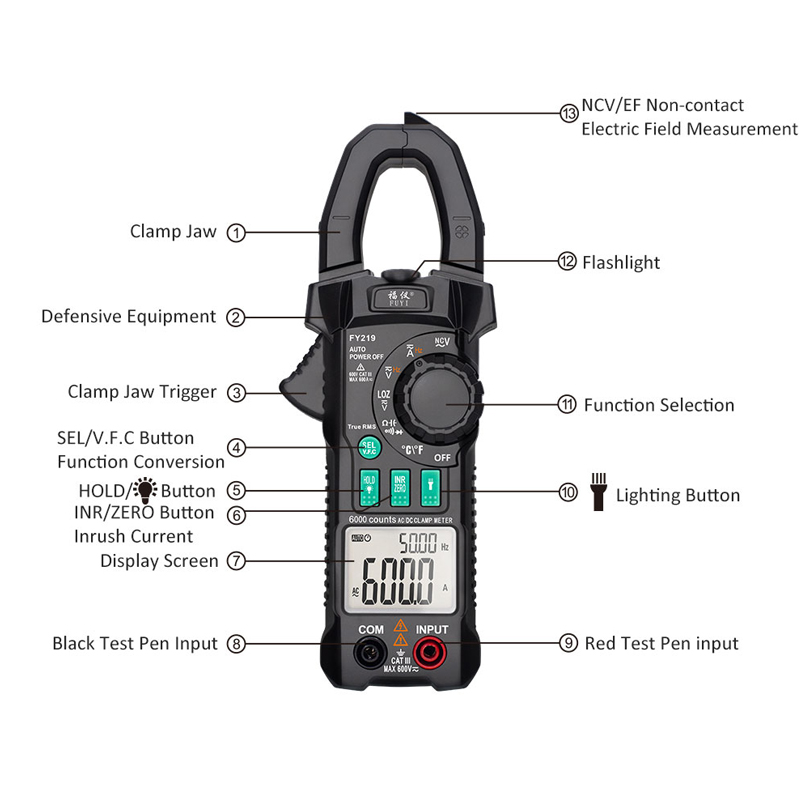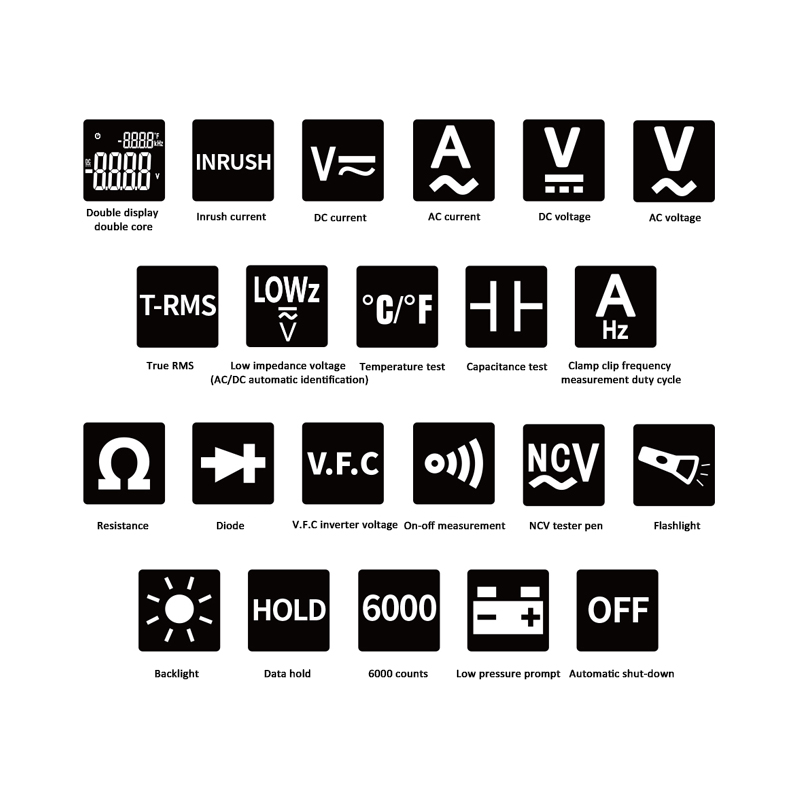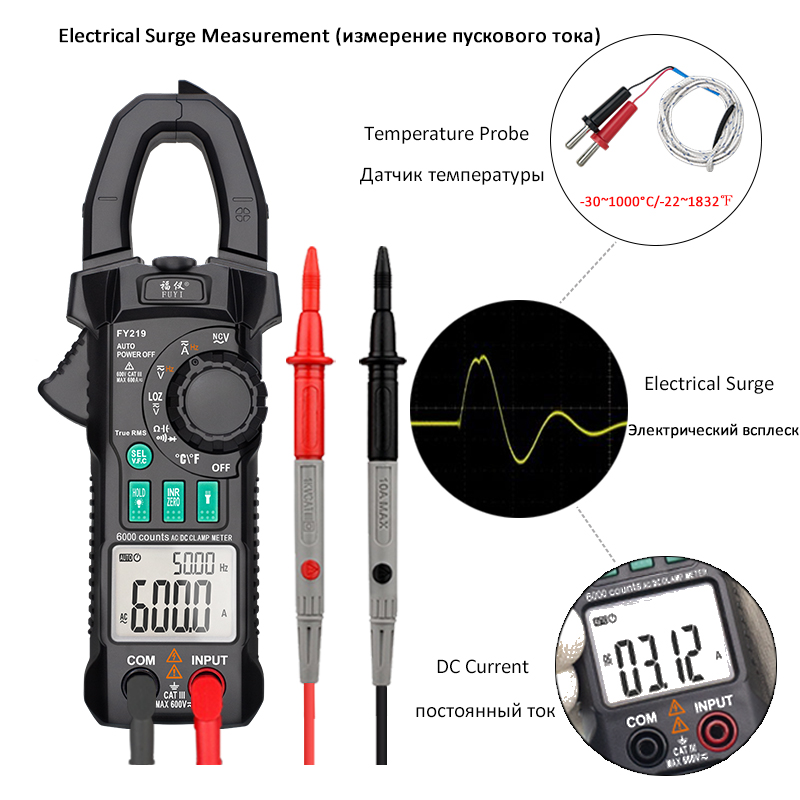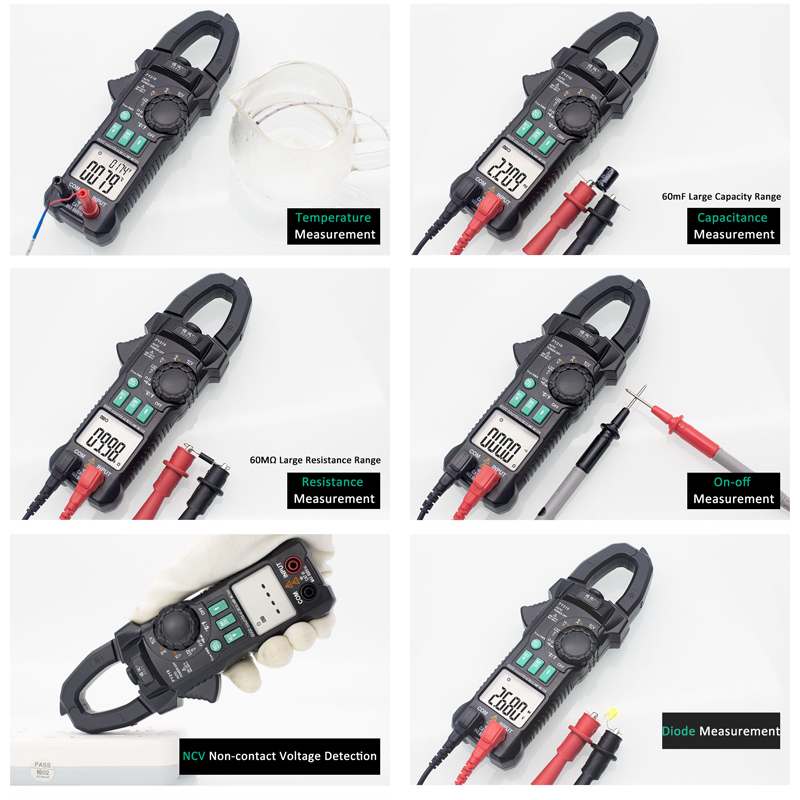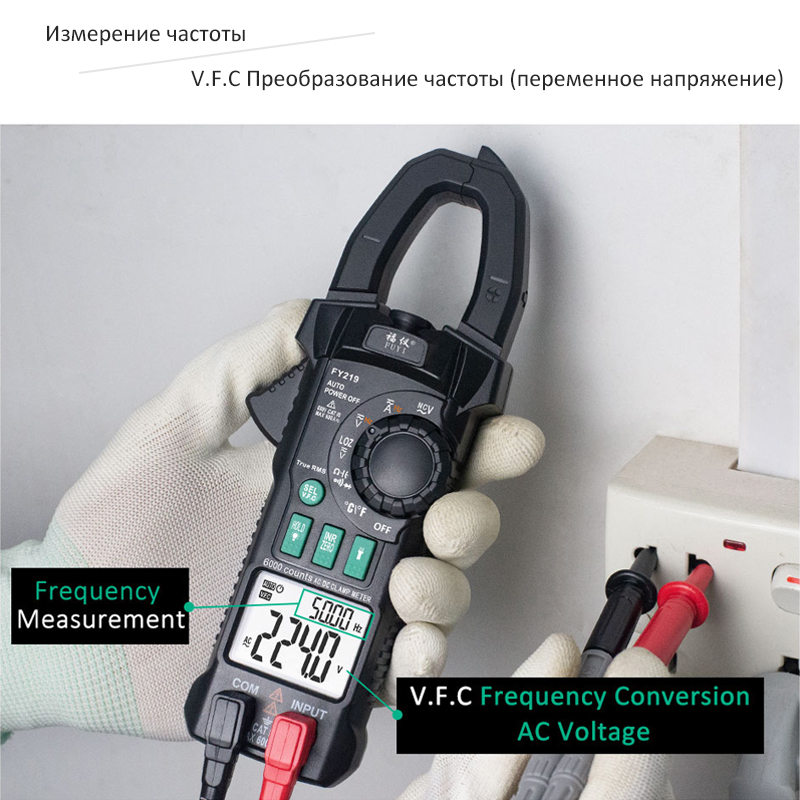 FY219 AC DC Current Digital Clamp Meters High Precision Multimeter True RMS Auto Range VFC Capacitance NVC Universal
FY219 Professional Clamp Meter, The design of this product is simple and powerful, and the size is just right, so it is convenient to hold, especially the non-slip soft rubber at the handshake area, which is very suitable for long-term use.
Shipping:

Airmail Post


Estimated delivery time:

7-45

working days.

See details»

Returns:

Return for refund within 7 days,buyer pays return shipping.

Read details »

Support:
Related Accessories/Similar Items
Product Details

Product's Reviews
FY219 Professional Clamp Meter

a.Steady appearance design. The design of this product is simple and powerful, and the size is just right, so it is convenient to hold, especially the non-slip soft rubber at the handshake area, which is very suitable for long-term use.
b.The classic high-definition screen. The 1.7-inch screen makes the display content very clear, so you don't have to worry about seeing it. The backlight can also be turned on or off according to the light conditions.
c.Dual High-performance hard-packaged chips. In order to improve the performance of the product, we have built two chips in this product to greatly improve the measurement speed and accuracy. Another advantage of this design is that two different measurement targets can be displayed simultaneously on one screen. For example, when measuring current or voltage, the product can simultaneously measure the frequency and display it on the screen. In addition, Unlike soft-packaged chips, hard-packaged chips have a high cost, but the products are very durable, are not susceptible to environmental erosion during long-term use, and have high measurement accuracy and fast speed, with an average sampling rate of 0.4 seconds.
d.6000counts and automatic range. The large counting range gives this product a large measuring range and high resolution. It can fully meet the needs of daily use. Compared with the traditional manual range multimeter, the automatic range does not need to manually switch gears. The operation is very simple and convenient. At the same time, thanks to the high-performance chip, the automatic range switching speed is also very fast.
e.DC current measurement. Ordinary clamp meters are made of electromagnetic transformers, which can only accurately measure sine wave AC currents around 50 Hz, but cannot measure DC currents. Our clamp meter is made of Hall current sensor, which can not only measure AC and DC current, but also has a higher bandwidth, which can measure sine wave and distortion wave current of different frequencies.
f.Inrush current measurement. The moment the switching power supply is turned on, it usually produces a peak current much greater than the steady-state input current. This clamp meter can help users measure the magnitude of the inrush current and get the most comprehensive current situation of the target.
g.Unique VFC function. When the VFC function is activated, the measurement data will pass through a specific filter circuit to filter out high-frequency interference signals to ensure the accuracy of the measurement data. It can be applied to occasions with VFC variable frequency voltage and current.
h.Temperature measurement. This product has the function of measuring temperature through the K-type probe (included in the package), which is convenient for users to measure the temperature of various liquid or gas. And the measurement range is very wide, the lowest measurement temperature can reach -20 ℃(-4℉), the highest can reach 1000 ℃(1832℉).
i.True RMS measurement. The measurement results obtained by the RMS measurement method are more accurate, especially for the measurement target with no regular waveform. The traditional measurement method is to take the high and low peak values within a cycle to get the average value, and the measurement error is large.
j.NCV Test. This product has a non-contact voltage detection function. The voltage level of different wires can be judged in a non-contact way. For example, when you need to distinguish between the neutral wire and the live wire, you only need to turn on this function, which is very convenient and does not need to cut the insulation layer of the wires. This product is equivalent to a multimeter plus a non-contact voltage test pen.
k.Rich frequently-used functions. In addition to the above features, this product has the following functions: AC and DC voltage measurement, AC and DC current measurement, capacitance measurement, resistance measurement, LoZ Volt measurement, diode measurement, frequency measurement, continuity test, distinguishing neutral and live wire, data retention, flashlight, Automatic shut-down, etc. Don't worry about the lack of a certain function in daily use.

| | |
| --- | --- |
| Range switching | Auto range |
| Measuring way | True RMS |
| Maximum Display | 6000Counts |
| AC and DC voltage measurement range | 0-600V |
| AC and DC current measurement range | 0-600A |
| Capacitance measurement range | 0.01nF-60mF |
| Resistance measurement range | 0.1Ω-60MΩ |
| Frequency measurement range | 0-1kHz |
| Temperature measurement range | -20℃~1000℃ / -4℉~1832℉ |
| Inrush current measurement | 0-600A |
| VFC measurement | 200V-600V |
| LoZ Volt measurement | 0-600V |
| Continuity / Diode / NVC test | YES |
| Neutral and live wire judge | YES |
| Flashlight | YES |
| Low Battery Icon | YES |
| Overload protection | YES |
| Power | 2*AAA Battery(Not included) |
| Security level | CATⅢ 600V |
| Certifications | CE FCC ROHS |

1 * Professional Clamp Meter
1 * Test leads
1 * Screwdriver
1 * User's Manual
1 * Portable bag
1 * Kraft box

a.Do not measure targets that exceed the specified range.
b.Do not touch the metal part of the test pen with your hands when the test pen is connected to the measurement target.
c.When the measured voltage exceeds 30V, please make sure your finger is on the protective cover of the test lead.
d.When switching functions, please remove the test leads from the previous target.
e.Do not store or use in high temperature, highhumidity, flammable and explosive environment.

a.Mastfuyi products provide a TWO-YEAR WARRANTY. During this period, if there are some problems with the product, please contact us in time, we will replace it for you free of charge.
b.Mastfuyi products provide LIFE-LONG CONSULTATION SERVICES. No matter how long after purchasing our products, if you have any questions about the products or some problems in the use process, please contact us with no hesitation. We will provide you with the most professional technical answers, let you use the product worry-free.
c. Mastfuyi products promise to SHIP WITHIN THREE DAYS according to the shipping method the user choose, and provide the true tracking number. And if you still have doubts about our products after placing the order, we can provide FAST REFUND SERVICE .
--Maybe the price is not the lowest, but our products and services must be the most PROFESSIONAL. We hope that the Mastfuyi measuring instrument can help you better perceive the world around you and enable you to fly freely in the electronic world.
--At the same time, we are deeply aware that we still have many shortcomings, and only users can make us better. Please FOLLOW OUR STORE, let each of Mastfuyi products become a bridge to communicate with you, and progress together in this fast-developing world, thanks.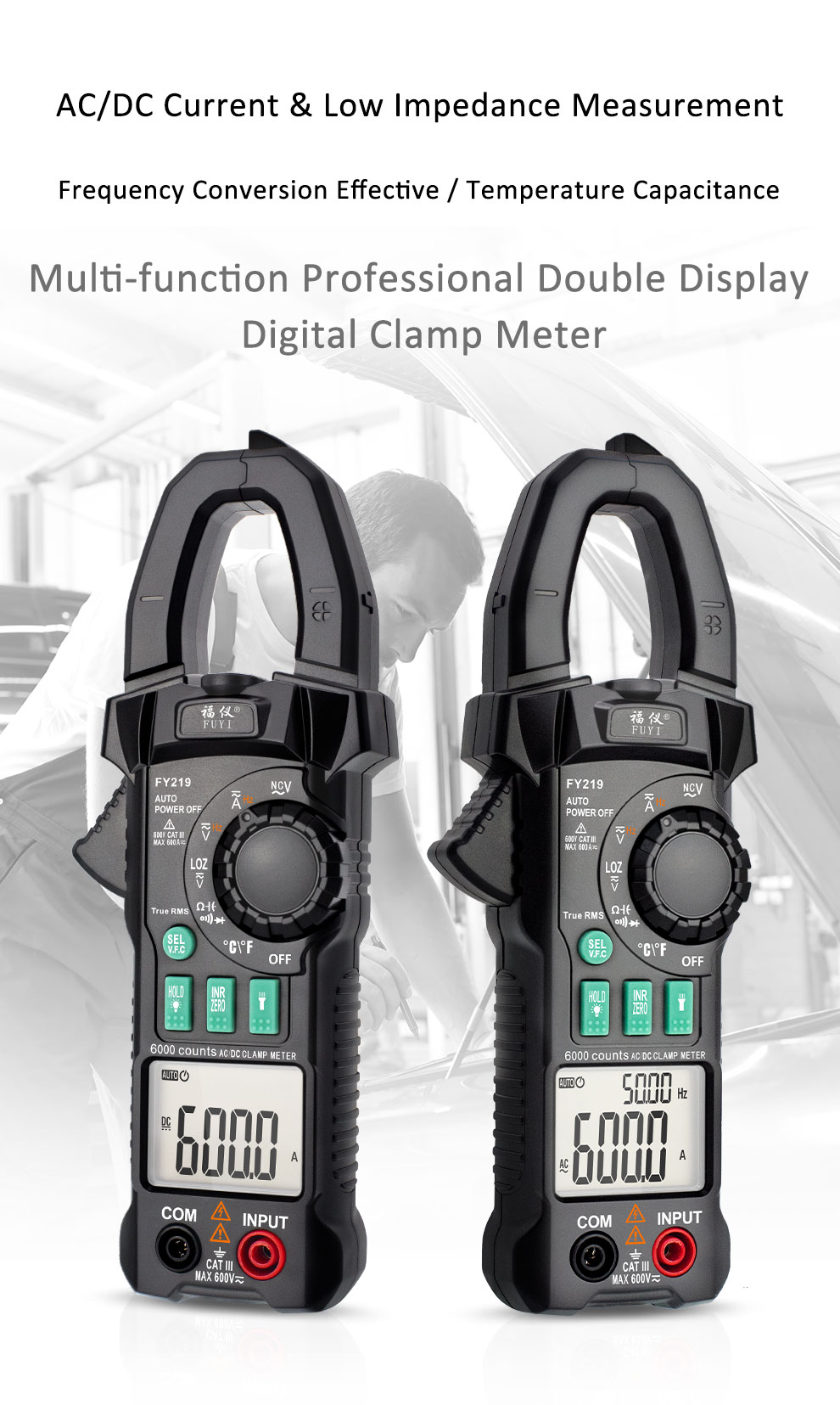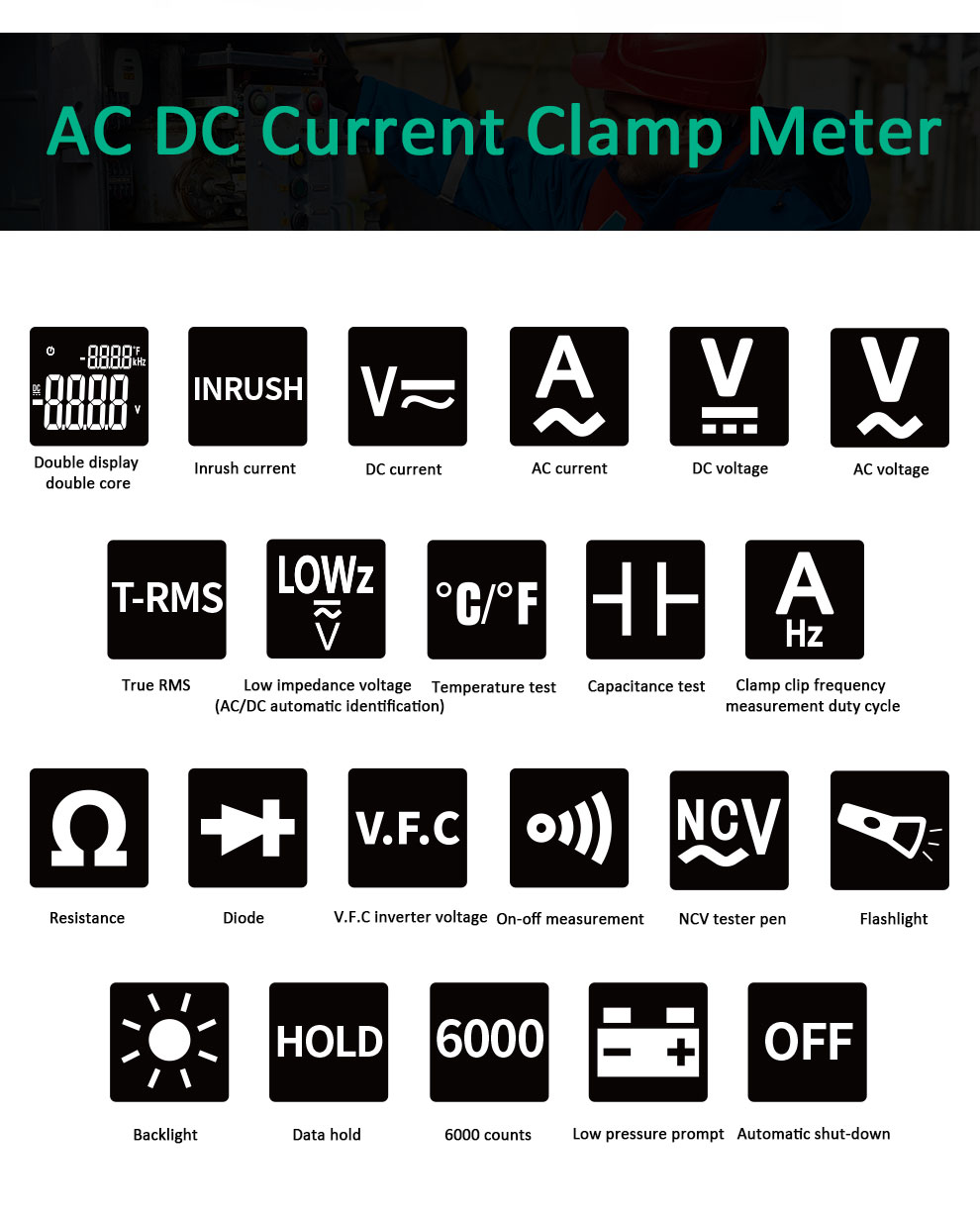 Inrush Current
In the AC current file,press and hold the INRUS button to select the INRUSH current measurement.At this time,the electric appliance can be started to measure the instantaneous starting current of the electric appliance,referred to as "INRUSH".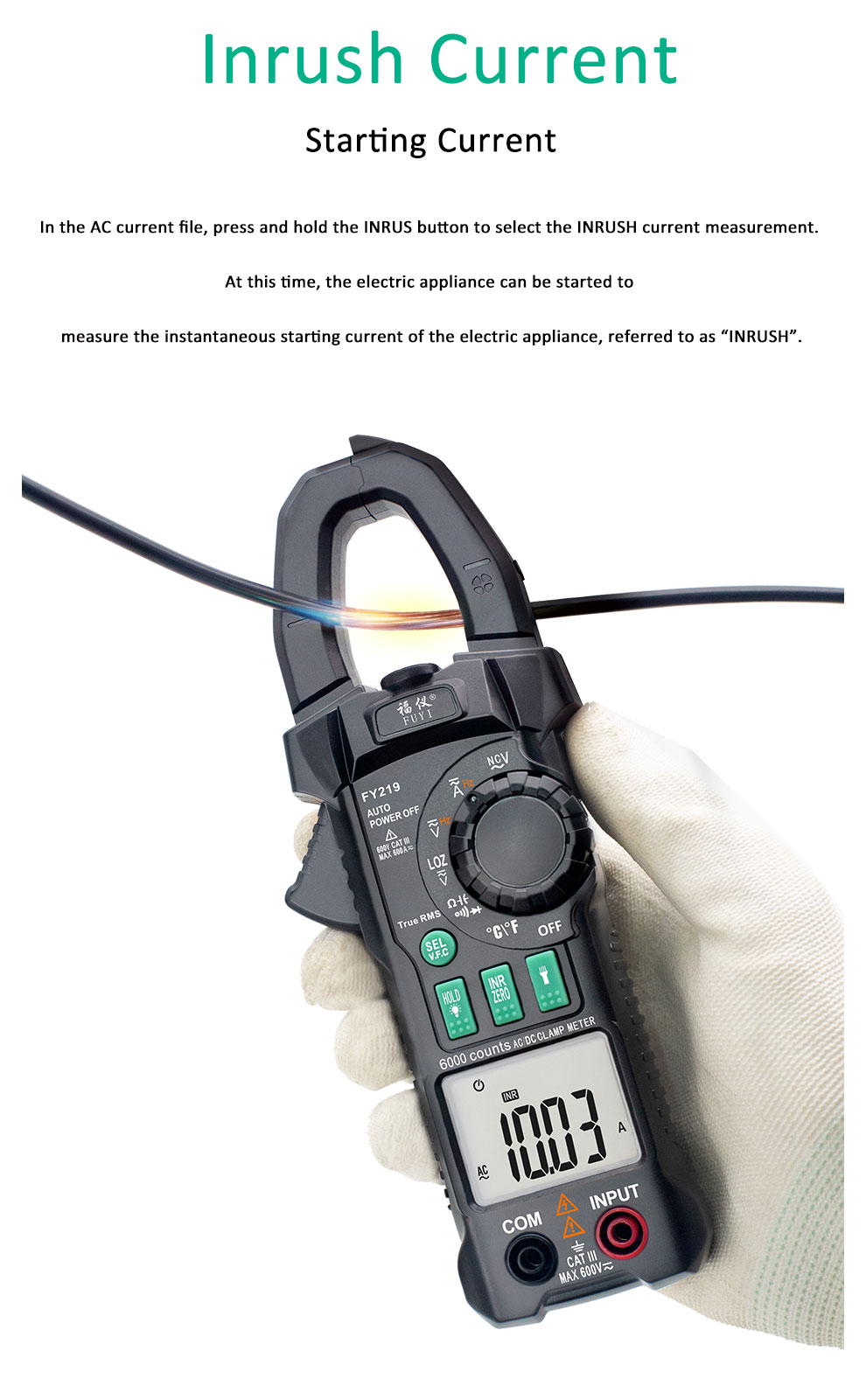 Dual Chip Dual Display
AC Current Measurement
DC Current Measurement
Dual Display Dual Core Current Display Frequency(AC Current Measurement)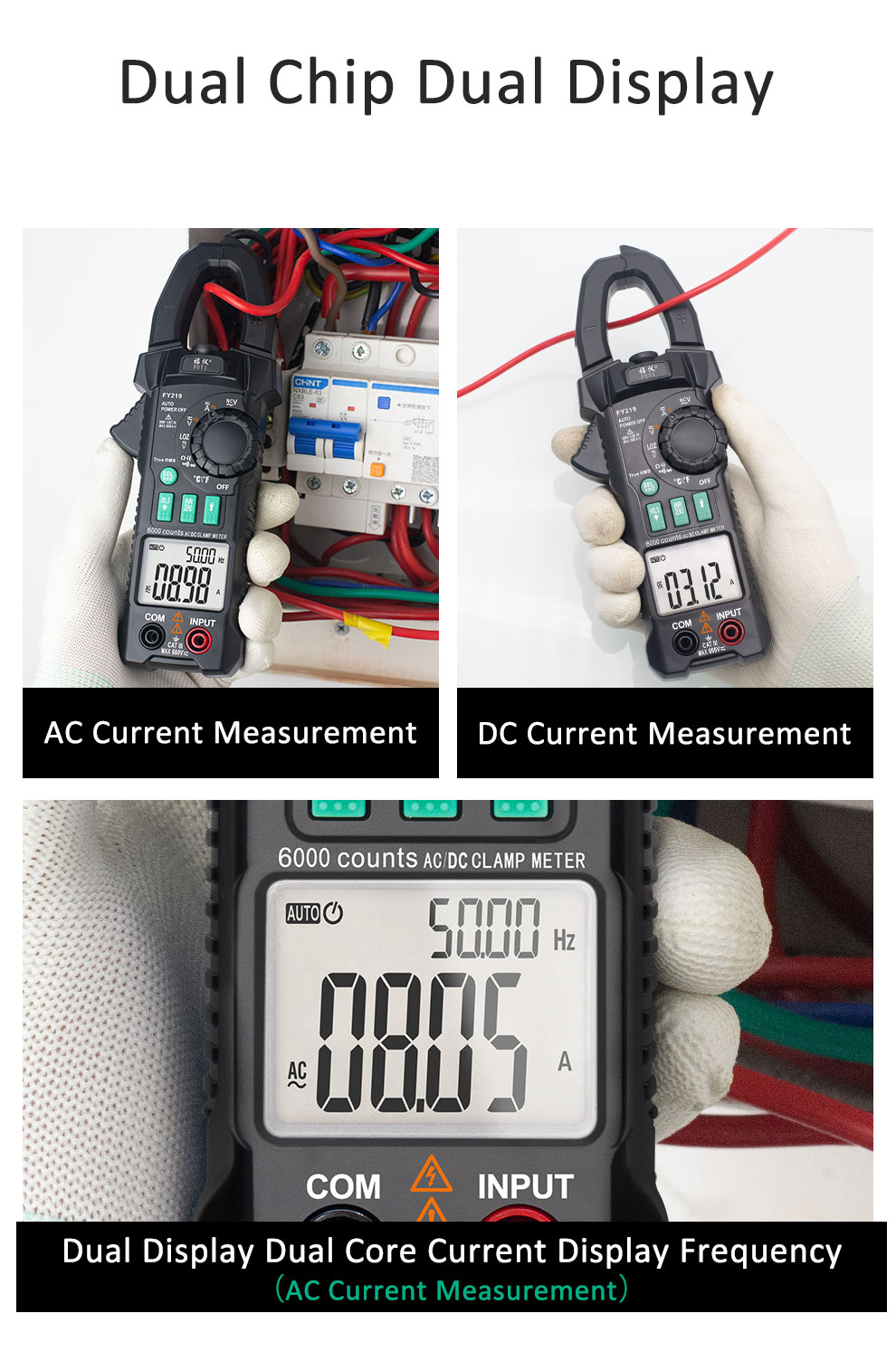 LOWz Low Impedance Voltage
AC/DC Automatic Identification
Intelligent & Efficient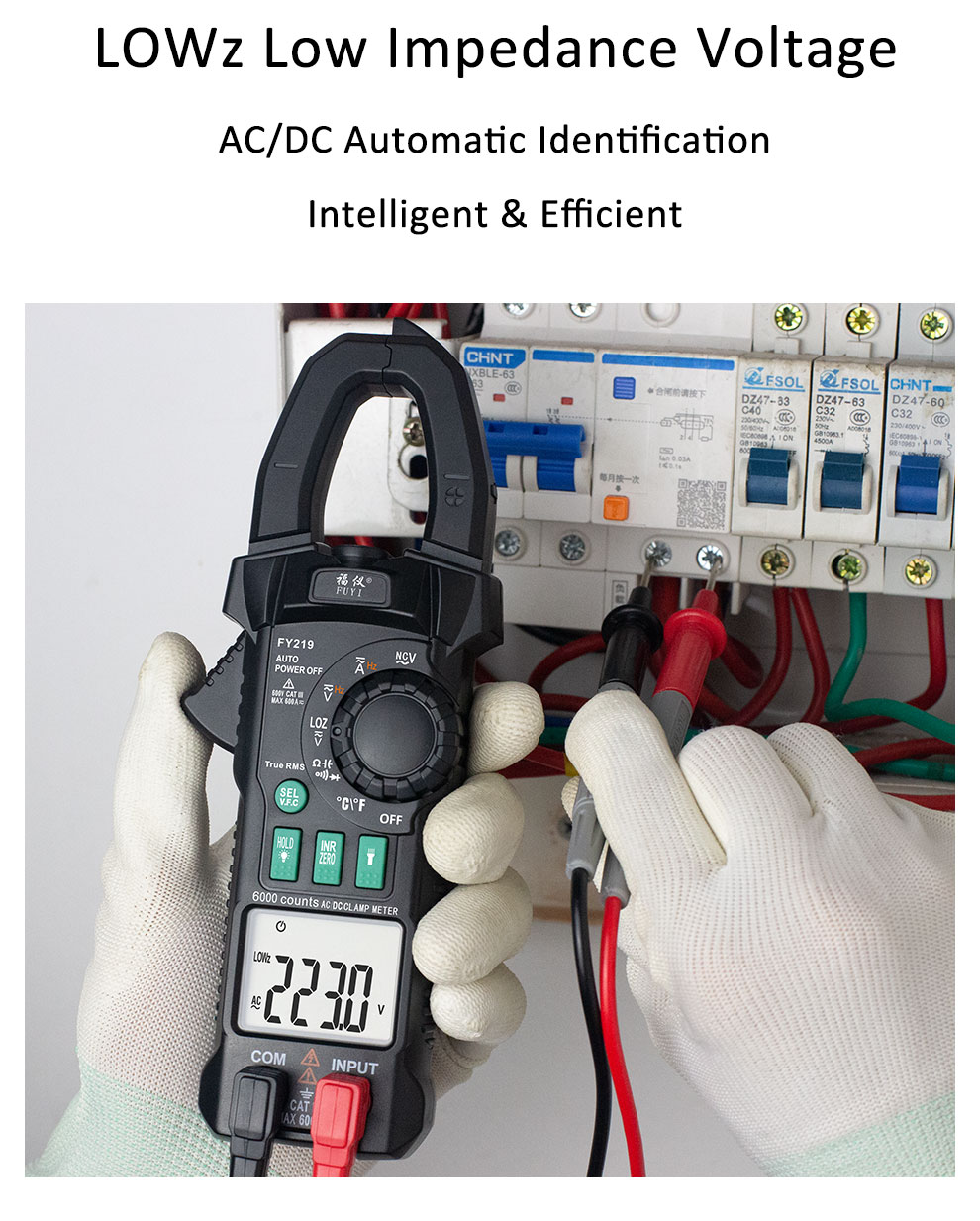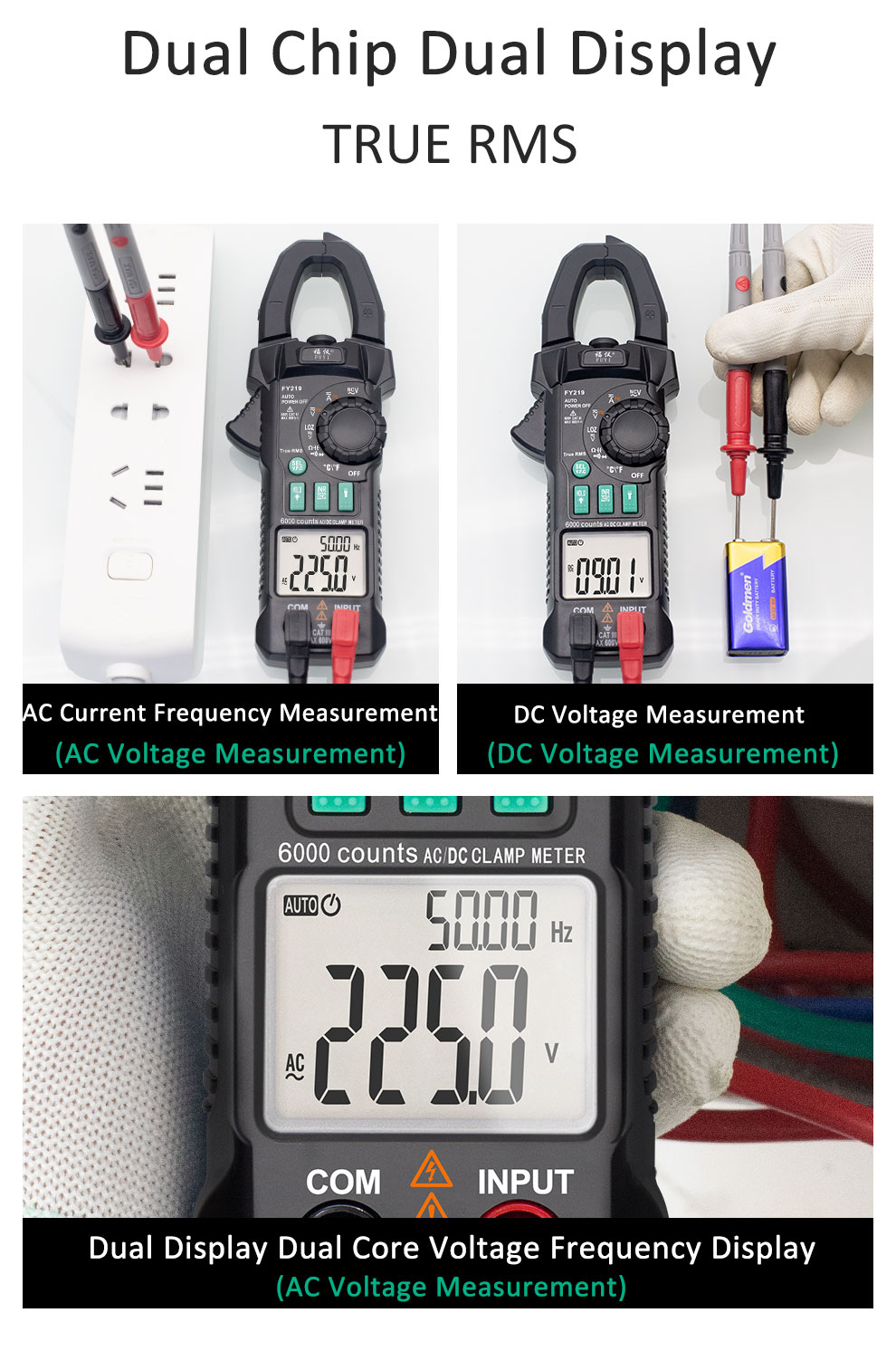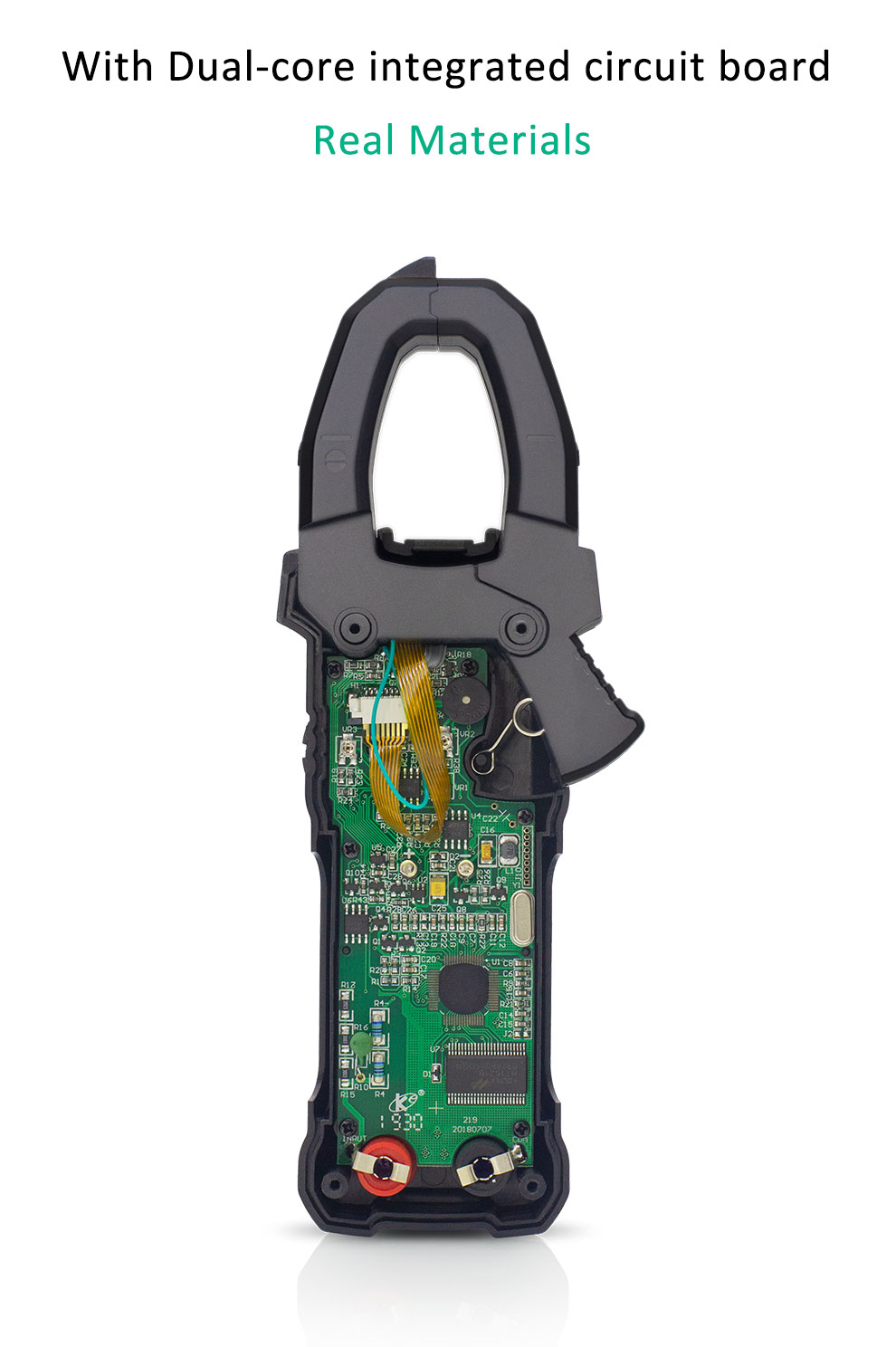 Live / Neutral Wire Identification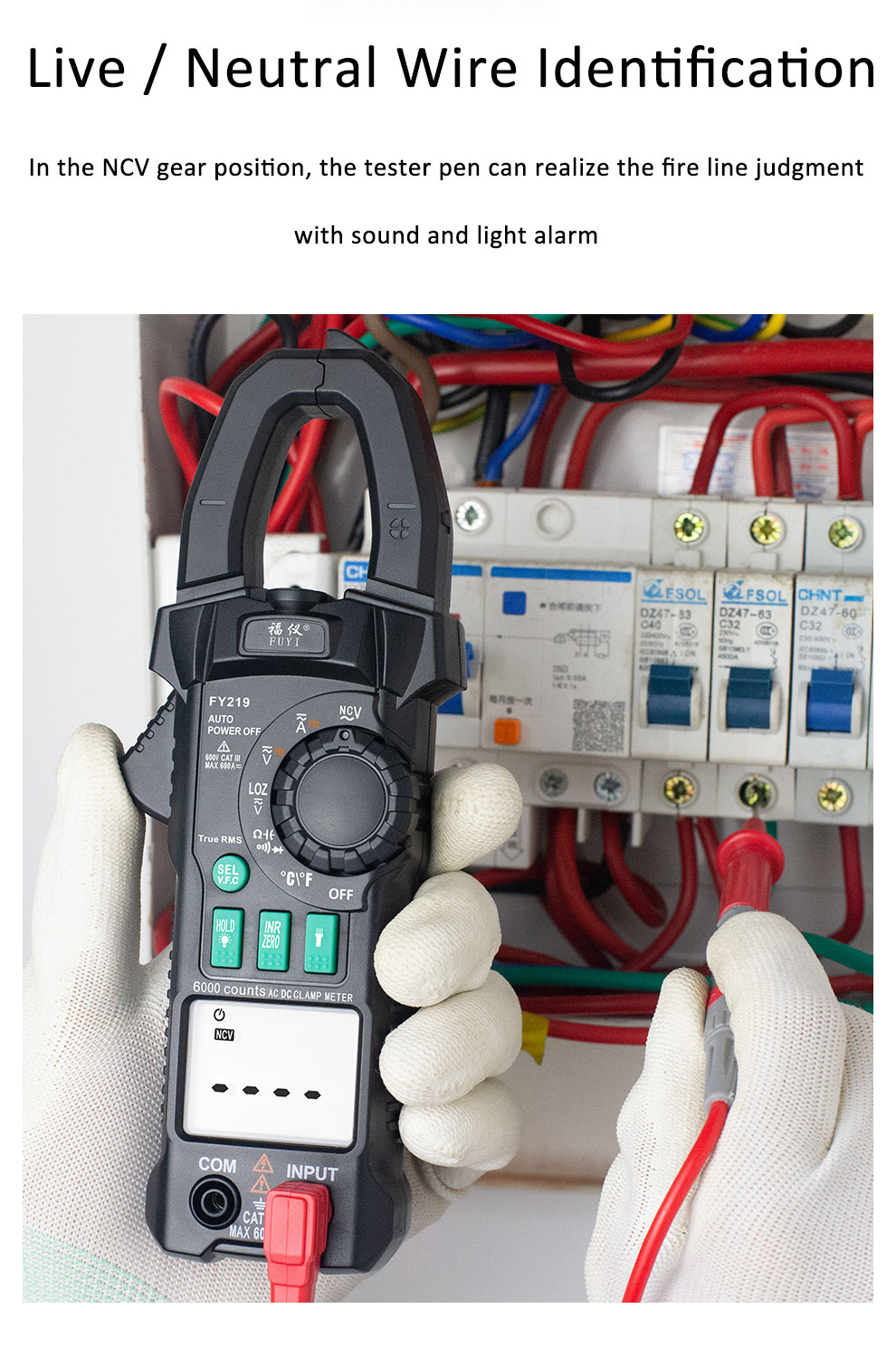 Test Demonstration
Frequency Measurement
V.F.C Frequency Conversion AC Voltage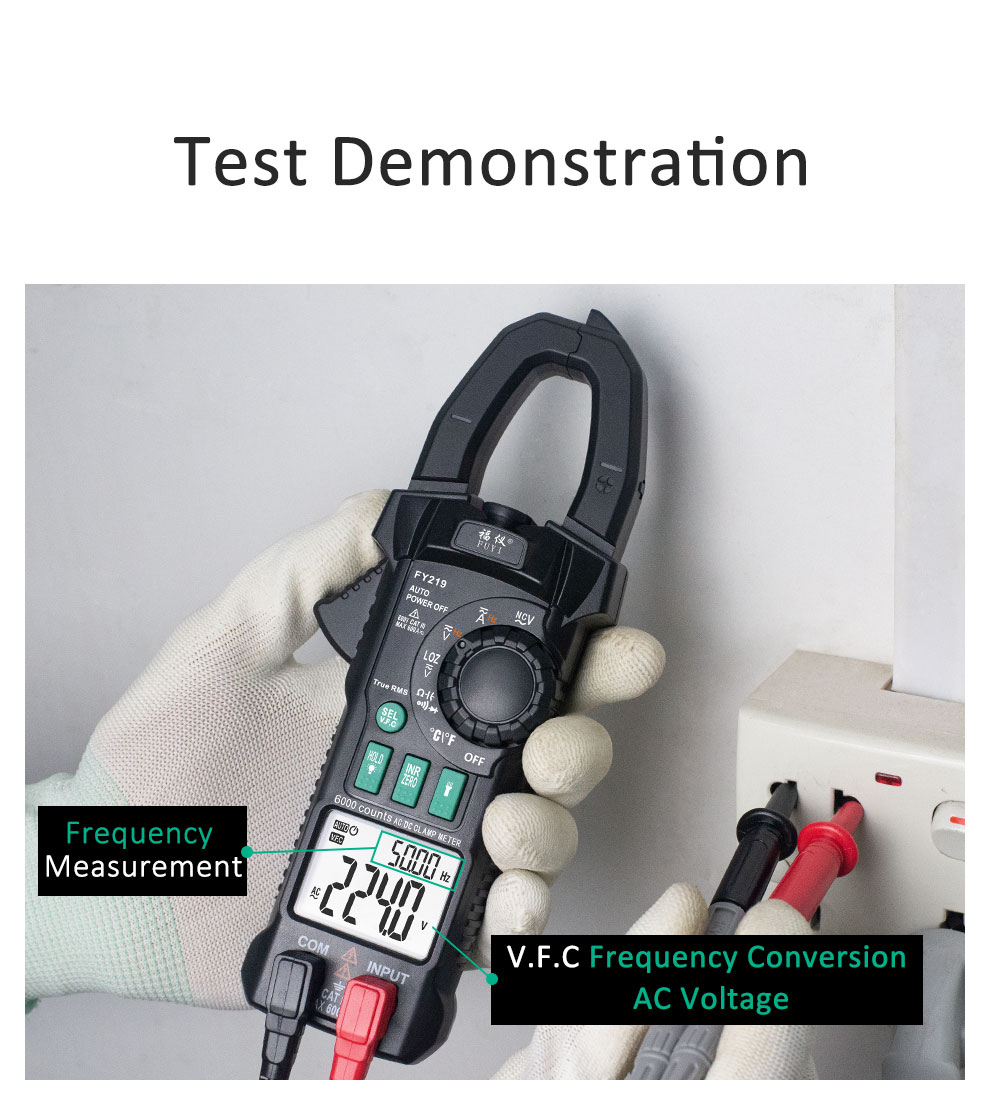 Temperature Measurement & Capacitance Measurement & Resistance Measurement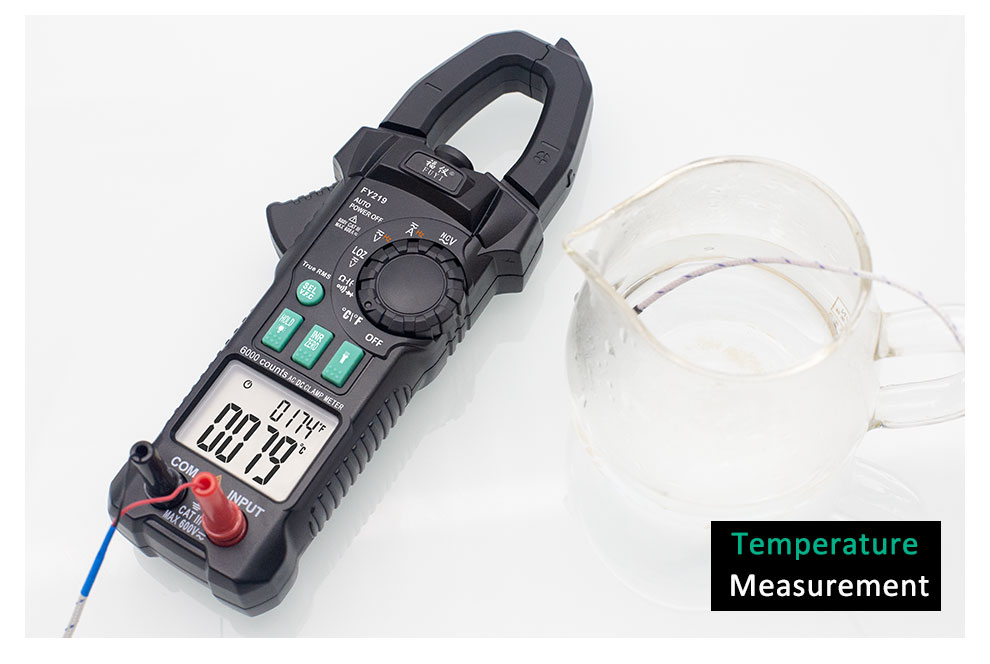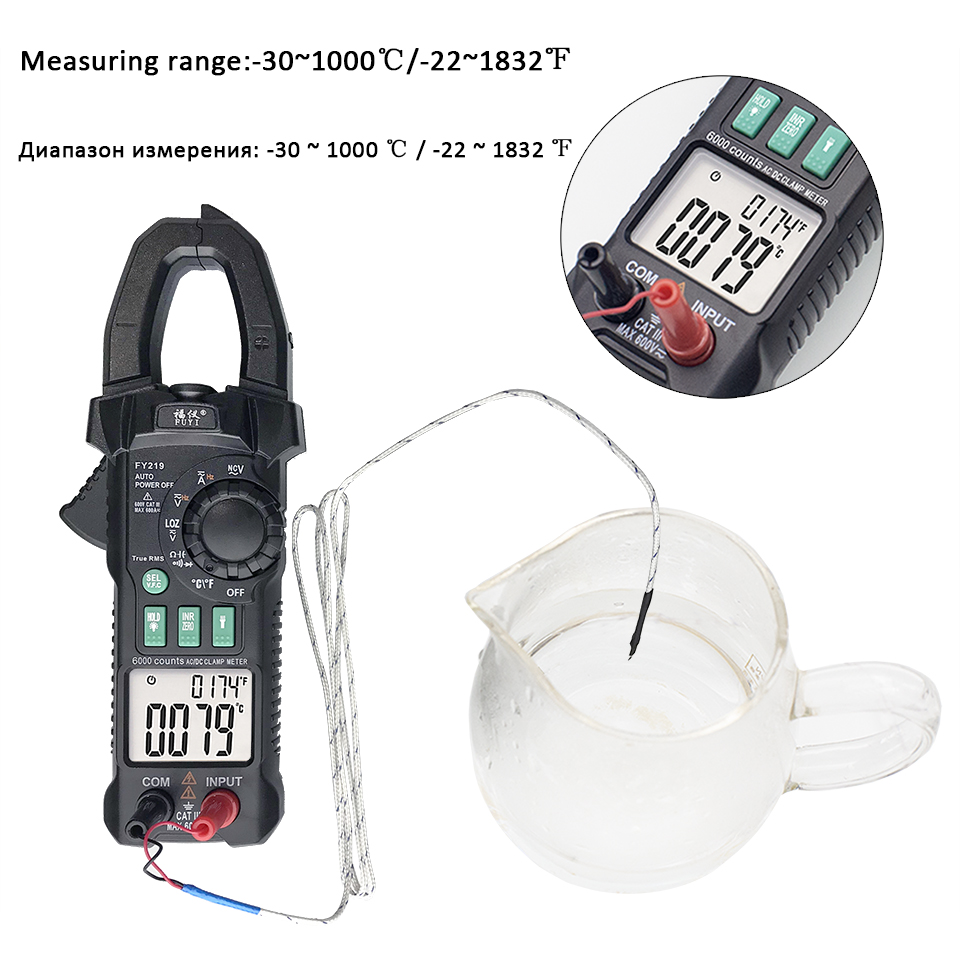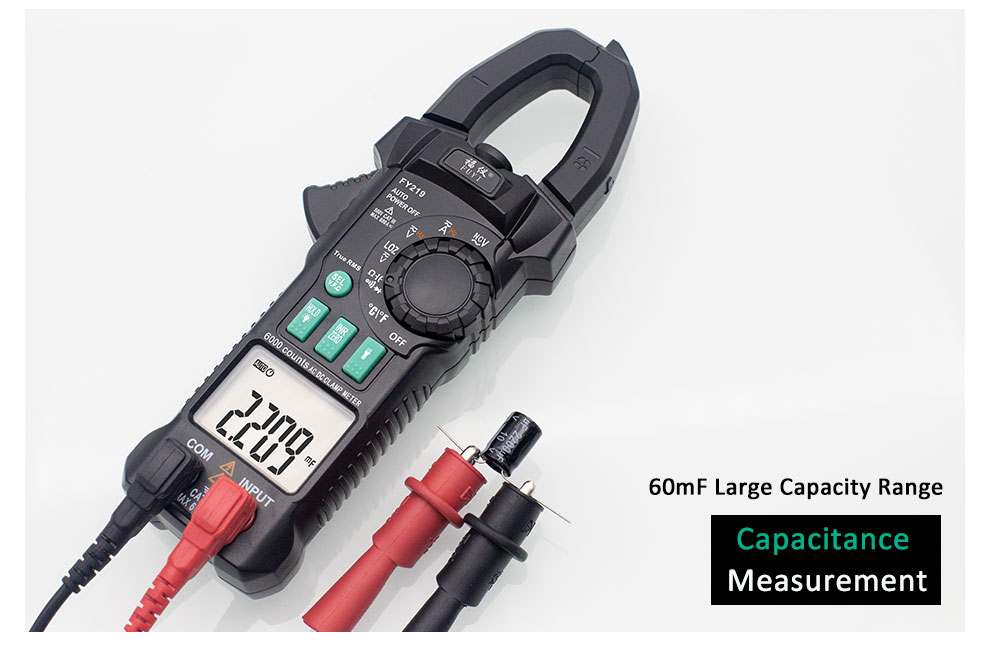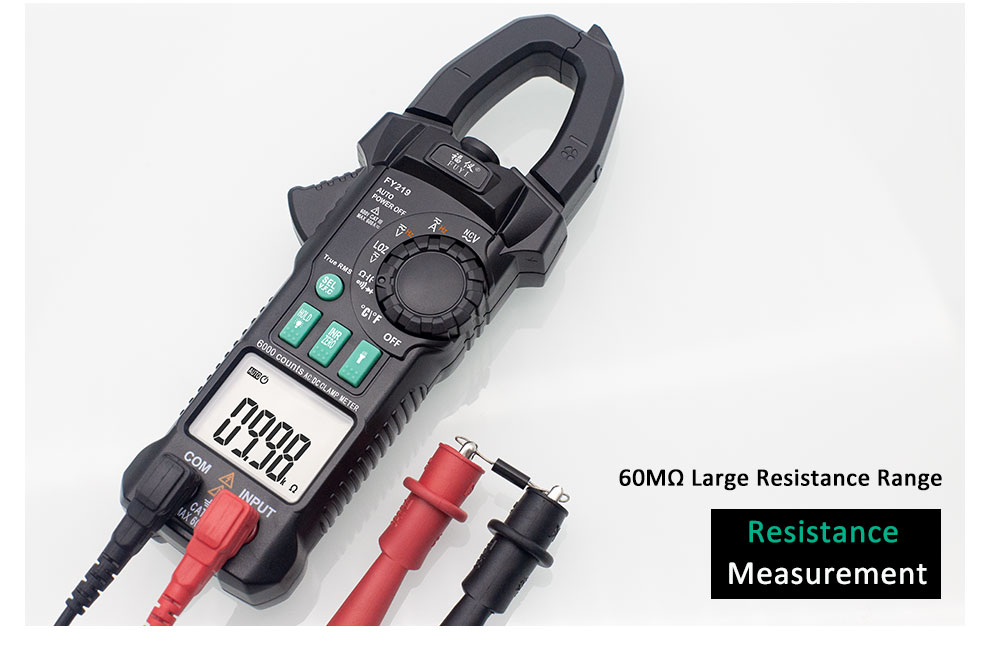 On-off Measurement & NCV Non-contact voltage Detection & Diode Measurement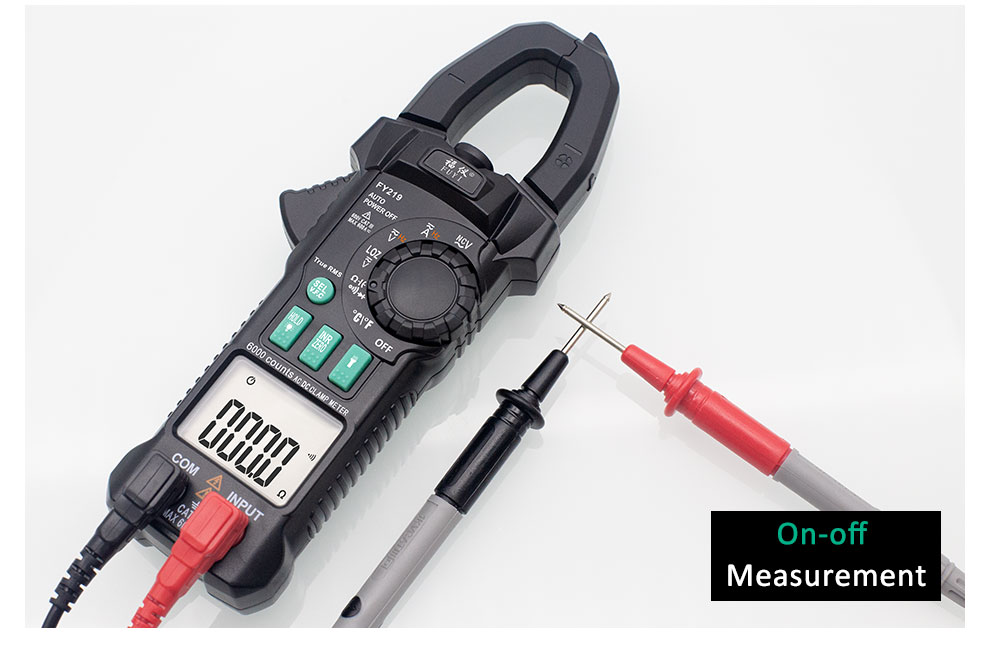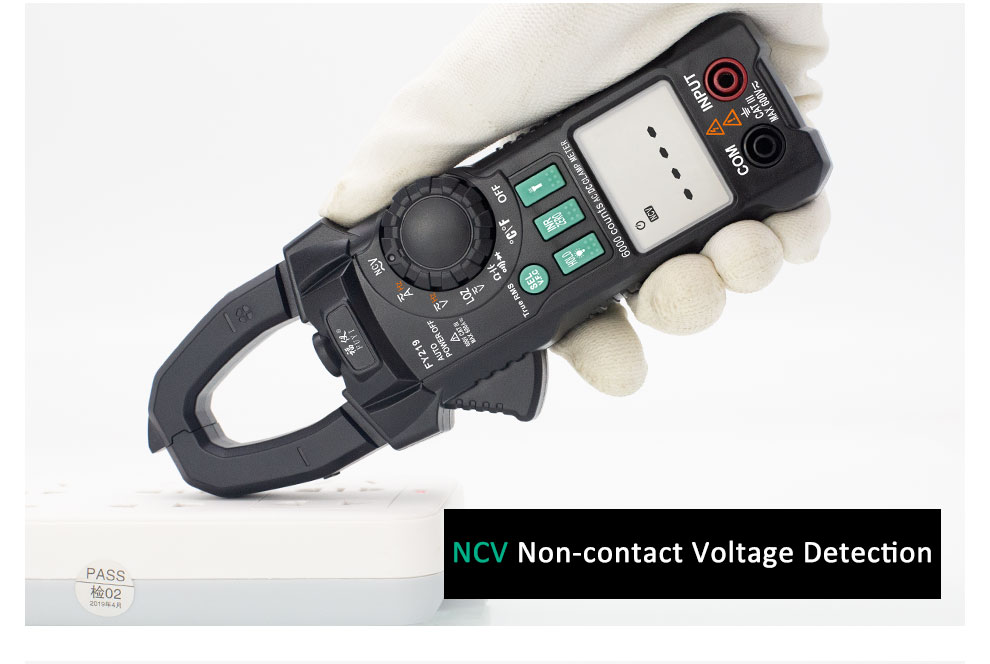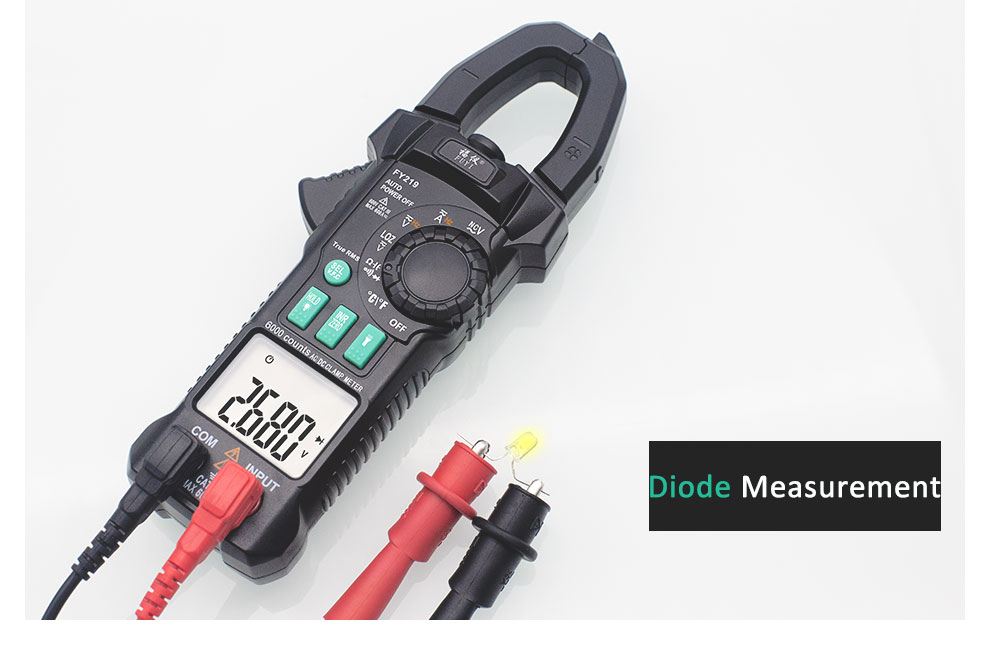 Automatic Range Intelligent Anti-burn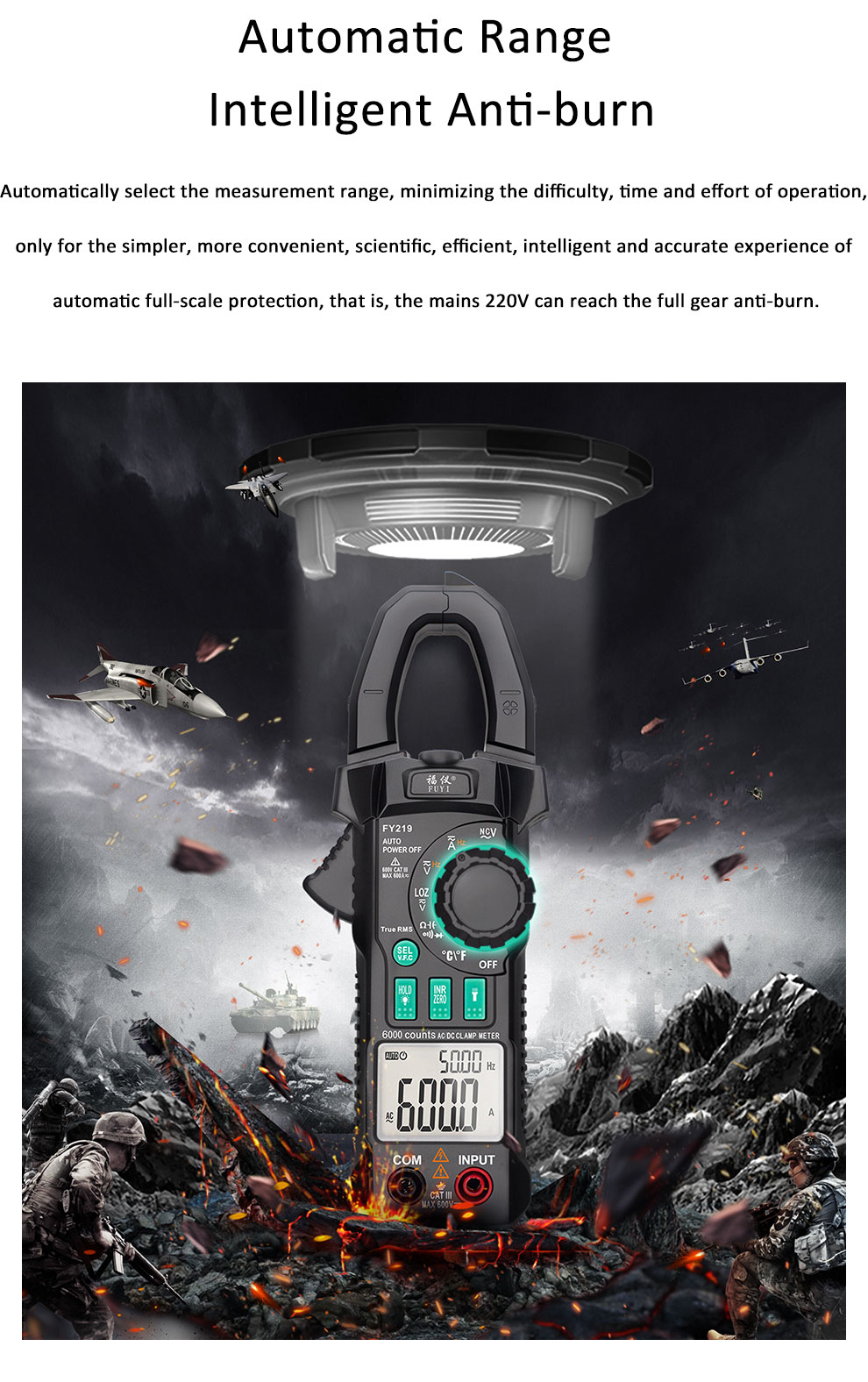 Descriptions
1.Environmental conditions:600V CAT.III,pollution lever: II.
2.Altitude<2000m.
3.Working environment temperature and humidity: 0~40℃(<80%RH,not considered when <10℃).
4.Storage environment temperature and humidity: -10~60℃(<70%RH,remove the battery).
5.Temperature coefficient: 0.1 accuracy/℃(<18℃ or >28℃).
6.Maximum voltage allowed between the measuring port and the earth: 600V DC or 600V AC RMS.
7.Sampling rate:about 3 times/sec.
8.Display:5999-digit LCD display.
9.Over range indication:The LCD will display "OL"or"-OL".
10.Battery low voltage indication: When the battery voltage is lower than the normal working voltage, "Low battery icon" will be displayed on the LCD.
11.Inpute polarity indication: "-" is automatically displayed.
12.Power: AAA DC1.5V * 2(not included).
13.Dimensions: 191mm*70mm*37mm.
14.Weight: about 240g(without battery).
15.Jaw opening maimum size:25mm.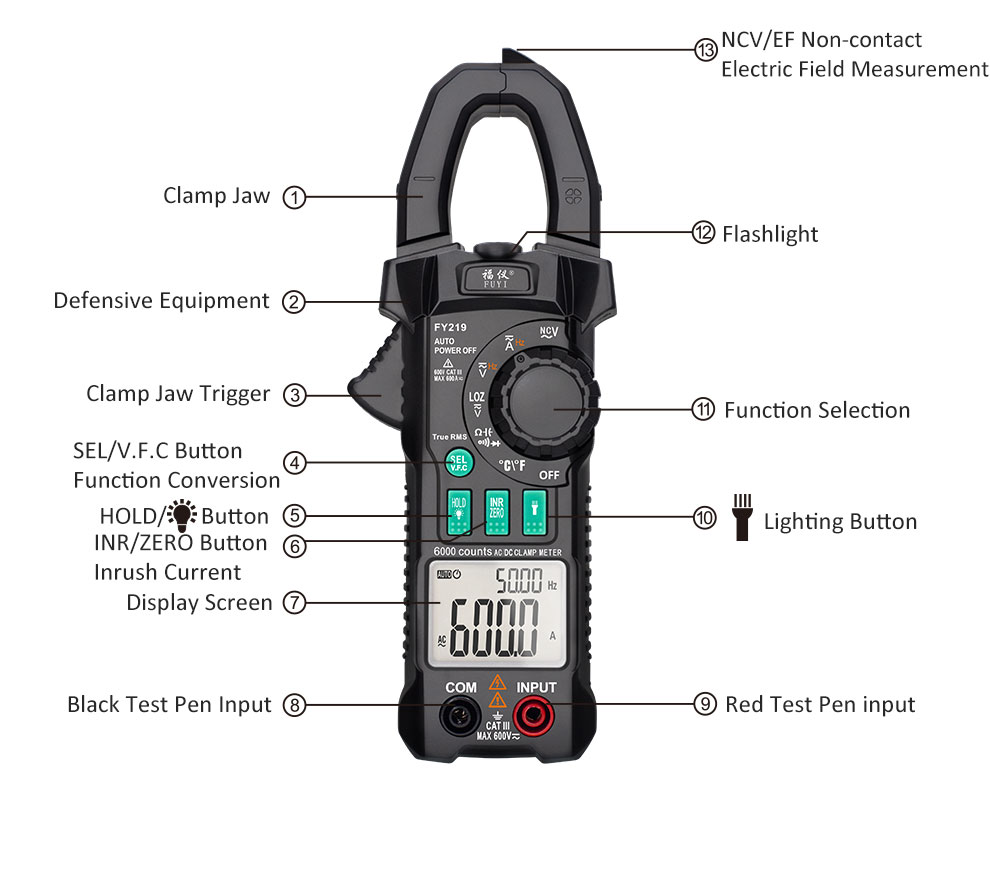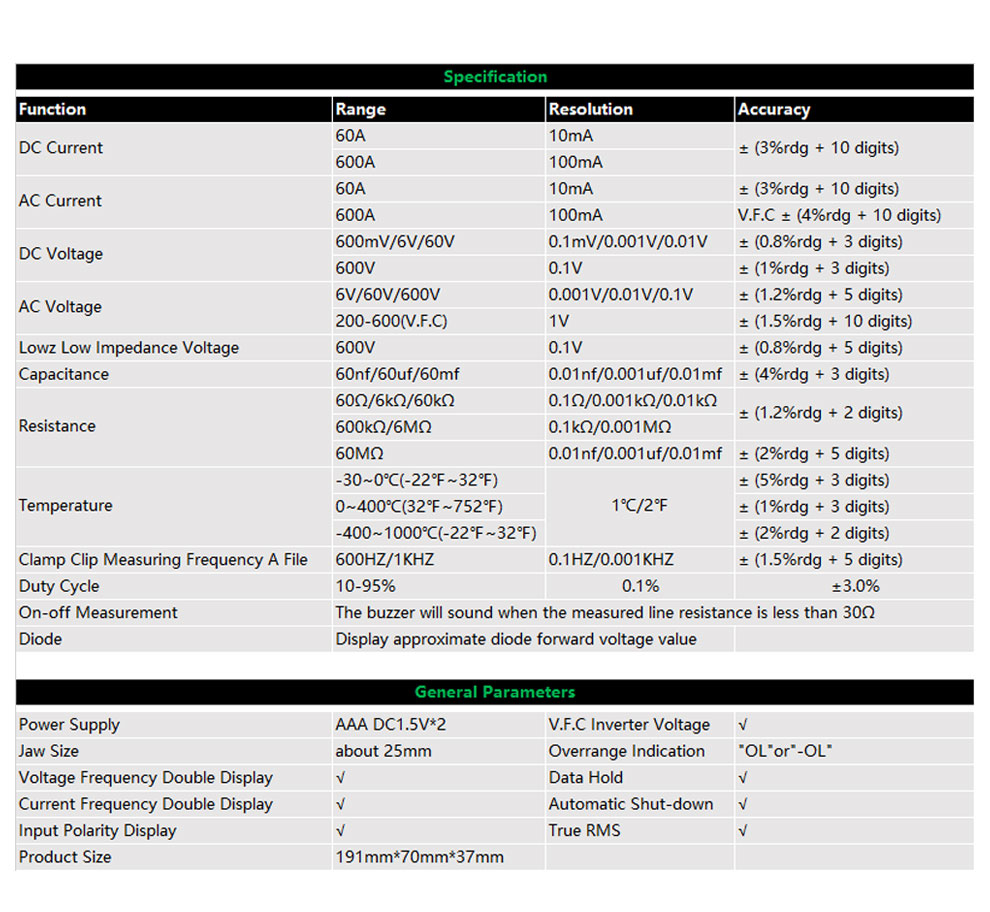 True RMS Professional Measurement