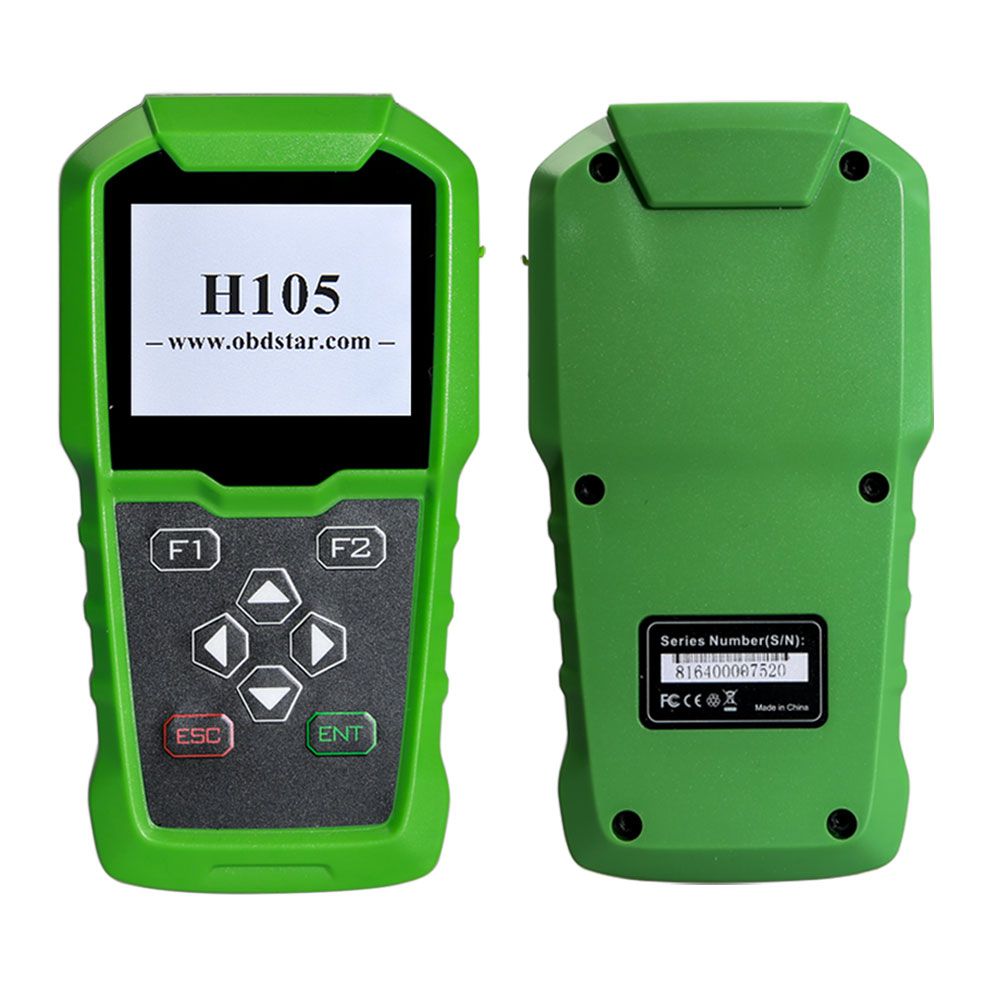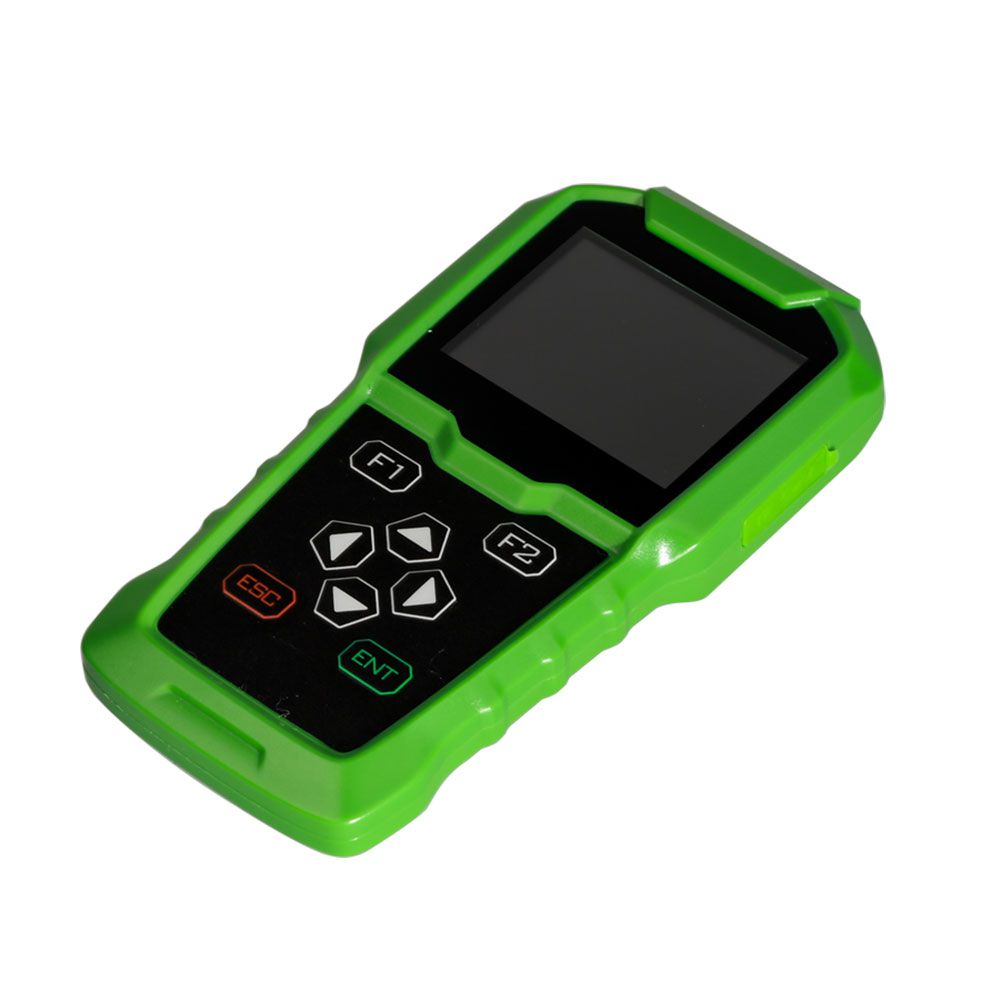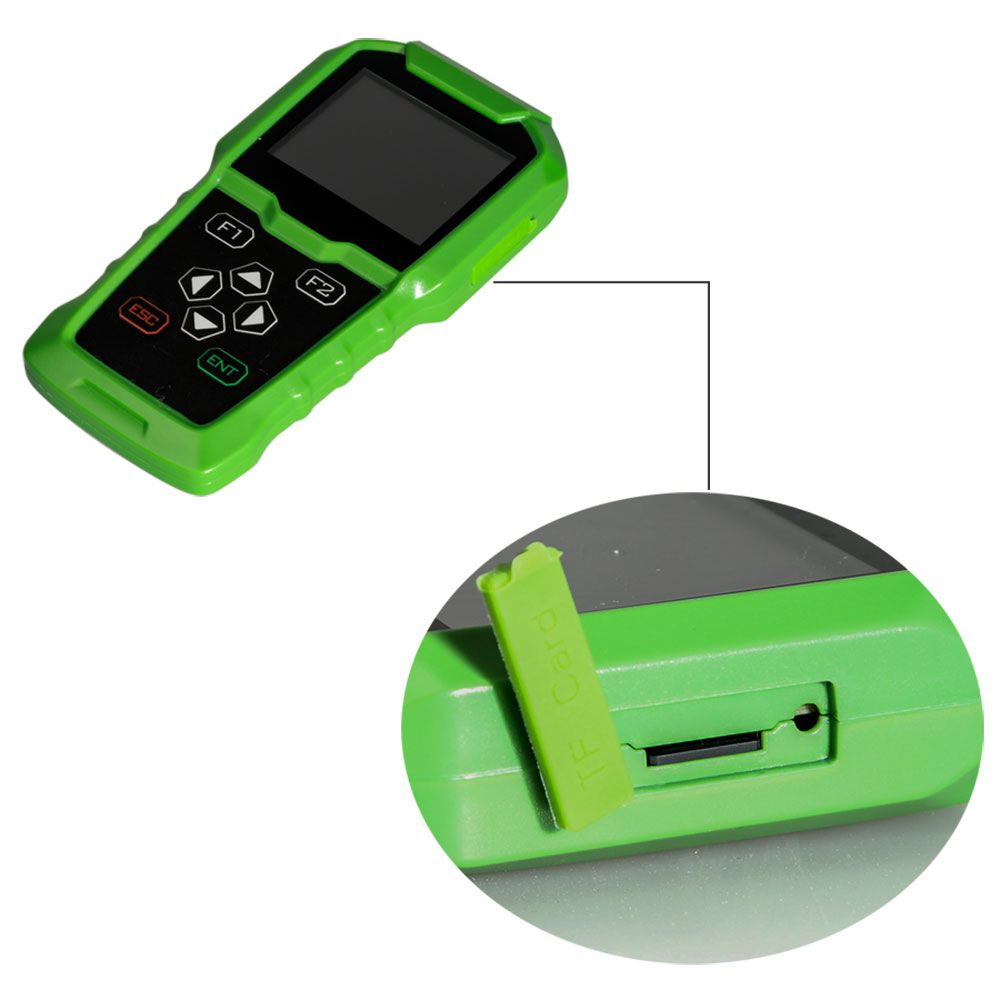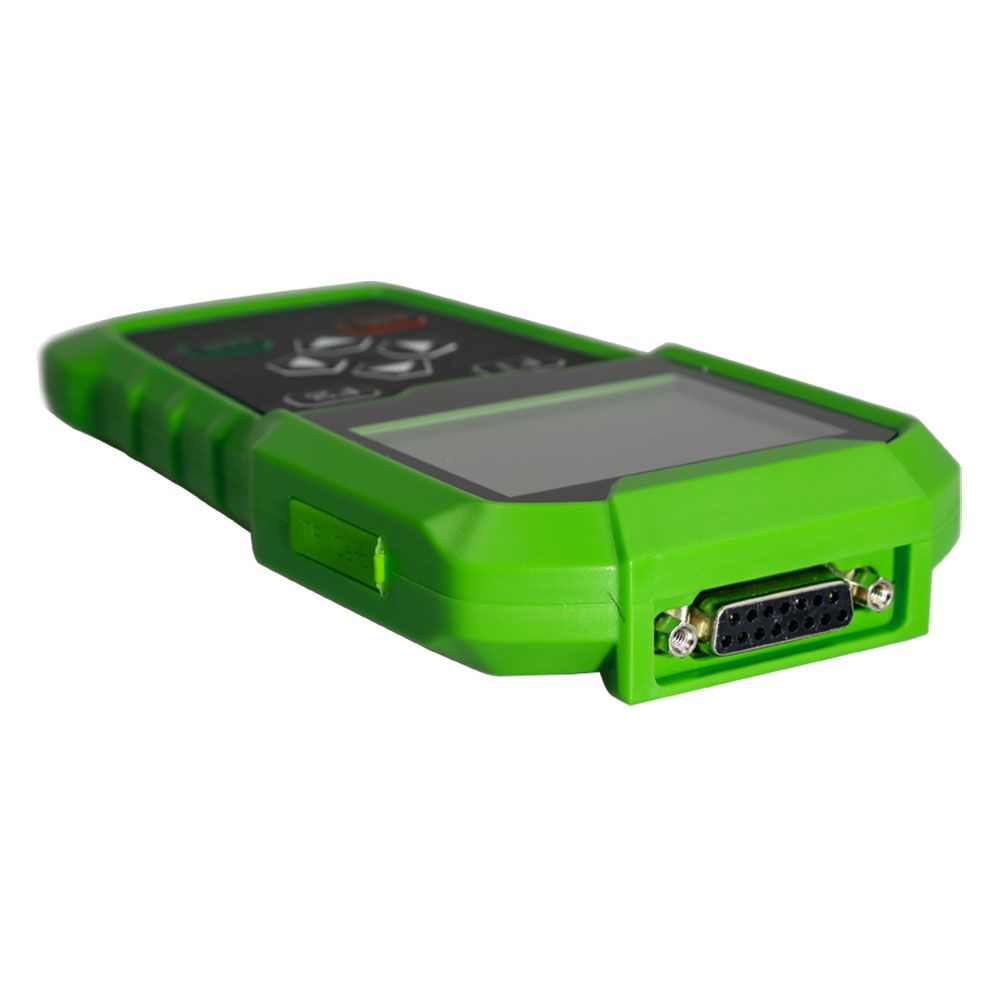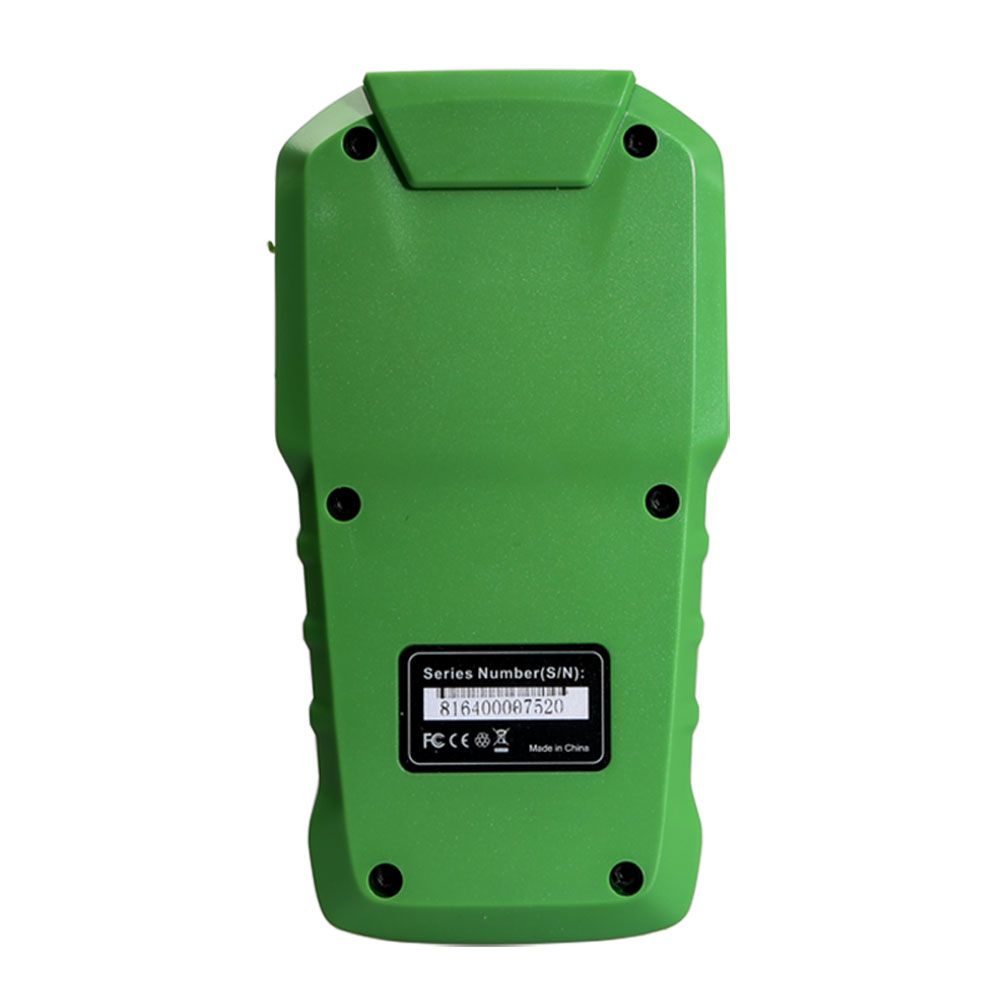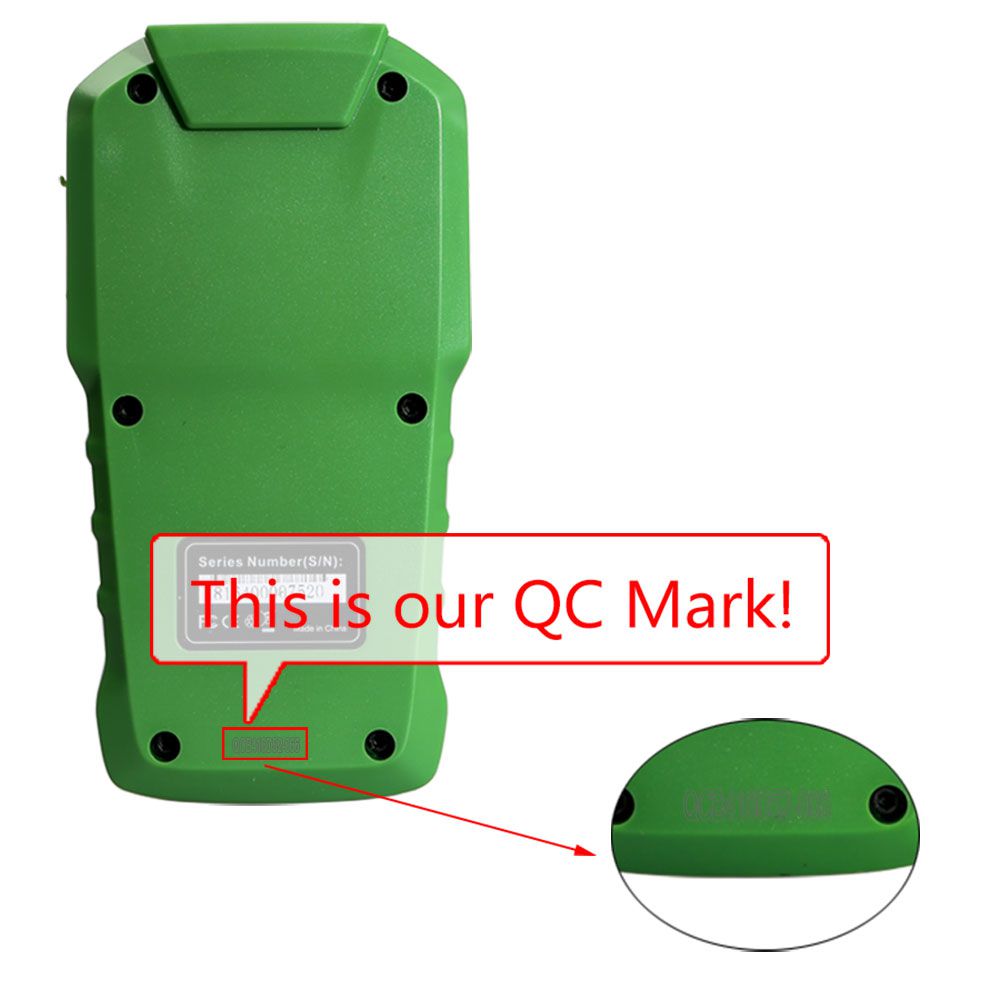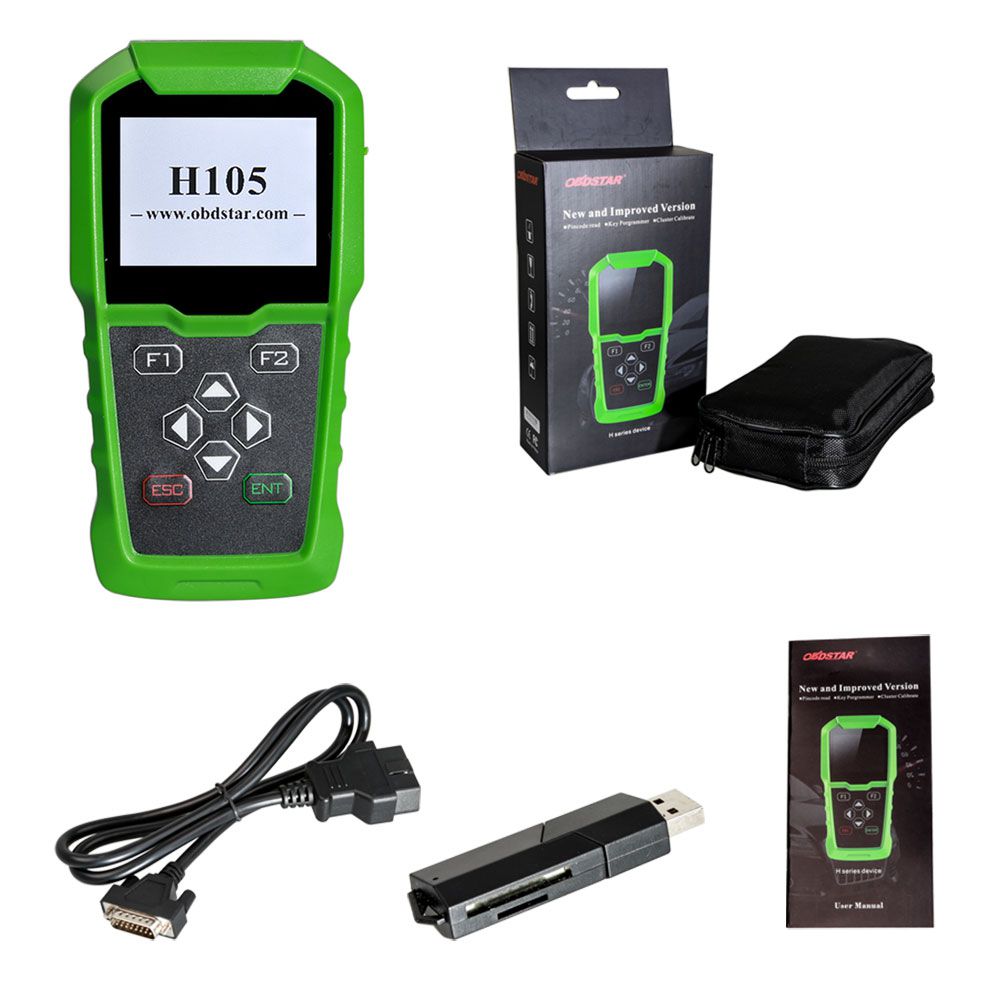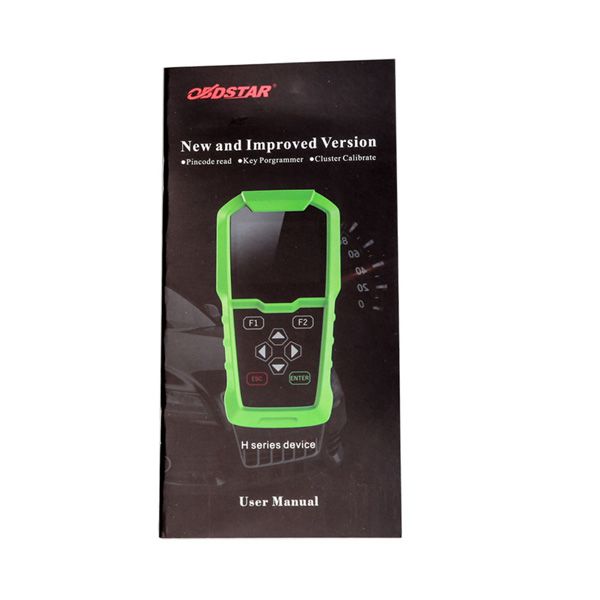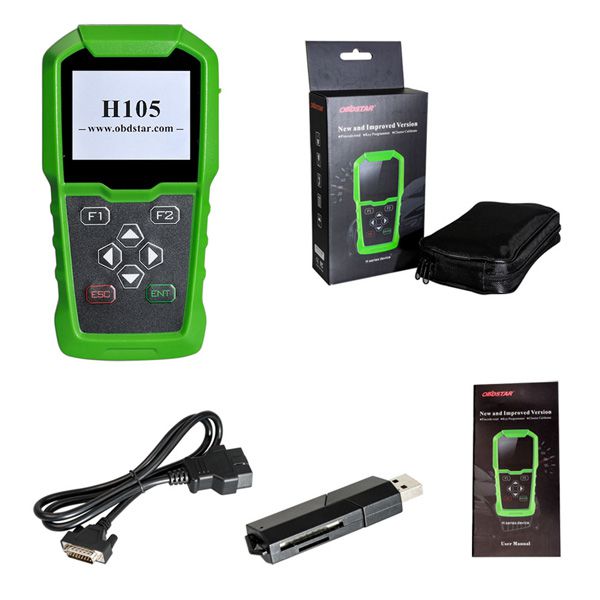 OBDSTAR H105 Hyundai Kia Pin Code Reader Auto Key Programmer and Mileage Programmer
H105 is OBDSTAR newly released auto key programmer which is specially designed to program auto key for Hyundai and Kia vehicles. It's covering a wide range of vehicles, which is able to read pin code and program auto key for all series models of Hyundai and Kia.
Shipping:

Airmail Post


Estimated delivery time:

7-45

working days.

See details»

Returns:

Return for refund within 7 days,buyer pays return shipping.

Read details »

Support:
Related Accessories/Similar Items
Product Details

Product's Reviews
OBDSTAR H105 Pin Code Reader and Auto Key Programmer for Hyundai/Kia
OBDSTAR
H105 is designed to program auto key and calibrate cluster via OBD for Hyundai and Kia vehicles. It features in programming 46 chip ordinary key and 46/47/8A chip smart key, as well as reading pin code for all series models.
OBDSTAR
H105 has a full coverage of vehicles, please check content below or the attachment for the IMMO and cluster calibration list.
OBDSTAR H105 Feature:
● Program 46 chip ordinary key
● Program 46/47/8A chip smart key
● All Series models pin code reading
● Be available to auto key programming and cluster calibrate via OBD.
● Update via TF card at any time.
● Adopt updated hardware and appearance design.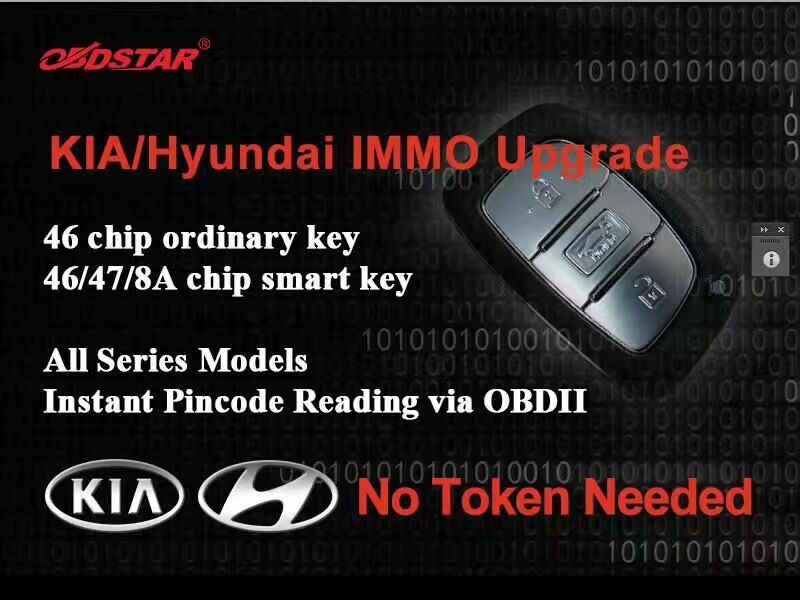 Hardware Parameter:
●Dimension: 156mm(L)*86mm(W)*28mm(H)
●CPU: Cortex M3
●Power Supply: DC12V
●Operation Power: DC12V
●Operation Temperature: -20-60℃
●Display Screen: 320X240 TFT
Package includes:
1pc x OBDSTAR H105 main unit
1pc x OBD Main cable
1pc x User's Manual
1pc x TF Card Reader
OBDSTAR H105 Hyundai & Kia Immobilizer Car List:
HYUNDAI
Security code Calculator
Read 46 chip security code
Select from vehicle
Africa
Getz
2006-2009
Immobiliser
I10
2010
Immobiliser
I10 grand
2014
Immobiliser
Remote
I120
2012-2014
Immobiliser
Remote
IX35
2013
Immobiliser
Remote
Tiburon
2003-2008
Immobiliser
Tucson
2005-2011
Immobiliser
Remote
Asia
China
Accent
Immobiliser
Sonata(NF)
Immobiliser
Tucson
Immobiliser
Petrol 2.0
Petrol 2.7
Diesel
Elantra 08-11
Immobiliser
Elantra 12-
Immobiliser
Smart key system
Sonata(NFC)
Immobiliser
Smart key system
I30
Immobiliser
IX25
Smart key system
IX35
Immobiliser
Smart key system
with card slot
without card slot
IX35(F/L)
Immobiliser
Smart key system
New IX35
Immobiliser
Smart key system
Verna
Immobiliser
Smart key system
Sonata(YFC)
Immobiliser
Smart key system
Sonata(LF)
Smart key system
Elantra(MDC)
Immobiliser
Smart key system
Santa FE(MDC)
2013-
Immobiliser
Smart key system
New Tucson
Smart key system
Mistra(CF)
Immobiliser
Smart key system
Remote
10 PIN
16 PIN
Type 1
Type 2
Type 3
Type 4(Coupe)
Type 5(CAN)
Korea
Atoz 98-02
Immobiliser
Getz 06-
Immobiliser
Getz 03-
Immobiliser
Ve
lost
er 12-
Immobiliser
Smart key system
Accent 06-
Immobiliser
Accent 03-05
Immobiliser
Petrol
Diesel
Accent 00-02
Immobiliser
Petrol
Diesel
Matrix 06-
Immobiliser
1.6L(Petrol)
1.8L(Petrol)
Diesel
ELANTRA 13-
Immobiliser
Elantra 04-
Immobiliser
1.6L(Petrol)
1.8L/2.0L(Petrol)
Diesel
Elantra 01-03
Immobiliser
1.6L(Petrol)
1.8L/2.0L(Petrol)
Diesel
HD Coupe 02-
Immobiliser
1.6/2.0L
YF HEV 14-
Immobiliser
Smart key system
Sonata 05-
Immobiliser
I40(VF) 12-
Immobiliser
Smart key system
Grandeur(HG) 11-
Immobiliser
Smart key system
Azera 06-
Immobiliser
Equus(VI) 14-
Smart key system
Equus(VI) 12-
Smart key system
Equus(VI) 09-
Smart key system
H-1 98-02
Immobiliser
Diesel (CRDI)
H-1BUS 11-
Immobiliser
Grandsantafe(NC)
Immobiliser
Smart key system
Santafe(MD) 13-
Immobiliser
Smart key system
Santafe F/L 09-
Immobiliser
Smart key system
Santafe 06-
Immobiliser
Petrol
Diesel
Santafe 01-02
Immobiliser
Trajet X6 01-02
Immobiliser
Tucson
Immobiliser
Petrol 2.0
Petrol 2.7
Diesel
Veracruz(EN) 06-
Immobiliser
Smart key system
Rohens-Coupe 12-
Immobiliser
Smart key system
Rohens-Coupe 09-
Immobiliser
Smart key system
Rohens(BH) 12-
Immobiliser
Smart key system
2012
2013-
Rohens(BH) 09-
Immobiliser
Smart key system
other
Accent
2001-2010
Immobiliser
Petrol
type1
type2
Diesel
Elantra
2004-2006
Immobiliser
Petrol
1.6L
1.8L
2.0L
Diesel
2007-2011
Immobiliser
Petrol
Diesel
2012-
Immobiliser
Eon
2010
Immobiliser
I10
2007
Immobiliser
I20
2007
Immobiliser
I30
2008-2010
Immobiliser
Petrol
Diesel
Remote
IX35
2014
Smart key system
with card slot
without card slot
Porter
2006
Immobiliser
Santa fe
2013
Smart key system
Santro
2009
Immobiliser
Sanata
2000-2005
Immobiliser
2005-2007
Immobiliser
2008-2011
Immobiliser
Starex
1997-2005
Immobiliser
Tucson
2001-2004
Immobiliser
2004-2009
Immobiliser
Petrol
2.0L
2.7L
Remote
Verna
2002-2005
Immobiliser
2007-2009
Immobiliser
2010-
Immobiliser
Remote
Australia
Accent
1995-1999
Immobiliser
2000-2002
Immobiliser
Petrol
Diesel
2003-2005
Immobiliser
Petrol
Diesel
2006-2011
Immobiliser
2011-
Immobiliser
Remote
Amica
1997-2004
Immobiliser
Amica pdf
1997-2004
Immobiliser
Atos
1997-2004
Immobiliser
2004
Immobiliser
Avante
2007-2009
Immobiliser
Azera graneur
1998-2005
Immobiliser
Petrol
Brio
2002-2005
Immobiliser
Contennial
2001-2008
Immobiliser
Click
Immobiliser
Coupe
Immobiliser
Elantra
1996-2000
Immobiliser
Petrol
2001-2003
Immobiliser
Petrol
1.6L
1.8L
2.0L
Diesel
2004-2006
Immobiliser
Petrol
1.6L
1.8L
2.0L
Diesel
2007-2010
Immobiliser
Petrol
Diesel
Remote
2011
Immobiliser
Remote
2012-
Smart key system
with card slot
without card slot
Embera
Immobiliser
Entourage vq
Immobiliser
Galloper 2
-2003
Immobiliser
Genesis
Immobiliser
Getz
2003-2006
Immobiliser
Petrol
1.4L
1.5L
1.6L
Diesel
2006-2010
Immobiliser
Petrol
Diesel
Remote
Grandeur
Immobiliser
H1
2008-2009
Immobiliser
Petrol
Diesel
type1
type2
type3
I10
2007-2014
Immobiliser
I20
2008-2012
Immobiliser
Remote
I30
2008-2011
Immobiliser
Remote
2012-
Immobiliser
Remote
Smart key system
with card slot
without card slot
I45
2011-
Immobiliser
Smart key system
with card slot
without card slot
IX35
2009-
Immobiliser
Remote
Smart key system
with card slot
without card slot
Lantra
2001-2006
Immobiliser
Petrol
1.6L
1.8L
2.0L
Diesel
2007-
Immobiliser
Matrix
2002-2007
Immobiliser
Petrol
Diesel
Santa fe
2001-2006
Immobiliser
Petrol
type1
type2
Diesel
type1
type2
2006-2009
Immobiliser
Petrol
Diesel
type1
type2
Smart key system
with card slot
without card slot
Santamo
Immobiliser
Santro
Immobiliser
Sanata
2005-2007
Immobiliser
2008-
Immobiliser
Sonica
Immobiliser
Terracan
2001-2007
Immobiliser
Diesel
2.5L
2.9L
Petrol
3.5L V6
Tiburon
2007
Immobiliser
Trajet
1999-2007
Immobiliser
2.0L
type1
type2
2.7L
Diesel
Tucson
2004-
Immobiliser
2.0L
2.7L
Diesel
type1
type2
Tuscani
2007-
Immobiliser
Ve
lost
er
2012-
Smart key system
Veracruz
-2007
Immobiliser
2007-
Immobiliser
Verna
2002-2005
Immobiliser
Xg
1999-2005
Immobiliser
Europe
Accent
1995-1999
Immobiliser
2000-2002
Immobiliser
Petrol
Diesel
2003-2005
Immobiliser
Petrol
Diesel
2006-
Immobiliser
Accent blue accent
2013
Immobiliser
Accent(ECA)
2006-2011
Immobiliser
Remote
Amica
1997-2000
Immobiliser
2000-2003
Immobiliser
Amica pdf
2003-2007
Immobiliser
Atos
1997-2004
Immobiliser
2004-
Immobiliser
Azera graneur
2005-2009
Immobiliser
Petrol
Avante
2007-2009
Immobiliser
Brio
2002-2005
Immobiliser
Centennial
2001-2008
Immobiliser
Click
Immobiliser
Coupe
1996-2001
Immobiliser
2001-2009
Immobiliser
Elantra
1996-2000
Immobiliser
Petrol
2001-2006
Immobiliser
Petrol
1.6L
1.8L
2.0L
Diesel
2007-2011
Immobiliser
Petrol
Diesel
Embera
Immobiliser
Entourage vq
Immobiliser
Galloper II
1999-
Immobiliser
type1
type2
Genesis
Immobiliser
Getz
2003-2005
Immobiliser
Petrol
Diesel
2006
Immobiliser
Petrol
Diesel
Remote
Grandeur
2006-2011
Immobiliser
Remote
H1
2002
Immobiliser
Petrol
Diesel
type1
type2
2008-2009
Immobiliser
Petrol
Diesel
type1
type2
type3
I10
-2009
Immobiliser
2010-2013
Immobiliser
2014-
Immobiliser
I20
2008-2011
Immobiliser
Remote
2012-2014
Immobiliser
Remote
Smart key system
with card slot
without card slot
I30
2008-2011
Immobiliser
Petrol
Diesel
Remote
Smart key system
with card slot
without card slot
2012-
Immobiliser
Remote
Smart key system
with card slot
without card slot
I40
2010-
Immobiliser
Smart key system
I45
Smart key system
with card slot
without card slot
I800
2007-
Immobiliser
Remote
Iload
2008-
Immobiliser
Imax
2008-
Immobiliser
IX20
2012-
Immobiliser
Remote
Smart key system
with card slot
without card slot
IX35
2010-2013
Immobiliser
Remote
Smart key system
with card slot
without card slot
2014
Immobiliser
Remote
Smart key system
with card slot
without card slot
IX55
2007-2008
Immobiliser
2008-
Immobiliser
Lantra
2001-2006
Immobiliser
Petrol
1.6L
1.8L
2.0L
Diesel
2007
Immobiliser
Matrix
2002-2007
Immobiliser
Petrol
Diesel
Santa fe
2001-2006
Immobiliser
type1
type2
2007-2012
Immobiliser
Petrol
Diesel
type1
type2
Smart key system
2013-2014
Immobiliser
Remote
Smart key system
with card slot
without card slot
Santamo
Immobiliser
Santro
Immobiliser
Sanata
1999-2005
Immobiliser
2005-2007
Immobiliser
2008-
Immobiliser
Sonica
Immobiliser
Terracan
2001-2007
Immobiliser
Diesel
2.5L
2.9L
Tiburon
1997-2002
Immobiliser
2003-2008
Immobiliser
Trajet
1999-2007
Immobiliser
Petrol
2.0L
type1
type2
Diesel
2.7L
Tucson
2005-2009
Immobiliser
Petrol
2.0L
type1
type2
2.7L
Diesel
type1
type2
Tuscani
1997-2002
Immobiliser
2007-
Immobiliser
Ve
lost
er
2011-
Immobiliser
Smart key system
Veracruz
-2007
Immobiliser
2007-
Immobiliser
Verna
2002-2005
Immobiliser
Xg
1999-2005
Immobiliser
middle East
Accent
1995-1999
Immobiliser
2000-2002
Immobiliser
Petrol
Diesel
2006-
Immobiliser
Amica
Immobiliser
Atos
1998-2003
Immobiliser
2004-2006
Immobiliser
Petrol
Centennial
2000-2007
Immobiliser
Elantra
1996-2000
Immobiliser
2001-2003
Immobiliser
Petrol
Diesel
2004-2006
Immobiliser
Petrol
1.6L
1.8L
2.0L
ElantraI35
2010
Smart key system
with card slot
without card slot
Galloper II
Immobiliser
Petrol
3.0L
Diesel
Getz
2003-2006
Immobiliser
Petrol
Diesel
Grandeur
Immobiliser
Petrol
HD (Sports car)
1997-2001
Immobiliser
2002-2007
Immobiliser
Petrol
I10
2008-
Immobiliser
I20
2008-
Immobiliser
Remote
I25
2012-
Immobiliser
I30
2008-
Immobiliser
Remote
I45
Smart key system
with card slot
without card slot
IX35
2010-
Smart key system
with card slot
without card slot
Matrix
2002-2006
Immobiliser
Petrol
Diesel
Santa fe
2001-2005
Immobiliser
2006-2009
Immobiliser
Petrol
type1
type2
Smart key system
Santamo
Immobiliser
Sanata
1999-2004
Immobiliser
2005-2006
Immobiliser
Petrol
Diesel
Terracan
2001-2006
Immobiliser
Petrol
3.5L
Diesel
2.5L
2.9L
Trajet XG
2001-2006
Immobiliser
Petrol
2.0L
type1
type2
Diesel
Tucson
2004-2006
Immobiliser
Petrol
2.0L
2.7L
Diesel
type1
type2
Ve
lost
er
2011-
Immobiliser
Remote
Veracruz
2007
Immobiliser
Xg
1999-2005
Immobiliser
North America
Accent
-2011
Immobiliser
2011-2015
Immobiliser
Remote
Azera
2006-2007
Immobiliser
2007-2011
Immobiliser
2012-
Smart key system
with card slot
without card slot
Azure
2015-
Smart key system
with card slot
without card slot
Elantra
2007-2010
Immobiliser
2011-2013
Remote
Smart key system
with card slot
without card slot
2014-2016
Remote
Smart key system
2017
Immobiliser
Remote
Smart key system
Elantra GT
2013-2015
Immobiliser
Smart key system
with card slot
without card slot
2016-
Immobiliser
Remote
Smart key system
with card slot
without card slot
Elantra Touring
2009-2012
Immobiliser
Remote
Entourage vq
2006-2007
Immobiliser
2007-2010
Immobiliser
Remote
Equus
2011-2012
Smart key system
2013-
Smart key system
Genesis
2009-2012
Immobiliser
Remote
Smart key system
type1
type2
2013-2014
Immobiliser
Remote
Smart key system
with card slot
without card slot
2015-
Smart key system
Santa fe
2002-2007
Immobiliser
2007-2012
Immobiliser
Remote
2013-
Immobiliser
Smart key system
Sanata
2011-2014
Immobiliser
Remote
Smart key system
with card slot
without card slot
2015-
Immobiliser
Remote
Smart key system
Tiburon
2003-2005
Immobiliser
2006-2008
Immobiliser
Tucson
2005-2015
V4
Immobiliser
Remote
V6
Immobiliser
Remote
2015-
Smart key system
Ve
lost
er
2011-2014
Remote
Smart key system
with card slot
without card slot
2015-
Immobiliser
Remote
Smart key system
with card slot
without card slot
Veracruz
-2007
Immobiliser
2008-2012
Immobiliser
Remote
Smart key system
with card slot
without card slot
Xg 300
-2007
Immobiliser
Xg 350
-2007
Immobiliser
South America
Atos
1997-2005
Immobiliser
ATTITUDE
2004-2011
Immobiliser
Azera
-2009
Immobiliser
2009-2012
Immobiliser
Remote
Elantra
2012-
Smart key system
with card slot
without card slot
HB 20
2012-
Immobiliser
Remote
I30
2008-2011
Immobiliser
Remote
2012-
Remote
IX35
2014-
Immobiliser
Remote
Santa fe
2007-2012
Remote
Sanata
2011-2013
Smart key system
with card slot
without card slot
2014-
Smart key system
Tucson
2006-
Remote
Ve
lost
er
2011-
Smart key system
with card slot
without card slot
Veracruz
2007-
Immobiliser
Select from type
Immobiliser
Type 1(K)
Type 2(K)
Type 3(K)
Type 4(K)
Type 5(K)
Type 6(CAN)
Type 7(CAN)
Type 8(CAN)
Type 9(CAN)
Smart key system
Type 1(with card slot)
Type 2(with card slot)
Type 3(without card slot)
Type 4(with card slot)
Type 5(without card slot)
Type 6(with card slot)
Type 7(without card slot CAN)
Type 8(without card slot CAN)
Remote
10 PIN
16 PIN type 1
16 PIN type 2
16 PIN type 3
KIAH
Read PinCode
PinCode Calculator(-2007)
Read PinCode(46 Chip)
Read PinCode(46 Smart Card)
Read PinCode(47 Smart Card)
Select from vehicle
Africa
CERATO
2013
Immobiliser
remote
RIO
2012
Immobiliser
remote
Asia
Optima
2004-2007
Immobiliser
Forte
2009-2013
Immobiliser
Smart key system
Sportage(CHINA)
2008-2013
Immobiliser
2.0 CVVTAustralia
Type 1
Type 2
2.7 V6
Diesel
2014-
Immobiliser
Smart key system
Sportage R
2011
Immobiliser
Smart key system
Soul
2012-
Smart key system
K4
Smart key system
K5
2011-2013
Immobiliser
Smart key system
2014-
Immobiliser
Smart key system
K3(YDC)
2012-
Immobiliser
Smart key system
K2(QBC)
2011
Immobiliser
Smart key system
KX3
Smart key system
Type 1
Type 2
KX5
2016-
Immobiliser
KX7
2017-
Immobiliser
TD Koup
2009
Immobiliser
Smart key system
K3(YD)
2014-
Immobiliser
Smart key system
Picanto(Morning)
2006
Immobiliser
Petrol
Diesel
Rio
2007
Immobiliser
Cerato
2004-2006
Immobiliser
1.5L/2.0L(Diesel)
1.6L
2003
Immobiliser
Carens/Rondo(RP)
2014-
Immobiliser
Smart key system
Carens
2007-2008
Immobiliser
Petrol
Diesel
2006
Immobiliser
Petrol
Diesel
Type 1
Type 2
2003-2005
Immobiliser
Petrol
Diesel
Sportage
2006
Immobiliser
Diesel
Type 1
Type 2
2.0 CVVT
2.7 V6
2005
Immobiliser
Diesel
2.0 CVVT
2.7 V6
Optima(Magentis)
2007
Immobiliser
Petrol
Diesel
Carnival(Sedona)
2012-
Immobiliser
2007-2011
Immobiliser
Sorento
2015-
Immobiliser
Smart key system
2013-
Immobiliser
Smart key system
2009-
Immobiliser
Smart key system
2007-2008
Immobiliser
Petrol
Type 1
Type 2
Diesel
2006
Immobiliser
Diesel
2004-2005
Immobiliser
Diesel
2003
Immobiliser
Diesel
Mohave
2009
Immobiliser
Petrol
Smart key system
K5 HEV
2013-
Immobiliser
Smart key system
Cadenza(VG)
2012-
Immobiliser
Smart key system
2010-2011
Immobiliser
Smart key system
Cadenza F/L(VG F/L)
2013-
Immobiliser
Smart key system
Opirus(Amanti)
2007
Immobiliser
Australia
BORREGO
Immobiliser
2009-2012
CARENS
Immobiliser
petrol
diesel
CARNIVAL/SEDONA
Immobiliser
petrol
diesel
Type 1
Type 2
CERATO
Immobiliser
2003-2009
2009-2012
CLARIUS
1995-2000
JOICE
1999-2002
Immobiliser
Type 1
Type 2
MAGENTIS
Immobiliser
2001-2006
2006-2010
MENTOR
1995-2000
OPTIMA
Immobiliser
2001-2006
2006-2010
PICANTO
2003-2011
Immobiliser
PRIDE
1990-2004
Immobiliser
RETONA
1998-2011
Immobiliser
RIO
Immobiliser
2006-2011
SEDONA
Immobiliser
petrol
diesel
SEPHIA
1995-2000
Immobiliser
SHUMA
-2005
Immobiliser
SORENTO
2002-2008
Immobiliser
SOUL
-2010
Immobiliser
remote
SPORTAGE
Immobiliser
1999-2005
2005-2010
Smart key system
2011-
VISTO
1997-2007
Europe
AMANTI
2004-2006
2007-
Type 1
Type 2
BORREGO
2009-2012
Immobiliser
remote
CARENS
Immobiliser
2002-2004
petrol
diesel
2005
petrol
diesel
2006
petrol
diesel
Type 1
Type 2
Type 3
2007-2009
Type 1
Type 2
CARNIVAL
Immobiliser
2002
2003-2005
Type 1
Type 2
Type 3
2006-2014
petrol
diesel
remote
2006-2014
CEED
Immobiliser
-2011
Type 1
Type 2
2012-2014
Immobiliser
remote
2014-
Immobiliser
remote
CERATO
Immobiliser
2004-2005
petrol
diesel
2006-2009
petrol
diesel
Type 1
Type 2
2009-2012
petrol
diesel
CLARIUS
1995-2000
CREDOS K5
1995-2000
JOICE
1999-2002
Immobiliser
K2500
2004-2007
Immobiliser
2008-2011
Immobiliser
K2700
2004-2007
Immobiliser
2008-2011
Immobiliser
K3000
2004-2007
Immobiliser
2008-2011
Immobiliser
MAGENTIS
2000-2005
2006
2007-2009
Type 1
Type 2
Type 3
MOHAVE
2009-2012
Immobiliser
remote
MORNING
2004-2005
2006
petrol
diesel
2007
petrol
diesel
Type 1
Type 2
2008-
petrol
Type 1
Type 2
diesel
Type 1
Type 2
OPIRUS
2004-2006
2007-
Type 1
Type 2
OPTIMA
Type 1
Type 2
Type 3
PICANTO
Immobiliser
2004-2005
2006
petrol
diesel
2007
petrol
diesel
Type 1
Type 2
2008-2011
petrol
Type 1
Type 2
diesel
Type 1
Type 2
2012
Smart key system
with card slot
without card slot
remote
PREGIO
1997-2006
RIO
Immobiliser
2006-2011
2012
remote
RONDO
Immobiliser
2003-2004
petrol
diesel
2005
petrol
Type 1
Type 2
diesel
2006
petrol
diesel
Type 1
Type 2
2007-2009
Type 1
Type 2
remote
SEDONA
Immobiliser
2002
Type 1
Type 2
2003-2005
Type 1
Type 2
Type 3
Type 4
2006
petrol
diesel
Type 1
Type 2
2007-2008
Type 1
Type 2
SEPHIA
2001-2004
Type 1
Type 2
SHUMA
1999-2000
Type 1
Type 2
2001-2004
Type 1
Type 2
SPORTAGE
Immobiliser
2005
Type 1
Type 2
2006-2010
Type 1
Type 2
Type 3
2010-2014-
remote
SORENTO
2003-2006
diesel
2007-
petrol
Type 1
Type 2
diesel
Type 1
Type 2
Type 3
SOUL
2009-2013
Type 1
Type 2
2014
VENGA
2009
Immobiliser
remote
VISTO
1997-2007
Middle East
FORTE
2009
Immobiliser
remote
PICANTO
2012-
Immobiliser
South America
CARNIVAL
2010
remote
CERATO
2007
remote
MOHAVE
2007-
Smart key system
PICANTO
2003-2011
Immobiliser
remote
2012-
SOUL
2009-2011
Immobiliser
remote
SPORTAGE
2010-2013
Immobiliser
remote
2014-
Immobiliser
remote
North America
AMANTI
Immobiliser
2004-2007
2007-2009
remote
BORREGO
2009-2011
Immobiliser
remote
CADENZA/K7
2014-
Smart key system
FORTE
2009-2013
Immobiliser
remote
Smart key system
2014-
Immobiliser
remote
Smart key system
with card slot
without card slot
MAGENTIS
Immobiliser
-2008
2008-
OPTIMA
2007-2010
remote
2011-2013
Immobiliser
remote
Smart key system
with card slot
without card slot
2014-
Immobiliser
remote
Smart key system
RIO
2006-2011
Immobiliser
2012-2013
Immobiliser
remote
Smart key system
with card slot
without card slot
2014-2015
Immobiliser
remote
Smart key system
2016-
Smart key system
with card slot
without card slot
RIO 5
Immobiliser
2006-2011
Immobiliser
2012-
Immobiliser
RONDO
2007-2013
Immobiliser
remote
2014
Immobiliser
remote
Smart key system
SEDONA
Immobiliser
-2004
2005-2006
2006-2012
20015-
remote
Smart key system
SEDONA EX
2015
Smart key system
SPECTRA(CERATO)
Immobiliser
2004-2006
2007-2009
remote
SPECTRA
Immobiliser
2004-2006
2007-2009
remote
SPORTAGE
Immobiliser
-2005
2005-2006
Type 1
Type 2
2007-2008
Type 1
Type 2
2009-2011
Type 1
Type 2
2017
remote
Smart key system
2011-2016
with card slot
without card slot
2017
SORENTO
Immobiliser
2004-2005
2006
2006-2013
2014
remote
Smart key system
2010-2013
with card slot
without card slot
2014
SOUL
Immobiliser
2011-2013
2014-
remote
Smart key system
2011-2013
Select from type
Immobiliser
Type 1(CAN)
Type 2(CAN)
Type 3(CAN)
Type 4(CAN)
Type 5(K)
Type 6(K)
Type 7(K)
Type 8(K)
Type 9(K)
Type 10(K)
Type 11(K)
Smart key system
Type 1(with card slot)
Type 2(with card slot)
Type 3(with card slot)
Type 4(without card slot CAN)
Type 5(without card slot)
Type 6(without card slot CAN)
Remote
10 PIN
16PIN
Type 1
Type 2
Type 3
20 PIN//
Type 1
Type 2
KIA
Read PinCode
PinCode Calculator(-2007)
Read PinCode(46 Chip)
Select from vehicle
Africa
CERATO
2013
Immobiliser
remote
RIO
2012
Immobiliser
remote
Asia
Optima
2004-2007
Immobiliser
Forte
2009-2013
Immobiliser
Smart key system
Sportage(CHINA)
2008-2013
Immobiliser
2.0 CVVTAustralia
Type 1
Type 2
2.7 V6
Diesel
2014-
Immobiliser
Smart key system
Sportage R
2011
Immobiliser
Smart key system
Soul
2012-
Smart key system
K4
Smart key system
K5
2011-2013
Immobiliser
Smart key system
2014-
Immobiliser
Smart key system
K3(YDC)
2012-
Immobiliser
Smart key system
K2(QBC)
2011
Immobiliser
Smart key system
KX3
Smart key system
Type 1
Type 2
KX5
2016-
Immobiliser
KX7
2017-
Immobiliser
TD Koup
2009
Immobiliser
Smart key system
K3(YD)
2014-
Immobiliser
Smart key system
Picanto(Morning)
2006
Immobiliser
Petrol
Diesel
Rio
2007
Immobiliser
Cerato
2004-2006
Immobiliser
1.5L/2.0L(Diesel)
1.6L
2003
Immobiliser
Carens/Rondo(RP)
2014-
Immobiliser
Smart key system
Carens
2007-2008
Immobiliser
Petrol
Diesel
2006
Immobiliser
Petrol
Diesel
Type 1
Type 2
2003-2005
Immobiliser
Petrol
Diesel
Sportage
2006
Immobiliser
Diesel
Type 1
Type 2
2.0 CVVT
2.7 V6
2005
Immobiliser
Diesel
2.0 CVVT
2.7 V6
Optima(Magentis)
2007
Immobiliser
Petrol
Diesel
Carnival(Sedona)
2012-
Immobiliser
2007-2011
Immobiliser
Sorento
2015-
Immobiliser
Smart key system
2013-
Immobiliser
Smart key system
2009-
Immobiliser
Smart key system
2007-2008
Immobiliser
Petrol
Type 1
Type 2
Diesel
2006
Immobiliser
Diesel
2004-2005
Immobiliser
Diesel
2003
Immobiliser
Diesel
Mohave
2009
Immobiliser
Petrol
Smart key system
K5 HEV
2013-
Immobiliser
Smart key system
Cadenza(VG)
2012-
Immobiliser
Smart key system
2010-2011
Immobiliser
Smart key system
Cadenza F/L(VG F/L)
2013-
Immobiliser
Smart key system
Opirus(Amanti)
2007
Immobiliser
Australia
BORREGO
Immobiliser
2009-2012
CARENS
Immobiliser
petrol
diesel
CARNIVAL/SEDONA
Immobiliser
petrol
diesel
Type 1
Type 2
CERATO
Immobiliser
2003-2009
2009-2012
CLARIUS
1995-2000
JOICE
1999-2002
Immobiliser
Type 1
Type 2
MAGENTIS
Immobiliser
2001-2006
2006-2010
MENTOR
1995-2000
OPTIMA
Immobiliser
2001-2006
2006-2010
PICANTO
2003-2011
Immobiliser
PRIDE
1990-2004
Immobiliser
RETONA
1998-2011
Immobiliser
RIO
Immobiliser
2006-2011
SEDONA
Immobiliser
petrol
diesel
SEPHIA
1995-2000
Immobiliser
SHUMA
-2005
Immobiliser
SORENTO
2002-2008
Immobiliser
SOUL
-2010
Immobiliser
remote
SPORTAGE
Immobiliser
1999-2005
2005-2010
Smart key system
2011-
VISTO
1997-2007
Europe
AMANTI
2004-2006
2007-
Type 1
Type 2
BORREGO
2009-2012
Immobiliser
remote
CARENS
Immobiliser
2002-2004
petrol
diesel
2005
petrol
diesel
2006
petrol
diesel
Type 1
Type 2
Type 3
2007-2009
Type 1
Type 2
CARNIVAL
Immobiliser
2002
2003-2005
Type 1
Type 2
Type 3
2006-2014
petrol
diesel
remote
2006-2014
CEED
Immobiliser
-2011
Type 1
Type 2
2012-2014
Immobiliser
remote
2014-
Immobiliser
remote
CERATO
Immobiliser
2004-2005
petrol
diesel
2006-2009
petrol
diesel
Type 1
Type 2
2009-2012
petrol
diesel
CLARIUS
1995-2000
CREDOS K5
1995-2000
JOICE
1999-2002
Immobiliser
K2500
2004-2007
Immobiliser
2008-2011
Immobiliser
K2700
2004-2007
Immobiliser
2008-2011
Immobiliser
K3000
2004-2007
Immobiliser
2008-2011
Immobiliser
MAGENTIS
2000-2005
2006
2007-2009
Type 1
Type 2
Type 3
MOHAVE
2009-2012
Immobiliser
remote
MORNING
2004-2005
2006
petrol
diesel
2007
petrol
diesel
Type 1
Type 2
2008-
petrol
Type 1
Type 2
diesel
Type 1
Type 2
OPIRUS
2004-2006
2007-
Type 1
Type 2
OPTIMA
Type 1
Type 2
Type 3
PICANTO
Immobiliser
2004-2005
2006
petrol
diesel
2007
petrol
diesel
Type 1
Type 2
2008-2011
petrol
Type 1
Type 2
diesel
Type 1
Type 2
2012
Smart key system
with card slot
without card slot
remote
PREGIO
1997-2006
RIO
Immobiliser
2006-2011
2012
remote
RONDO
Immobiliser
2003-2004
petrol
diesel
2005
petrol
Type 1
Type 2
diesel
2006
petrol
diesel
Type 1
Type 2
2007-2009
Type 1
Type 2
remote
SEDONA
Immobiliser
2002
Type 1
Type 2
2003-2005
Type 1
Type 2
Type 3
Type 4
2006
petrol
diesel
Type 1
Type 2
2007-2008
Type 1
Type 2
SEPHIA
2001-2004
Type 1
Type 2
SHUMA
1999-2000
Type 1
Type 2
2001-2004
Type 1
Type 2
SPORTAGE
Immobiliser
2005
Type 1
Type 2
2006-2010
Type 1
Type 2
Type 3
2010-2014-
remote
SORENTO
2003-2006
diesel
2007-
petrol
Type 1
Type 2
diesel
Type 1
Type 2
Type 3
SOUL
2009-2013
Type 1
Type 2
2014
VENGA
2009
Immobiliser
remote
VISTO
1997-2007
Middle East
FORTE
2009
Immobiliser
remote
PICANTO
2012-
Immobiliser
South America
CARNIVAL
2010
remote
CERATO
2007
remote
MOHAVE
2007-
Smart key system
PICANTO
2003-2011
Immobiliser
remote
2012-
SOUL
2009-2011
Immobiliser
remote
SPORTAGE
2010-2013
Immobiliser
remote
2014-
Immobiliser
remote
North America
AMANTI
Immobiliser
2004-2007
2007-2009
remote
BORREGO
2009-2011
Immobiliser
remote
CADENZA/K7
2014-
Smart key system
FORTE
2009-2013
Immobiliser
remote
Smart key system
2014-
Immobiliser
remote
Smart key system
with card slot
without card slot
MAGENTIS
Immobiliser
-2008
2008-
OPTIMA
2007-2010
remote
2011-2013
Immobiliser
remote
Smart key system
with card slot
without card slot
2014-
Immobiliser
remote
Smart key system
RIO
2006-2011
Immobiliser
2012-2013
Immobiliser
remote
Smart key system
with card slot
without card slot
2014-2015
Immobiliser
remote
Smart key system
2016-
Smart key system
with card slot
without card slot
RIO 5
Immobiliser
2006-2011
Immobiliser
2012-
Immobiliser
RONDO
2007-2013
Immobiliser
remote
2014
Immobiliser
remote
Smart key system
SEDONA
Immobiliser
-2004
2005-2006
2006-2012
20015-
remote
Smart key system
SEDONA EX
2015
Smart key system
SPECTRA(CERATO)
Immobiliser
2004-2006
2007-2009
remote
SPECTRA
Immobiliser
2004-2006
2007-2009
remote
SPORTAGE
Immobiliser
-2005
2005-2006
Type 1
Type 2
2007-2008
Type 1
Type 2
2009-2011
Type 1
Type 2
2017
remote
Smart key system
2011-2016
with card slot
without card slot
2017
SORENTO
Immobiliser
2004-2005
2006
2006-2013
2014
remote
Smart key system
2010-2013
with card slot
without card slot
2014
SOUL
Immobiliser
2011-2013
2014-
remote
Smart key system
2011-2013
Select from type
Immobiliser
Type 1(CAN)
Type 2(CAN)
Type 3(CAN)
Type 4(CAN)
Type 5(K)
Type 6(K)
Type 7(K)
Type 8(K)
Type 9(K)
Type 10(K)
Type 11(K)
Smart key system
Type 1(with card slot)
Type 2(with card slot)
Type 3(with card slot)
Type 4(without card slot CAN)
Type 5(without card slot)
Type 6(without card slot CAN)
Remote
10 PIN
16PIN
Type 1
Type 2
Type 3
20 PIN
Type 1
Type 2
OBDSTAR H105 Hyundai & Kia Oodmeter Correction Car List:
Hyundai
Accent 24C16
Azera D70F3423
Elantra D70F3536
Gets 24C16
HB20 D70F3423
I20 24C16
I20 Elite
I25 24C16
Mistra
Sonata 9
Tucson 2016 D70F3536
Verna 24C16
Veloster 24C16
Infinite
JX35 2012-
QX60 2013-
Jaguar
F Series
XE Series
2015-
XJ Series
2010
Kia
Ceed
24C16
D70F3423
K4
K5
24C16
D70F3423
D70F3536
KX5
D70F3536
Magentis 24C16
Optima
24C16
D70F3536
Rio
24C16
2015 D70F3423
Sorento
24C16
D70F3423
D70F3536
Soul 24C16
Sportage
24C16
D70F3536
Sportage R
24C16
D70F3423
D70F3536