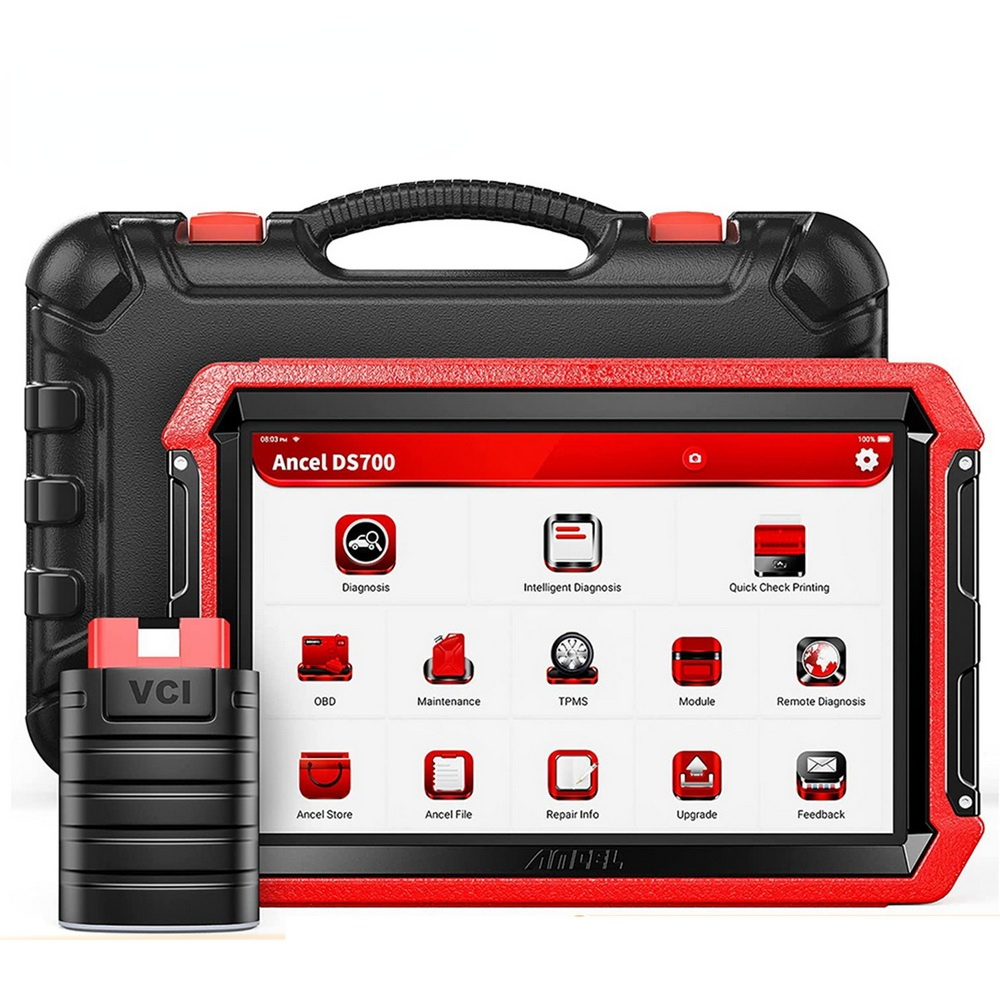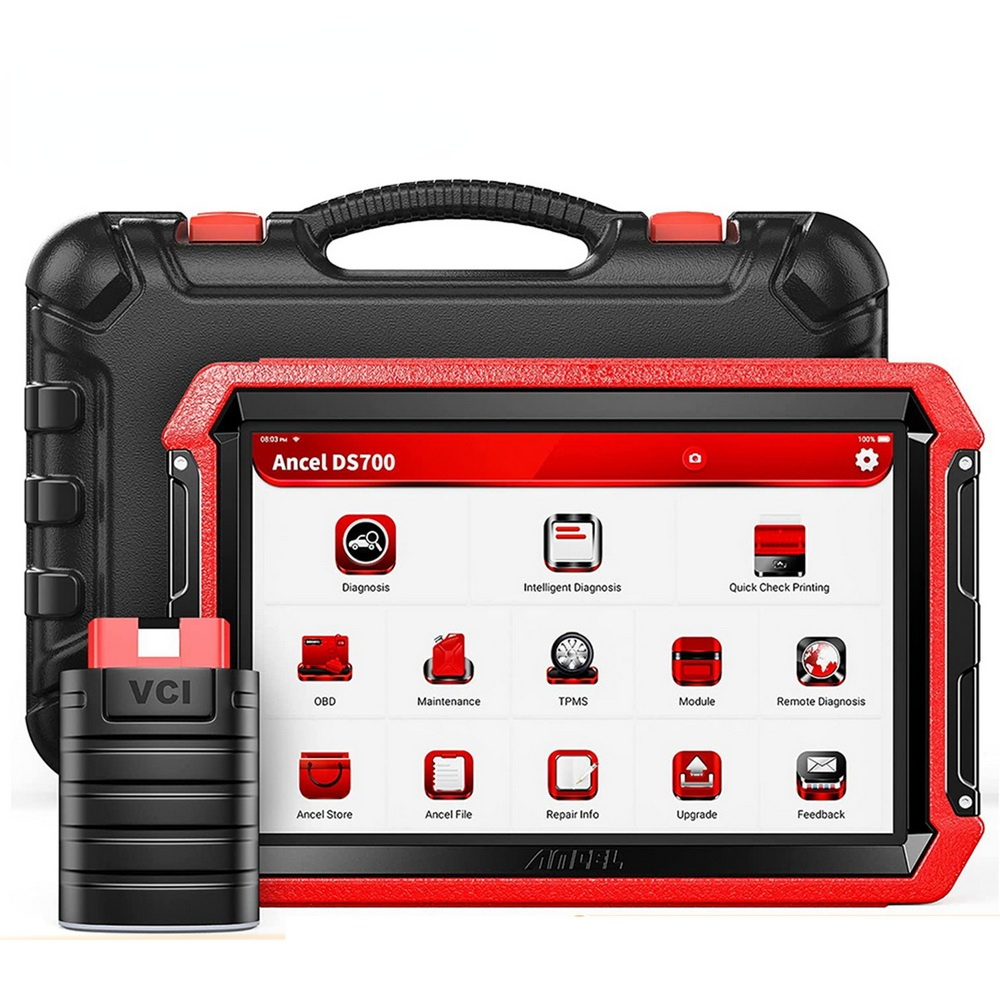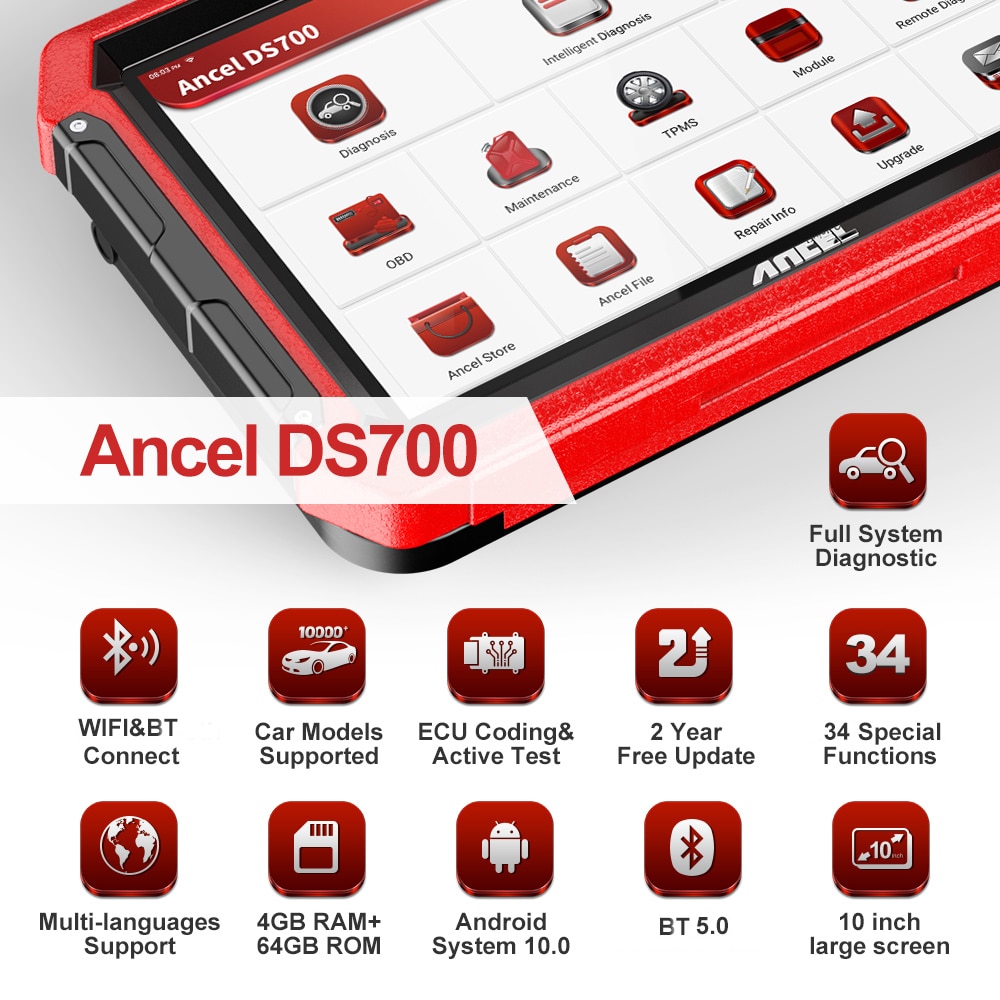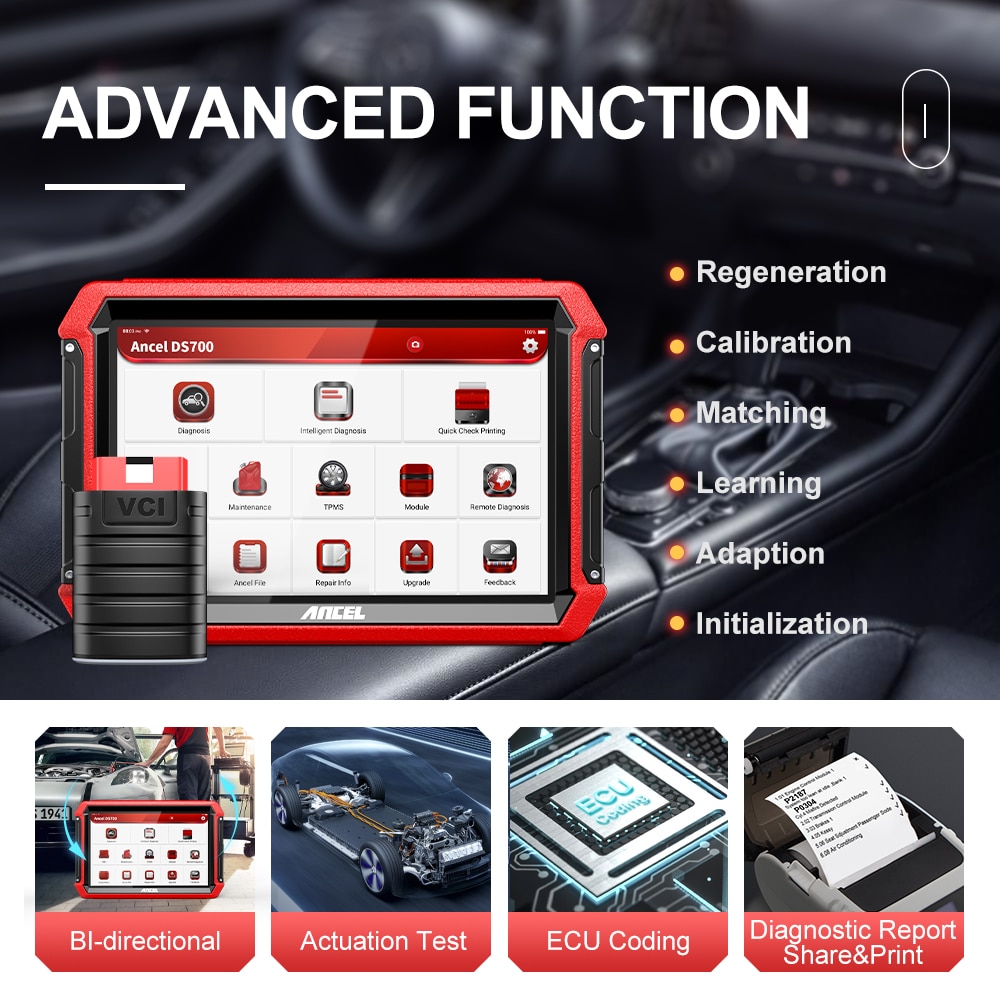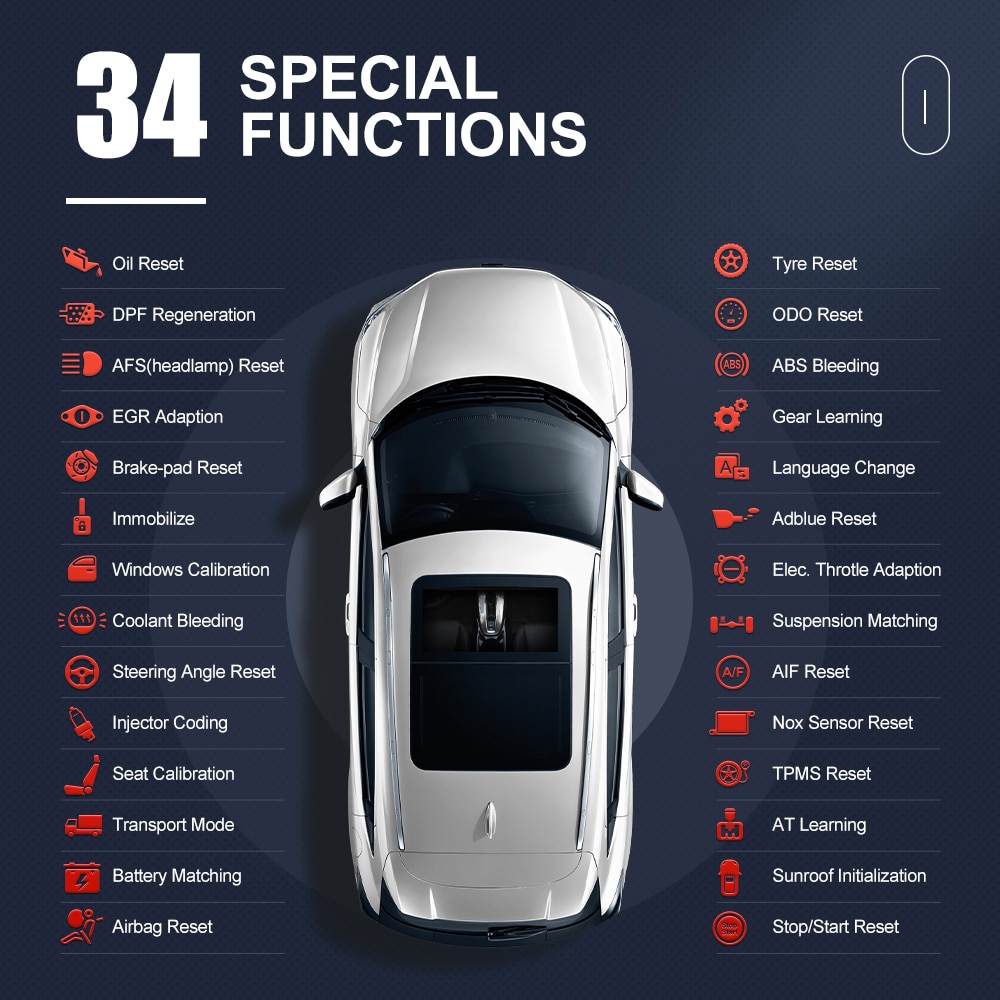 ANCEL DS700 OBD2 Diagnostic Tools Professional Full System Bi-Directional Control AF Adjust DPF Injector TPMS Automotive Scanner
ANCEL DS700 OBD2 Diagnostic Tools Professional Full System Bi-Directional Control AF Adjust DPF Injector TPMS Automotive Scanner, wholesale ANCEL DS700 OBD2 Diagnostic Tool, buy ANCEL DS700 OBD2 Diagnostic Tool from Ukobd2.com
Shipping:

Express Shipping Service


Estimated delivery time:

3-15

working days.

See details »

Returns:

Return for refund within 7 days,buyer pays return shipping.

Read details »

Support:
Related Accessories/Similar Items
Product Details

Product's Reviews
ANCEL DS700+ Full System Car Diagnostic Scan Tool Automotive Scanner Tablet Wifi Bluetooth-compatible with 34+ Special Functions ECU Coding Bi-directional + 2 Year Free Update Online + Android 10.0 + Multi Languages Supported + 4GB RAM+64GB Storage
ANCEL DS700,based on the Android 10 System,is a new generation of modular high-end intelligent diagnostic equipment developed by ANCEL,featuring fully updated software's and powerful design of widespread vehicle coverage, abundant professional diagnostic features and exceptional hardware configuration etc., is the ideal scanner for professional mechanics and auto repair stores to perform all-around fixes and comprehensive tests.
ANCEL DS700 OBD2 Full System Diagnostic Scanner Professional
To diagnose car comprehensively, ANCEL DS700 scanner can read DTCs and data streams, perform active test, Coding for ALL systems.
For instance: Engines/Auto Transmission/Airbags/Immobilizer/Key Coding
ABS/Cruise Control/Instruments/ Self Leveling Suspension systems/Seats
Doors/Gateway/Steering Angle/Air Suspension/Body Systems/Electronic Power Steering & Motor Assisted
Power Steering/Tyre Pressure/Rain Sensors/4WD System/Stabilizer/Intelligent Parking Assist
Door Motors/Audio Systems/Air Conditioning/Tiptronic/Anti Theft/Soft Top/Headlamp Leveling
Central Locking/Automatic Clutch/ DPF Reset/Electric Windows/Plip Programming/Heated Rear Window
Xenon Headlights/Wash Wipe/Fuel Burning Heater/Transfer Box/Seat Memory/Oil Life Service Reset/Sliding Doors
Electronic Throttle/Navigation System/Rollover Sensor/Cruise Control/ Multi Function Steering Wheel
Aux Heating/Electronic Parking Brake/Clutch Electronics, ....etc.
ECU Coding and Active Test(Bi-directional)
This diagnostic tablet supports
ECU coding
function on a large amount of makes, including for
BENZ
, for
FORD
and more. It also supports quick diagnosis via one-button VIN scanning.
Active test(Bi-directional)
is used to test whether the execution components in the electronic control system can work normally.
Actuation Test Menu:A/C Compressor Clutch Relay/Autostart&Autostop/Camshaft Position Actuator System/Cooling Fan/Engine Oil Pressure Control Solenoid Valve/EVAP System/Fuel System/Heater Coolant Pump/Instument Panel Indicators/Service Bay Tests/Active Grille Air Shutter System/Auxiliary Coolant Pump/Compression Test/Engine Controls Ignition Relay/Engine Speed&Throttle/Fuel Control Loop Status/Generator L-Terminal/Ignition Timing/Oxygen Sensor Heaters/Starter Pinion Solenoid Actuator Relay,.......etc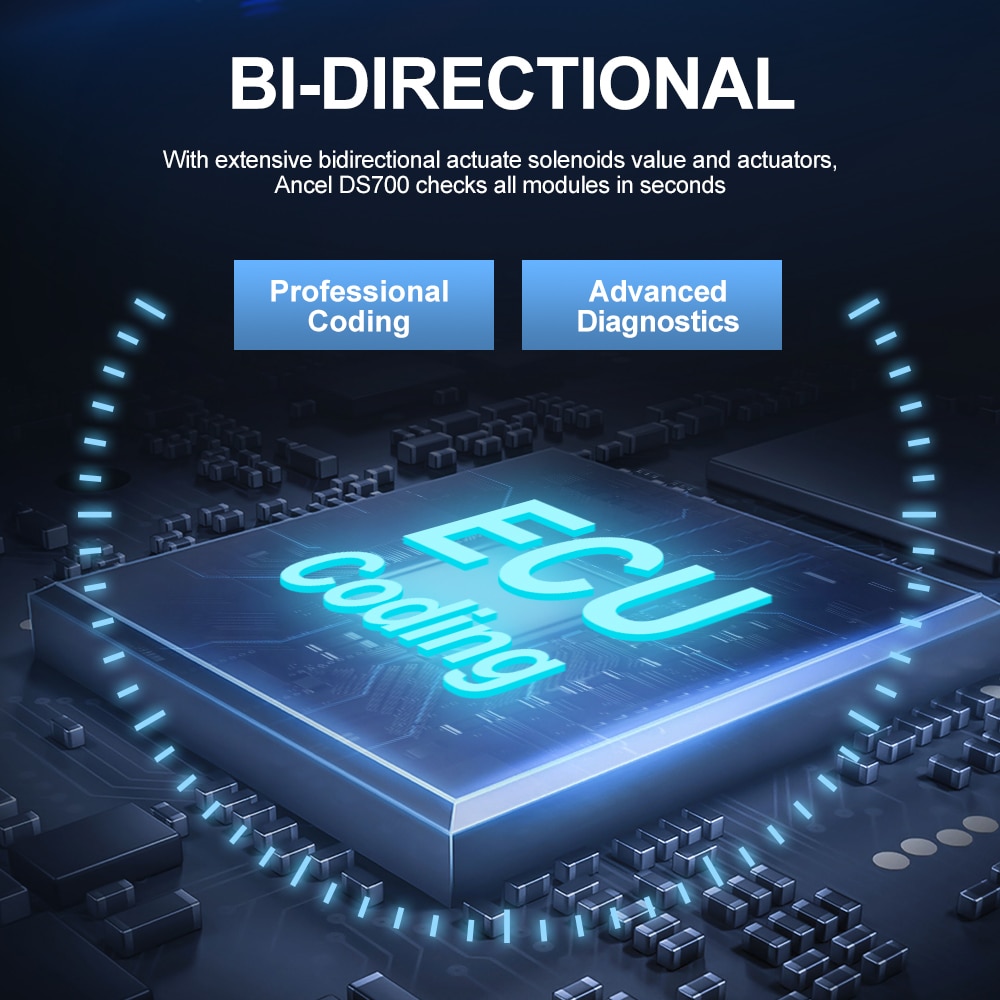 For 2017 and later FCA Vehicles with Secure Gateway Module (SGW)
Register with AutoAuth to enable your ANCEL DS700 tablet to communicate with the FCA SGW Authentication System and bypass the SGM, so as to perform diagnostics and bi-directionals without using a bypass cable
Multi-languages Support
Italian, English,German, Japanese, Russian, French, Spanish, Portuguese, polish, Turkish, Dutch, Greek, Hungarian, Arabic, Danish, Korean, Persian, Romania, Serbia, Finnish, Swedish, Czech,Chinese(traditional)
ANCEL DS700 Support 34+ Special Functions
1.Oil Reset
The lightening of the car maintenance light indicates that the vehicle needs maintenance.Reset the mileage or driving time to zero after the maintenance,so the maintenance light will go out and the system will start a new maintenance cycle.

2.DPF Regeneration
DPF Regeneration is used to clear PM(Particulate Matter)from the DPF filter through continuous coMBustion oxidation mode(such us high temperature heating conbustion,fuel additive or catalyst reduce PM ignition conbustion)to stabilize the filter perfornance.
DPF regeneration may be performed in the following cases:
a)The exhaust back pressure sensor is replaced.
b)The PM trap is removed or replaced
c)The fuel additive nozzle is removed or replaced
d)The cataytic oxidizer is removed or replaced.
e)The DPF regeneration MIL is on and maintenance is performed.
f)The DPF regeneration control module is replaced.

3.AFS(headlamp) Reset
The feature is used to initialize the adaptive headlamp system.According to the aMBient light intensity,the adaptive headlamp system may decide whether to automatically turn on the headlamps,and timely adjust the headlamp lighting angle while monitoring the vehicle speed and body posture.

4.EGR Adaption
This function is used to learn the EGR(Exhaust Gas Recirculation)valve after it is cleaned or replaced.

5.Brake-pad Reset
If the brake pad wears the brake pad sense line,the brake pad sense line sends a signal sense line to the on-board computer to replace the brake pad.After replacing the brake pad,you must reset the brake pad.Otherwise,the car alarms.
Reset must be performed in the following cases:
a)The brake pad and brake pad wear sensor are replaced.
b)The brake pad indicator lamp is on.
c)The brake pad sensor circuit is short,which is recovered.
d)The servo motor is replaced.

6.IMMO Service
To prevent the car being used by unauthorized keys,the anti-theft key matching function must be performed so that the immoblizer control system on the car identifies and authorizes remote control keys to normally use the car.When the ingnition switch key,ignition switch,coMBined instrument panel,ECU,BCM,or remote control battery is replaced,anti-theft key matching must be performed.

7.Windows Calibration
This feature is designed to perform door window matching to recover ECU initial memory,and recover the automatic ascending and descending function of power window.

8.Coolant Bleeding
Use this function to activate the electronic water pump before venting the cooling system.

9.Steering Angle Reset
To reset the steering angle,first find the relative zero point position for the car to drive in straight line.Taking this position as reference,the ECU can calculate the accurate angle for left and right steering.After replacing the steering angle position sensor ,replacing steering mechanical parts(such as steering gearbox,steering column,end tie rod,steering knuckle),performing four-wheel alignment,or recovering car body,you must reset the steering angle.

10.Injector Coding
Writing injector actual code or rewrite code in the ECU to the injector code of the corresponding cylinder so as to more accurately control or correct cylinder injection quantity.After the ECU or injector is replaced,injector code of each cylinder must be confirmed or re-coded so that cylinder can better indentify injectors to accurately control fuel injection.

11.Seat Calibration
This function is applied to match the seats with memory function that are replaced and repaired.

12.Transport Mode
In order to reduce power consumption,the following functions may be disabled,including limiting the vehicle speed,not waking up the door opening network,and disabling the remote control key,etc.At this time,the transport mode needs to be deactivated to restore the vehicle to normal.

13.Battery Matching
This function enables you to perform a resetting operation on the monitoring unit of vehicle battery,in which the original low battery fault information will be cleared and battery matching will be done.
Battery matching must be performed in the following cases:
a)Main battery is replaced.Battery matching must be performed to clear original low battery information and prevent the related control module from detecting false information.If the related control module detects false information,it will invalidate some electric auxiliary functios,such as automatic start&stop function,sunroof without one-key trigger function,power window without automatic function.
b)Battery monitoring sensor.Battery matching is performed to re-match the control module and motoring sensor to detect battery power usage more accurately,which can avoid an error message displaying on the instrument panel.

14.Airbag Reset
This function resets the airbag data to clear the airbag collision fault indicator.When the vehicle collides and the airbag deploys,the corresponding fault code of the colision data appears,the airbag indicator lights up,and the fault code can't be cleared.Since the data inside the airbag computor is disposable,it is required that all new accessories must be ewplaced,but after performing this function,the data of the airbag computer can be recovered and the fault code can be cleared,the airbag light will go out,and the airbag computer can continue to use.

15.Tyre Reset
This function is used to set the size parameters of the modified or replaced tire.

16.Cluster Reset
a)cluster reset is to copy,write,or rewrite the value of kilometers in the chip of cluster by using a car diagnostic computer and data cable,so that the cluster shows the actual mileage.
b)Usually when the mileage is not correct due to the damaged vehicle speed sensor or cluster failure,it is necessary to do cluster reset after maintenance.
17.ABS Bleeding
When the ABS contain air,the ABS bleeding function must be performed to bleed the brake system to restore ABS brake sensitivity.If the ABS computer,ABS pump,brake master cylinder,brake cylinder,brake line,or brake fluid is replaced,the ABS bleeding function must be performed.
18.Gear Learning
The crankshaft position sensor learns crankshaft gear machining tolerance and saves to the computerto more accurately diagnose engine misfires. lf gear learning is not performed for a car equipped withDelphi engine, the MlL turns on after the engine is started.The diagnostic device detects the DTC P1336'gear not learned'. In this case, you must use the diagnostic device to perform gear learning for the car.After gear learning is successful, the MIL turns off. After the engine ECU, crankshaft position sensor, orcrankshaft flywheel is replaced, or the DTC 'gear not learned" is present, gear learning must be performed.
19.Language Change
This function is used to change the system language of the vehicle central control panel.

20.Adblue Reset
After the diesel exhaust treatment fluid (car urea) is replaced or filled up,urea reset operation is required.

21.Elec. Throtle Adaption
Elec. Throttle Adaption is to utilize the car decoder to initialize the throttle actuator so that the learningvalue of the ECU returns to the initial state.By doing these, the movement of the throttle (or idle motor)can be more accurately controlled, thus adjust the intake volume.

22.Suspension Matching
This function can adjust the height of the body.When replacing the body height sensor in the air suspension system,or coontrol module or when the vehicle level is incorrect,you need to perform this function to adjust the body height sensor for level calibration.

23.A/F Reset
This function is applied to set or learn Air/Fuel ratio parameters.

24.Nox Sensor Reset
Nox sensor is a sensor used to detect the content of nitrogen oxides (NOx)in engine exhaust.If the NOx fault is re-initialized and the NOx catalytic converter is replaced,it is necessary to reset the catalytic converter learned value stored in the engine ECU.

25.TPMS Reset
After the tire pressure MIL turns on and maintenance is performed, the tire pressure resetting functionmust be performed to reset tire pressure and turn off the tire pressure MIL.Tire pressure resetting mustbe performed after maintenance is performed in the following cases: tire pressure is too low, tire leaks, tirepressure monitoring device is replaced or installed, tire is replaced, tire pressure sensor is damaged,andtire is replaced for the car with tire pressure monitoring function.

26.A/T Learning
This function can complete the gearbox self-learning to improve gear shifting quality. When the gearbox isdisassembled or repaired (after some of the car battery is powered off), it will lead to shift delay or impactproblem. In this case, this function needs to be done so that the gearbox can automatically compensateaccording to the driving conditions so as to achieve more comfortable and better shift quality.

27.Sunroof Initialization
This function can set the sunroof lock off,closed when it rains,sliding/tilting sunroof memory function,temperature threshold outside the car etc.

28.Stop/Start Reset
This function is used to open or close the automatic start-stop function via setting the hidden function in ECU(provided that the vehicle has a hidden function and supported by hardware)

And many more......
12 in One Graphic Data Stream(12 Data Graphs shows in the Same Screen)
1.Combine: Displayed in graph merge status for data comparison.
2.Value: Displayed the parameters in values and shown in list format.
3.Customize: Customize the data stream option to be viewed. Tap the button, a pull-down list of the data stream items appears on the screen. Select the desired items (max12 items), and then screen will display the waveforms corresponding to these items immediately. If need to remove any items, just deselect them.
TPMS Diagnostics(Need to purchase tool to do it)
ANCEL DS700 can work with wireless tire pressure diagnostic tool to achieve the feature of TPMS activation,programming and learning.
The other function of ANCEL DS700
Auto read VIN number: It can read VIN information automanually when you connect Car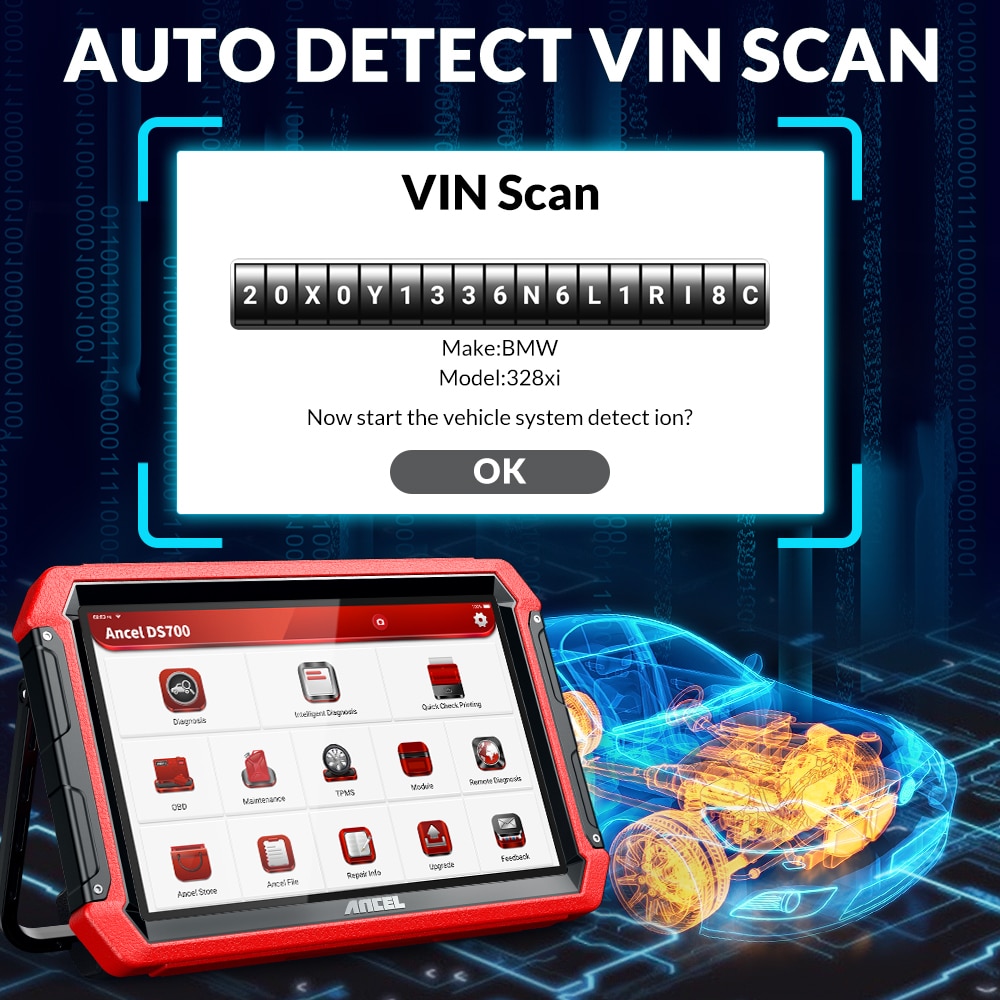 Quickly Print Diagnostic Report:Print the diagnostic report of your car at any time
Two way print:
1.Transfer the diagnostic report to the computer via USB, and then print it
2.Use ANCEL printer to print directly (need to purchase a printer separately)
Diagnostic Feedback:
When you encounter unsolvable problems or diagnostic software bugs during diagnosis,you can revert the most recent 20 test records to ANCEL Team.When we receive your feedback,we will analyze and troublshoot it in a timely manner,to improve the quality of our products and user experience.(please contact with us after leaving feedback,thank you)
How To Register ANCEL DS700 :
Step 1 :Setting language & Time Zone , Connect WIFI
Step 2 :Agree the Register term
Step 3 :Register an account with your Email box
Step 4 :VCI Activate - Enter the serial number and Password to activate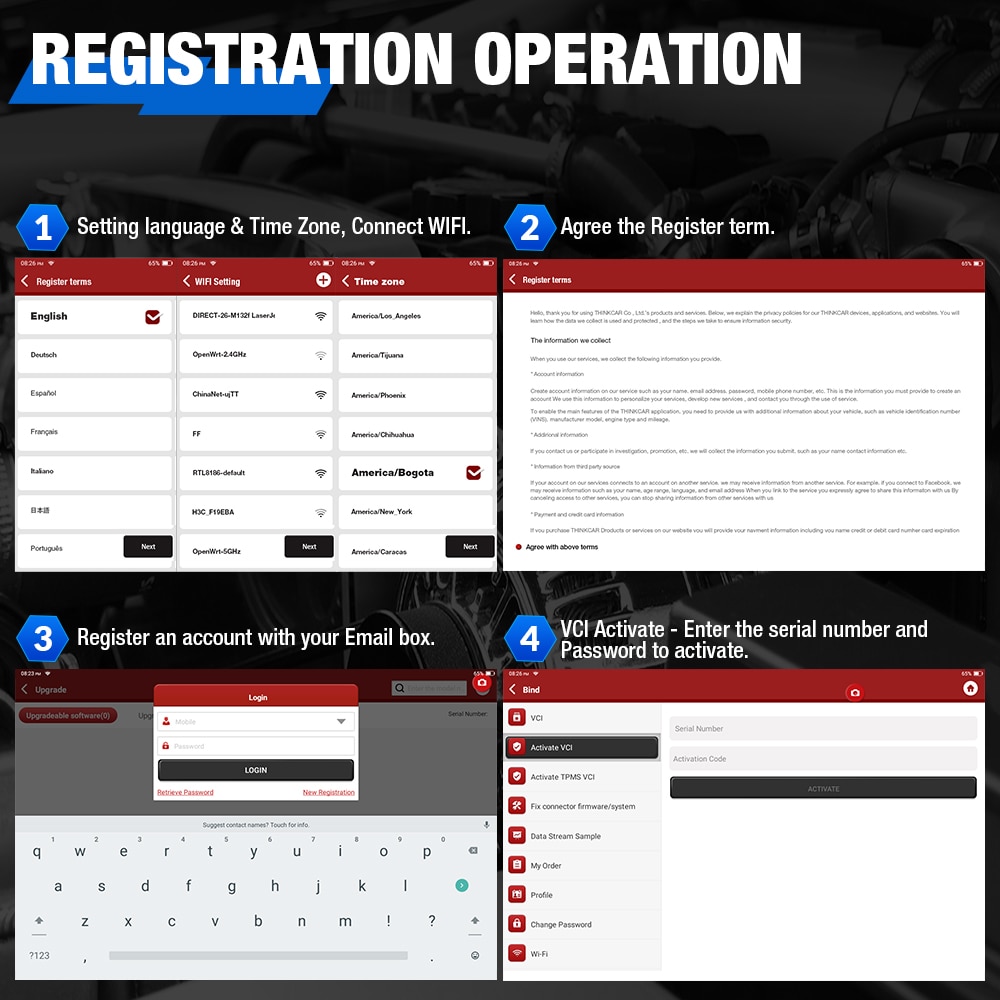 Remote Technical Support
By using this function, users can receive ad-hoc remote support from ANCEL's technical engineers, colleagues, or friends, by allowing them to control this tablet device on their PC via the TeamViewer software.
Supports 10000+ car models from America, Europe, Asia (Including Russian car models, Chinese car models, Indian car models, Malaysian car models, Australian car models, Brazilian models, Latin American models and other national car models)
American:for BUICK,for CADILLAC,for CHEVROLET,
for CGRYSLER,for DODGE,for FORD
for GM,for JEEP,for LINCOLN

European:for ABARTH,for ALFA ROMEO,for ASTON MARTIN
for AUDI,for BENTLEY,for BMW
for BUGATTI,for CITROEN,for DACIA
for DR,for FORD(EUROPE),for FERRARI
for FIAT,for GAZ,for OPEL(SOUTH AFRICA)
for IVECO,for IZH,for JAGUAR
for LAMBORGHINI,for LANCIA,for LAND ROVER
for MASERATI,for MAYBACH,for mercedes-BENZ,
for MINI,for OPEL,for PAZ
for PEUGEOT,for PORSCHE,for RENAULT
for ROLLS ROYCE,for ROVER,for SAAB
for SEAT,for SEAZ,for SKODA
for SMART,for SPRINTER,for VAUXHALL
for VOLVO,for VW

Asian:for ACURA,for DAEWOO,for DAIHATSU
for HONDA,for HYUNDAI,for IKCO
for INFINITI,for ISUZU,for KIA
for LEXUS,for LUXGEN,for MAHINDRA
for MARUTI,for MAZDA,for MITSUBISHI
for MVM,for NISSAN,for GTR(NISSAN)
for PERODUA,for PROTON,for SAMSUNG
for RENAULT SAMSUNG,for SAIPA
for SSANGYONG,for SUBARU,for SUZUKI
for TATA,for ISUZU(THAILAND),for TOYOTA
for UNITED PAKISTAN

Chinese:for SENOUA(BAIC),for WEIWANG(BAIC),for BJEV
for BAIC,for BRILLIANCE,for BYD
for CHANGAN,for CHANGHE,for BUICK(CHINA)
for CHERY,for CHANCHE SUZUKI
for DFCITROEN,for ECUAID,for FAW(TIANJIN,
for FOTON,for GEELY,for JINLONG
for GONOW,for GWM,for HAFEI
for HAIMA,for JAC,for JAC REFINE
for SHIERAY,for JMC,for JOYLONG
for LIFAN,for MG(SAIC),for QOROS
for MAXUS,for SGM,for SOUEAST
for SPARK,for SGMW,for DFSK
for XINKAI,for POLARSUN,for ZX AUTO,for ZOTYE
Russian
:for UAZ,for VAZ,for ZAZ
Brazil:for Fiat,for GM
Malaysia:for PERODUA,for PROTON
India:for MARUTI,for MAHINDRA,for TATA
Austrilia:for HOLDEN,for FORD
Key Analysis
1.10 inch display
2.Power Key
Press and hold it for 3 seconds to turn it off
Press and hold it for 8 seconds to perform forced shutdown
Press it once to activate or turn off the device
3. Type C Charging Slot:connect the suppiled charger for charging
4. USB Port:Reserved for add-on modules and other device with similar port
5. Rear Camera
6. Speaker
7.Backplane:remove the backplane of the tablet,and install function modules on the backend
8.PIN:Used for communication between the function expansion module and the host
9.Adjustable Kickstand:Flip out it to 180-degree angle and work comfortable at your desk,or hang it on automotive part
10.Rubber Protection Sheet
Product Parameters
Operating System: Android 10
Camera:Rear camera 8.0MP
Memory:4G
Network:Wi-Fi, WL AN 802. 11b/g/n
Storage:64G
Bluetooth-compatible: Bluetooth-compatible 5.0
Battery: 6000mAh/7.6V
Working Temperature: 0°C ~ 50°C
Screen: 10 inches
Storage Temperature:-20°C ~ 60°C
Product Detail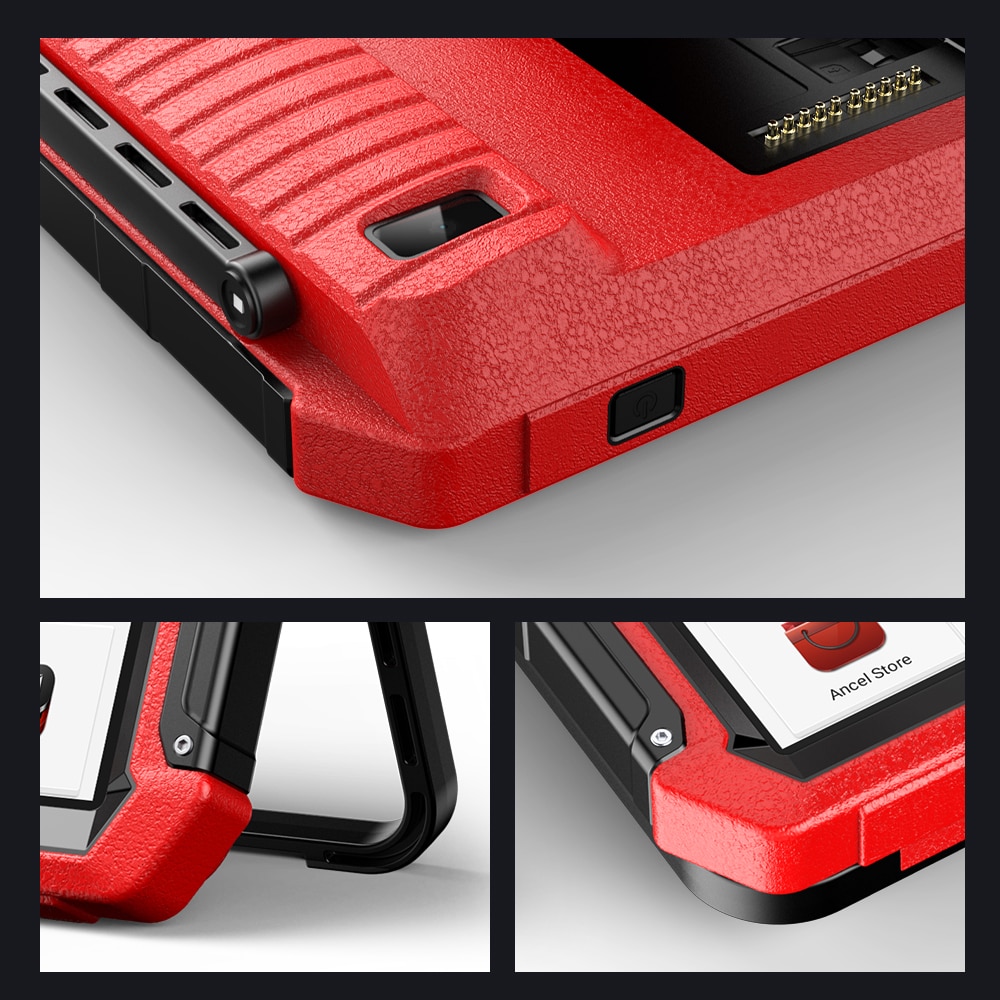 1*Carton
1*Plastic box
1*Main Tablet
1*NN-14+16
1*OBD1 Adaptor
1*Xigeartt Lighter Cable
1*OBD2 16 pin main cable
1*power cable clips
1*for BENZ-38
1*M/H-12+16
1*USB-type C
1*For Fiat-3
1*USB-Micro
1*TA-17
1*HA-3
1*CR-6
1*TA-22
1*G/V+12
1*VCI BT Adaptor
1*Three-Seater Plug
1*For BMW-20
1*CN Plug
1*EU Plug
2*5A250V Fuse
4*5JF5AL250V Fuse
1*Instruction
1*Password Paper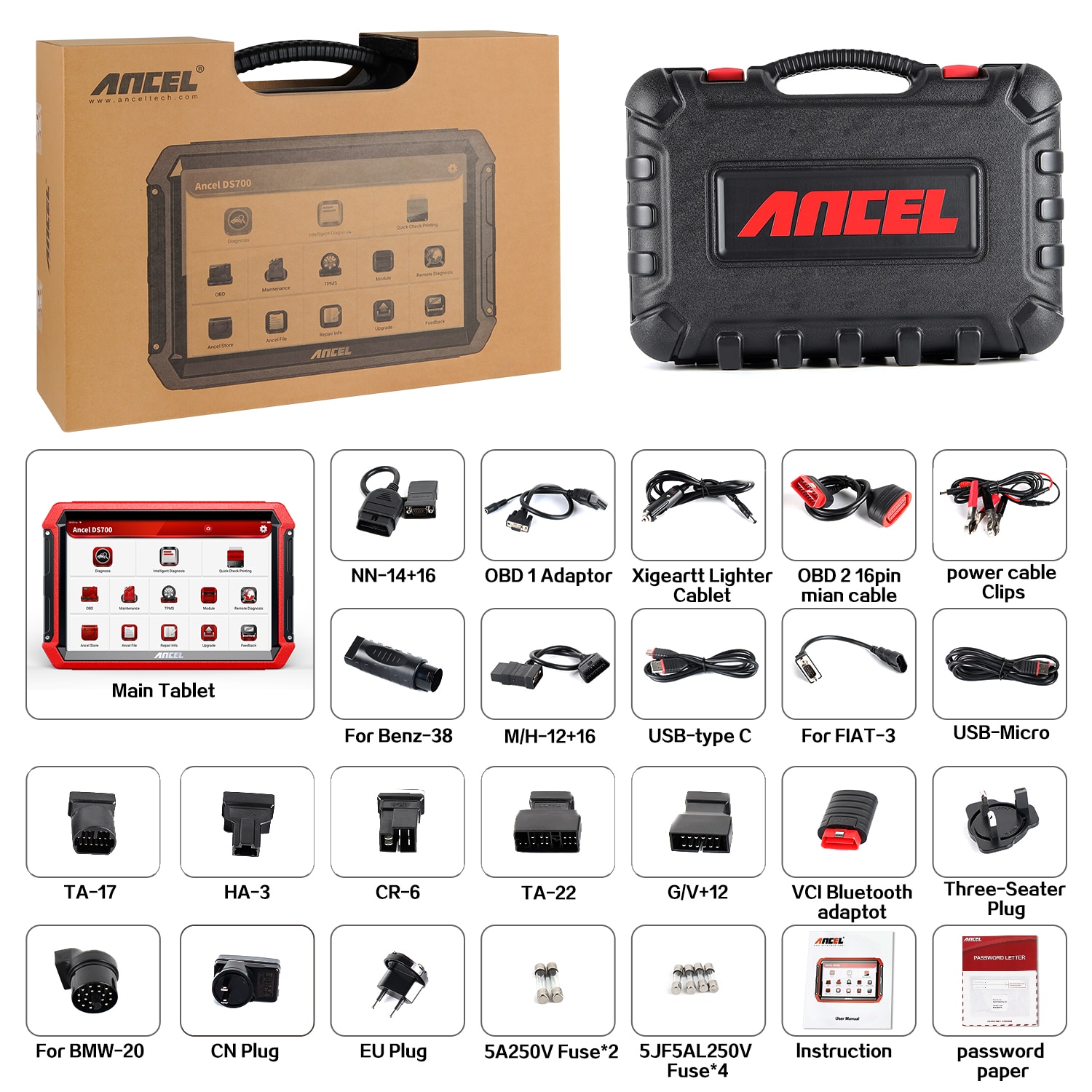 FQA
Q:Is the device updated for free? Will the product still work if it is not updated?
A:ANCEL DS700 support 2 year free update,if you don't update it,it will still work normally

Q:Do I need to pay taxes?
A:It depends on your local customs
Q:Whether to support all brands?
A:ANCEL DS700 support 10000+car models,it fit for Brazil,Malaysia,Chinese,US,Russian,EU cars
Q:Whether to support trucks?
A:No,our store have X6 HD and X7 HD to support trucks.
Q:Whether to support ECU Programming?
A:Yes,please provide us with the specific model and release year, we will check it for you
Q:Whether to support key programming and adjust mileage?
A:It support IMMO service and cluster reset,if you want deeper functions, you could check DP500 in our store
Q:Whether to support installment payment?
A:Currently only Brazil support it
Q:What is the difference between ANCEL DS700 and Thinkcar Thinktool pros?
A:DS700 support 23 languages,Thinktool pros support 8 languages