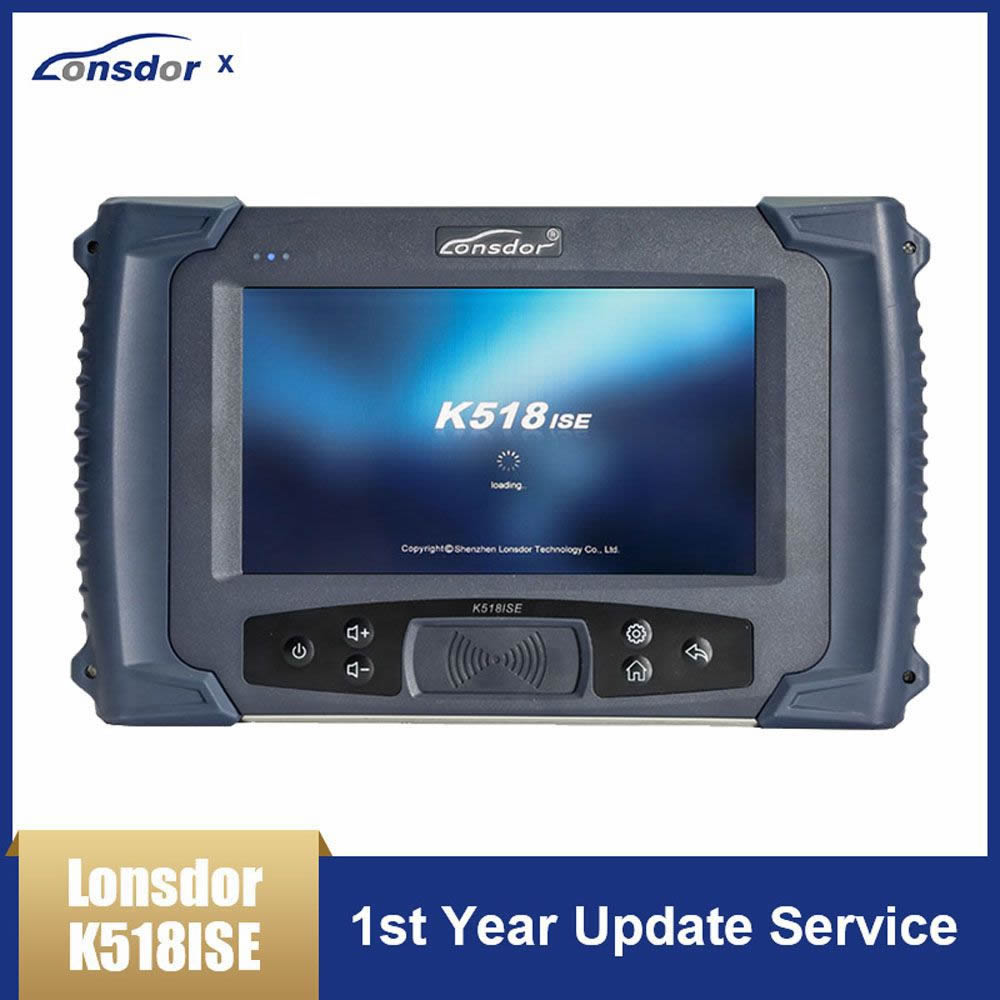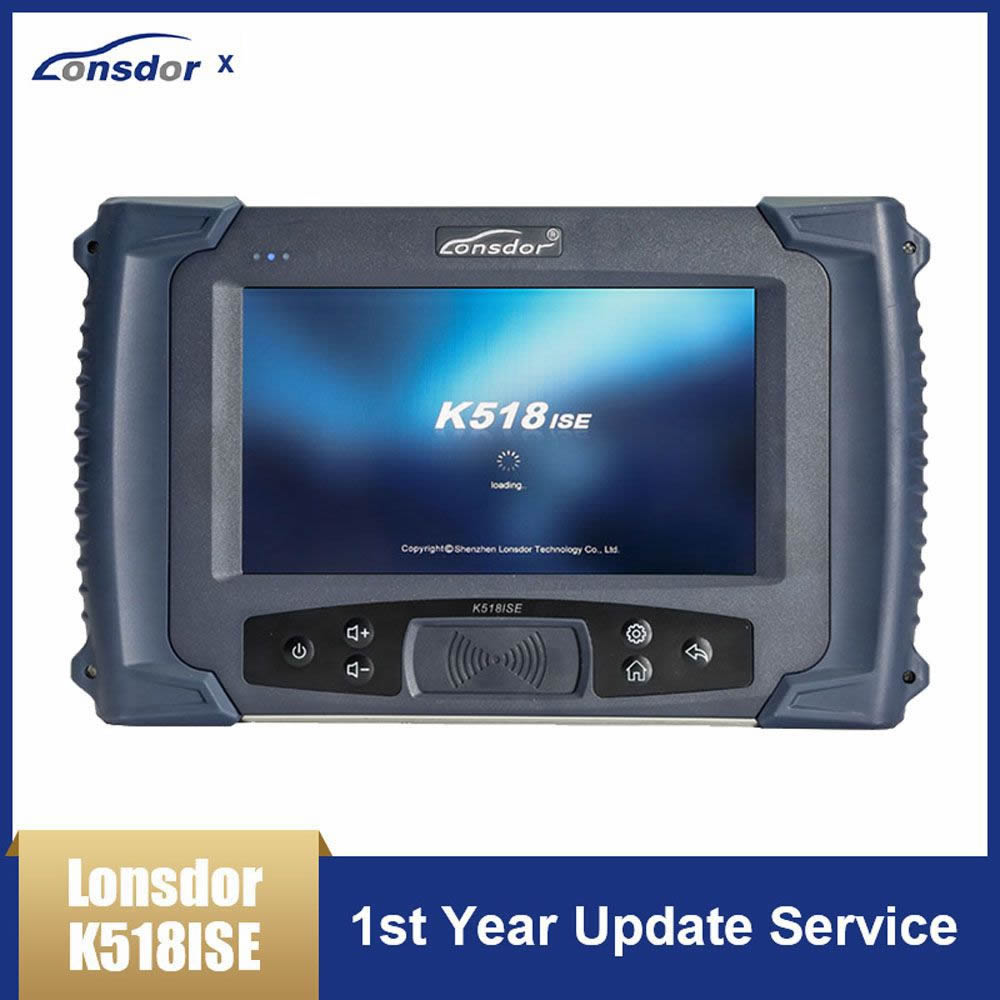 Lonsdor K518ISE One Year Update Subscription First Time
Lonsdor K518ISE First Time One Year Update Subscription (For Some Important Update Only).Please buy this service when you pay the subscription for Lonsdor K518ISE the first time.
Price:

US$999.00

/

piece
Discount Price:
Shipping:

Airmail Post


Estimated delivery time:

7-45

working days.

See details»

Returns:

Return for refund within 7 days,buyer pays return shipping.

Read details »

Support:
Related Accessories/Similar Items
Product Details

Product's Reviews
Lonsdor K518ISE First Time One Year Update Subscription

Lonsdor K518ISE Latest Update Policy:

Menus are divided into two parts: free menus and subscribed menus.
1. Free menus are free for lifetime.
2. Subscribed menus can be used free for 365 days. You need to pay for them after the trial period. After the trial period, subscribed menus will not work properly if you don't pay. And the menus will disappear after updating the device.
Lonsdor K518ISE First Time Update Service ($480)
Lonsdor K518ISE Second Time Update Service ($400)
Lonsdor K518ISE Third Time Update Service ($220)A. 365 days is a period and the price is $480 per period. One year period starts from the day of the trial period finished.
B. Purchase menus with a dealer. You can use the menus normally and permanently after payment.
C. Menus which you purchase includes subscribed menus that have been released and that will have been released in one year period.
D. Subscribed menus beyond one year period requires extra payment.
Lonsdor K518ISE
October 2018 upgrade adds lots of American, European, Asian cars, especially EU
VW
Skoda,
Renault
, Dacia, Fiat and some new china car brands.
The car list in PDF marked Black can be updated for Free. For cars marked Red enjoy 180 days free trail. You need to subscribe to use later.
If you don't need these newly updated car models. You don't need to pay for service, your tool will go back to normal.

Paying the subscription, you can update following vehicle models (keep updating):

Lonsdor K518ISE Update Car List Download
The car list in PDF marked Black can be updated for Free.

For cars marked Red enjoy 180 days free trail. You need to subscribe to use later. If you don't need these newly updated car models. You don't need to pay for service, your tool will go back to normal.American Brands:
MERCURY
MERCURY \Cougar\1999-2002\Immobilizer Read key count,Program key,Delete key,
MERCURY\Gr.Marqui\03 -04\Immobilizer Read key count,Program key,Delete key,
MERCURY\Gr.Marqui\2005 -2010\Immobilize Read key count,Program key,Delete all keys,
MERCURY \M.Taineer[PCM]\01 -04\Immobilizer Read key count,Program key,Delete key
MERCURY\M.Taineer\2004 -2005\Immobilizer Read key count,Program key,Delete all keys,
MERCURY\M.Taineer\2006 -2009\Immobilizer Read key count,Program key,Delete all keys
MERCURY\M.Taineer\2010 -\Immobilizer Read key count,Program key,Delete key
MERCURY\Marauder\2003 -2005\Immobilizer Read key count,Program key,Delete key
MERCURY\Mariner\2005 -2007\Immobilizer Read key count,Program key,Delete all keys,
MERCURY\Mariner\2008 -2009\Immobilizer Read key count,Program key,Delete all keys,
MERCURY\Mariner\2010 -\Immobilizer Read key count,Program key,Delete key
MERCURY\Milan\2006 -2009\Immobilizer Read key count,Program key,Delete all keys
MERCURY\Milan\2010 -\Immobilizer Read key count,Program key,Delete key,
MERCURY\Montego\2005 -2006\Immobilizer Read key count,Program key,Delete all keys
MERCURY \Montego\2007-\Immobilizer Read key count,Program key,Delete all keys
MERCURY\Monterey\2004 -2005\Immobilizer Read key count,Program key,Delete key,
MERCURY\Monterey\2006 -2007\Immobilizer Read key count,Program key,Delete all keys
MERCURY\Sable\2000 -2003\Immobilizer Read key count,Program key,Delete key
MERCURY\Sable\2004 -2007\Immobilizer Read key count,Program key,Delete all keys,
MERCURY\Sable\2008 -\Immobilizer Read key count,Program key,Delete all keys
BUICK
BUICK\GL8\2017-\Smart key\Type 2(2.5L) All smart key lost,Add smart key,Read smart key count,Clear fault code,
BUICK\Regal\2017 -\Smart key All smart key lost,Add smart key,Read smart key count,Clear fault code
BUICK\Verano\2017 -\Smart key\Smart key All smart key lost,Add smart eky,Read smart key count
BUICK\Verano\2017 -\Immobilizer All key lost,Clear fault code,Read key count
CADILLAC
CADILLAC\XTS\2018\Smart key All smart key lost,Add smart key,Read smart key count,Clear fault code
European cars:
SKODA
SKODA\IMMO 4\MQB-35XX (Mainland/VDO)\Immobilizer Backup EEPROM,Recover EEPROM,Backup immo data,Recover immo data,Make dealer key,Program key(OBD),Add key,Delete key,Recover dashboard
SKODA\IMMO 4\NEC24C64 (2014-)\Immobilizer Make dealer key,Learn key(OBD),Backup EPROM,Recover EPROM,Delete key,Directly add key,Reset dashboard,
Odometer
adjustment,Unlock key,Backup immo data
OPEL\Remote system\Antara Program remote,Delete remote,
OPEL\Remote system\Meriva Program remote,Delete remote
OPEL\IMMO\Select from type\Type 6 All key lost
OPEL\IMMO\Select from vehicle\Antara All key lost
OPEL\IMMO\Select from vehicle\Astra\Astra -J\2010- 2016\Smart key All smart key lost,Add smart key,Read key count,Clear fault code,Read PIN code
OPEL\IMMO\Select from vehicle\Astra\Astra -J\2010- 2016\Immobilizer All key lost,Add key,Read key count,Clear fault code,Read PIN code,
OPEL\IMMO\Select from vehicle\Corsa\Corsa – D\Immobilizer Add key,Delete key,Read PIN code,
OPEL\IMMO\Select from vehicle\Meriva\Meriva – B\Immobilizer Add key,Delete key,Read PIN code
OPEL\IMMO\Select from vehicle\Mokka\2012 -2018\Smart key All smart key lost,Add smart key,Read key count,Clear fault code,Read PIN code
OPEL\IMMO\Select from vehicle\Mokka\2012 – 2018\Immobilizer All key lost,Add key,Read key count,Clear fault code,Read PIN code,
OPEL\IMMO\Select from vehicle\Omega- B\Immobilizer\Type 2(CAN) All key lost,Add key,Read key count,Clear fault code,Read PIN code
OPEL\IMMO\Select from vehicle\Omega-B\Smart key Add smart key,All smart key lost,Read smart key count
OPEL\IMMO\Select from vehicle\Signum\2003 -2007 Program key,Delete key,Read PIN code
OPEL\IMMO\Select from vehicle\Vivaro(4A)\2014 – Read PIN code,Program key,Recover backup data
OPEL\IMMO\Select from vehicle\Zafira\Zafira -C\2012- 2016\Smart key All smart key lost,Add smart key,Read key count,Clear fault code,Read PIN code,
OPEL\IMMO\Select from vehicle\Zafira\Zafira -C\2012- 2016\Immobilizer All key lost,Add key,Read key count,Clear fault code,Read PIN code

VW
VOLKSWAGEN\IMMO4\NE24C64(2014 -)\Immobilizer Make dealer key,Learn key(OBD),Backup EPROM,Recover EPROM,Delete key,Directly add key,Reset dashboard,Odometer adjustment,Unlock key,Backup immo data,
VW\IMMO4\Visteon dashboard\Immobilizer Backup EEPROM,Recover EEPROM,Read PIN code,Program key(OBD),Odometer adjustment,Reset dashboard,
DACIA
DACIA\Dokker\2012 – Add key,
DACIA\Duster\2010 -2011 Add key,
DACIA\Logan\2004 -2011 Add key
DACIA\Sandero stepway\2006-2011 Add key
DACIA\Sandero\2007 -2011 Add key
ROLLS- ROYCE
ROLLS-ROYCE\Select from vehicle\Phantom Program key,Disable and enable,Make key with EPROM data,Backup & recover,Sync DME,Sync ELV,Clear fault code,Clear SHADOW,
MERCEDES BENZ
Mercedes-BENZ\Tail box controlling\E series\213.148 E300 SEDAN(2017) Trunk control
Mercedes-BENZ\Remote\163-ML Class Remote,Reset ECU,
SMART
SMART\BR453\Immobilizer Test,Read PIN code,Program key,Recover configured data,
IVECO
IVECO\Daily\2007 -2012 Key count,Add key,Remote count,Program remote,
IVECO\Daily\2012- Key info,Add key,Read PIN ocde,Make dealer key,
IVECO\Eurocargo\2007 -2012 Key count,Add key,Remote count,Program remote

ALFA ROMEO
ALFA ROMEO \Select from type\Type 9 Key count,Add key,Remote count,Program remote,
ALFA ROMEO\Select from vehicle\IMMO\Giulietta\2010 – 2012\Immobilizer Key count,Add key,Remote count,Program remote

JAGUAR
JAGUAR\Select from vehicle\2015 -\Smart key\Type1(FK72) Add smart key
JAGUAR\Select from vehicle\2015 -\Smart key\Type2(HPLA) Add smart key
JAGUAR\Select from vehicle\2015 -\Smart key\Type3(write to working key) Write a workable key,Read key ID
LAND ROVER
LAND ROVER\Select from vehicle\2015 -\Smart key\Type1(FK72) Add smart key
LAND ROVER\Select from vehicle\2015 -\Smart key\Type2(HPLA) Add smart key
LAND ROVER\Select from vehicle\2015 -\Smart key\Type3(write to working key) Write a workable key,Read key ID
LANCIA
LANCIA\IMMO\Ypsilon\2007 -2012\Immobilizer Key count,Add key,Remote count,Program remote
LANCIA\IMMO\Ypsilon\2013 -\Immobilizer Key count,All key lost,Read PIN code,Make dealer key,
Renault\Select from type\All\Type 0 Add key
RENAULT\Select from type\All\Type 1 Add key
RENAULT\Select from type\All\Type 2 Add key
RENAULT\Select from type\All\Type 3 Add key
RENAULT\Select from type\All\Type 4 Add key
RENAULT\Select from type\All\Type 5 Add key
RENAULT\Select from type\All\Type 6 Add key
RENAULT\Select from type\All\Type 7 Add key
RENAULT\Select from type\All\Type 8 Add key
RENAULT\Select from type\All\Type 9 Add key
RENAULT\Select from type\All\Type A Add key
RENAULT\Select from type\All\Type B Read PIN code,Program key,Recover backup data
RENAULT\Select from vehicle\Captur Add key,Recover data
RENAULT\Select from vehicle\Clio\Clio II Ph2 Add key
RENAULT\Select from vehicle\Clio\CLIO III.\Without smart Add key
RENAULT\Select from vehicle\Clio\CLIO III.\With smart Add key
RENAULT\Select from vehicle\Clio\Clio IV.\2012- Add key,Recover data,
RENAULT\Select from vehicle\Duster\Duster.\2010 -2012 Add key
RENAULT\Select from vehicle\Espace\Espace IV Ph2. Add key
RENAULT\Select from vehicle\Espace\Espace IV Add key
RENAULT\Select from vehicle\Fluence\2009 -2015 Add key
RENAULT\Select from vehicle\Kangoo\Kangoo I. Add key
RENAULT\Select from vehicle\Kangoo\Kangoo II.\2007- 2012 Add key
RENAULT\Select from vehicle\Koleos\2008 -. Add key
RENAULT\Select from vehicle\Laguna\Laguna II Ph2 Add key
RENAULT\Select from vehicle\Laguna\Laguna II Add key
RENAULT\Select from vehicle\Laguna\Laguna III.\2007- 2015 Add key
RENAULT\Select from vehicle\Logan\Logan.\Type 1 Add key
RENAULT\Select from vehicle\Logan\Logan.\Type 2 Add key
RENAULT\Select from vehicle\Master III\2010-2014 Add key
RENAULT\Select from vehicle\Master\Master Add key
RENAULT\Select from vehicle\Megane Scenic\-2008 Add key
RENAULT\Select from vehicle\Megane Scenic\1999-2002 Read PIN code,Program key
RENAULT\Select from vehicle\Megane Scenic\Scenic III (2009-2015). Add key
RENAULT\Select from vehicle\Megane\Megane III.\2009- 2015 Add key
RENAULT\Select from vehicle\Modus\Modus.\Without smart Add key
RENAULT\Select from vehicle\Primastar\Primastar Add key
RENAULT\Select from vehicle\Sandero\-2008. Add key
RENAULT\Select from vehicle\Sandero\(2008 -2012) Add key
RENAULT\Select from vehicle\Scenic\Scenic III.\2009- 2015 Add key
RENAULT\Select from vehicle\Symbol\Symbol.\Type 1 Add key
RENAULT\Select from vehicle\Symbol\Symbol.\Type 2 Add key
RENAULT\Select from vehicle\Thalia\Thalia.\Type 1 Add key
RENAULT\Select from vehicle\Thalia\Thalia.\Type 2 Add key
RENAULT\Select from vehicle\Trafic\Trafic II Ph2 Add key
RENAULT\Select from vehicle\Trafic\Trafic II Ph3.\2010- 2014 Add key
RENAULT\Select from vehicle\Trafic\Trafic(4A)\2014 – Read PIN code,Program key,Recover backup data
RENAULT\Select from vehicle\Twingo\Twingo I Ph2.\2001- 2006 Add key
RENAULT\Select from vehicle\Twingo\Twingo II.\2007- 2013 Add key
RENAULT\Select from vehicle\Velsatis\-2005. Add key
RENAULT\Select from vehicle\Velsatis\2005 -. Add key
RENAULT\Select from vehicle\Vivaro\Vivaro. Add key
RENAULT\Select from vehicle\Wind\2010 -2013. Add key

FIAT

FIAT\Middle East\500\2007 - Key count,All key lost,Read PIN code,Make dealer key
FIAT\Middle East\Doblo\-2009 Key count,Add key,Remote count,Program remote,
FIAT\Asia\500 Key count,All key lost,Read PIN code,Make dealer key,
FIAT\Asia\Linea Key count,Add key,Remote count,Program remote,
FIAT\Asia\Punto Key count,Add key,Remote count,Program remote,
FIAT\Asia\Punto grande\2006-2011 Key count,All key lost,Read PIN code,Make dealer key
FIAT\Asia\Viaggio\2013 - Key count,All key lost,Read PIN code,Make dealer key,
FIAT\South America\500\2010 -2012 Key count,All key lost,Read PIN code,Make dealer key,
FIAT\South America\Bravo\2007 - Key count,Add key,Remote count,Program remote,
FIAT\South America\Siena\2008 -2012 Key count,Add key,Remote count,Program remote,
FIAT\South America\Strada\2000 -2003 Key count,Add key,Remote count,Program remote,
FIAT\Select from type\Immobilizer\Type 1 Immobilizer,
FIAT\Select from type\Immobilizer\Type 10 Program key,Delete key,Obtain immo ID,
FIAT\Select from type\Immobilizer\Type 11 Key count,All key lost,Read PIN code,Make dealer key
FIAT\Select from type\Immobilizer\Type 2 Immobilizer,
FIAT\Select from type\Immobilizer\Type 3 Immobilizer,
FIAT\Select from type\Immobilizer\Type 4 Add key
FIAT\Select from type\Immobilizer\Type 5 Key info,Add key,
FIAT\Select from type\Immobilizer\Type 6 Key count,Immobilizer,Delete key,
FIAT\Select from type\Immobilizer\Type 7 Key count,Immobilizer,Delete key,
FIAT\Select from type\Immobilizer\Type 8 Key count,Add key,Remote count,Program remote
FIAT\Select from type\Immobilizer\Type 9 Immobilizer,Delete key
FIAT\Select from type\Smart key\Type 1 Add smart key,Delete smart key,
FIAT\Select from type\Smart key\Type 2 Add smart key,Delete smart key,
FIAT\Europe\500L Key info,Add key,Read PIN ocde,Make dealer key,
FIAT\Europe\500X Add smart key,Delete smart key
FIAT\Europe\Freemont\Smart key Add smart key,Delete smart key
FIAT\Europe\Idea\2003 -2012 Key count,Add key,Remote count,Program remote
FIAT\Europe\Linea\2007 Key count,Add key,Remote count,Program remote,
FIAT\Europe\Palio Key count,Add key,Remote count,Program remote
FIAT\Europe\Panda\2005 -2011 Key count,Add key,Remote count,Program remote
FIAT\Europe\Panda\2011 - Key count,All key lost,Read PIN code,Make dealer key,
FIAT\Europe\Phedra\2005 - Add key
FIAT\Europe\Punto\2000 -2006 Key count,Add key,Remote count,Program remote
FIAT\Europe\Punto\2006 -2011 Key count,All key lost,Read PIN code,Make dealer key
FIAT\Europe\Qubo\2008 - Key count,All key lost,Read PIN code,Make dealer key
FIAT\Europe\Scudo\ -2007\Type 1 Immobilizer,
FIAT\Europe\Scudo\ -2007\Type 2 Immobilizer,
FIAT\Europe\Scudo\ -2007\Type 3 Immobilizer,
FIAT\Europe\Scudo\2008 - Add key
FIAT\Europe\Sedici\Diesel\2006 -2010 Add new key,Add old key,Delete key
FIAT\Europe\Sedici\Diesel\2010 - Add key
FIAT\Europe\Sedici\Petrol\2010 Key count,Immobilizer,Delete key
FIAT\Europe\Stilo\2000 -2006 Key count,Add key,Remote count,Program remote,
FIAT\Europe\Ulysee\2002 -2010 Add key
FIAT\Europe\Ulysse\2002 -2005 Add key
FIAT\Europe\Ulysse\2005 -2010 Add key
FIAT\Europe\Viaggio\2012 - Key count,All key lost,Read PIN code,Make dealer key
MG
MG\IMMO\MG6\2018 – Add key,Delete key
Asian cars:
Malaysian Proton:
PROTON\Select from type\Type 1 Add key,Reset IMMO ECU
PROTON\Select from type\Type 2 Program key,Delete key,
PROTON\Select from type\Type 3 Add key,Delete key,Key count
PROTON\Select from type\Type 4 Add key,Delete key,Odometer adjustment,Reset engine,Program,Program immobilizer
PROTON\Select from type\Type 5 Program key,Program remote
PROTON\Select from type\Type 6 Add key,Delete key,Program remote,Key count
PROTON\Select from type\Type 7 Add one key,Add two keys,Program remote,Key count
PROTON\Select from type\Type 8 Add key,Delete key,Program remote,Key count
PROTON\Select from vehicle\Gen-2 Program key,Delete key
PROTON\Select from vehicle\Impian Program key,Delete key
PROTON\Select from vehicle\Jump back\Type 1 Add key,Reset IMMO ECU,
PROTON\Select from vehicle\Jump back\Type 2 Program key,Delete key
PROTON\Select from vehicle\Savvy Add key,Reset IMMO ECU

MAZDA

MAZDA\CX-3\2017-\Smart key Add smart key,All smart key lost,Switch ignition on,
MAZDA\M2\Type 3(2017-)\Smart key Add smart key,All smart key lost,Switch ignition on,
MAZDA\M3\Smart key\Type 2(2017- ) Add smart key,All smart key lost,Switch ignition on
MAZDA\MX-5\2017-\Smart key Add smart key,All smart key lost,Switch ignition on
MAZDA\Atenza\2018 -\Smart key Add smart key,All smart key lost,Switch ignition on

MITSUBISHI

MITSUBISHI\Select from vehicle\China\TRITON\2017 - \Smart key Program smart key
MITSUBISHI\Select from vehicle\China\Pajero Sport\2017- \Smart key Program smart key
ISUZU\D-MAX\Remote Program remote,Delete remote
ISUZU\D-MAX\Key\Type 4 (48 chip) Program key,Delete key,Read key data,Clear fault code,

SUBARU

SUBARU\Select from vehicle\B4\2009 - Add smart key,Delete smart key,Key count,Read PIN code,Clear engine fault code,

SUBARU\Select from vehicle\Baja\2005 -2007 All key lost,Delete key

SUBARU\Select from vehicle\Brz\2013-2015\Without smart Key count,Add key,Delete key,Add remote,Delete remote,

SUBARU\Select from vehicle\Brz\2013-2015\With smart Add smart key,Delete smart key,

SUBARU\Select from vehicle\Crosstrek\2014 -\Without smart Check key count,Add key,All key lost,Delete key,Register dashboard ECU,Register engine ECU,Program remote

SUBARU\Select from vehicle\Crosstrek\2014 -\With smart Add smart key,Delete smart key,Detect key count,Register smart ECM,Register engine EMC,Program remote starter,Generate key emulator,Bind key emulator,

SUBARU\Select from vehicle\Forester\2013 -\Without smart Check key count,Add key,All key lost,Delete key,Register dashboard ECU,Register engine ECU,Program remote,

SUBARU\Select from vehicle\Forester\2013 -\With smart Add smart key,Delete smart key,Detect key count,Register smart ECM,Register engine EMC,Program remote starter,Generate key emulator,Bind key emulator

SUBARU\Select from vehicle\Impreza\Without smart\- 2012(4D 60/62 chip) All key lost,Delete key

SUBARU\Select from vehicle\Impreza\Without smart\2013- (4D 82G chip) Check key count,Add key,All key lost,Delete key,Register dashboard ECU,Register engine ECU,Program remote,

SUBARU\Select from vehicle\Impreza\With smart\-2012 Add smart key,Delete smart key,Key count,Read PIN code,Clear engine fault code

SUBARU\Select from vehicle\Impreza\With smart\2013- Add smart key,Delete smart key,Detect key count,Register smart ECM,Register engine EMC,Program remote starter,Generate key emulator,Bind key emulator,

SUBARU\Select from vehicle\Legay\Without smart\4D 60/62 chip All key lost,Delete key

SUBARU\Select from vehicle\Legay\With smart Add smart key,Delete smart key,Key count,Read PIN code,Clear engine fault code,

SUBARU\Select from vehicle\Levorg\2015 -\With smart Add smart key,Delete smart key,Detect key count,Register smart ECM,Register engine EMC,Program remote starter,Generate key emulator,Bind key emulator

SUBARU\Select from vehicle\Outback\Without smart\2005-2012 All key lost,Delete key

SUBARU\Select from vehicle\Outback\Without smart\2013- Add key,Read PIN code

SUBARU\Select from vehicle\Sti All key lost,Delete key,

SUBARU\Select from vehicle\Tribeca\Without smart\Type 1 All key lost,Delete key

SUBARU\Select from vehicle\Tribeca\Without smart\Type 2(North America) Key count,Add key,Delete key,Add remote,Delete remote

SUBARU\Select from vehicle\Tribeca\With smart(North America) Add smart key,Delete smart key

SUBARU\Select from vehicle\WRX\-2013\Without smart\4D 60/62 chip All key lost,Delete key,

SUBARU\Select from vehicle\WRX\2014 -\Without smart\4D 82G chip Check key count,Add key,All key lost,Delete key,Register dashboard ECU,Register engine ECU,Program remote,

SUBARU\Select from vehicle\WRX\2014 -\With smart Add smart key,Delete smart key,Detect key count,Register smart ECM,Register engine EMC,Program remote starter,Generate key emulator,Bind key emulator

SUBARU\Select from vehicle\XV Crosstrek\2013 -\Without smart Check key count,Add key,All key lost,Delete key,Register dashboard ECU,Register engine ECU,Program remote,

SUBARU\Select from vehicle\XV Crosstrek\2013-\With smart Add smart key,Delete smart key,Detect key count,Register smart ECM,Register engine EMC,Program remote starter,Generate key emulator,Bind key emulator

SUBARU\Select from vehicle\XV\2013-\Without smart Check key count,Add key,All key lost,Delete key,Register dashboard ECU,Register engine ECU,Program remote

SUBARU\Select from vehicle\XV\2013-\With smart Add smart key,Delete smart key,Detect key count,Register smart ECM,Register engine EMC,Program remote starter,Generate key emulator,Bind key emulator

SSANG YONG
SSANG YONG\Select from type\Remote\Type 2 Program remote,
SSANG YONG\Select from type\Immobilizer\Type 3 Program key
SSANG YONG\Select from vehicle\Chairman\XDi system Program key,Delete key
SSANG YONG\Select from vehicle\Chairman\Diesel Program key
SSANG YONG\Select from vehicle\Chairman\Petrol Program key
SSANG YONG\Select from vehicle\Korando\XDi system Program key,Delete key
SSANG YONG\Select from vehicle\Korando\Diesel Program key
SSANG YONG\Select from vehicle\Korando\Petrol Program key
SSANG YONG\Select from vehicle\Kyron\XDi system Program key,Delete key
SSANG YONG\Select from vehicle\Kyron\Diesel Program key
SSANG YONG\Select from vehicle\Kyron\Petrol Program key
SSANG YONG\Select from vehicle\Musso\XDi system Program key,Delete key
SSANG YONG\Select from vehicle\Musso\Diesel Program key
SSANG YONG\Select from vehicle\Musso\Petrol Program key
SSANG YONG\Select from vehicle\Rexton\XDi system Program key,Delete key
SSANG YONG\Select from vehicle\Rexton\Diesel Program key
SSANG YONG\Select from vehicle\Rexton\Petrol Program key
SSANG YONG\Select from vehicle\Stavic Rodus\XDi system Program key,Delete key
SSANG YONG\Select from vehicle\Stavic Rodus\Diesel Program key
SSANG YONG\Select from vehicle\Stavic Rodus\Petrol Program key
SSANG YONG\Select from vehicle\Actyon\XDi system Program key,Delete key
SSANG YONG\Select from vehicle\Actyon\Diesel Program key
SSANG YONG\Select from vehicle\Actyon\Petrol Program key
SSANG YONG\Select from vehicle\Rodius\XDi system Program key,Delete key
SSANG YONG\Select from vehicle\Rodius\Diesel Program key
SSANG YONG\Select from vehicle\Rodius\Petrol Program key
SSANG YONG\Select from vehicle\Rexton2\XDi system Program key,Delete key
SSANG YONG\Select from vehicle\Rexton2\Diesel Program key
SSANG YONG\Select from vehicle\Rexton2\Petrol Program key
SSANG YONG\Select from vehicle\Rexton3\XDi system Program key,Delete key
SSANG YONG\Select from vehicle\Rexton3\Diesel Program key
SSANG YONG\Select from vehicle\Rexton3\Petrol Program key
Chinese Brands:
ROEWE
ROEWE\Read PIN code\550\2013- Read PIN code,
ROEWE\Read PIN code\950\2012- Read pin code type6 (via BCM)
BESTURN
BESTURN\IMMO\New besturn(B50)\2015 - Add key