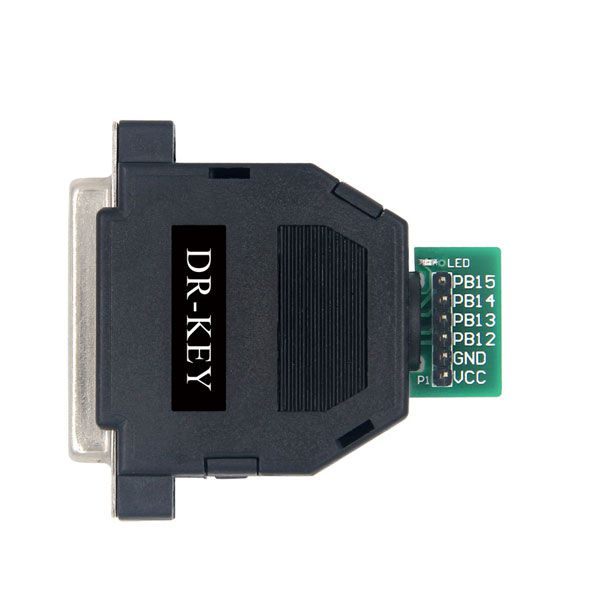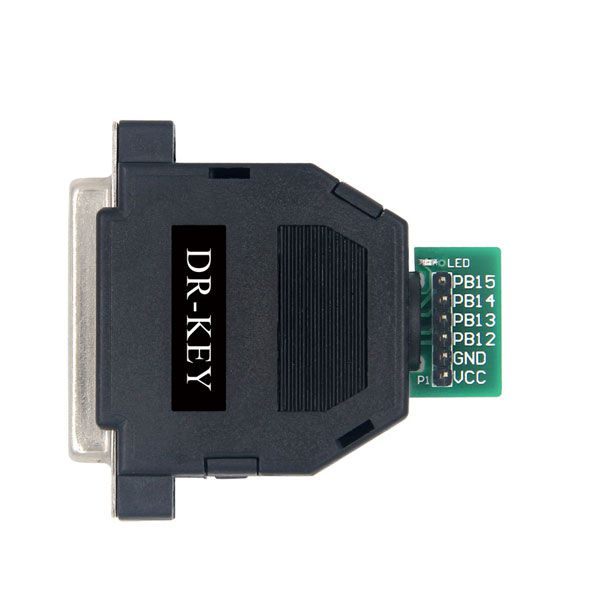 Yanhua DR-Key DR Key Adapter Work with Digimaster III CKM100 to Unlocking / Reset Key
DR Key adapter is used to Erase / Reset the written key and achieve repetitive reading and writing key. (Note: the genuine keys are all disposable and all the written genuine keys were locked.)
Shipping:

Express Shipping Service


Estimated delivery time:

3-15

working days.

See details »

Returns:

Return for refund within 7 days,buyer pays return shipping.

Read details »

Support:
Product Details

Product's Reviews
Yanhua DR-Key DR Key Adapter

DR-Key Feature:
Erase / Reset the written key and achieve repetitive reading and writing key.
(Note: the genuine keys are all disposable and all the written genuine keys were locked.)
Support models:
1,
BMW
E Series,F Series genuine keys /aftermarket key Unlocking / Reset
2, Audi five generation /
Land Rover
/
Porsche
key Unlocking / Reset
3, Hyundai / KIA smart card key Unlocking / Reset
4, Dodge / Jeep / Chrysler key Unlocking / Reset
5, Buick / Cadillac / Chevrolet /
GM
/ Opel key Unlocking / Reset
6, MITSUBISHI /
Volvo
key Unlocking / Reset
7, Peugeot Citroen key Unlocking / Reset
8,
Renault
key Unlocking / Reset
Support device:
Yanhua
Digimaster III and CKM100
Yanhua DR-Key Adapter Unlocking / Reset key car models list
Car model
PCB mainboard no./frequency/key No.
Audi
PCB mainboard no: 233.453.111-02
315MHz-8T0959754A
315MHz-8T0959754C
315MHz-8T0959754J
PCB mainboard no: 233.453.111-05(06)
315MHz-4G0959754G
315MHz-4G0959754J
315MHz-4H0959754G
315MHz-4H0959754J
315MHz-8T0959754A
315MHz-8T0959754C
315MHz-8T0959754G
315MHz-8T0959754J
433MHz-8T0959754
868MHz-4G0959754K
868MHz-4H0959754K
868MHz-8T0959754D
PCB mainboard no: 233.453.211-01(02)
315MHz-4G0959754J
315MHz-8H0959754DB
315MHz-8K0959754
315MHz-8K0959754C
315MHz-8K0959754G
PCB mainboard no: 233.628.011-03
433MHz-7P6959754AF
868MHz-7P6959754L
PCB mainboard no: 233.628.011-04
315MHz-7P6959754AR
433MHz-7P6959754AO
PCB mainboard no: 233.628.021-02
868MHz-7P6959754AT
BMW
E series chassis
Aftermarket key
genuine key 315
genuine key 868
F series chassis
315MHz-5WK49663
315MHz-HUF5662
433MHz-5WK49662
433MHz-HUF5663
433MHz-HUF5767
868MHz-5WK49661
868MHz-HUF5661
Porsche
315MHz-7PP959753BM
433MHz-7PP959753AJ
433MHz-7PP959753BN
433MHz-7PP959753BQ
433MHz-7PP959753BS
Land Rover
315MHz-YWX000071
433MHz-5E0U40247
433MHz-YWX000061
Volvo
900MHz-5WK49266
Buick
315MHz-4 button-13500225/13584825
315MHz-5 button-13500224/13584825
Chevrolet
315MHz-4 button-13500222
315MHz-4 button-13500318/13584828
315MHz-5 button-13500221
315MHz-5 button-13500319/13584829
433MHz-2 button-13500218
Cadillac
315MHz-5 button-NBG009768T
GM
433MHz-3 button
433MHz-4 button
433MHz-5 button
Opel
433MHz-2 button-13149645
433MHz-2 button-13149658
433MHz-2 button-13188281
433MHz-2 button-13188284
433MHz-2 button-13500235
433MHz-3 button-13500234
Peugeot Citroen
21676652
E25CI009
E28CI01B
E33CI002
Hyundai KIA
CMFCH02
CMFEU03
HMFEU04
HMFKR04
HMFNA04
Mitsubishi
433MHz-G8D-644M
Renault
433MHz-285971998R
433MHz-285974100R
433MHz-285975779R
433MHz-805673071R
Dodge Jeep Chrysler
567.737.061
567.783.031
KOBOTO4A
M3N5WY72XX
M3N5WY783X
OHT692427AA
OHT692713AA
For BMW F Series CAS4+ Blade key 433MHZ wiring diagram: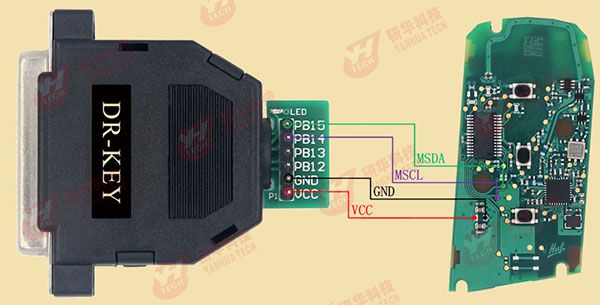 For BMW E Series Key wiring diagram:


For Porsche key wiring diagram: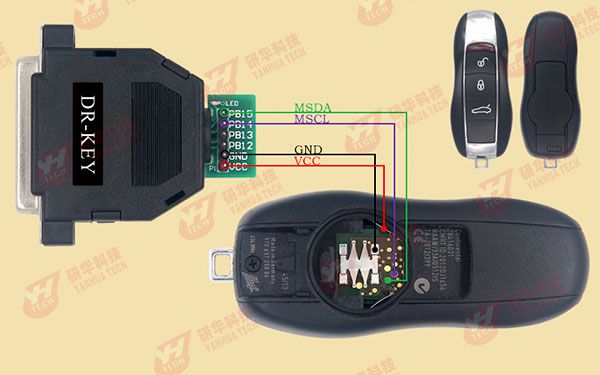 Package List:
1pc x DR KEY adapter