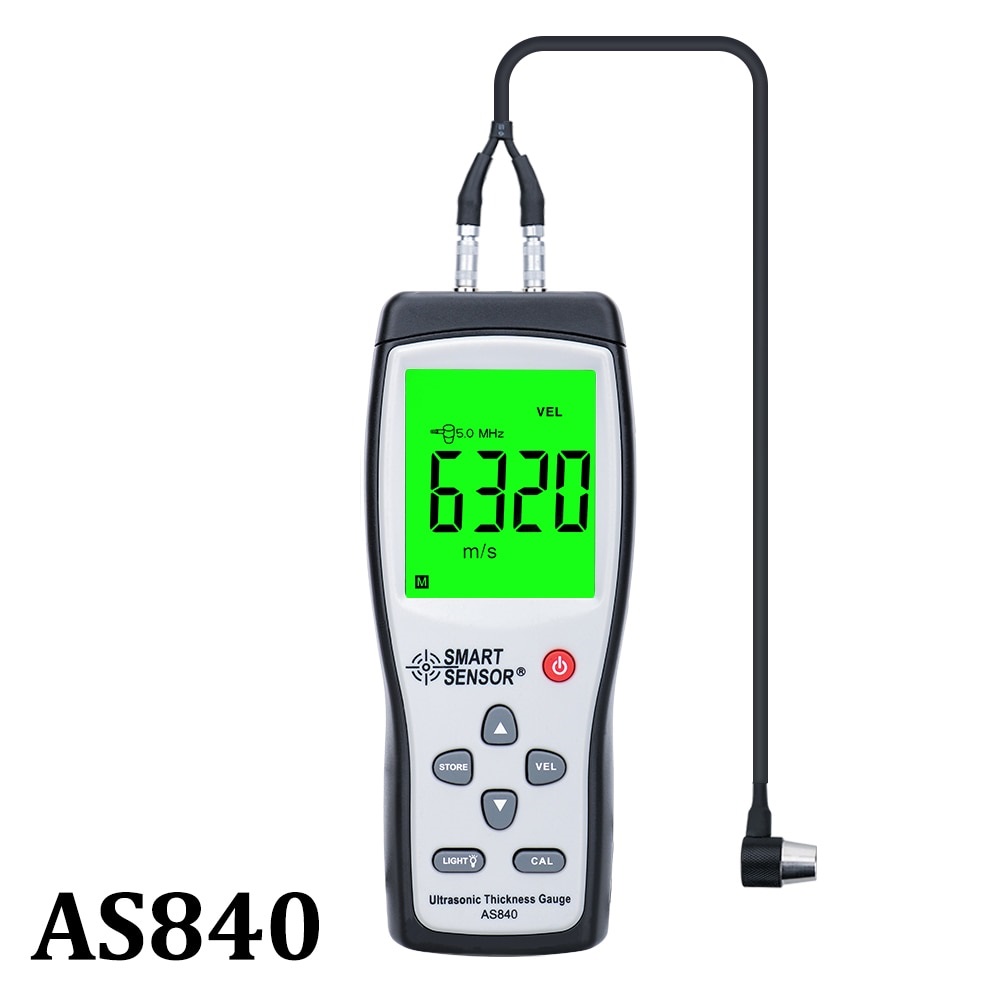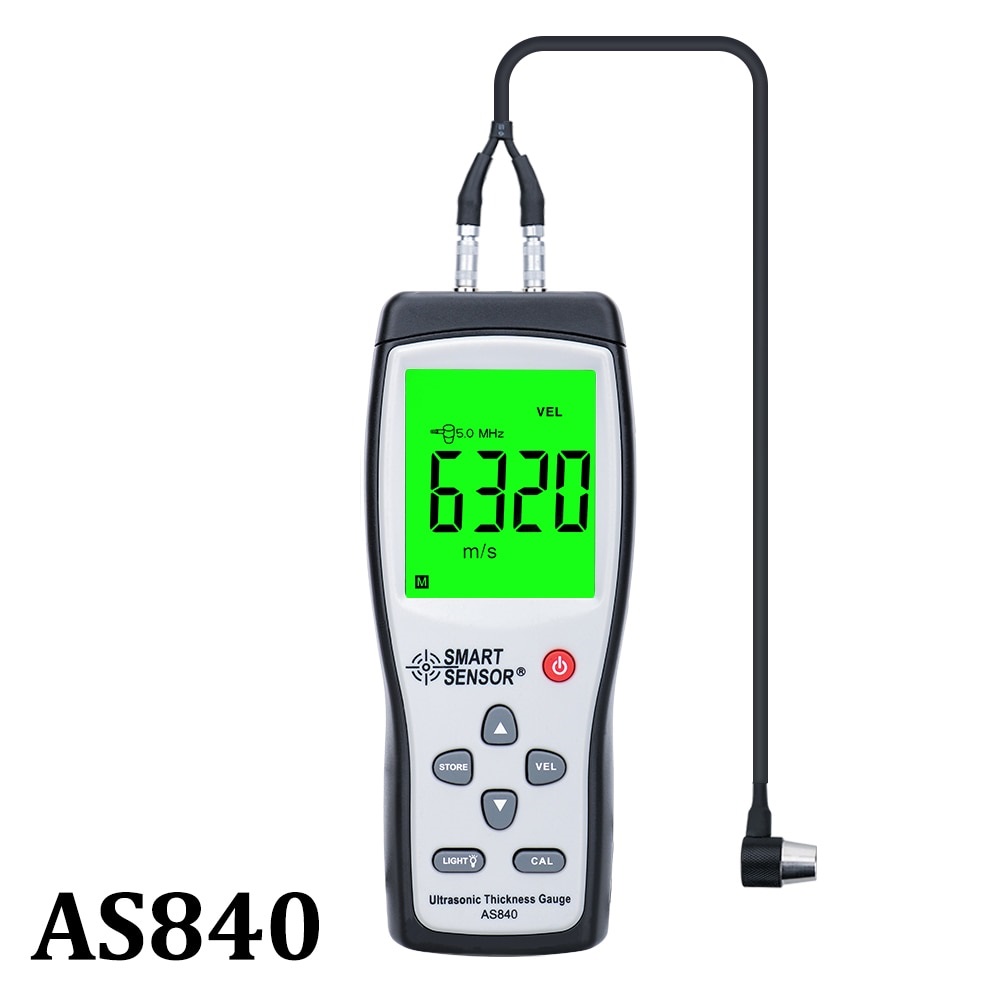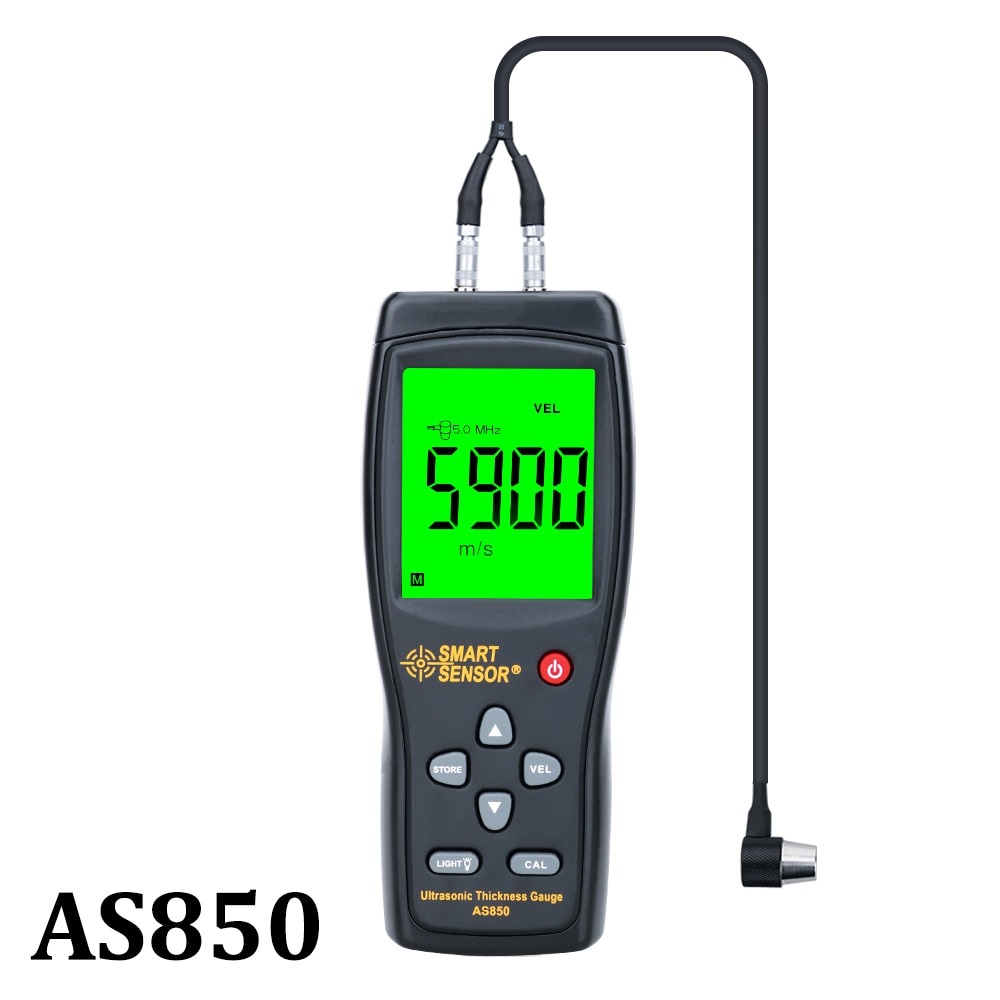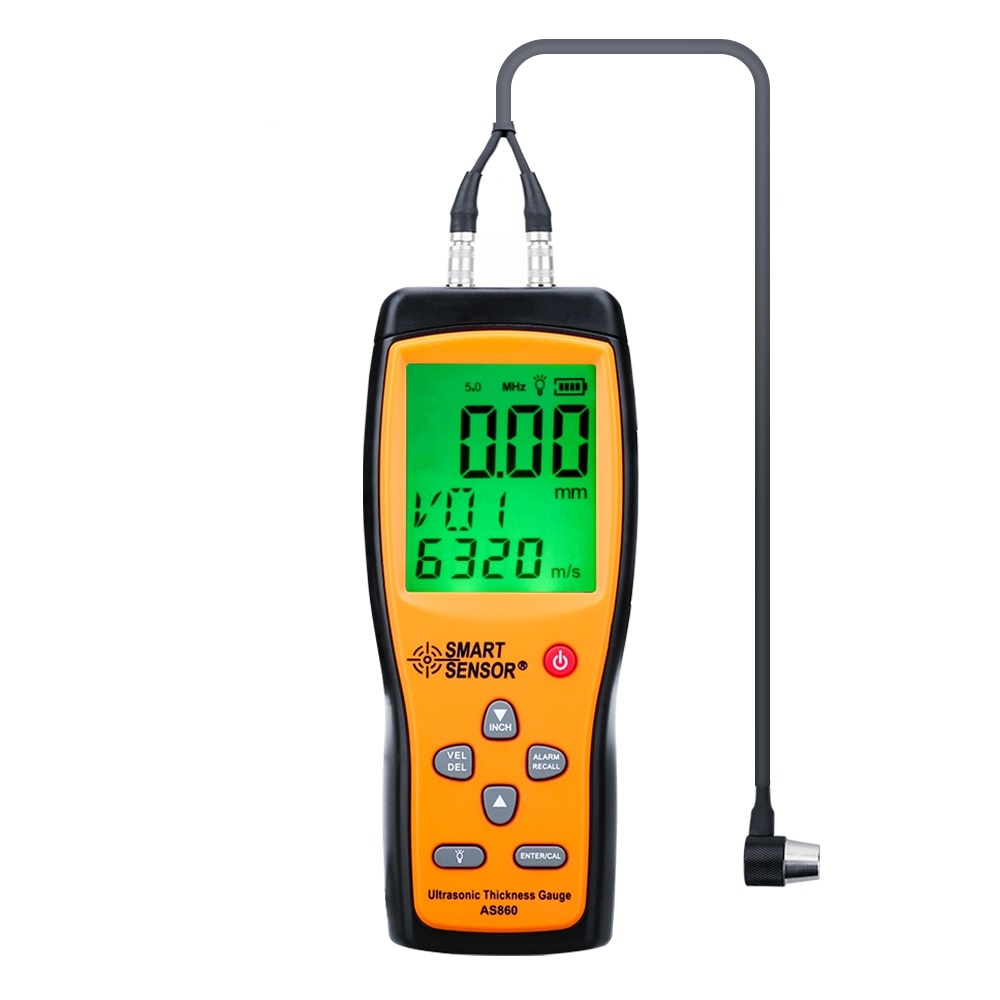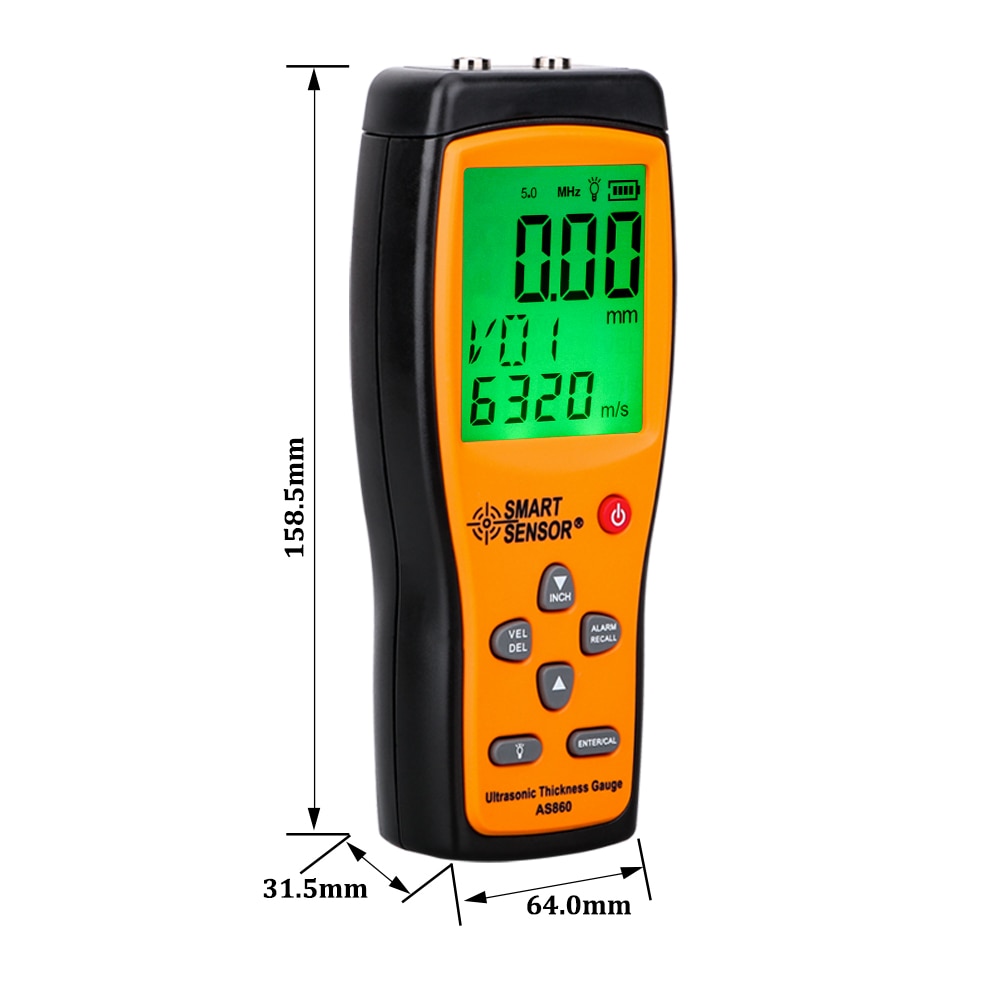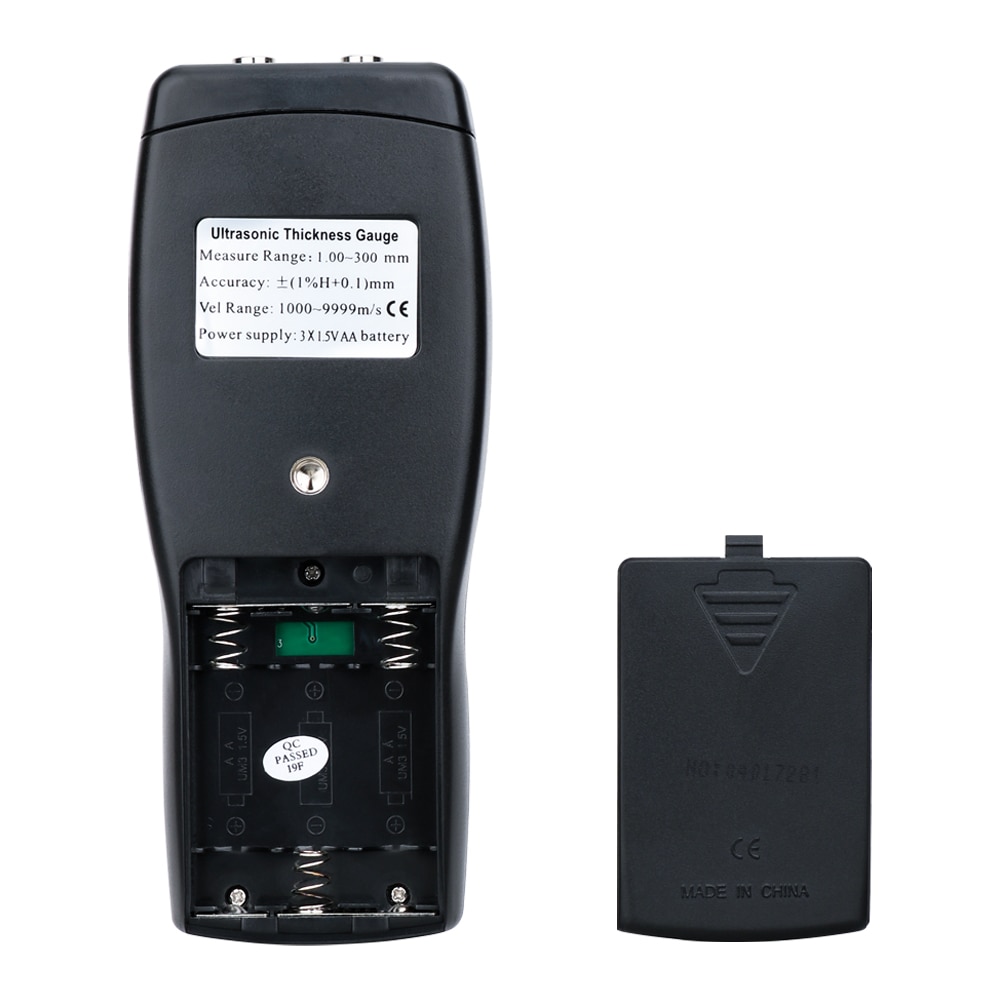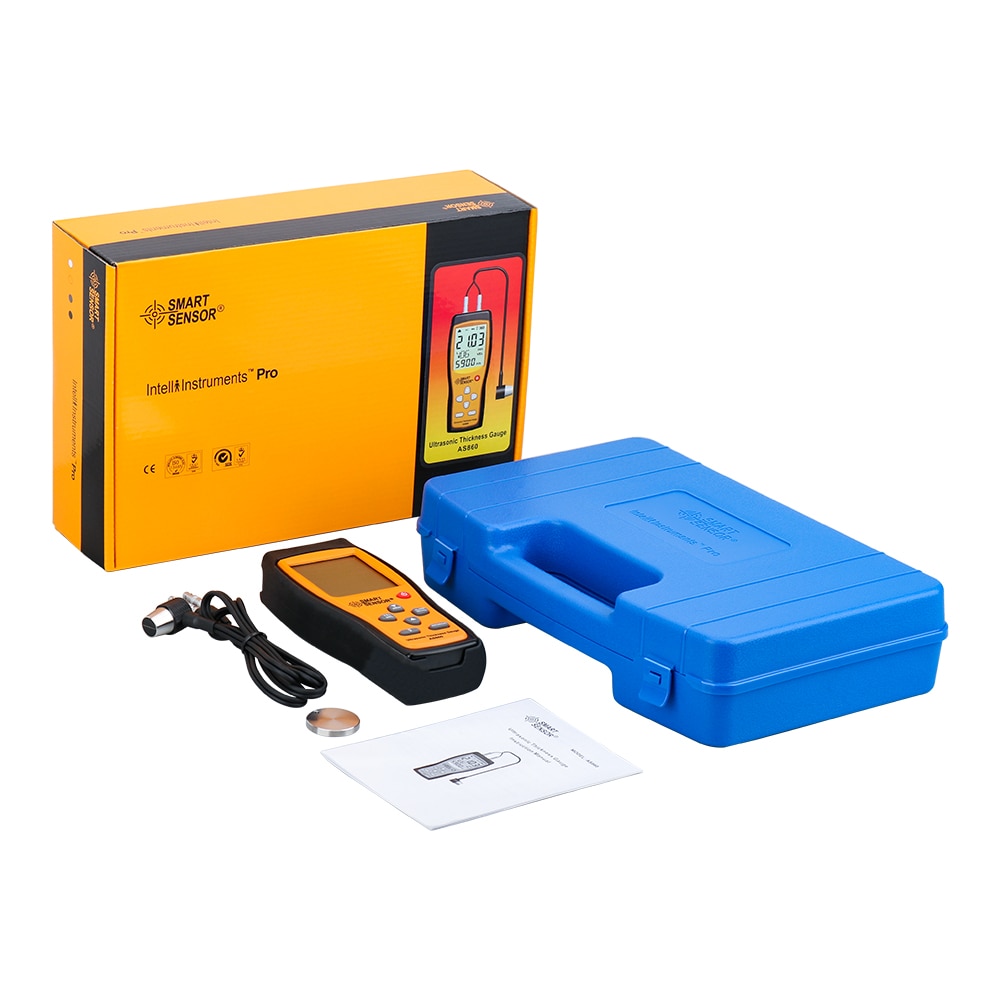 AS840 AS850 AS860 Digital Ultrasonic Thickness Gauge Sound Velocity Meter Steel Tube Metal plastic Glass ceramic Depth Width Measuring Instrument
AS840 AS850 AS860 Digital Ultrasonic Thickness Gauge Sound Velocity Meter Steel Tube Metal plastic Glass ceramic Depth Width Measuring Instrument, This unit is suitable for measuring materials that are good ultrasonic conductor such as metal, plastic, ceramic, glass etc. Wholesale ULTRASONIC THICKNESS GAUGE AS840 AS850 AS860
Shipping:

Airmail Post


Estimated delivery time:

7-45

working days.

See details»

Returns:

Return for refund within 7 days,buyer pays return shipping.

Read details »

Support:
Related Accessories/Similar Items
Product Details

Product's Reviews
SMART SENSOR ULTRASONIC THICKNESS GAUGE AS840 AS850 AS860
SMART SENSOR Ultrasonic Thickness Gauge This unit is an intelligent handheld product, which adopts ultrasonic measuring principle, and is controlled by micro processor, provides quick and precise measurement of thickness for most of industrial material. This unit is widely used in various precise measurement for different hardware / parts in industrial realm; one of its important application is to monitor the level of thickness-decreasing during operation of various and pressure container. Diffusely applied in manufacture fields, metal processing, and commercial inspection. Scope of application This unit is suitable for measuring materials that are good ultrasonic conductor such as metal, plastic, ceramic, glass etc.,as long as the measured part in two parallel surfaces for measurement of thickness. This unit is not suitable for cast iron due to its big crystalloid composition.
Product Features
---
1. Auto calibration to assure the accuracy
2. Sound velocity measurement: with a given thickness to measure the sound velocity to improve accuracy
3.12 sound velocities for different material
4. Coupling status indication, 12 thickness measurement data store and recall
5. Thickness alarm setup, Back light function, Low battery indication, Auto power off
6. Auto linear compensation: this advanced software program enhances the precision by correcting the non-linear accuracy of transducer.
7. Use and keys to make a quick adjustment for the sound velocity /thickness,and a quick recall to the stored data.
8. Coupling status indication: Observing the coupling icon to learn if the coupling is accomplished or not.
9. 10 thickness measurement storage and recall function is available,
10. which facilitates the height work or working in wild area.
11. Sound velocity measurement: With a given thickness by a sample hardware to measure the sound velocity, which avoid the further conversion or consultation of the table.
Technical Details
---
Model

AS840

AS850

AS860

Display

4-digital LCD display

4-digital LCD display

4-digital LCD display

Minimum display unit:

0.1 mm

0.1 mm

0.1 mm

Measuring Probe:

∅10mm 5MHz

∅10mm 5MHz

∅10mm 5MHz

Measuring range

1.2 to 225.0mm (steel)

1.2~225mm(steel)

1.00 to 300.0mm(steel)

Working frequency

5MHz

5MHz

5MHz

Accuracy

(1%H+0.1)mm,H denotes
the measured thickness.

±(1%H+0.1)mm,H denotes
the measured thickness.

±(1%H+0.1)mm,H denotes
the measured thickness.

Minimum limit for tube measuring

20*3mm (steel)

20*3mm (steel)

20*3mm (steel)

Sound velocity range

1000 to 9999 m/s
Measuring sound velocity with a given thickness: measuring range: 1000 to 9999 m/s.
When the given thickness >20mm, the accuracy is +/-5%;
when the given thickness <20mm, the accuracy is +/-1mm/H*100%.

Operation temperature

0℃ to 40℃

0℃ to 40℃

0℃ to 40℃

Relative humidity:

<90%RH

<90%RH

<90%RH

Hardware/workpiece/material temperature:

<60°C

<60°C

<60°C

Power supply

3 * 1.5V AA Battery(Not Included)

3 * 1.5V AA Battery(Not Included)

3 * 1.5V AA Battery(Not Included)

Operation current:

Normal operation current: 50mA
With Backlight turn on current: 120mA Stand-by current: 20uA

Normal operation current: 50mA
With Backlight turn on current: 120mA Stand-by current: 20uA

Normal operation current: 50mA
With Backlight turn on current: 120mA Stand-by current: 20uA

Product Weight

152g

155g

191g

Product Size

161x66x31mm

160 x 66 x 32mm

163 x 70 x 34mm

Package Weight

670g

880g

850g

Package Size

25x21x6cm

29.5 x 19.5 x 7cm

29.5 x 19.5 x 7cm

Packing Contents

1 * Ultrasonic Thickness Gauge
1 * Φ10mm 5MHz Transducer
1 * 4mm Sampling Block
1 * Storage Box
1 * User Manual

1 * Ultrasonic Thickness Gauge
1 * Φ10mm 5MHz Transducer
1 * 4mm Sampling Block
1 * Storage Box
1 * User Manual

1 * Ultrasonic Thickness Gauge
1 * Φ10mm 5MHz Transducer
1 * 4mm Sampling Block
1 * Storage Box
1 * User Manual

Table of sound velocity (Sound velocity of common materials)

Material

Velocity(m/s)

Material

Velocity(m/s)

Aluminum

6320

Acetate resin

2670

Zinc

4170

Phosphor bronze

3530

Silver

3600

Turpentine

4430

Glod

3240

Glass

5440

Tin

3230

Incoloy alloy

5720

Iron/Steel

5900

Magnesium

6310

Brass

4640

Monel alloy

6020

Copper

4700

Nickle

5630

SUS

5790

Steel 4330 mild

5850

Acrylic resin

2730

Steel 330

5660

Water 20C

1480

Titanium

6070

Glycerinl

1920

Zirconium

4650

Soluble glass

2350

Nylon

2620
Product Photos AS840
---
Product Photos AS850
---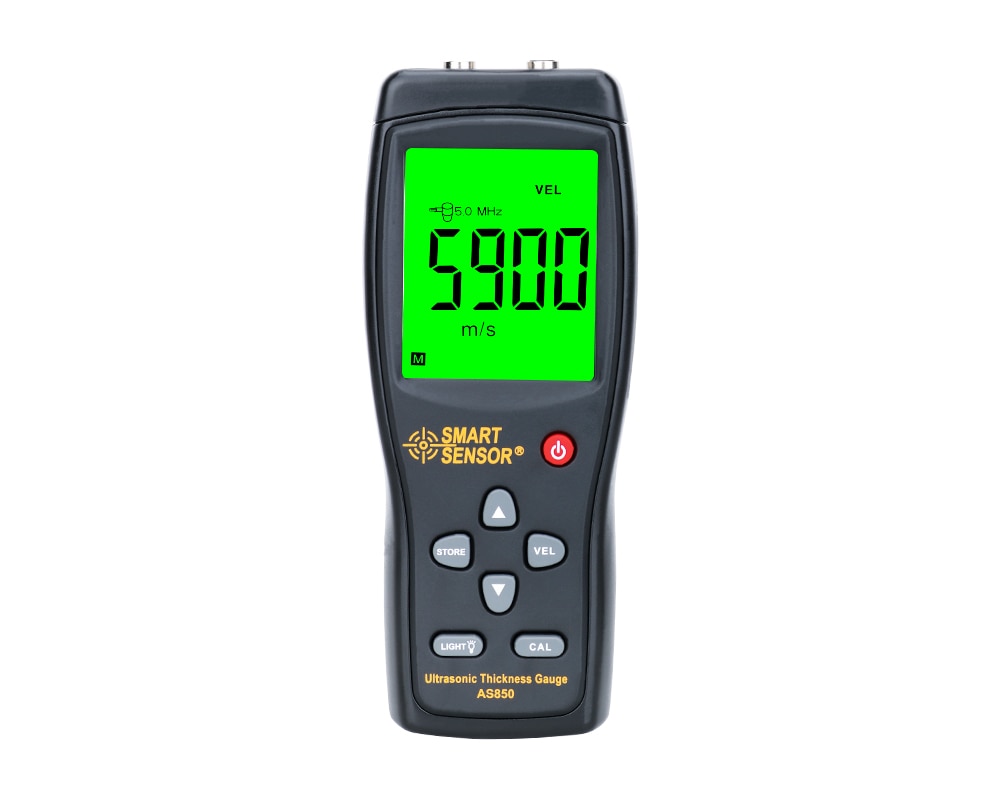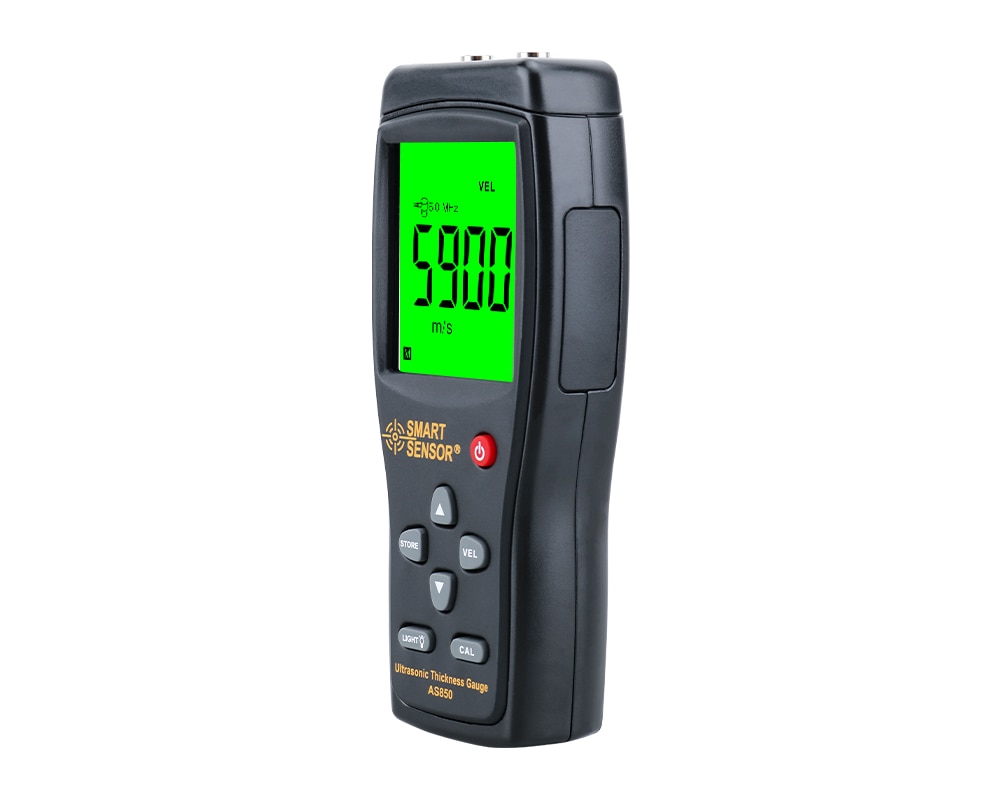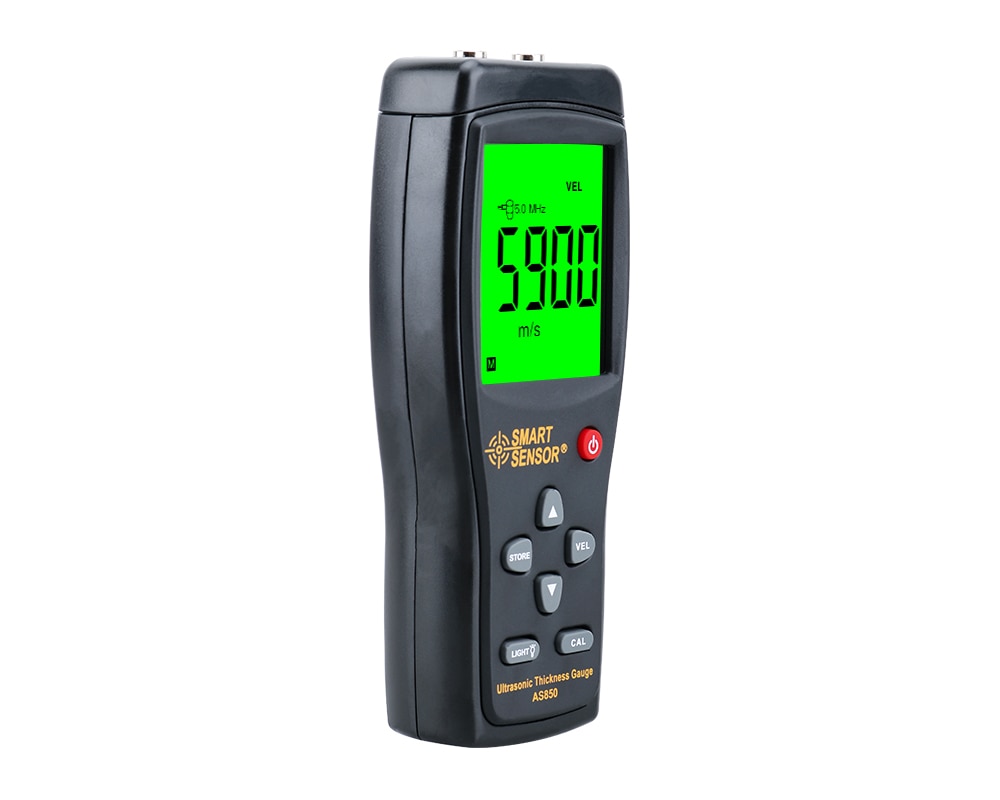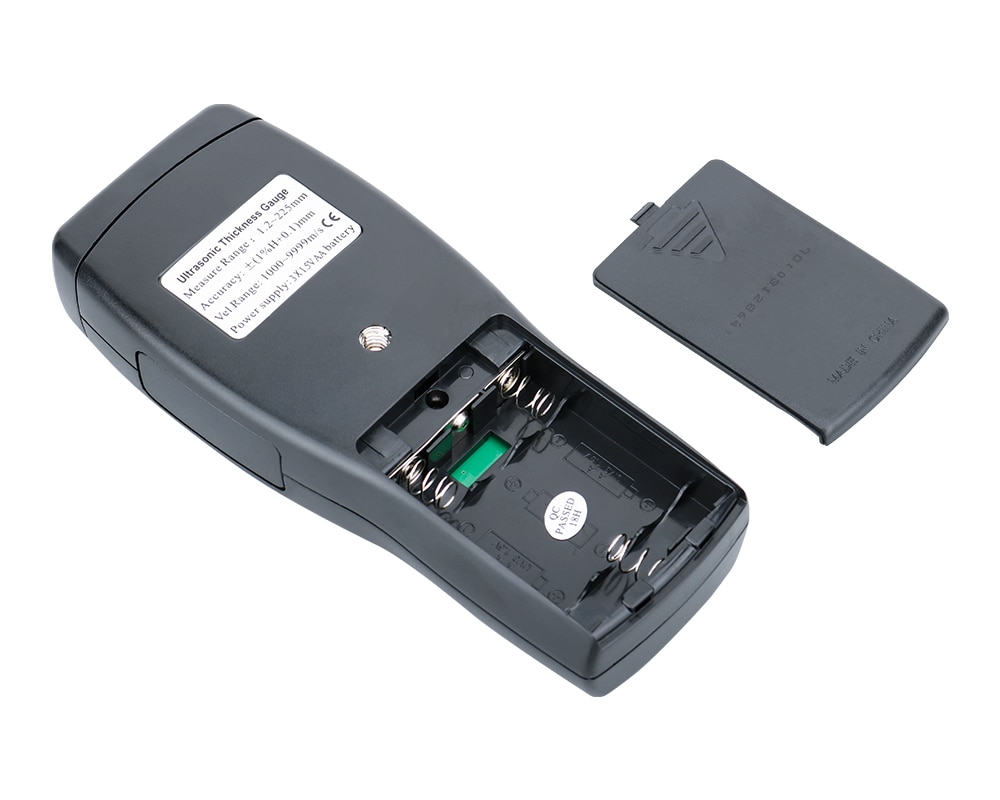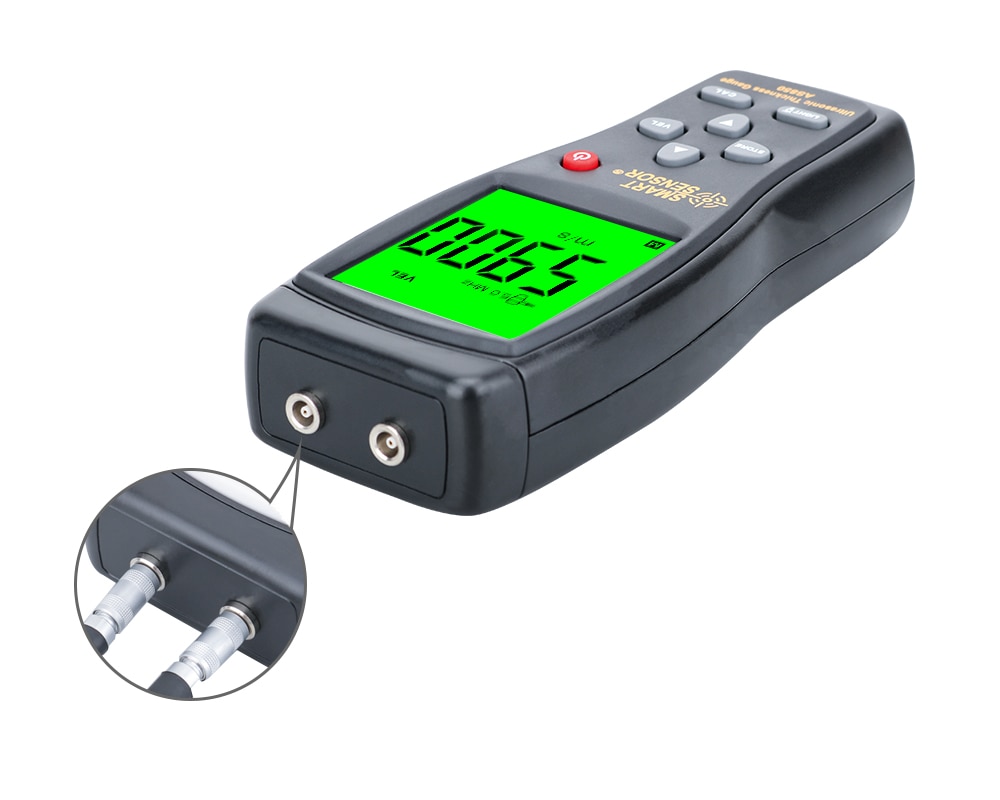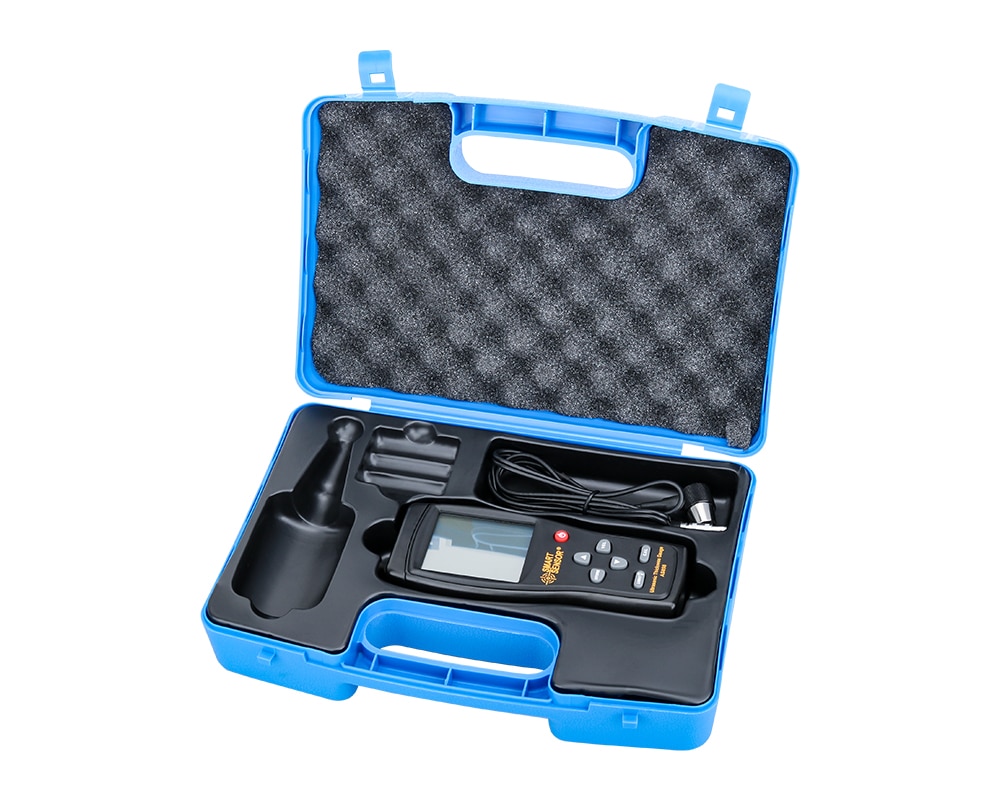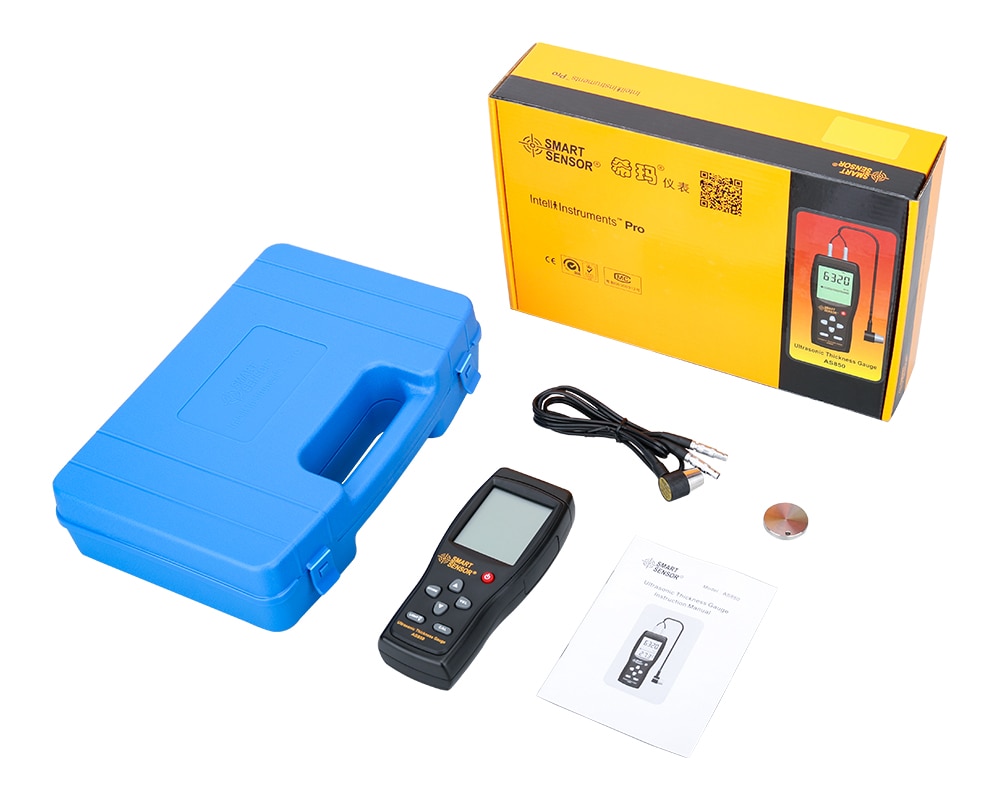 Product Photos AS860
---